Despite its location in the heart of a culinary city, many neighbors bemoan the Castro's lack of quality food options.
But many local restaurants and businesses, including a Castro-focused food and wine tour, argue that it's worth giving the neighborhood a shot as a dining destination. Does the Castro's food scene deserve its dismal reputation? We spoke to them to find out. 
Kathy Amendola, owner of the Old World/Mediterranean themed Cruisin' the Castro Food and Wine Tour, believes that the Castro has a lot to offer in regards to food and drink. "The Castro is a great place to eat and hang out, be a part of the scene, and experience the neighborhood," Amendola explained. "The sense of community is so strong here."
Cruisin' the Castro Walking Tours was the first walking tour company in the Castro; it's been operating since 1989. Since its earliest days, it's offered "Castro Food & Wine Tours." Amendola, who has been running the show since 2005, likes to limit each tour to 4-10 people, "to keep it intimate. Our tour is on Thursday and Friday nights, and includes four stops and three glasses of wine."
The all-inclusive tour begins at Blush Wine Bar (476 Castro St.) with cheese, charcuterie, and a glass of wine. The tour then proceeds to Poesia (4072 18th St.) for antipasti like porcini mushrooms or mussels, depending on what's in season. After Poesia, the tour heads to one of two locations, depending on the night. Thursday tours venture to Canela Bistro (2272 Market St.) for the main course, while Friday tours head to Catch (2362 Market St.) instead. Both tours end with a sweet at Hot Cookie (407 Castro St.)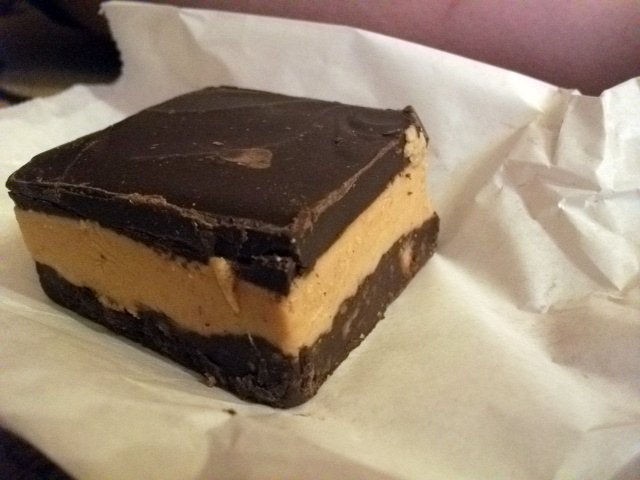 'Butch Bar' at Hot Cookie. (Photo: Nubby Tongue/Yelp)

Amendola says that the neighborhood's people enhance its food scene. "San Francisco is comprised of many cultural communities, such as the Mission, North Beach, Chinatown, etc., that are known for their ethnic foods. The Castro, however, is a sexually diverse culture and consists of a fusion of not only people, but amazing food and wine as well, all in a beautiful neighborhood."

For those who'd prefer to hold their own tour, wandering the neighborhood can bring diners to the doorstep of a number of tucked-away restaurants in the Castro. 
One of them is Frances (3870 17th St.), which features constantly changing dishes that are crafted from fresh and local ingredients under the supervision of chef-owner Melissa Perello. Perello told us that the restaurant draws visitors through making good, simple food.
"We didn't open Frances with thought that we were creating a culinary destination for the neighborhood," she explained. "It's something that happens over time, when people connect with what you're doing. We're grateful that has happened with us."
Perello's favorite staples from her kitchen include applewood-smoked bacon beignets with maple-chive crème fraîche, as well as chickpea fritters. "Our menu changes daily, which means we are inspired every day. If we have a favorite dish on the menu today, it is usually changed or different the following day."

Applewood-smoked bacon beignets at Frances. (Photo: Alisa Scerrato/Hoodline)
When asked if she thinks that people tend to have a negative view of the Castro's food scene, Perello told us, "The neighborhood's food scene has continued to evolve—even since we've opened our doors. Now it feels like there are more options out there and more food made with integrity."

Woodhouse Fish Co. (2073 Market St.) entices guests with a casual setting, Maine lobster rolls, and some "East Coast nostalgia," as many customers point out.
One Woodhouse customer, Richard Kuczynski, has been working in the food industry in San Francisco for over 40 years. Eating out is one of his favorite things to do.
"Growing up, I ate a lot of clams," the Sunset resident told us as he ate a clam roll for lunch. "It's very seldom that I get to eat clams that are as good as I used to get in New England. I come to this restaurant because they bring up childhood memories."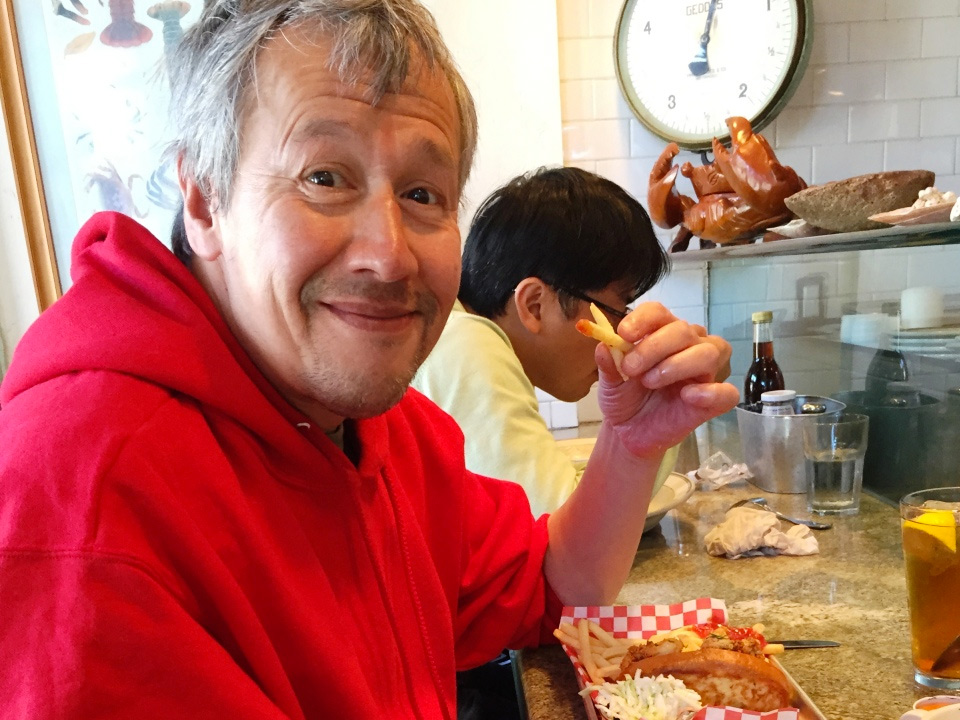 Richard Kuczynski at Woodhouse Fish Co. (Photo: Alisa Scerrato/Hoodline)
Woodhouse's general manager, Amelia Heppner, told us that the restaurant prides itself on being locally owned, using fresh ingredients, and offering an affordable alternative to Fisherman's Wharf. "While we have visitors from out of town, we also get the high-school kid on their lunch break and the old lady who has lived in the Castro for 70 years."
We chatted with some Castro residents to hear their thoughts on the food scene.
Allen Chen, who moved to the Castro about a year ago from Dallas, Texas, says that while the Castro "has places where the ambiance or cheap drinks trump the food," he's found some gems as well. "There are a handful of fantastic places in the hood, such as modern Californian at Frances, seafood at Anchor Oyster Bar, the millionaire's bacon at Kitchen Story, and even the casual bar bites at Hi Tops."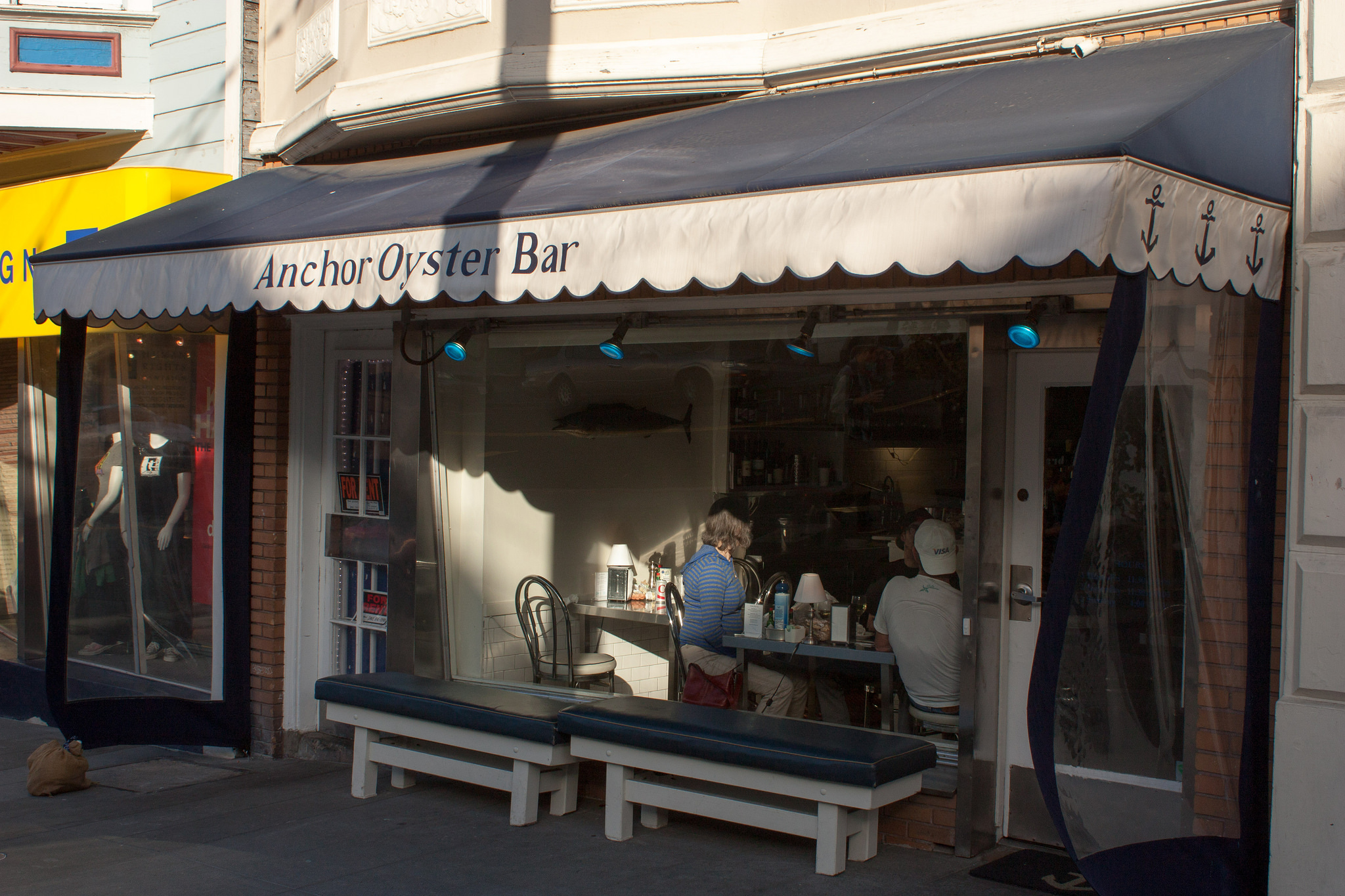 Anchor Oyster Bar. (Photo: Chris Neuman/Flickr)
Another Castro resident, who has lived in the neighborhood since 1998 and wanted to remain anonymous, said that while she doesn't think of the Castro as a culinary destination, one of her favorite restaurants in the city is Anchor Oyster Bar (579 Castro St.), and her favorite neighborhood bar is Lucky 13 (2140 Market St.) "I love that the bar has stayed the same since I moved here, and the diversity and sense of camaraderie there is great."
"There are so many places to eat and drink, and they're all really accessible," she continued. "I love that I don't have to leave my neighborhood to have a good meal or a place to unwind and have a good drink around some familiar faces."
What do you think—Is the Castro more of a dining destination than its reputation might suggest? Let us know in the comments.