By
Bo McGee
- Published on September 16, 2015.
These days, San Francisco is a city perpetually under construction. Polk Street currently has several large projects in the works, which could increase the number of residential units in the zone by 300 or more. 
We've compiled the following list of ongoing projects in the Polk Street area to give you a sense of what to expect in the coming months and years.
Upper Polk
At the north end of Polk Street, development is slow, thanks to its location between the Marina and Russian Hill, two affluent and well-established neighborhoods.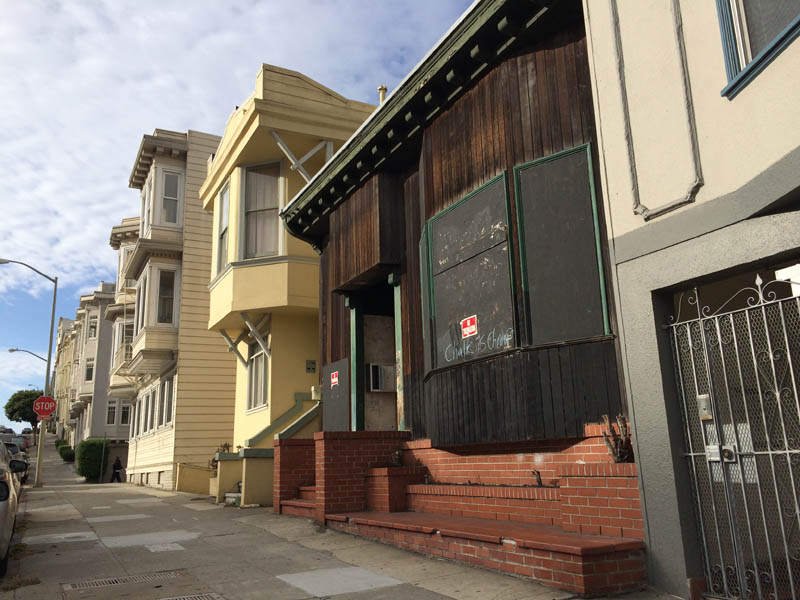 2815 Polk Street. (Photo: Bo McGee/Hoodline)
One exception is 2815 Polk Street, one of the last single-story homes in the neighborhood. Built in 1914, it sold for $820,000 in 2013. Plans to demolish the building are currently working their way through the Planning Department.The building would be replaced by a three-story, three-unit building.
The former Lombardi Sports at 1600 Jackson. (Photo: Bo McGee/Hoodline)
Another proposal still in the planning phase is for 1600 Jackson St., the former home of Lombardi Sports. If passed in its current form, it would see the current building demolished and replaced by a new six-story residential building, with ground-floor retail and basement parking.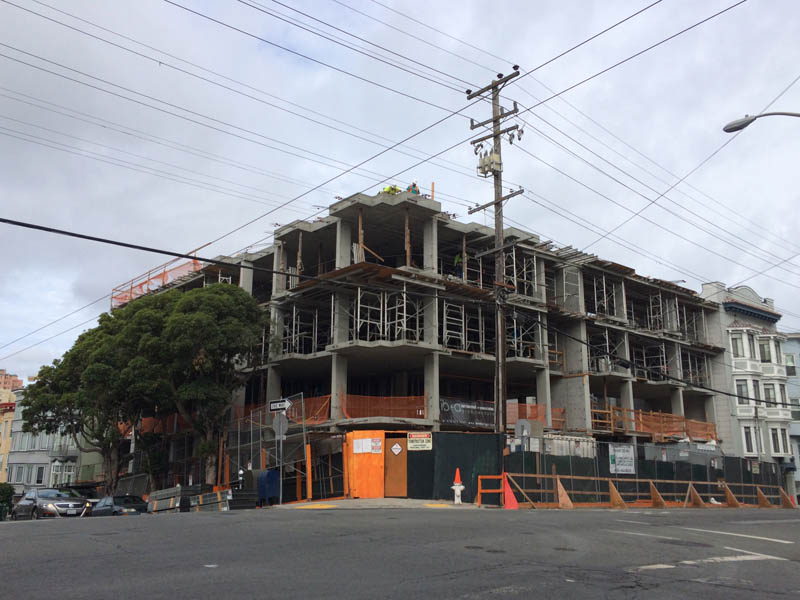 1601 Larkin St. this week. (Photo: Bo McGee/Hoodline)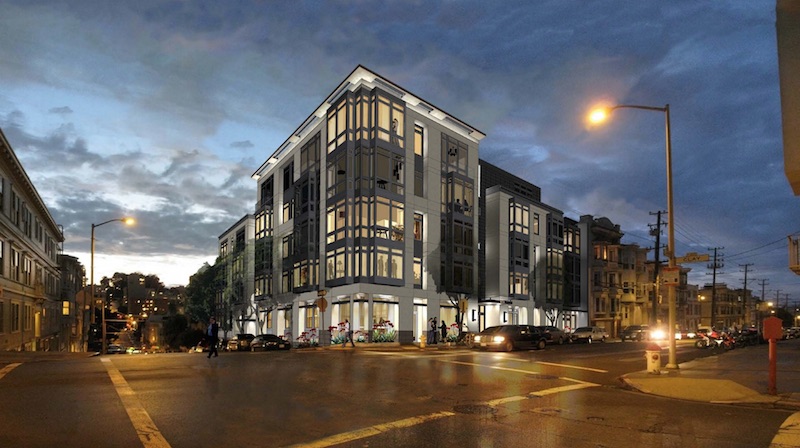 Rendering of 1601 Larkin St. upon completion. (Image: SF Planning Department)
A block up Nob Hill, construction is underway at 1601 Larkin St. The project moved forward this year after a long, often controversial fight with the city to destroy First St. John's United Methodist Church. The construction project, valued at $7 million, will ultimately see 27 residential units and 29 off-street parking spaces added to the neighborhood. The building is being developed by Anasazi Properties, who have not listed a projected completion date as of yet. 
Central Polk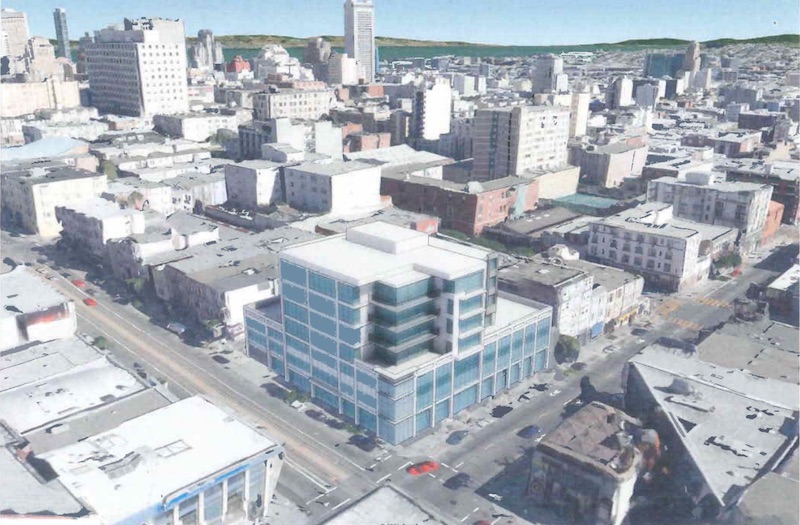 Rendering of proposed Polk and California project. (Image: SF Planning Department)
A proposal is currently under review that would see massive changes for the corner of Polk and California. The project would demolish three businesses: Out of the Closet, Fashion Exchange, and the Polk Street Boxing Gym. In their place, a seven-story, 80-foot tall mixed-use building with retail shops at ground level and 47 residential units above would be constructed.
On the grocery side of things, The Market on Polk is still set to open in the former Big Apple Grocery space in early 2016. 
Lower Polk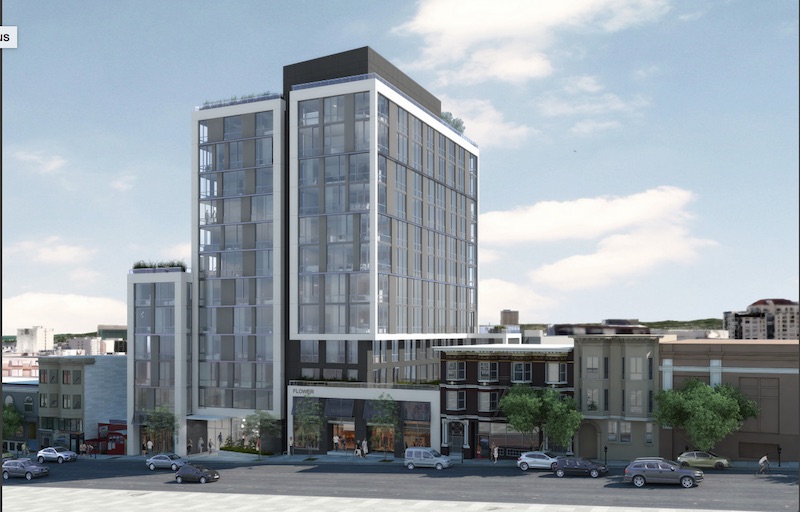 Rendering of 1545 Pine. (Image: Pacific Eagle Holdings)
Pacific Eagle Holdings will move forward this year with a plan to demolish five existing buildings on Pine Street between Polk and Van Ness and construct a 12-story building with 100 residential units and ground-floor retail space, as well as an adjacent six-story building with three residential units. 1545 Pine is expected to be completed by early 2017.
Pacific Eagle Holdings is also working with the Lower Polk Neighbors on a redesign for Austin Street, which will include a "special non-profit art space," as part of the Polk Alleys Project.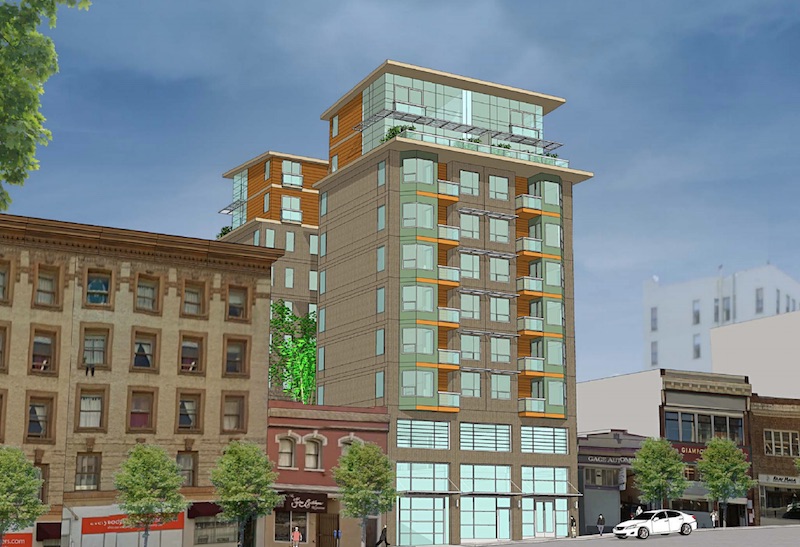 Rendering for proposed 1433 Bush project. (Image: SF Planning Department)
Another project in the planning phase would demolish the one-story City Rent-A-Car building at 1433 Bush St. It would be replaced by a 115-foot-tall, 10-story mixed-use building containing 32 residential units and 26 parking spaces. The building would also contain a ground-floor commercial space, which would continue to be used by City Rent-A-Car. 
The Hemlock Tavern and neighbors. (Photo: Bo McGee/Hoodline)
The Hemlock Tavern, along with several other small businesses that share its half-block building at Polk and Sutter, remains in jeopardy. A plan is currently under environmental review with the Planning Department to bulldoze the large building, in favor of a new, six-story mixed-use project with 64 studio apartments and ground-floor retail. The building would also include subterranean parking. A representative for the Planning Department told us that the environmental review could be completed by the end of the month. 
Over at 1033 Polk (at the corner of Cedar Street), a project has been proposed to renovate the existing two-story building and build six new floors of residential units atop it. The commercial space on the ground floor (which is currently vacant) would remain, as would office space on the second floor. The eight-story building would be 85 feet tall and include nine residential units.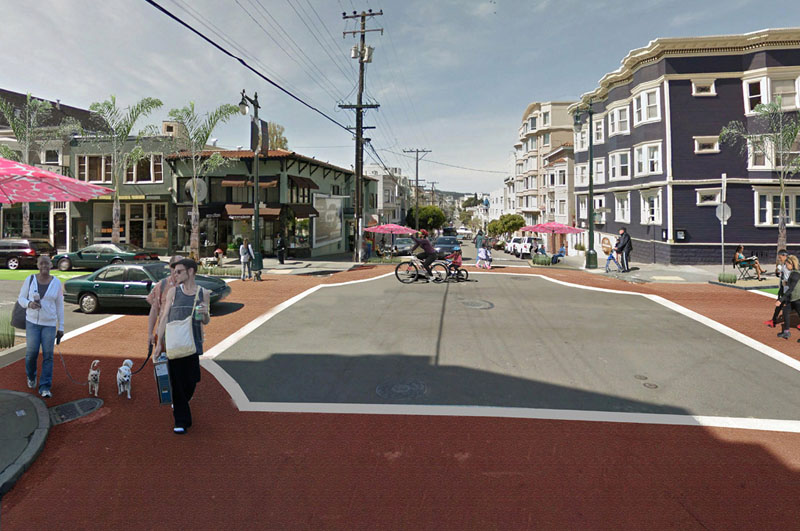 A Polk Streetscape Project rendering. (Image: SF Planning Department)
In addition to all of these construction projects, the neighborhood will see drastic overhauls from the Polk Streetscape Project, which aims to "create a thriving and active corridor, enhance the pedestrian experience, complement bicycle and transit mobility, and support commercial activity". The plan would completely overhaul bike lanes and pedestrian walkways, add pull-outs for Muni, incorporate greenery and public art installations, and create other "neighborhood identity elements," such as overhead lights and improved signage. Construction related to the project will begin in the spring of 2016 and expected to be completed by 2018.
The Polk Alleys Project will also add significant pedestrian space to the district, starting with bold redesigns of Fern Street and the aforementioned Austin Street. Organizers for the Fern Alley project will host two public workshops—on October 7th and October 10th—to review and revise plans for the alley with the community.
The Fern Alley project aims to move forward early next year, while the Austin Street redesign will coincide with construction at the aforementioned 1545 Pine St., which will likely occur in mid-to-late 2016. Though no official timetable has been set for the entire Polk Alleys Project, it will eventually seek to overhaul seven more alleys off of Polk Street.
A block over from Polk, on Van Ness, the Van Ness Bus Rapid Transit project will reshape the median of the busy street to allow buses to travel more quickly. The project will start with the removal (and eventual replacement) of most of the trees on Van Ness early next year; it's expected to be up and running by 2018.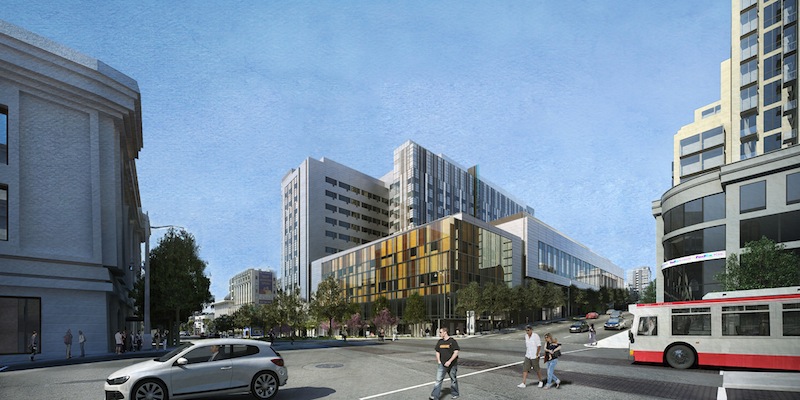 Rendering of the future CPMC campus at Van Ness and Geary. (Image: CPMC)
Last, but certainly not least, the California Pacific Medical Center is scheduled to open on Van Ness (at Geary) by 2020. The hospital will be composed of two buildings: a 12-story hospital with 274 patient beds, and an adjacent nine-story medical office building. The $2 billion project is also helping to support several of the civic improvements on Polk (including the Polk Alleys Project and elements of the Polk Streetscape Project) via mitigation funds provided by the project to a variety of neighborhood organizations.
Stay tuned to Hoodline for updates on all of these projects as they progress.