Neighbors and media got a sneak peek at North Beach's new Joe DiMaggio Playground this morning. City officials, including Mayor Ed Lee and District 3 Supervisor Julie Christensen, showed up to speak about the playground and beam over its progress. The playground's ribbon-cutting ceremony is scheduled for Nov. 14th, putting it ahead of schedule for what had initially been expected to be January 2016 opening.
"There are people here who know how happy I am today," said Christensen, who was instrumental in founding Friends of Joe DiMaggio Playground in 1997, long before she was in office. "This playground is a symbol of the toughest challenges and the most intense determination that our neighborhood has had to face to date."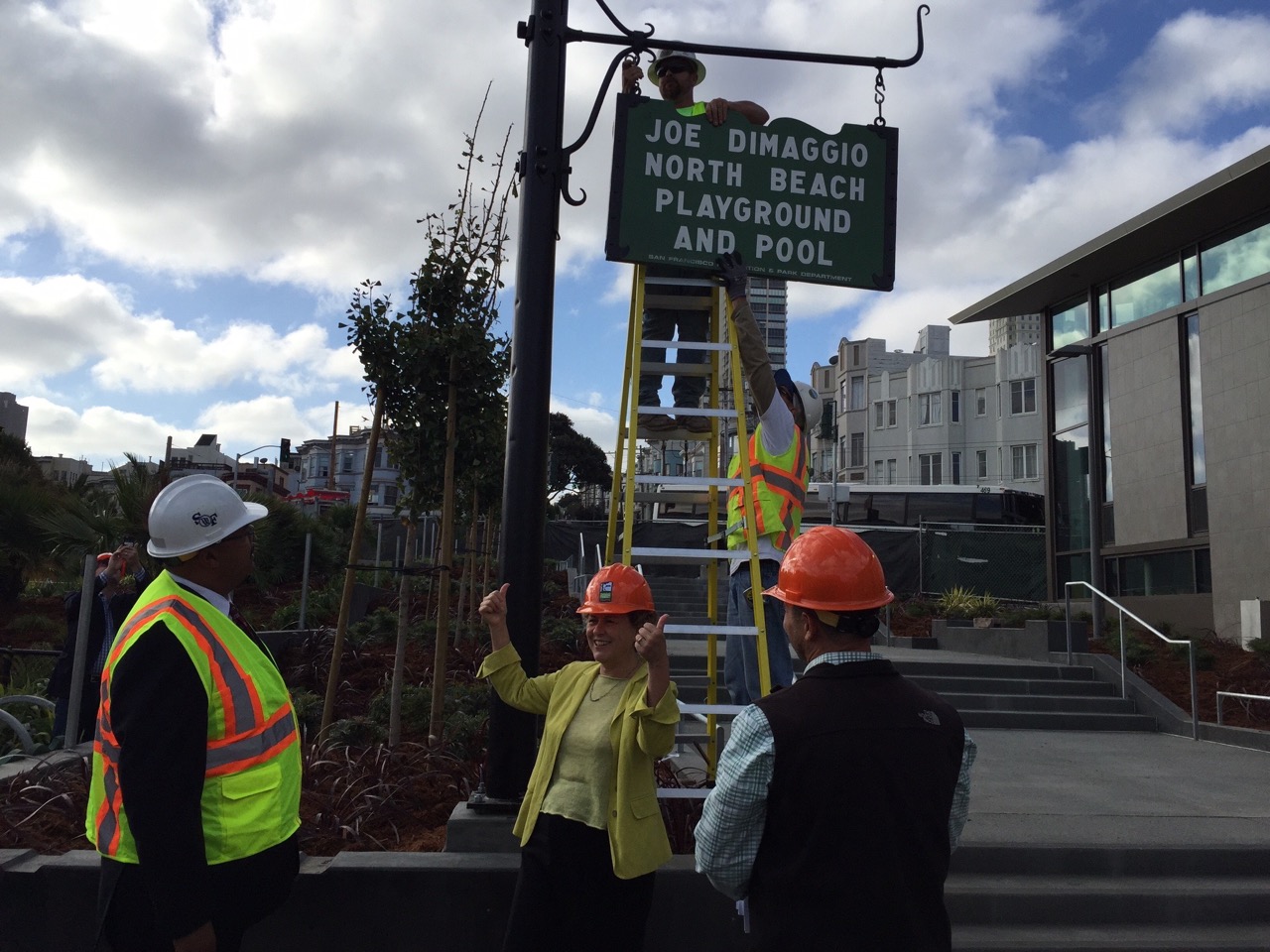 Mohammed Nuru, Julie Christensen and Phil Ginsburg.
The playground was a long time coming because two other projects needed to be completed first, as part of a master plan. The North Beach Pool, built in 1910, started sinking due to the weight of water in the deep end and couldn't properly filter. That renovation, which finished in 2005, kept the group busy for many years. After that, the North Beach Branch Library needed more space, and it took time to find a site and build it. It opened on May 10th, 2014.
"I went to my first meeting about this playground 10 years ago, after I had my first child," said Martha Mahony. "I've had two more since. It's a huge victory for our neighborhood."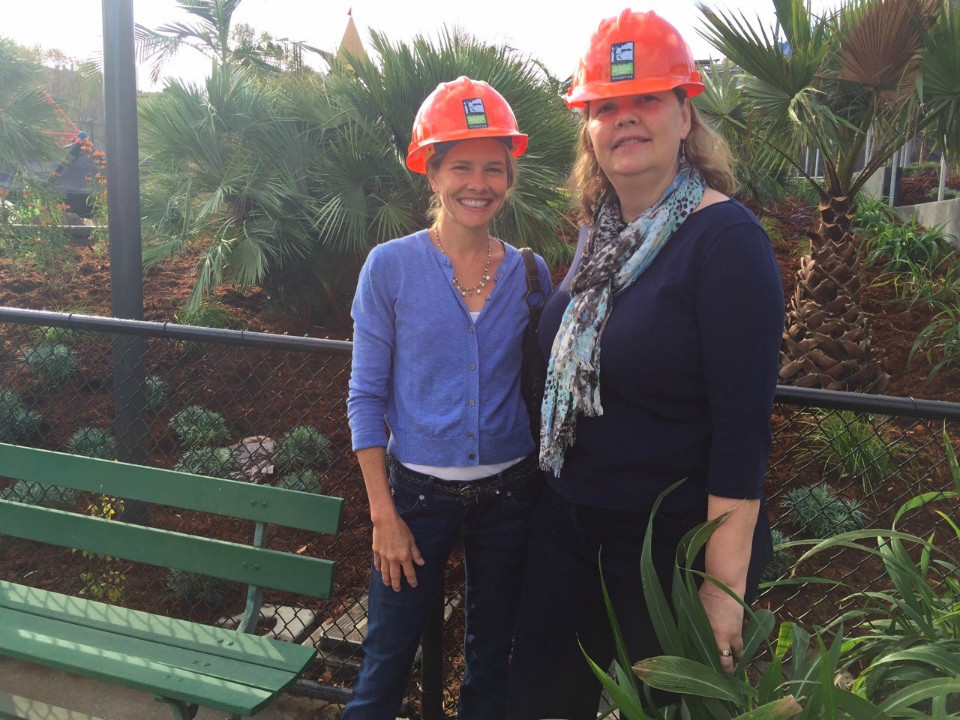 Martha Mahony and Teresa Dal Santo. 
The 2.5-acre playground, which extends an entire city block east of Columbus Avenue between Greenwich and Lombard, has more than 50 new trees and 12,000 square feet of planted area, with a Mediterranean theme that includes fan palms, olive trees and lavender. There are also new children's play areas, including a turreted play structure, and a resurfaced and renovated sports court area with basketball hoops, tennis courts, volleyball courts and softball diamonds.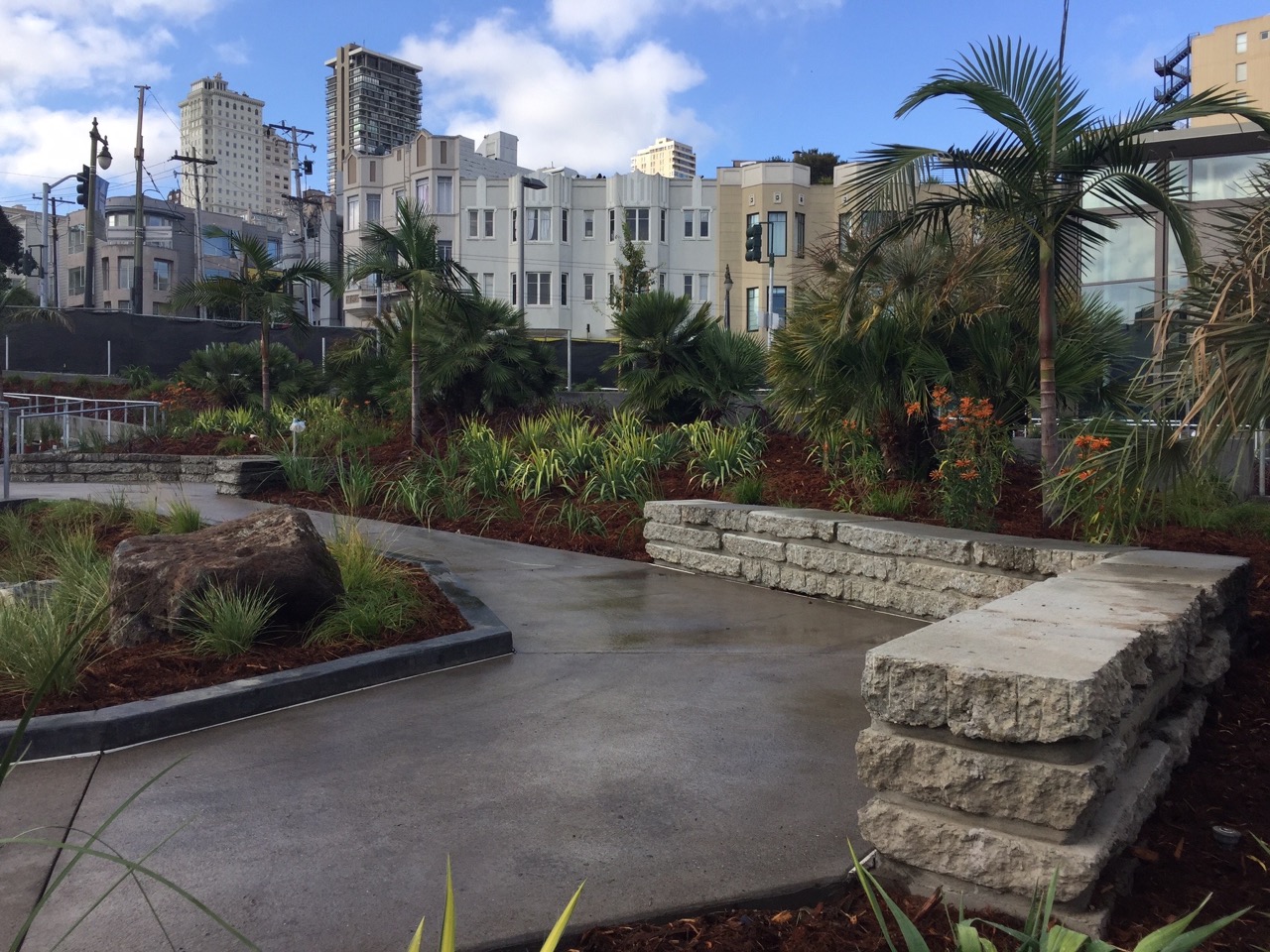 The 105-year-old playground last underwent upgrades in the 1930s and '40s, and was mainly concrete before this recent overhaul. The city chipped in $5.5 million in funding from a voter-approved 2012 bond for San Francisco Recreation and Park, and volunteer group Friends of Joe DiMaggio Park raised an additional $300,000 for extras like decorative boulders, an outside fence, larger trees, colored concrete and a giant tiled fish for climbing in and admiring. "It's a functional piece of art," Mahony said. "It's gorgeous."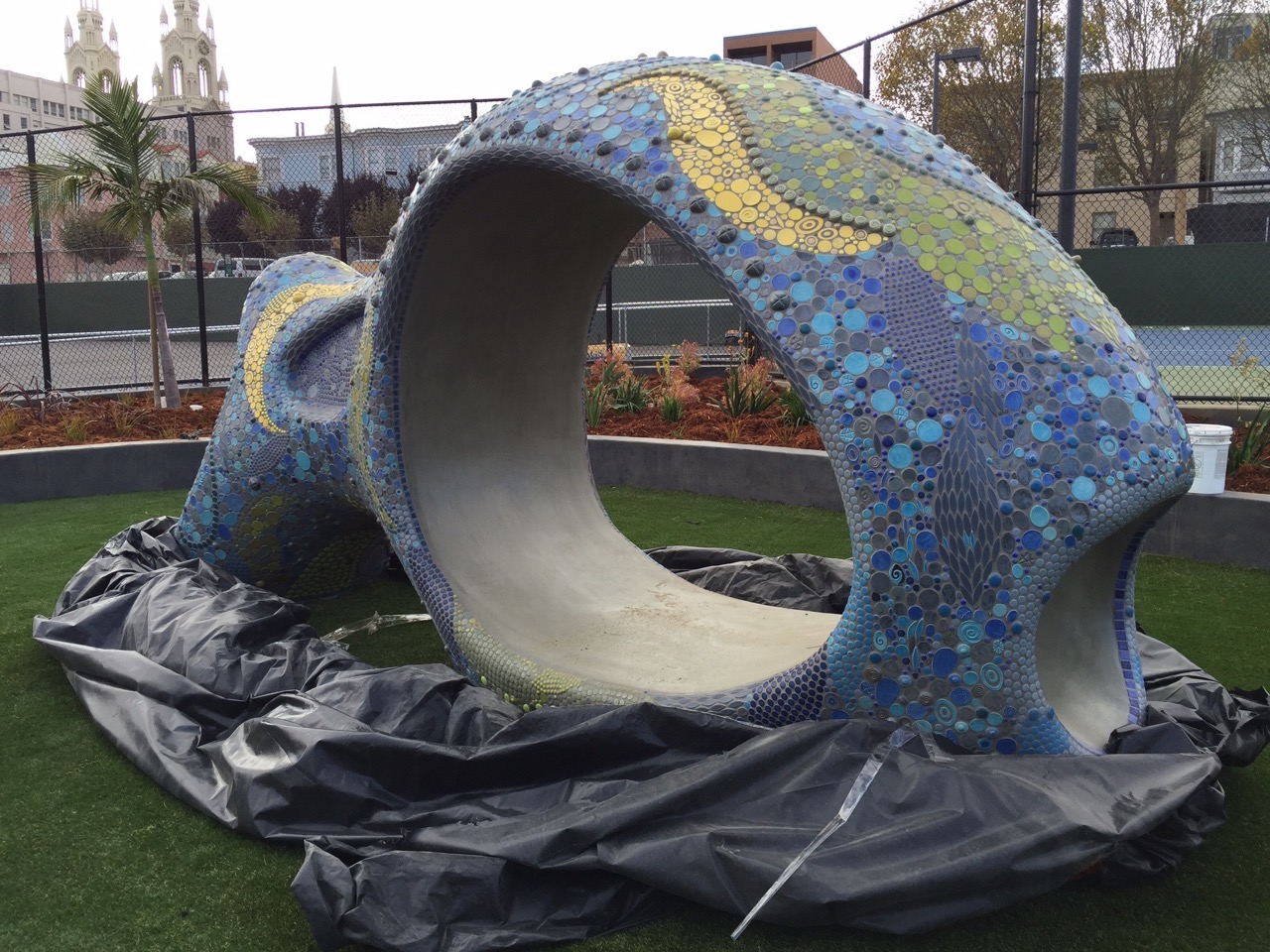 "Parks are a great equalizer. In our affordability challenge, everyone can come to our parks," Mayor Lee told the crowd at Tuesday morning's event. "We don't want second-class parks. We want world-class parks. And this is a world-class park."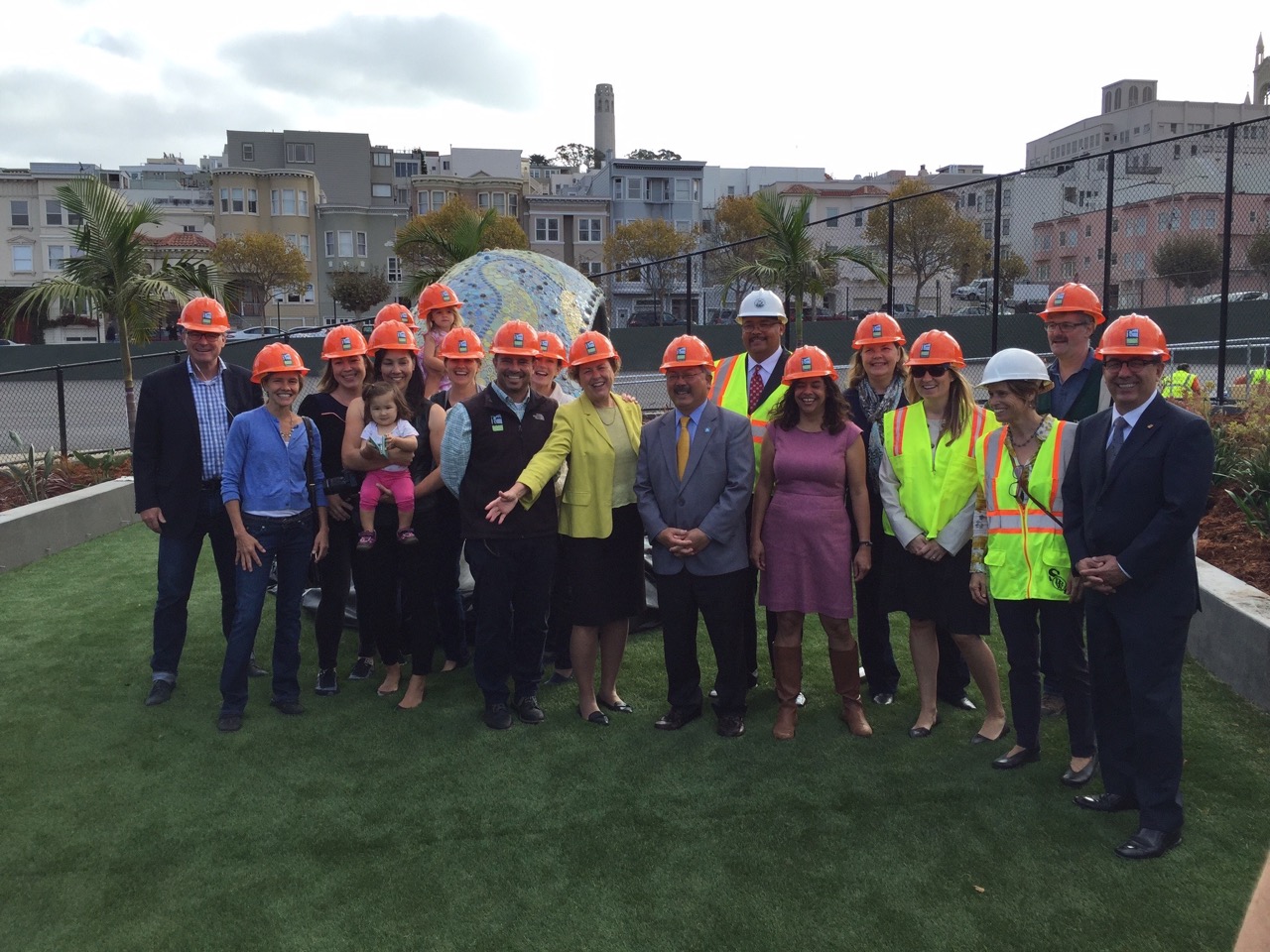 Other officials in attendance included Phil Ginsburg, general manager of Recreation and Park; Luis Herrera, city librarian; and Mohammed Nuru, director of SF Public Works. Teresa Dal Santo of Friends of Joe DiMaggio Playground also spoke, thanking neighbor and award-winning park designer Lizzy Hirsch for the "amazing design" and Christensen for "making it all happen." She also offered to sell a donor tile to anyone who hadn't yet bought one.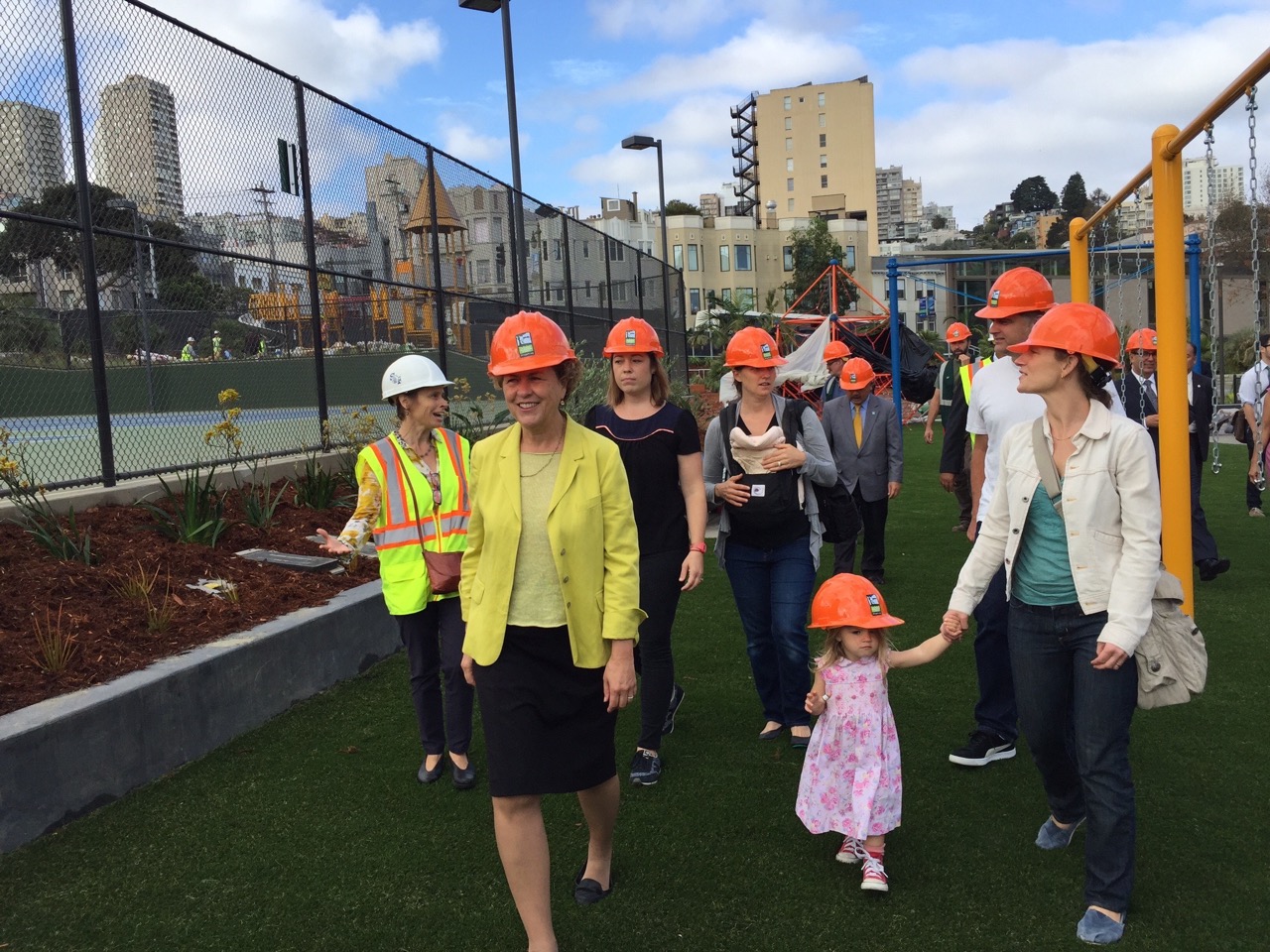 "It feels good, because the neighborhood is all excited and you feel you're really supporting the community at large," Hirsch said. Her own children, who are now in college, never benefited from all of the hard work, but she said years of taking her children to playgrounds helped her form "a sense of what needed to happen." Hirsch said there were times when the neighbors wanted to give up, but Christensen kept pushing them. "It takes endurance," she said.