Two bicycle collisions happened in the FiDi and on the Embarcadero this afternoon, one of them fatal. 
The fatal collision was called in at 3:23pm today. A male cyclist, age 48, was traveling westbound on the 500 block of Market Street in the FiDi. (Update, 10/12: He's been identified by the San Francisco Medical Examiner's Office as Mark Heryer, 47, of Berkeley.)
He maneuvered out of the sharrow lane to ride between two buses, also moving westbound, said SFPD spokesperson Grace Gatpandan. He lost control of his bike, and was killed when a bus collided with him.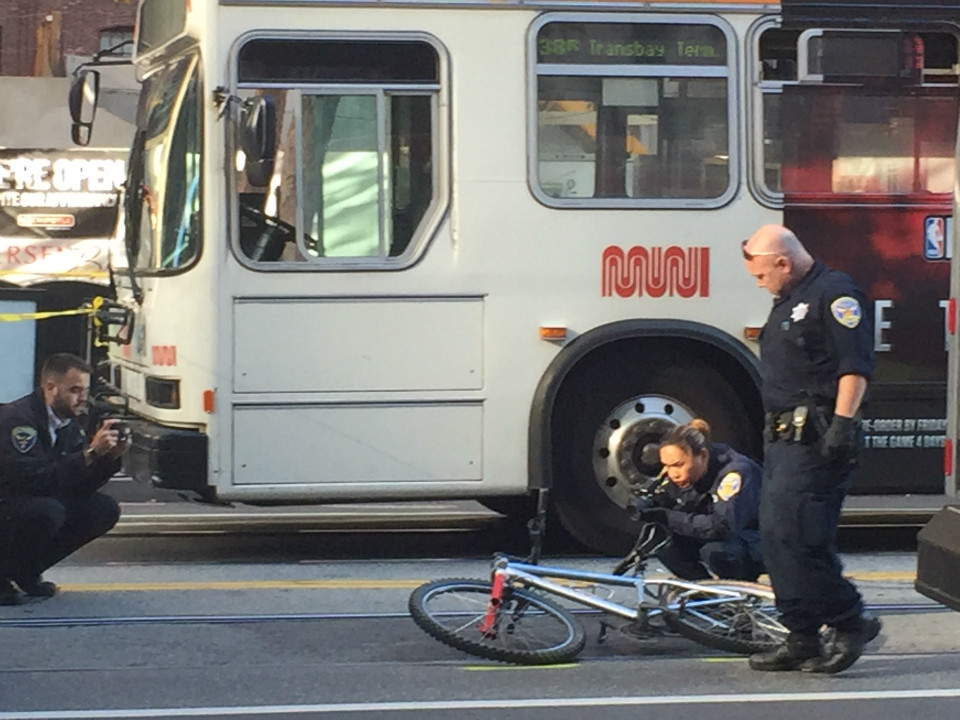 "It does not appear the bicyclist was traveling in a bike lane," said Paul Rose, spokesman for SFMTA—though it's important to note that there is not a bike lane on that section of Market Street. Instead, one lane is designated to be shared by cars, Muni buses and cyclists. 
Gatpandan said later, "Don't try to pass a bus, especially in the streetcar lane. Stay to the right." Neither blamed the cyclist for the collision, and both said Muni is reviewing video from the buses and nearby cameras to determine exactly what happened. Passengers were removed from the bus and questioned as well. This was the second fatality involving Muni this year, Rose said. The other collision killed a pedestrian.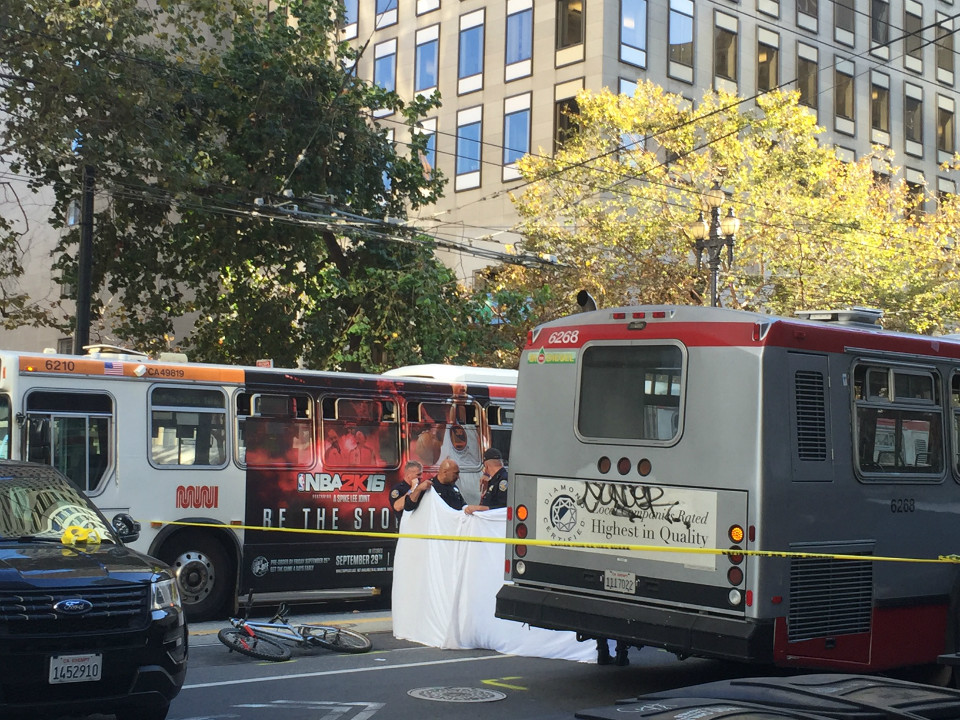 The entire block of Market Street between Battery and Sutter streets was expected to be cordoned off until about 7pm, Gatpandan said. It halted bus and F-line streetcars along Market on the final day of a busy Fleet Week. The bus driver will be tested for drug and alcohol use, as is protocol. "We're working with the police department to do everything we can to find out what happened."

The second collision occurred at 4:01pm on the Embarcadero near Chestnut Street. A horse trailer being pulled by a vehicle hit a 46-year-old female cyclist, causing serious injuries. She was taken to San Francisco General Hospital. Drug and/or alcohol use by the motorist do not appear to be a factor in the collision, Gatpandan said.
Numerous passersby inquired about the cause of the street closure on Market and a few mentioned they'd also walked by the collision on The Embarcadero. Gatpandan said both cyclists were wearing helmets, and that the helmet was a "huge factor" in the woman's injuries not being life threatening.
Updated, 10/12: Later Sunday evening, SFMTA sent out this statement in an email:
The San Francisco Municipal Transportation Agency (SFMTA) and its more than 5,000 employees, wish to express our deepest sympathies and condolences to the family and friends of the cyclist who lost his life in a bus collision along Market Street late this afternoon. An investigation into today's collision is underway by the San Francisco Police Department (SFPD).  Our agency will work closely with SFPD to ascertain all facts of this truly unfortunate event.

The SFMTA adopted a Vision Zero Policy in 2014, with the goal of eliminating all traffic deaths in San Francisco by 2024. We are committed to working with our partners to make San Francisco streets safer, while educating the public on traffic safety, enforcement of traffic laws and prioritizing the necessary resources that implement life-saving initiatives.