Water2Table, which takes fish virtually fresh off of the hook and delivers it to local eateries, is setting up its own fish market and restaurant in the former Original U.S. Restaurant (515 Columbus Ave.). Yesterday, Inside Scoop caught first word of the project, which founders Joe and Andi Conte plan to open in the spring.
The new place, tentatively named Seven Fishes (after the Feast of the Seven Fishes) in honor of Joe's Italian heritage, will feature a small retail counter and a full restaurant with beer and wine. The Contes have extensive backgrounds in the restaurant business, and Andi is a certified sommelier. They're also locals: They live in North Beach and their children attend Saints Peter and Paul Salesian School (you might recognize the name because they donated oysters and squid for calamari for the school's recent fundraiser—the North Beach Bazaar—on Oct. 10th–11th).
Joe Conte said lunches will be casual, with soup, salad, seafood sandwiches and possibly seafood pizzas, all in the $10–$15 range. Plan to be wowed at dinner. "I envision it being a pretty special restaurant at dinnertime, possibly with some of the best seafood in the city," he tells us. "Most fish goes from fisherman to receiver to wholesaler to a distributor and then to a restaurant or market, and I'm a receiver, and I sell directly to restaurants. Many times I'm getting fish the night before or that morning, and it's getting out to restaurants pretty quickly."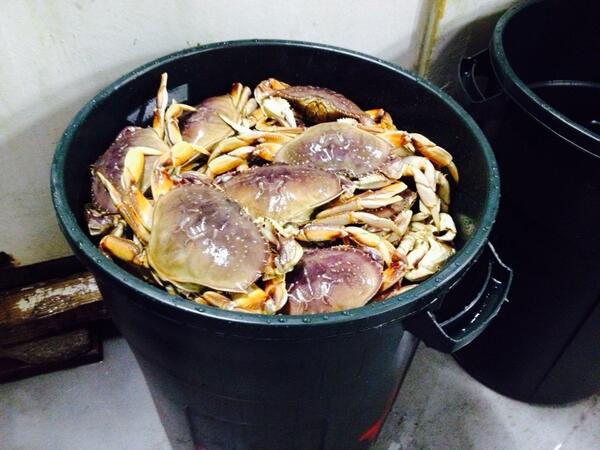 Photo: Water2Table/Twitter
They're still in the process of finding a chef, but Conte has a pretty definite idea of what they'll serve. Dishes will be mostly coastal Italian, he says, with the possibility of reaching out into other areas of the Mediterranean as well. "There's really no reason why you couldn't do a clam chowder very elegantly and properly instead of a big, chunky, cream-based, potato-based dish," he says.
Conte says he envisions a "rustic but sophisticated" menu with well-executed classics. For example, each type of seafood in a cioppino should be cooked separately and then put together with the base poured over it at the table. That way, your white fish isn't falling apart while your shrimp is like rubber. "I think it'll do well," Conte says of the forthcoming restaurant. "I think it'll be a destination for a lot of people in the city, too."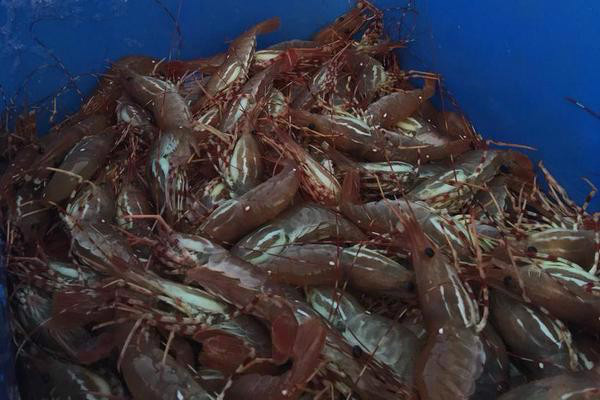 Half Moon Bay spot prawns. Photo: Water2Table/Twitter
The seafood counter at their new place will feature fresh-caught fish and seafood as well as seasonal specialties such as pickled herring, marinated anchovies and smoked fish. "Different times of year, there's an abundance of things," Conte said. Though the retail part will be small, it'll be the only fish market in the immediate neighborhood. Ferry Plaza Seafood moved in to 653 Union St. in 2014, but it left the market component behind when it set sail from the Ferry Building.
Water2Table, founded in 2011, gets much of its catch directly from the local hook-and-line fishers near places like Bodega Bay, Half Moon Bay and Seal Rocks. "You don't see that much in the markets," Conte said. "You're seeing a lot of imported fish, cheaper fish. It'll be as nice as it gets." He added, "There'll be a heavy emphasis on where the fish is from and who caught it. I can give people information all the way down to the boat name."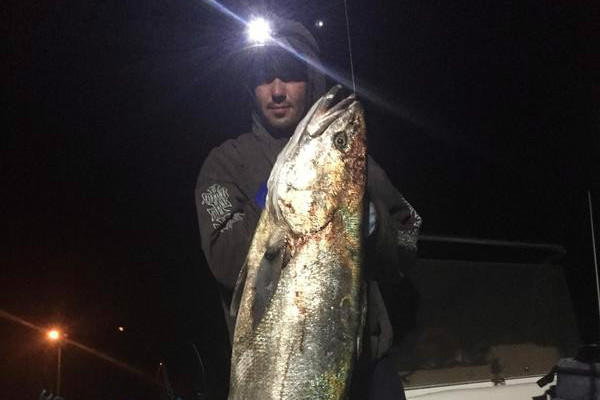 Fish caught by Bodega Bay. Photo: Water2Table/Twitter
And, the new venture will sell not only fish, but ready-made accompaniments such as vegetables for making an easy meal at home. "Most people are willing to cook a small fish for five or ten minutes, but they don't want to deal with all of the sides that go with it," Conte said. "There'll be side dishes you can warm up. You'll be able to get everything you need to make dinner that night," including herbs, loaves of fresh bread, olive wine, and retail wine to go.

With the new Lil' Mama's community market opening just south of there at 627 Vallejo St. (at Columbus), an Italian-themed retail shop, Rialto Mercado, opening north of Filbert at 705 Columbus Ave. and fresh pasta and dry goods at The Italian Homemade Company at 716 Columbus Ave., among other stalwarts like Molinari, that strip will be chock full of places to buy ingredients for dinner.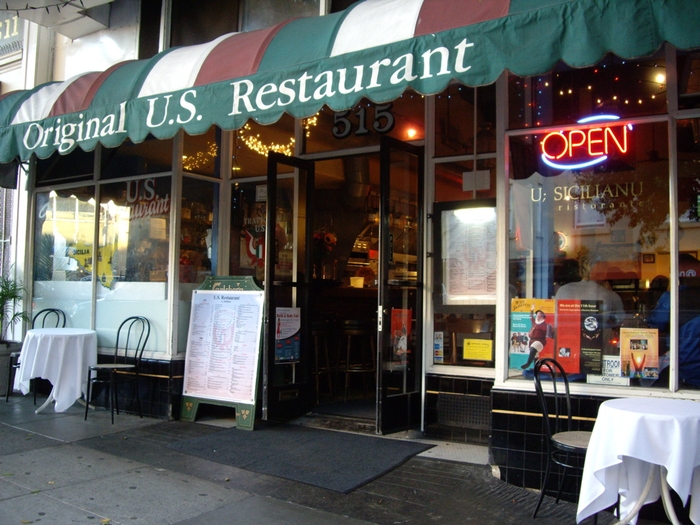 Photo: Christian B./Yelp
We reported back in May that a sign went up on the Original U.S. Restaurant in April saying, "We will be closed for remodeling April 13th–May 13th," but it never reopened. We heard from several sources that it had severe water damage and problems with the floor, and building permits have been filed to remove the old wood floor and replace it with a new concrete one. Conte said the landlord (Helen Tam) is doing extensive renovations, but they'll be responsible for the restaurant buildout.
Incidentally, former Original U.S. Restaurant owner Gaspare Giudice, who's been working of late at Colosseo, has something brewing, too, but says it's too early to give details.