Published on October 26, 2015
We reported last week that after increasing media scrutiny of the botched construction project on Haight Street, which has thus far resulted in five gas leaks on the same block, representatives from the Haight Ashbury Neighborhood Council (HANC) were calling for a press conference with San Francisco Public Works and D5 Supervisor London Breed. 
Today at 10am, representatives from HANC, North of the Panhandle Neighborhood Association (NOPNA), the Haight Ashbury Merchants Association (HAMA), and the Panhandle Residents Organization (PRO/SF) gathered at Haight Street Market's parklet to hear comments from London Breed and Mohammed Nuru, the Director of San Francisco Public Works, about the recent string of gas leaks in the Upper Haight. The Alamo Square Neighborhood Association (ASNA) was also present, due to mounting concerns that the same sub-contractor would soon be starting work on Hayes Street.

The press conference opened with HANC President James Sword explaining that in the aftermath of several semi-emergencies in a very short time, the conversation had devolved into finger pointing, and no clear plan for accountability had emerged.  "There's a lack of knowledge of what is going on here, and there is a lack of oversight," he said. "We feel like we deserve answers from City Hall, from the Mayor's Office, from the Department of Public Works, from PG&E."
Sword then turned it over to Christin Evans, HAMA treasurer (and this reporter's employer over at Booksmith). She presented a timeline of events, and stressed that the financial disruptions to over 30 Haight Street businesses due to the infrastructure project have been exacerbated by the repeated street closures and evacuations on the Masonic-Ashbury block of Haight.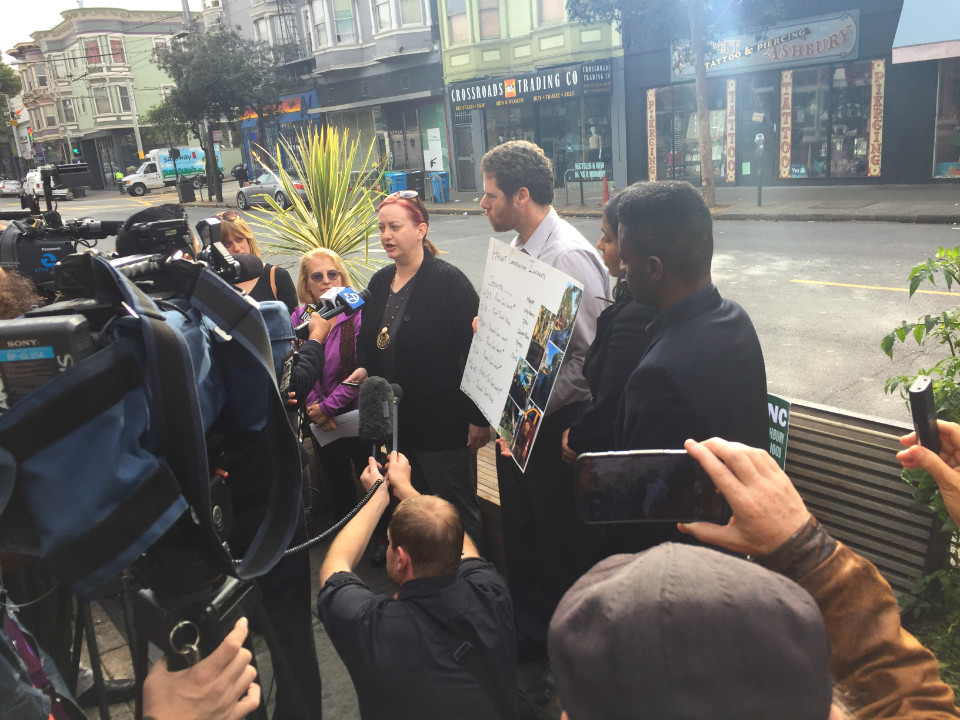 HAMA Treasurer and Booksmith owner Christin Evans presenting a timeline of events.
When it was London Breed's turn, she emphasized that Synergy, the subcontractor for the job, bid $1 million lower than it next competitor. By bidding low, the company cut corners, and the job doesn't get done properly. "Not only is low-bid a real problem, but the fact that this same contractor just settled three lawsuits with the city and county of San Francisco but still continues to get contracts with the city and county of San Francisco is insane." She added, "We have to hold contractors who are incompetent and can't do quality work for the city and county of San Francisco accountable." 
She confirmed that she reached out to Mohammed Nuru and specifically asked that the subcontractor, Synergy, be taken off the job. 
A question was asked about the incorrect maps supplied to Synergy by PG&E, and Breed explained that even though faulty maps might have been blamed for the first gas leak, that's not a good enough excuse for the subsequent ones. "This impacts public safety ... We need to understand whether we have qualified people to do this job," said Breed. 
She explained that she would be holding a hearing within the next few weeks to determine whether Synergy is at fault, or if there is more blame to go around. In the meantime, her office doesn't envision work being started up again until after the holidays. (A holiday construction moratorium from Thanksgiving until New Years Day has always been the plan.)
"You should see what they did to my street after work supposedly stopped!" shouted one person.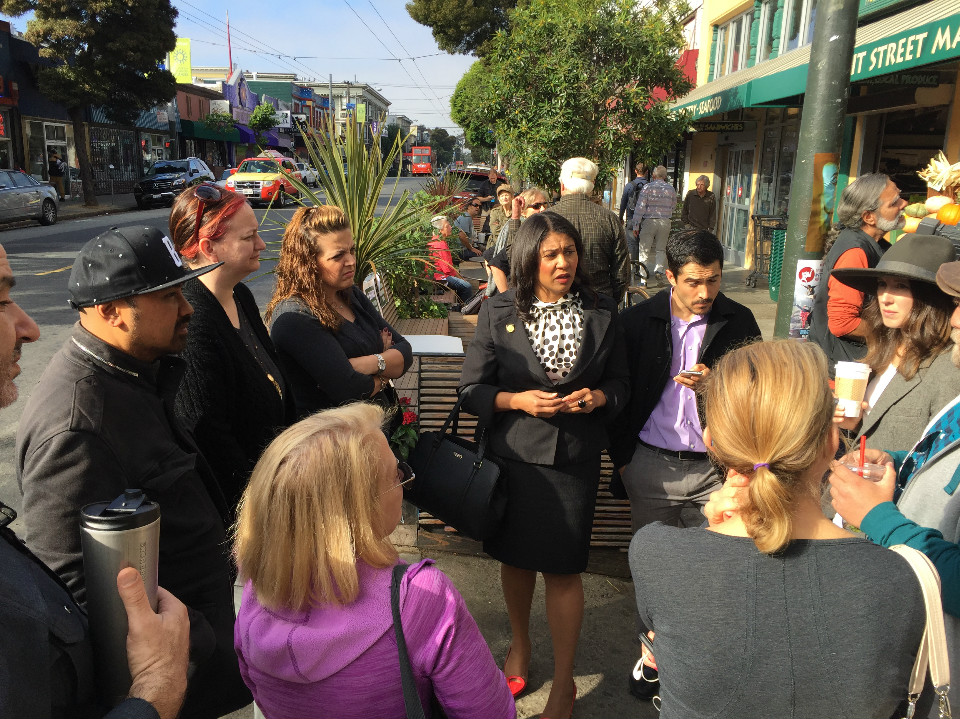 London Breed chatting with Haight Street merchants after the press conference
Absent from the meeting was a PG&E representative. At one point towards the end, a question was shouted from the back: "Why isn't a PG&E person on-site at all times?" The question went unanswered.
We'll pass along details of the hearing when it's scheduled.