Perched on a steep stretch of Noe Street, Ruby's Clay Studio & Gallery has been a Castro institution for nearly half a century. We stopped by to explore the history of the nonprofit studio, its current offerings, and the community that it provides to artists and locals alike.
Initially founded in 1961 by well-regarded Northern California ceramicist and Mills College graduate Ruby O'Burke, the studio was originally a private school for art, located in Hayes Valley. Just a few years later, though, it was forced to relocate when the property was seized by eminent domain to enable the construction of the Central Freeway. "Ruby's has operated on Noe Street since around 1968," manager and longtime member Richard Williams told us. 
Williams, who has been part of the studio since 1981, said that O'Burke was a fixture at the studio. "She lived upstairs with her two dachshunds. I wish I could say she was a sweet old lady [laughs], but she was quite knowledgeable, especially about glazes. We owe her an enormous debt of thanks for re-establishing the workshop there in that building."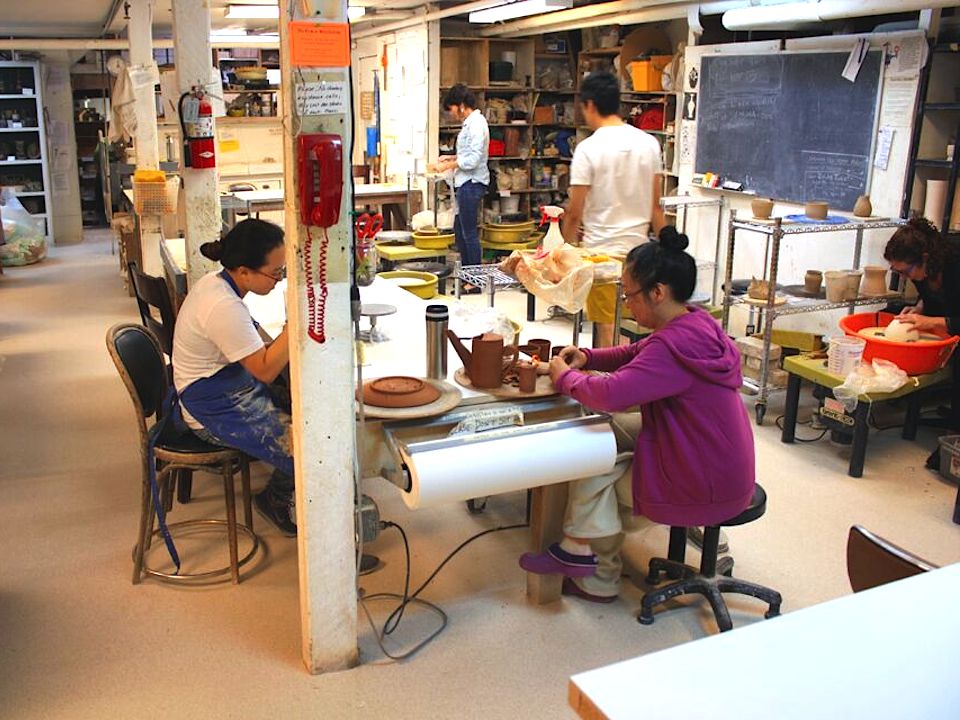 After O'Burke's death in 1985, the studio transformed into a membership-based 501(c)3 nonprofit organization that caters to local artists and students. Its members range from novice enthusiasts to master craftsmen and women.
Ruby's is situated across two compact levels. The top floor is used for drop-ins and serves current students enrolled in the studio's eight-week courses, while artists and senior members of the studio use the basement level, which offers a casual display and drying space for their completed and in-progress works.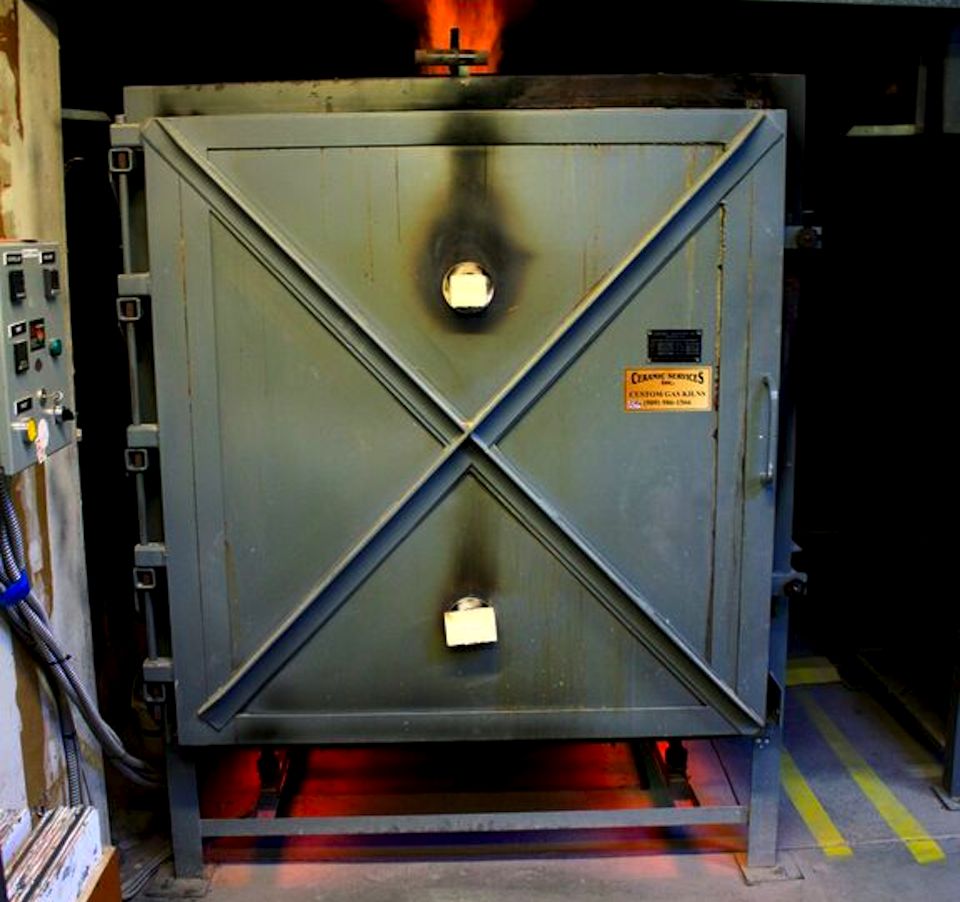 Ruby's largest kiln, firing at nearly 2,300 degrees Fahrenheit.
The studio's computerized kilns (both electric and gas) are situated at the rear of the space, firing pieces created by the broader Ruby's community at least once a month. As a perk of membership, individual members can fire whenever there is space and someone to tend to the process.
The kilns were built over outdoor space, as an addition to the old Victorian. "The building originally ended with the glazing area," Williams said. "When I first came here, there was an old guy down the street who remembered that when he was a kid, the space would get deliveries by horse and wagon. Our kiln area was the stable for the horse."

In total, Ruby's accommodates approximately 75 locker holders, 32 "space holders," 40 students, and drop-in studio users "too numerous to count." The space is overseen by acting operations manager Marnia Johnston, along with a board of directors comprised of nine members.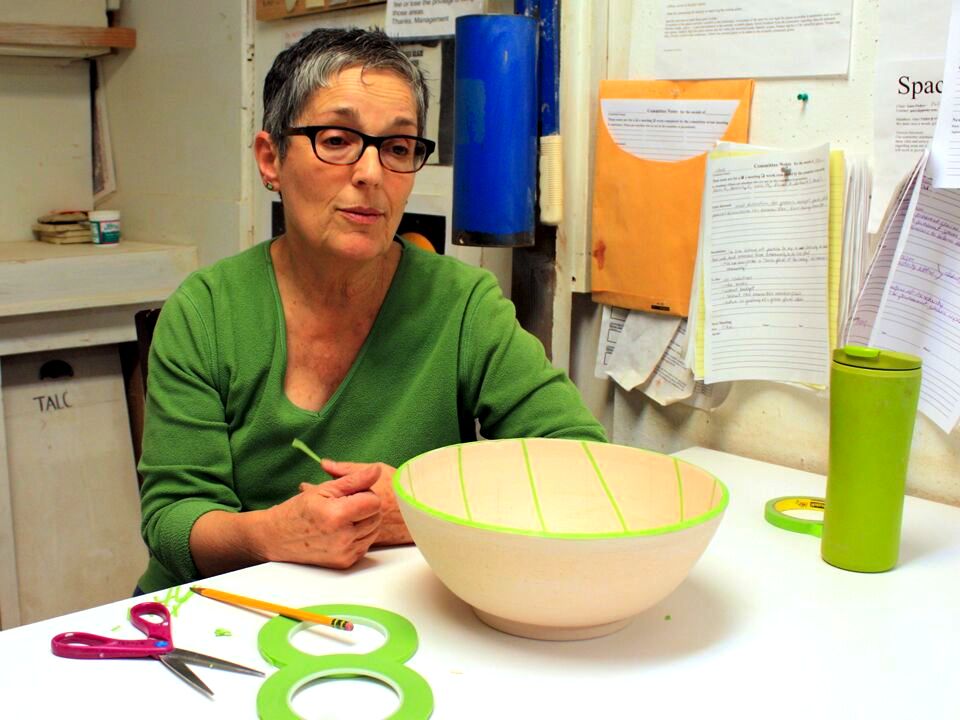 Terrie Raphael and one of her bowls.
"People are very generous with their time, information, and tools," said Terrie Raphael, the board's leader. "They're willing to share tips about composition and working with clay. It adds to the friendliness of the whole experience."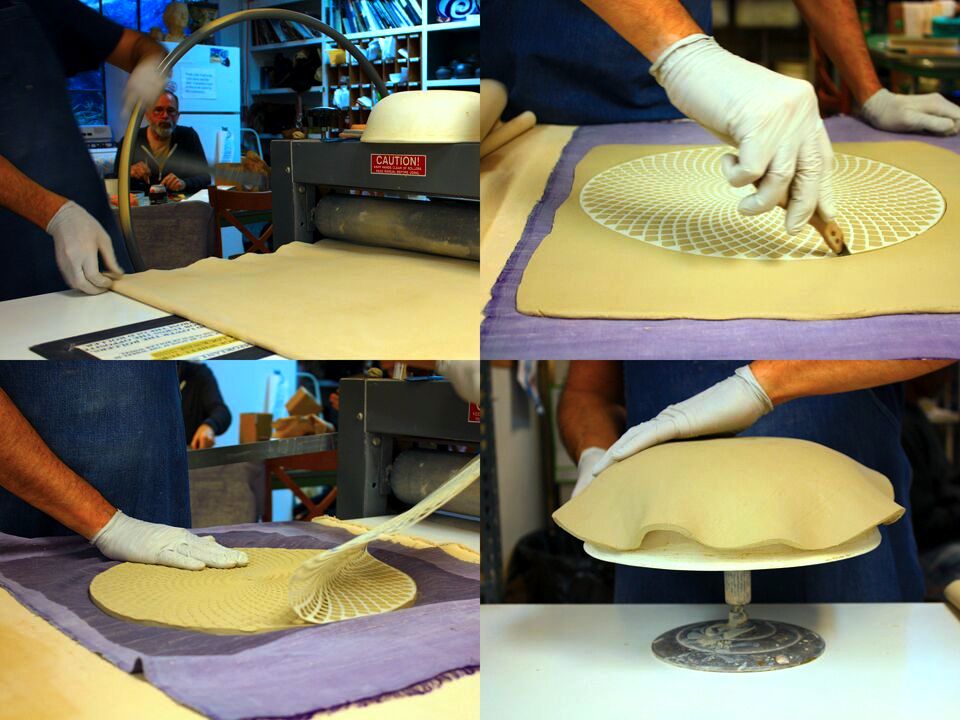 "I love the community," Johnston said. "I think that's what draws people to this place, and to clay in general. Kilns, clay mixers and other equipment are pretty expensive, and can be expensive to run. So potters share equipment. This creates a collaborative, supportive and creative community. Being an accepting, creative and supportive community, the Castro is just a great fit," she added.
Johnston admired the efforts that patrons go to in order to help make Ruby's continue to work for everyone. "We have a very small staff—even the studio managers are part-time. It's all supported by membership fees, allocated by the finance committee. The success of the studio is only made possible by people who give their time and their love to our space."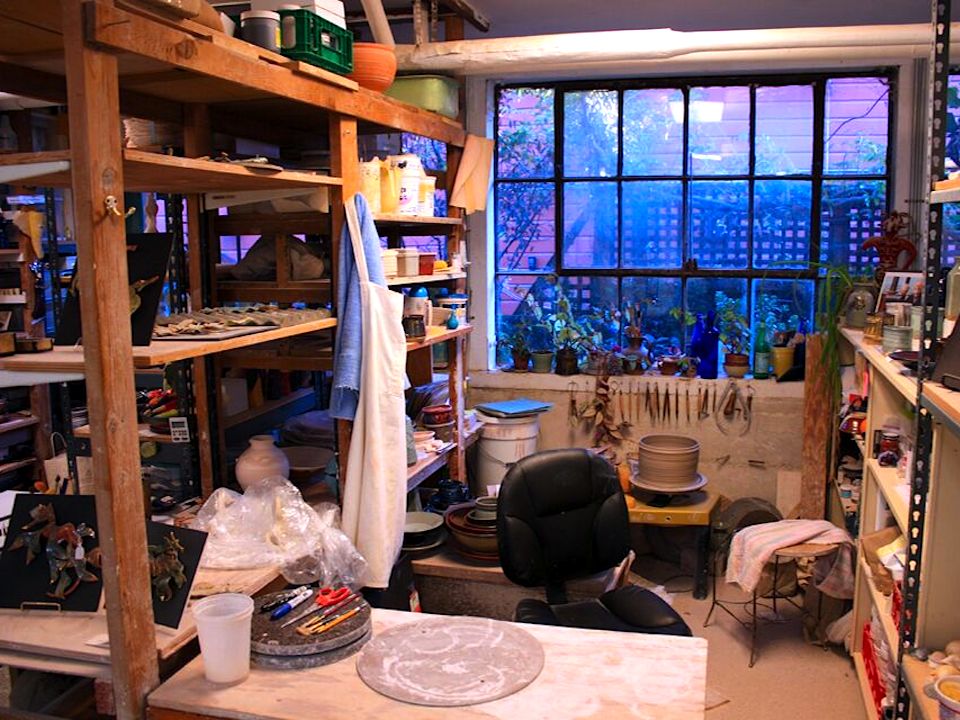 Artist space around the studio.
Ruby's is so popular that there's currently a three-year-long list of hopefuls clamoring to be part of the space. Responsibilities include paying annual dues and participation in one of Ruby's many committees, which organize everything from marketing to education to the gallery space. "It's relatively affordable," said Raphael. "We work very hard to keep fees as modest as possible, to make it accessible to people with a variety of backgrounds."  
Ruby's has gallery shows that change approximately every two to four weeks, providing a unique opportunity for many artists to learn how to display their work, price it appropriately, and gain exposure. The eight-week courses, which are open to the community, cater to all ability levels simultaneously, giving students the chance to drop in and use studio space in their spare time.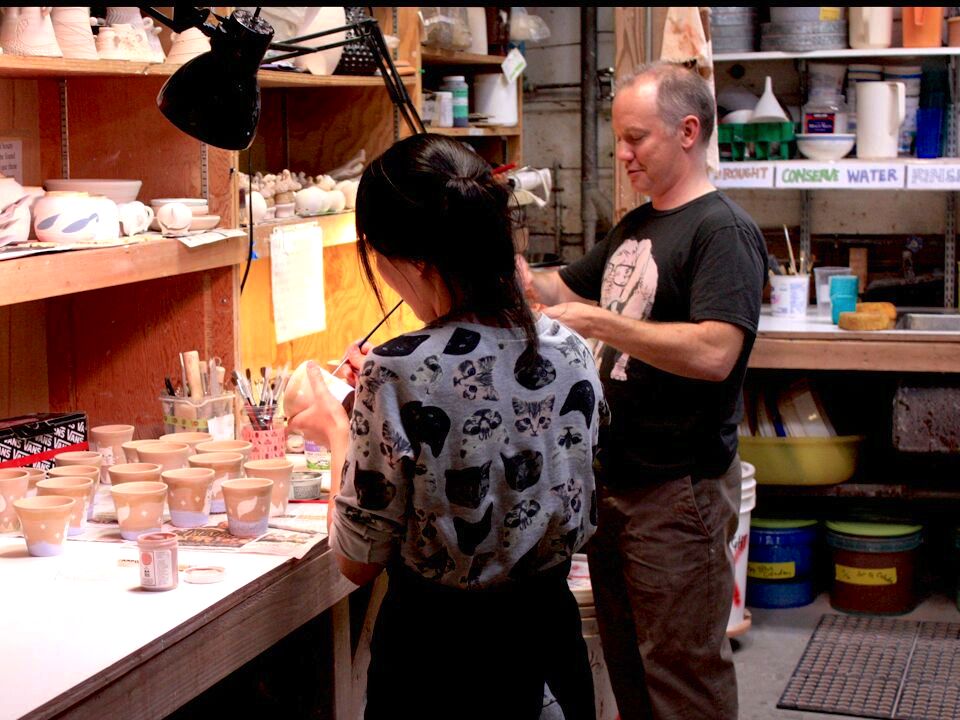 "I'm just making some little mugs for my own project," said Daniel, a current Ruby's student. "I'm a drop-in, so I come here once a week, usually on a Saturday. It's a great way to find peace of mind." Originally from England, he admires that students come from all over. "It's a little microcosm of the world."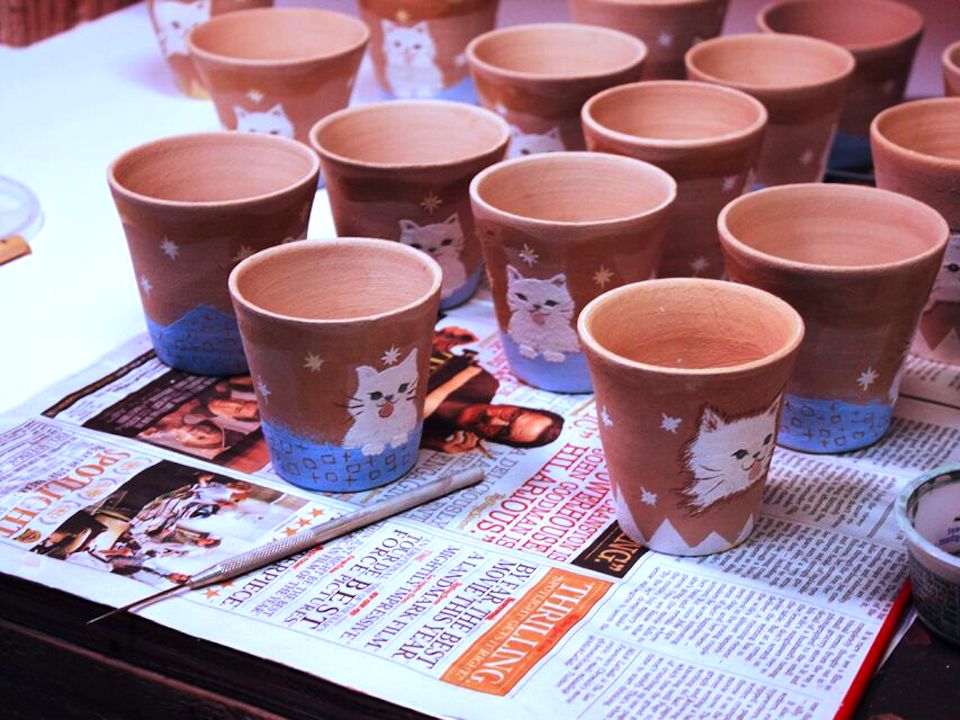 Sunny's CCC's: Cute Cat Cups.
His fellow student Sunny, who started classes this year, also enjoys the diverse crowd. "In the same class, you have beginners and very advanced ceramicists … you all learn from each other."
Ruby's also tries to provide services to the wider community. "We are currently firing work for several elementary schools in San Francisco, as well as the Homeless Prenatal program," Johnston said. "And we'll be working with SEED to provide clay and firing to schools in Bayview/Hunter's Point."
"As a nonprofit, we are always balancing the needs of our community members while making sure we are a fiscally healthy organization," she continued. "With so many nonprofit arts organizations leaving the city, we are very aware that our mission is more important than ever."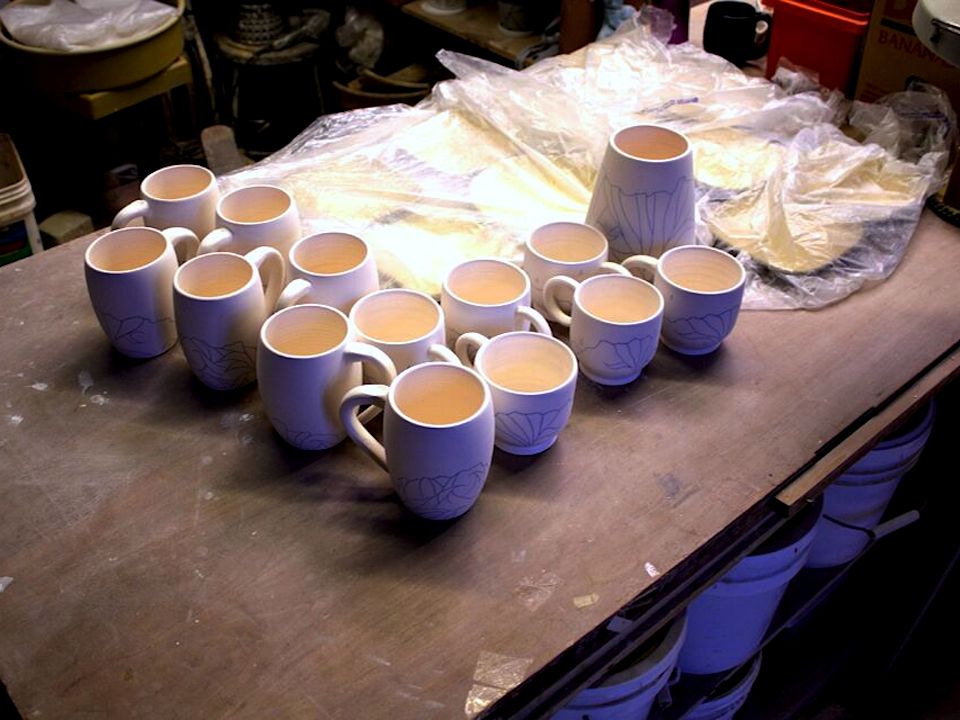 The studio holds several shows throughout the year where members can sell work created in the studio, including the Holiday Sale, which runs for several weeks, starting today. "The Holiday Sale has about 25 participants, each with their own petite space in the gallery," Johnston told us. The sale will be up through January 5th, with proceeds going directly to the artists.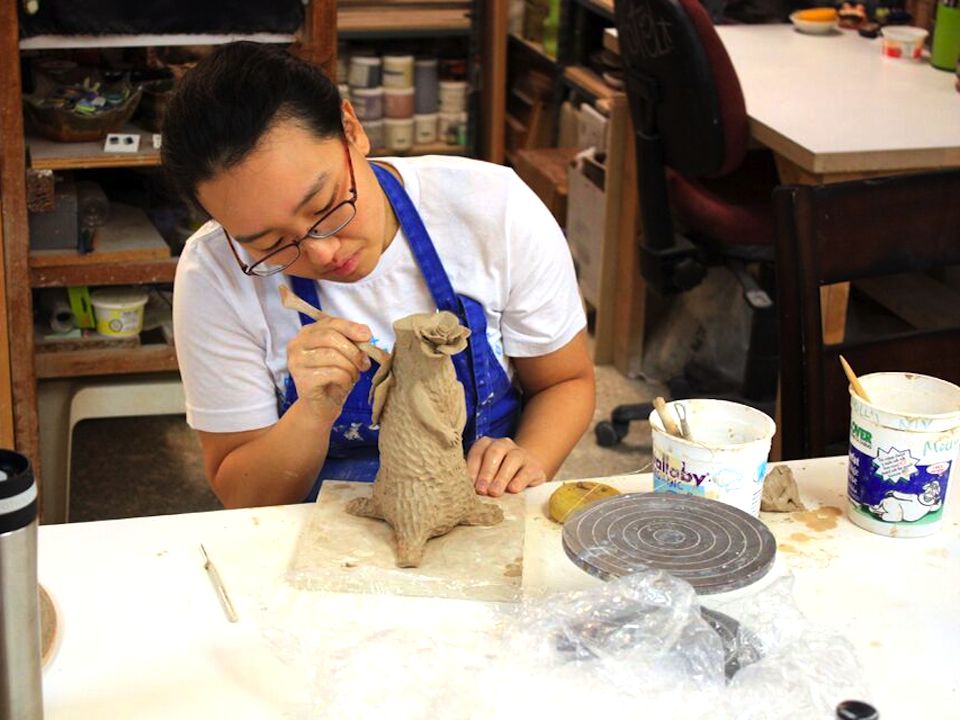 "Honestly, we're so lucky," Johnston said. "Lucky to have a great building to rent, with landlords who accommodate us; lucky to have such a supportive community; and lucky to have members who are willing and able to pick up the slack when things need to get done. I like to say that Ruby's is a 'do-ocracy,' and our members really are the ones who make things happen here."
Ruby's Clay Studio & Gallery is located at 552 Noe St. Its Holiday Sale begins today, November 18th, and runs through January 5th. A full schedule of classes and events, as well as details on the membership process and art shows, is available on the studio's website.