The anticipated reopening of Joe DiMaggio Playground this morning drew huge crowds, with kids playing, neighbors greeting each other and talking, and the weather cooperating fully.
Under sunny skies, shrieks of joy were heard on the jungle gym, slides and other playground equipment. On the basketball court, teens shot hoops as younger children rode bikes and razor scooters. Music thumped as adults did Zumba on one of the tennis courts. Lines formed at the Annie's Hot Dog and Snacks stand, and the clubhouse was a hub of face painting.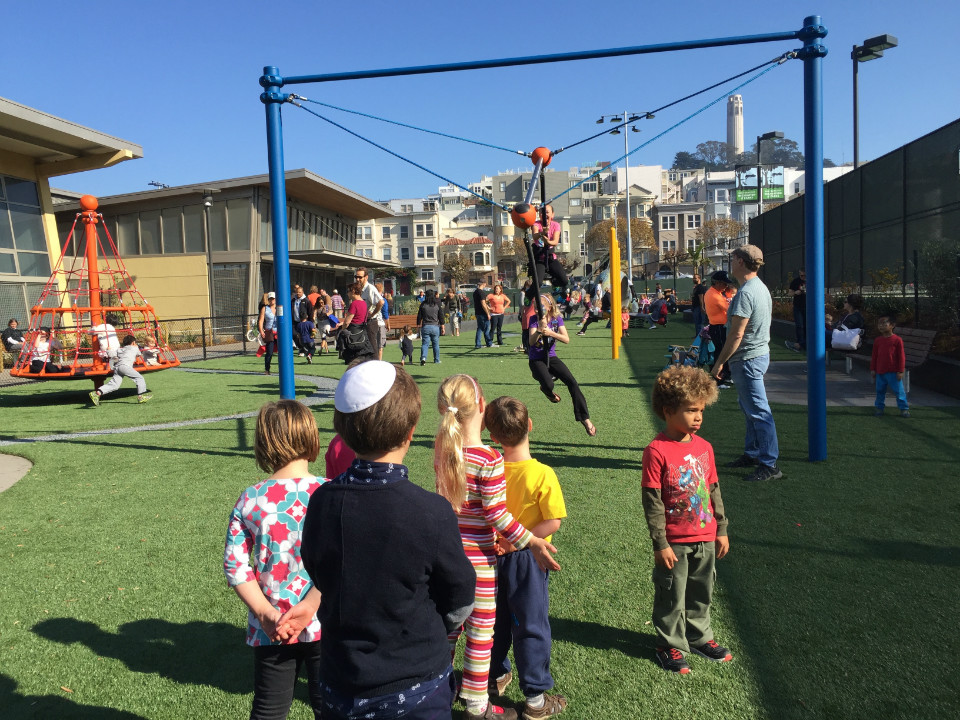 The 2.5-acre playground boasts new children's play areas, including a turreted play structure with slides, a climbing gym and swings, and a resurfaced and renovated sports court area with basketball hoops, tennis courts, volleyball courts and softball diamonds. There are bocce courts with an adjacent olive grove-shaded picnic area.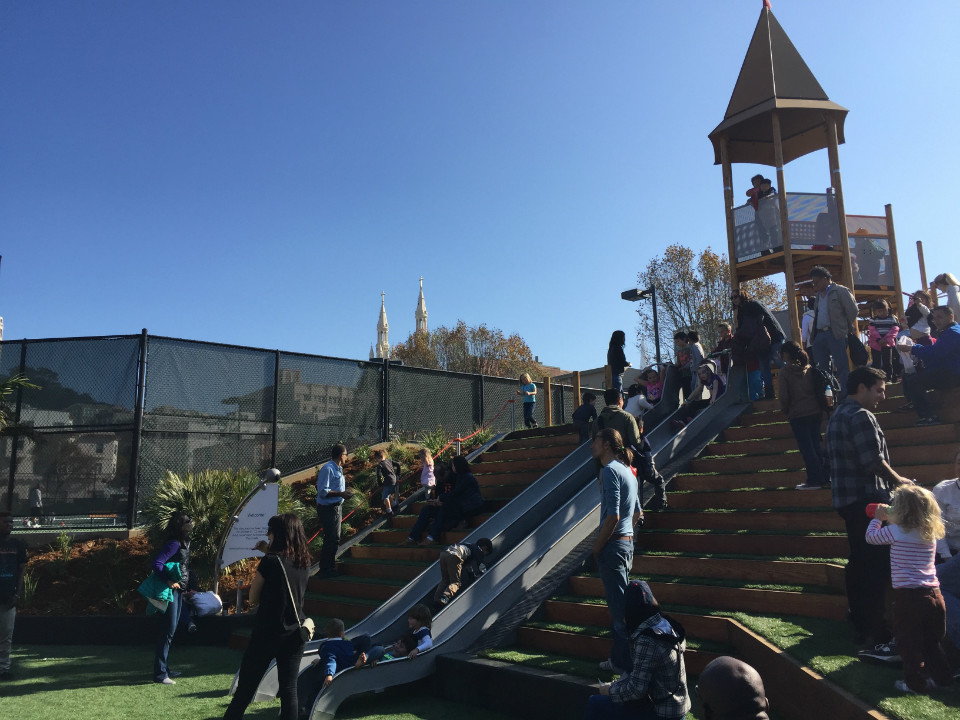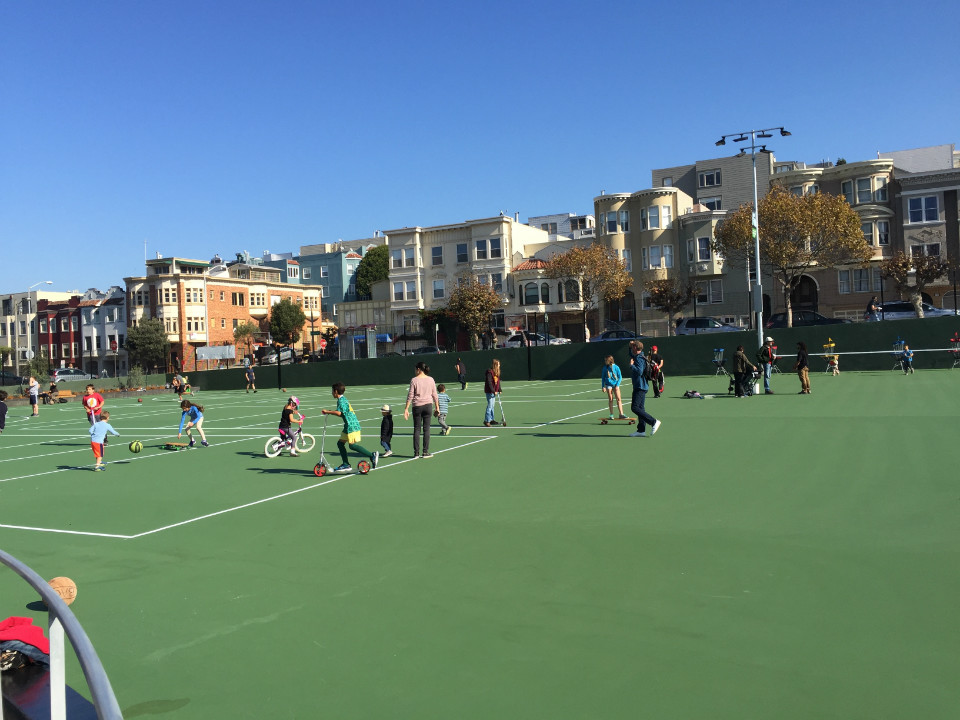 San Francisco Recreation and Park funded the $7.3 million renovation thanks to a 2012 voter-approved parks bond, and Friends of Joe DiMaggio Playground raised more than $300,000 from the community for "extras" like a more decorative perimeter fence instead of a chain-link one and a tiled fish play sculpture by Indar Mosaics. North Beach Legacy Tiles are still for sale through the end of the year; all of them sold by September 17th should be mounted by the end of November.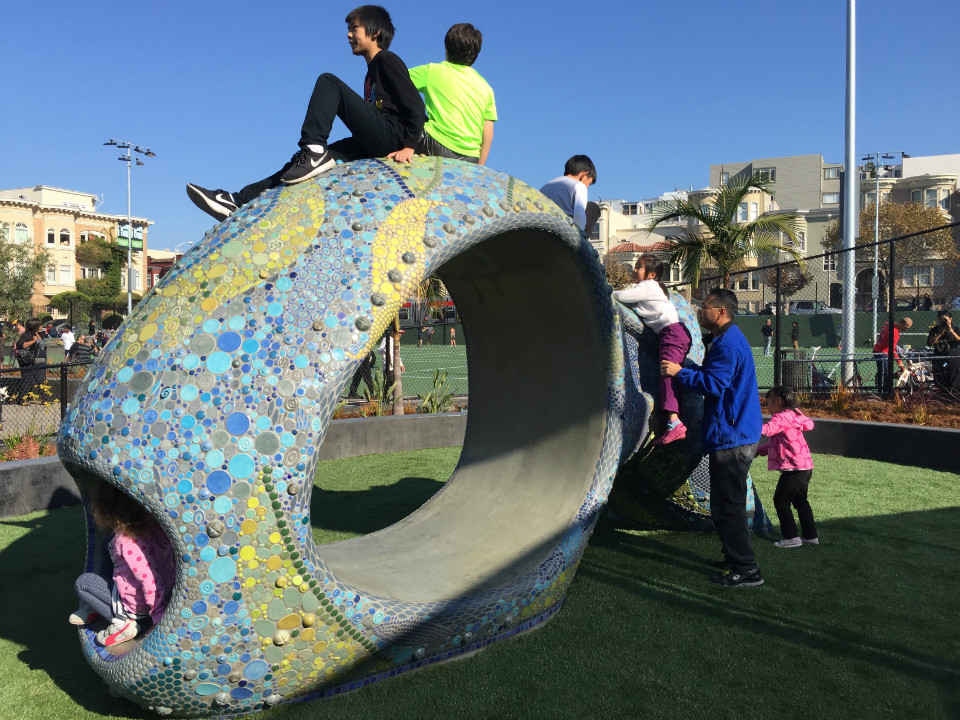 "I've been awaiting its arrival," said Omari Williams of Nob Hill of the playground as he kept an eye on his son, Mason, who is four-and-a-half. "We love the climbing apparatus. It's all enjoyable; the new tennis courts. It's a great addition to the neighborhood."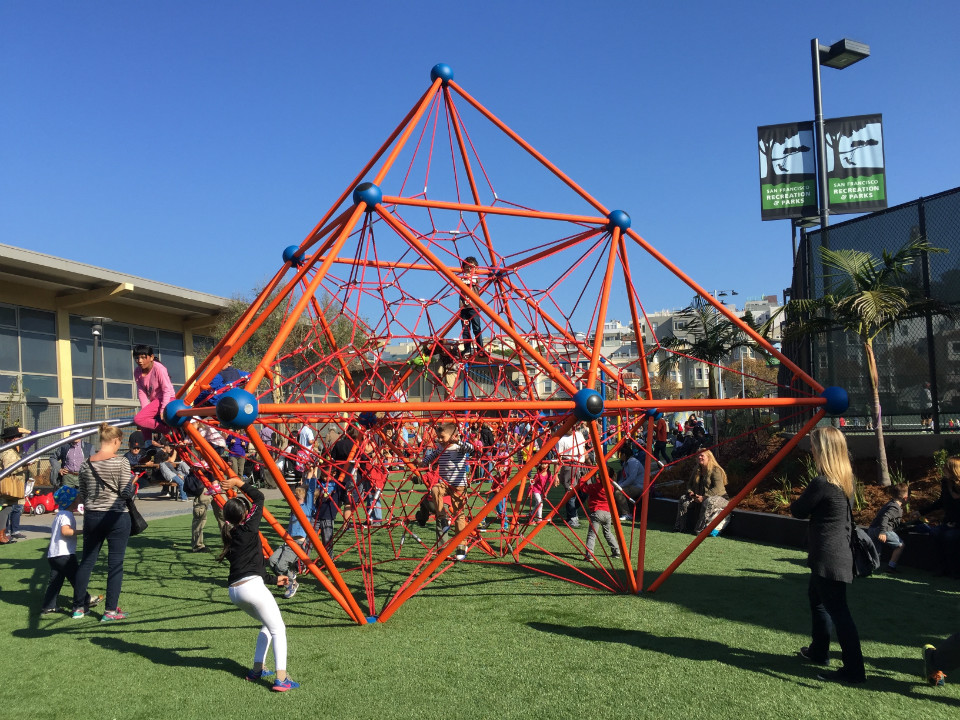 Laura Mancuso was there with daughter Eleanore Hayden, who's almost five, and two-year-old son Anthony Hayden. "I like hearing the kids again," she said. "I can hear them from my house."
Virginia Hain, left, with Laura Mancuso.
Andy Katz and wife Judy Powell brought their son, Robert Katz, 13, who was playing while they chatted with neighbors and friends. "I grew up in this neighborhood," Andy Katz said. "I've been using this playground forever, since I was little. I love the fact that the neighborhood all gets to enjoy this." He and Powell said they'd like to see the city build more parks and open space in the area, especially given the density in North Beach.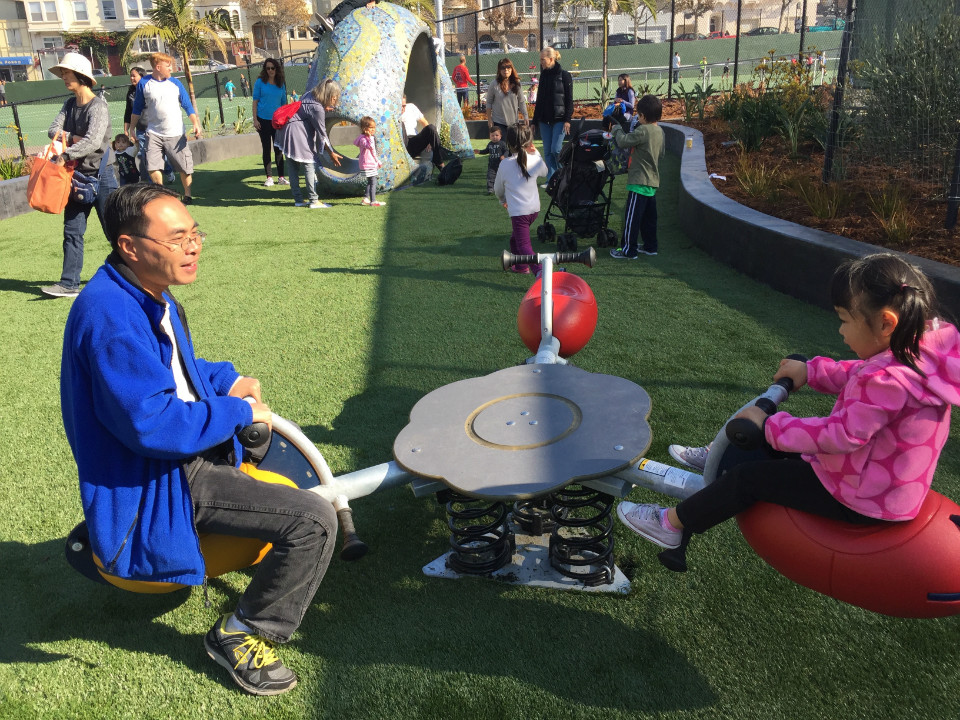 Also on site into the afternoon was District 3 Supervisor Julie Christensen, who was instrumental with Friends of Joe DiMaggio Playground and helped advocate for the entire project that includes a new North Beach Branch Library, clubhouse and pool. (We reported previously on the background of the project and the park's history; the new library was part of a larger master plan along with the playground that was years in the making.)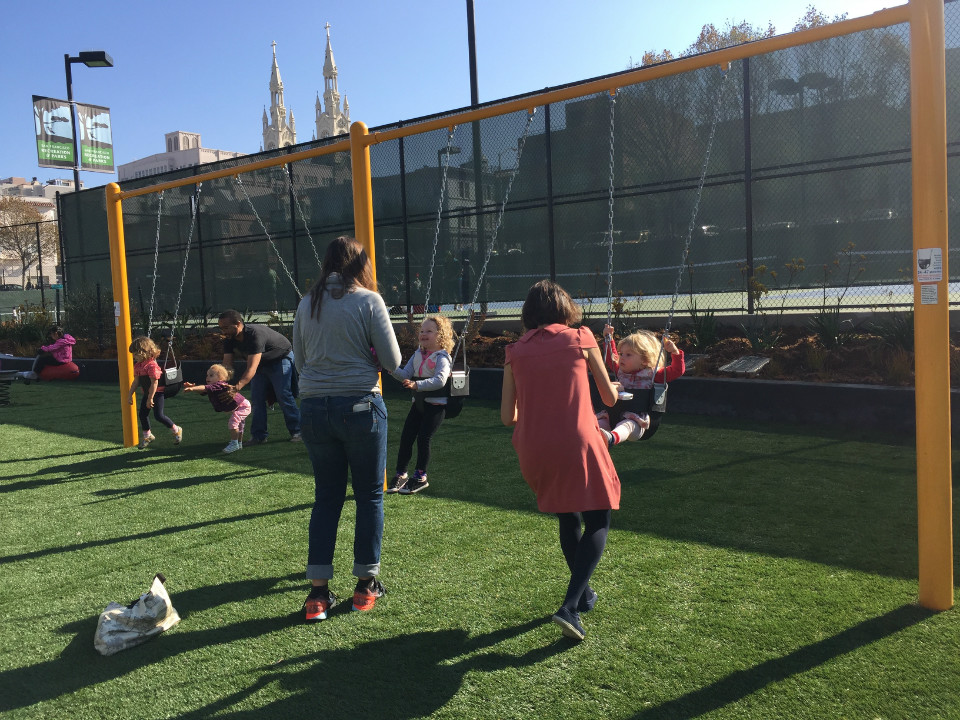 "One of the things about public amenities like parks and pools and libraries, it's where people and the neighbors get together and know each other," Christensen said. They are "the places where everybody comes.... Those bonds are what keep us a community. This is our new beating heart."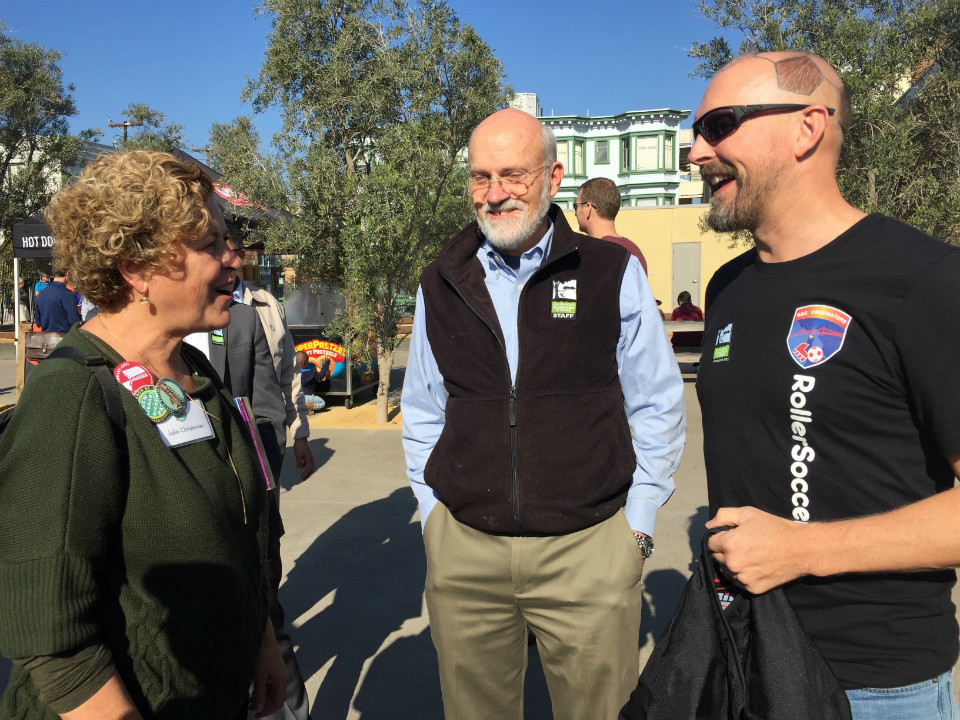 Left to right: Julie Christensen with Chris Boettcher of Rec & Park and Zack Phillips.
Jacqui Bos of Friends of Joe DiMaggio Playground gave a rousing speech in the morning, and Lizzy Hirsch, also of the Friends and the designer of the park, was there. Assemblymember David Chiu and Supervisor Scott Wiener were spotted as well, and several members of SFPD Central Station were on hand, including Capt. David Lazar.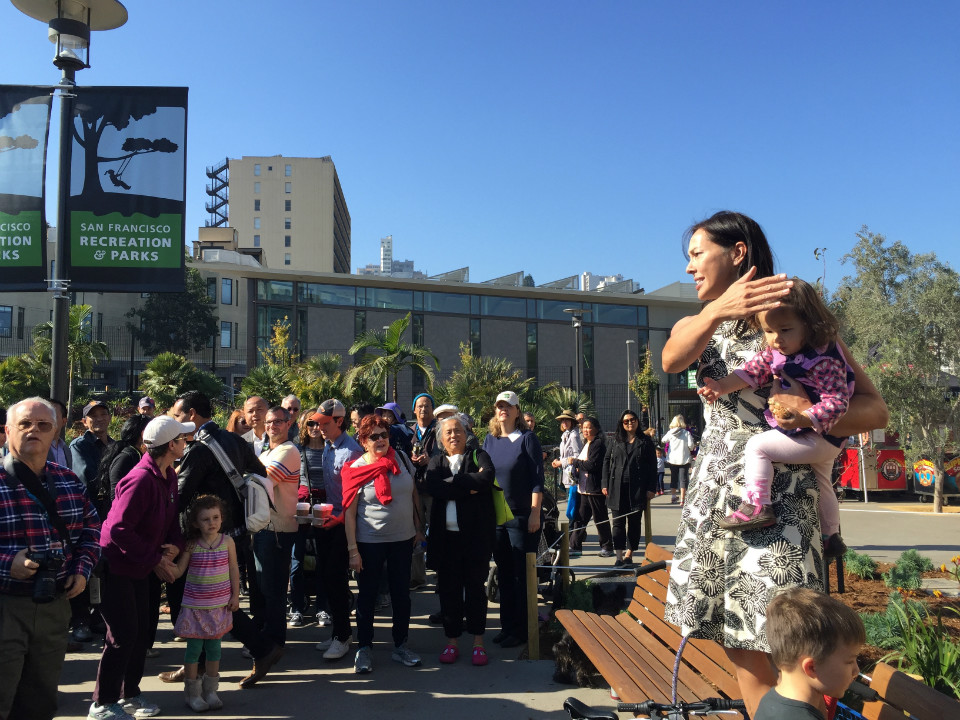 Jacqui Bos speaks to the crowd.
Supervisor-elect Aaron Peskin wasn't at the celebration because he's out of the country, but some of his supporters were there along with Christensen allies. Most just wanted to watch kids play, have a good time and not talk politics, even though the history of the playground, starting with the library, was contentious for the community.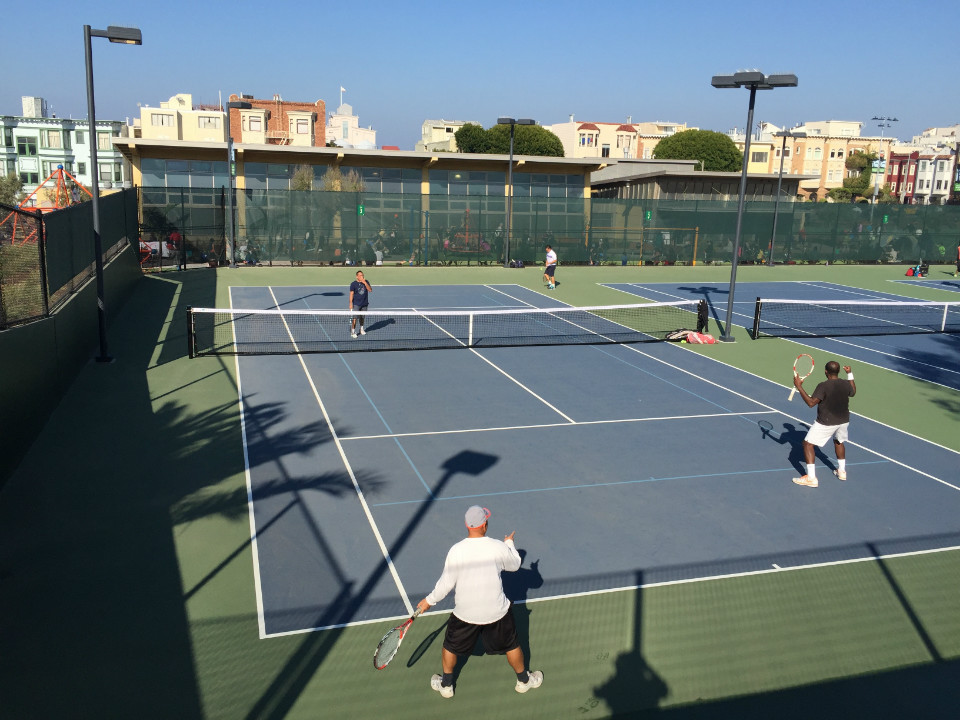 The new playground will host numerous classes, including art classes and workshops for toddlers, digital storytelling and robotics workshops for youth, tweens and teens, art and movement classes for seniors, and table tennis and photo workshops for all ages. Check the SFRecPark.org website coming up for details or call (415) 554-8742.