Got an event you want the neighborhood to know about? To be included in our next North Beach weekly roundup, please fill out the form at this link by Tuesday evening.

---
It's finally the weekend, but first: let's catch up on the North Beach news of the week.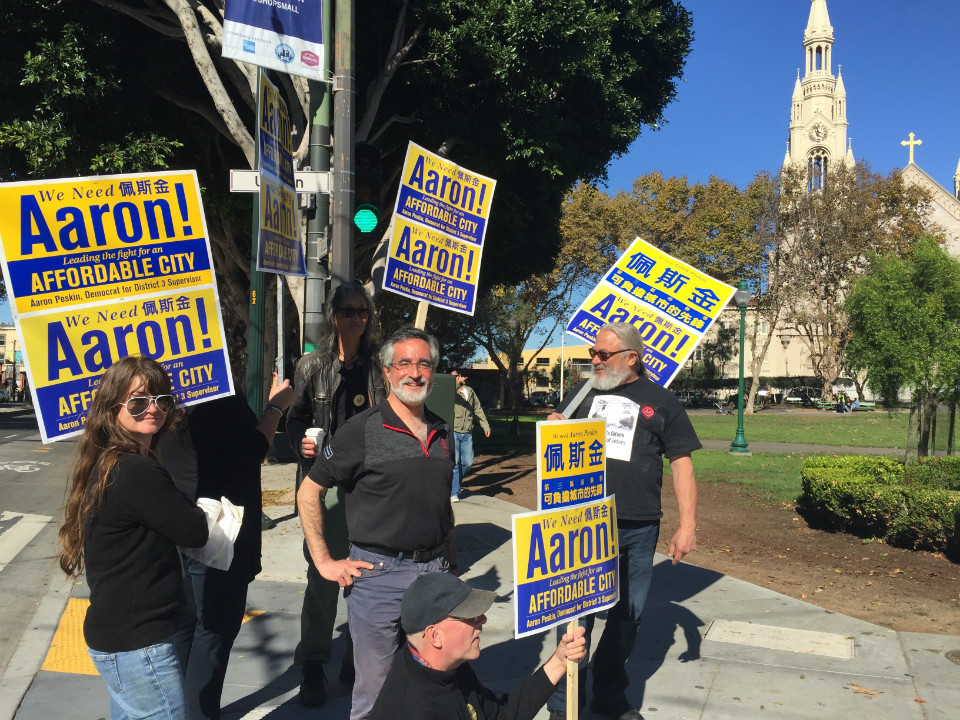 Photo: Geri Koeppel/Hoodline
The action-packed District 3 election is mercifully over, and after a night of nail-biting as the the results poured in, Aaron Peskin beat out Julie Christensen and will represent North Beach and surrounding areas on the SF Board of Supervisors for the next year. The win—viewed by some as a rebuke of Mayor Ed Lee's policies—helped fuel some speculation on Peskin's potential political future.
We tailed both campaigns during election day and chatted with Peskin post-win about his thoughts on the road ahead. Notably on the topic of the Proposition F defeat, Peskin said that, "The ballot measure went away, but the issue hasn't gone away." Stay tuned.
On the bright side of life, following the divisive battle for the District 3 seat, members of both campaigns have vowed to mend fences and move forward together for the sake of community improvement.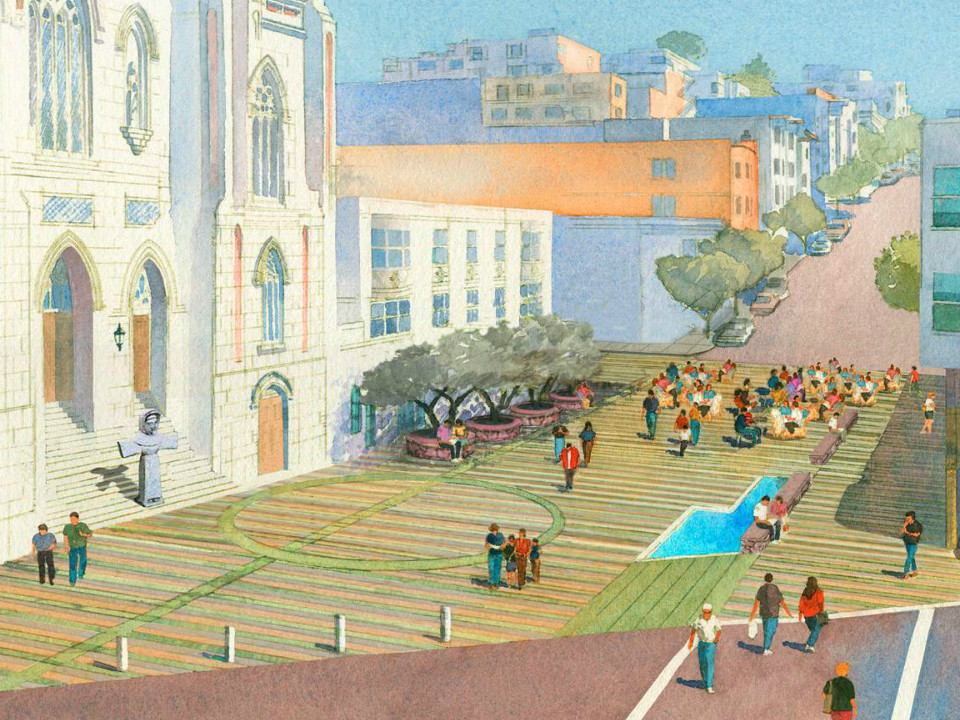 Rendering: Courtesy of Angela Alioto  

The on-again/off-again Poets Plaza saga is still on hold pending review with city departments, but fundraising for the public works project is strong and project leader Angela Alioto is confident the Plaza will get the green light soon.
Closer to the tourist-heavy area, proposed medical cannabis dispensary KRINZE (2627 Taylor St.) has run into some opposition from the Fisherman's Wharf Community Benefit District (CBD), which believes the store is "not consistent with the district's identity and vision for the future."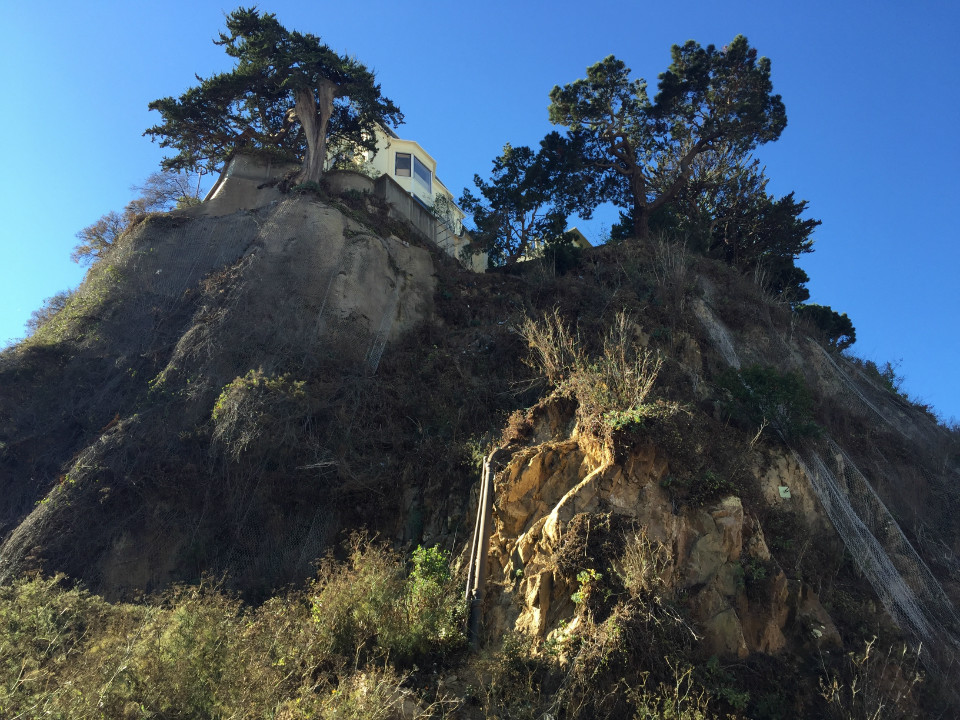 Photo: Geri Koeppel/Hoodline
There's been some vocal concern about increasing trash on Chestnut Street due to the netting involved with the second phase of the Telegraph Hill Rock Slope Improvement Project. The City doesn't expect the issue to be addressed until the project restarts again in March.
A new Sicilian restaurant has signed on to occupy the former La Boulange space at 543 Columbus Ave. Salvatore Cortara, who owns nearby Michelangelo Ristorante & Caffe (579 Columbus Ave.) hopes to open sometime in December with a menu that has "a little bit of everything."
Also on Columbus, casual, modern Italian eatery Piccolo Forno (725 Columbus Ave.) recently opened and will offer lunch, dinner and dessert options between the hours of 10am-10pm.
In other news, though it won't open until next spring, work has begun on a new water taxi landing next to the Exploratorium on Pier 15.

Locals are mourning the passing of John Coppola, a music teacher who was well known as the trumpeter for the Green Street Mortuary Band, which plays at almost 300 funeral processions a year, winding through the streets of North Beach into Chinatown.
There were a few nods towards local history this week. The Bold Italic posted seven atmospheric photos of North Beach, including a shot of Jefferson Airplane's Paul Kantner sitting outside Caffe Trieste. The Marina Times also took a look back at the good old days of North Beach and some institutions that have since closed. If you want to go even further back in time, check out the Chronicle's take on SF's biggest party ever, a look back at "San Francisco Day", part of the 1915 Panama-Pacific International Exposition which took place in much of modern day Presidio and Marina areas. 
Image: North Beach First Fridays
The start of the new month brings another North Beach First Fridays crawl from 6-9pm tonight. As always, the official list of participating businesses is available on their website, but new exhibits this month include North Beach artists Elizabeth Ashcroft, George Long and Jeff Grove, who will show their pieces at the Live Worms Gallery (1345 Grant Ave.). The Modern Eden Gallery (801 Greenwich St.) will have a closing reception for local jeweler and sculptor Whitney Sharpe, the Canessa Gallery (708 Montgomery St.) will feature wood and paper works from Bryan Day, and dogs are welcome at Tom's Beautiful Sexy Hair between 6pm-9pm (701 Greenwich st.). 
Saturday, November 7th
Big Jay Oakerson: The comedian and podcaster, who also co-hosts "The Bonfire" on Sirius XM's Comedy Central station, will perform two sets at  the Punch Line Comedy Club, 7:30pm and 9:30pm. (444 Battery St.)
Bunny Pistol's Barbary Coast Burlesque: The burlesque dancer kicks off her monthly performance at Doc's Lab, starting at 8pm. (124 Columbus Ave.)  
Cubop Express: Performing a mix of bebop, mambo, cha-cha and Afro-Cuban jazz, the six-piece Latin group performs a free show at Pier 23 starting at 8pm. (Pier 23, Embarcadero)
Healthy Parks, Healthy People Walks: Starting at 10am, join National Park Rangers for a free walk starting from Aquatic Park all the way to the Golden Gate Bridge (3.5 miles). Meet on the Bay side of the Maritime Museum Building or call (415) 561-7177 for more information. (900 Beach St.)
Jo Koy: The stand-up comedian and podcaster performs two sets at Cobb's Comedy Club, 7:30pm and 10:30pm. (915 Columbus Ave.)
Jordan Samuels: The SF-based jazz guitarist—who has studied with Bruce Forman, Randy Vincent and Jim Witzel—performs at the Italian eatery starting at 9pm. (532 Columbus Ave.)
SF Urban Film Fest: The festival "focuses on cities and civic engagement inspired by great storytelling" and Saturday's events are co-presented with The Exploratorium, so head on over to the museum at 1pm  to hear SF Public Utilities Commission Project Manager Raphael Garcia discuss the Upper Yosemite Creek Daylighting project, and designers Emily Schlickman and Kristina Loring of Ghost Arroyos, a project revealing SF's forgotten waterways in addition to three films: Lost Rivers, The Cerebral City and Souvenirs. (Pier 15 at Green Street)
Shantytown: The "Soul and Roll" band returns to Tupelo starting at 9pm. (1337 Grant Ave.)  

The UnOriginals: The Concord-based three-piece cover band returns to Maggie McGarry's main stage starting at 10pm. (1353 Grant Ave.)
Urban Epicurean Festival: Swing by Ft. Mason from 11:30am-6:30pm both Saturday and Sunday this weekend to view and purchase unique art, handmade goods and artisanal food—in addition to workshops on terrariums, beekeeping and DIY cocktails along with several other options—at this festival brought to you by the SF Bazaar.(2 Marina Blvd.)
Sunday, November 8th
29th Street Swingtet: The unique SF-based six-piece jazz/swing/blues group performs at Rose Pistola starting at 8pm.
Andre Thierry: The Grammy-nominated accordion player and singer returns to play a free show at Pier 23, starting at 5pm.
Community Recognition Award Dinner: Sponsored by the North Beach Citizens, this 12th annual dinner will take place at 6pm at the San Francisco Italian Athletic Club and will honor longtime community activist and urban environmentalist Jane Winslow. You can purchase your tickets here or call Frank Phillips at 415.772.0918 ext. 106. (1630 Stockton St.)
Electric Squeezebox Orchestra: The 17-piece big band welcomes five-time Grammy-nominated percussionist John Santos to their Sunday show at Doc's Lab, beginning at 5:30pm.
Jo Koy: The stand-up comedian and podcaster returns to Cobb's Comedy Club for his final weekend set starting at 7:30pm.  (915 Columbus Ave.)   
SF Comedy Showcase: The showcase of up-and-coming SF comedians returns for its weekly 8pm performance at the Punch Line Comedy Club.     

The Love Gangsters: The jazz and soul group rounds out the weekend's music performances at Tupelo, beginning at 9pm.  
Did we miss anything good? Let us know in the comments, and enjoy your weekend!