District 6 Supervisor Jane Kim and District 10 Supervisor Malia Cohen are asking for answers about the giant party the Super Bowl 50 Host Committee is planning at the foot of Market Street, plans for which would impact public transit.
It's no secret that Super Bowl City will take over Justin Herman Plaza and Market Street east of Beale Street from January 30th, 2016, through game day on February 7th, bringing thousands to the city for a week-long pre-party. What surprised and infuriated many was that the Host Committee also is asking SFMTA to remove Muni wires in that area, as the Examiner reported on November 12th.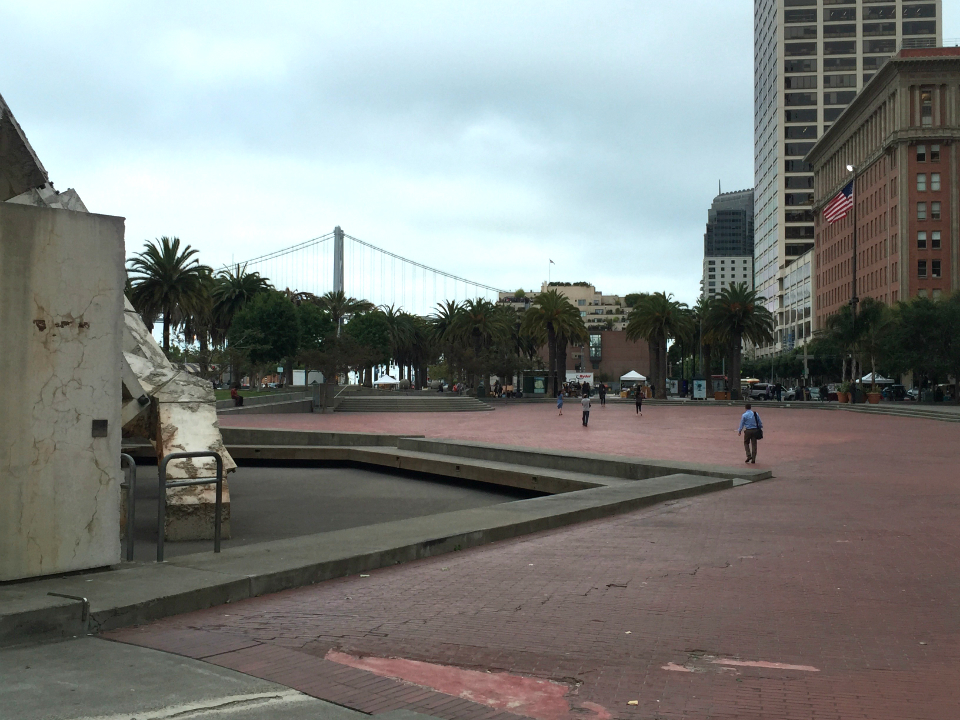 Justin Herman Plaza. (Photo: Geri Koeppel/Hoodline)
As far back as April 21st, the Chronicle reported that Muni would be re-routing the historic F-line streetcars. Market Street Railway followed up on April 22nd with a blog post titled, "Super Bowl Party Kicks Out F-Line Streetcars." But it wasn't until the Examiner article posted that people got up in arms. A Change.org petition was started to "Keep the Muni Lines Up on Market Street During Super Bowl Week."
Now, Cohen is calling for a general hearing to discuss plans for Super Bowl 50 events in the city, and Kim specifically wants to talk about the impact on workers and residents who use the Market Street travel corridor, according to Kim's aide Ivy Lee. She said both would likely be discussed at the next meeting of the Board of Supervisors' Land Use and Transportation Committee meeting on December 7th. (The SFMTA Citizen Advisory Council will hear the issue at its meeting December 3rd, too, but it has no authority.)
We contacted the Super Bowl Host Committee to ask for an interview to answer multiple questions, but it would only send statements. (Check out this all-star list of who's on the Host Committee Advisory Group, including Thomas Keller, Condoleezza Rice and a long list of who's who in sports and business, from Charles Schwab to Marissa Mayer to Steve Young.)
We asked why the wires need to be removed and were never given an answer, but a column by Matier & Ross in the Chronicle on November 15th reported that Host Committee spokesman Nathan Ballard said that some of the interactive displays in the area would be two stories tall.
The initial Examiner article reported the removal of wires "may potentially disrupt bus lines and the F-Market & Wharves historic streetcar for weeks" and that the wires near the plaza also serve the 6-Parnassus, 31-Balboa, and 21-Hayes.
We also asked who'd pay for the removal and replacement of lines, and received this statement in an email from the Host Committee: "We are working to determine what needs to be done to make this a successful event and if there is indeed a need for temporary removal of some lines within the three-block span on Market Street (from Davis to the foot of Market where Super Bowl City will take place), the Host Committee will cover that cost."
In response to several other questions, it gave this reply: "Plans are not finalized so we do not have any further details to share at this time, but we will be announcing a transportation plan for Super Bowl City in the coming weeks and will keep you in the loop on that."
Paul Rose, spokesperson for SFMTA, also said no details were finalized, despite a report in the Matier & Ross column that said Muni chief Ed Reiskin "said buses will be rerouted to Mission or Howard streets and that the F-line would run between the Ferry Building and Fisherman's Wharf, but not from downtown and the Castro."
Rose said he has not seen specific plans, adding, "We are working to finalize the transportation plan to accommodate the fan village." The issue is going to the SFMTA Board of Directors in early December, he said, and also noted the Land Use and Transportation Committee would have a hearing. "I can't say anything is or isn't going to happen," he said.
However, Rose noted that anytime there's a major event in San Francisco, it takes coordination, and re-routing of public transit is necessary. He said they could provide motor coaches rather than streetcars to ensure people can get around. Still, no one we talked to could recall a time when the entire foot of Market was completely shut down for more than a week.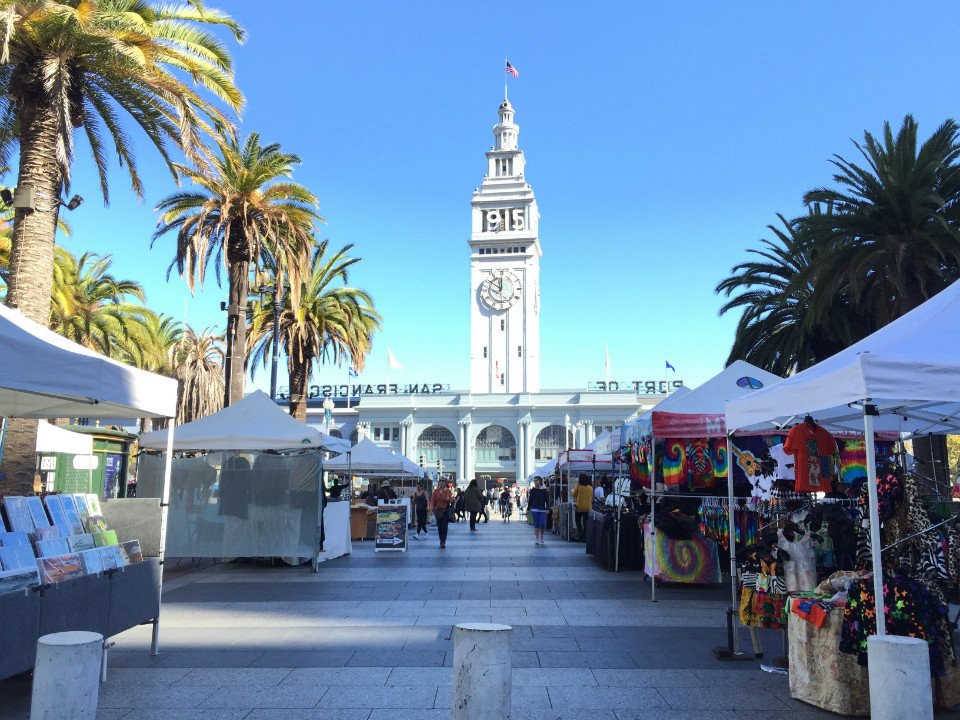 SF Art Market. Photo: Geri Koeppel/Hoodline
Another question concerns the SF Art Market at the foot of Market. Anecdotally, some of the artists have complained that the plan is to shut them down for up to three weeks with no relocation, which means no income for that time. No one from the market would return our repeated messages, and the Host Committee didn't address that question in its statements.