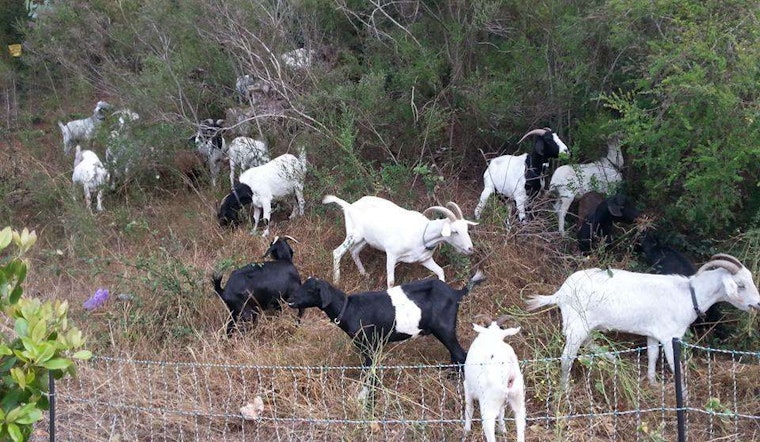 Published on November 25, 2015
Fire is a constant risk in the 61-acre Mt. Sutro Open Space Reserve, thanks to dead trees and ground cover that have multiplied in the wake of the ongoing drought. To reduce the risk of a blaze, UCSF Parnassus has announced it will bring in workers to remove flammable undergrowth and trim branches. The twist: the majority of them will be goats.
According to UCSF's University Relations office, City Grazing, an SF-based goat landscaping business, will be bringing in its furry flock (and herder) for a month of grazing along the eastern edge of the forest, beginning on December 1st. The goats' prime noshing target: ivy, which is viewed as a "ladder fuel" that helps fires spread quickly. Whatever the goats don't gobble up will be removed by workers with mechanical tools.
In addition to the goat crew, UCSF and the San Francisco Fire Department will also team up to create 100-foot defensible space zones around the reserve, which are designed to address the "extra-hazardous fire conditions" identified by the SFFD during a September inspection. Once completed, the buffer zone will comprise almost 16 acres.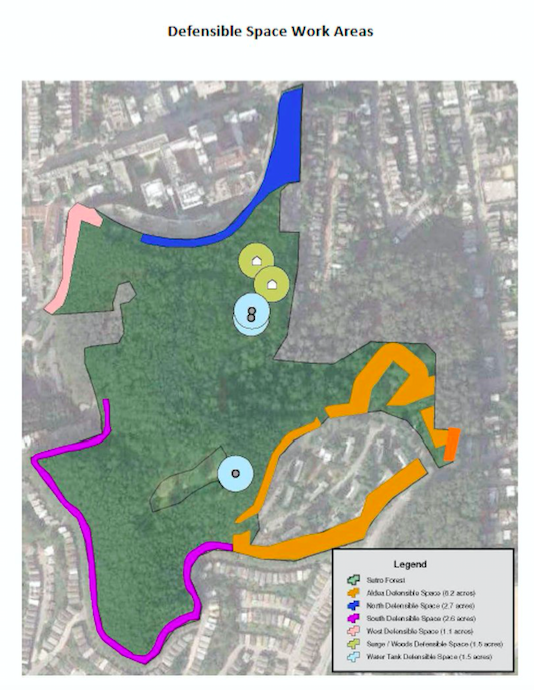 100-foot defensible zones will follow the reserve's perimeter. (Image: SFFD)
Thanks to the drought, Mt. Sutro is covered in dead trees, which present a falling risk, according to several arborists who've studied the area. With forecasts calling for a wet and windy El Niño winter, UCSF is getting ahead of the game by performing "extensive tree removal" along Johnstone Drive, which abuts student housing and hiking trails. The area will be replanted with native plants like madrone and elderberry, which promote soil stability, biodiversity and habitat restoration.
As part of this work, SFFD Fire Marshal Dan DeCossio has also recommended that UCSF also remove a small grove of eucalyptus trees "in serious decline." The trees are not native to the area; they were introduced to Mt. Sutro by industrialist and onetime mayor Adolf Sutro, who cultivated them as part of a large-scale forestry operation that included a working lumber mill in the woods above UCSF.
Eucalyptus trees pose a danger because they're full of flammable oil, which can cause them to explode in the event of a forest fire. The trees "could pose a hazard to persons and property near, as well as to first responders in the case of an emergency," UCSF says.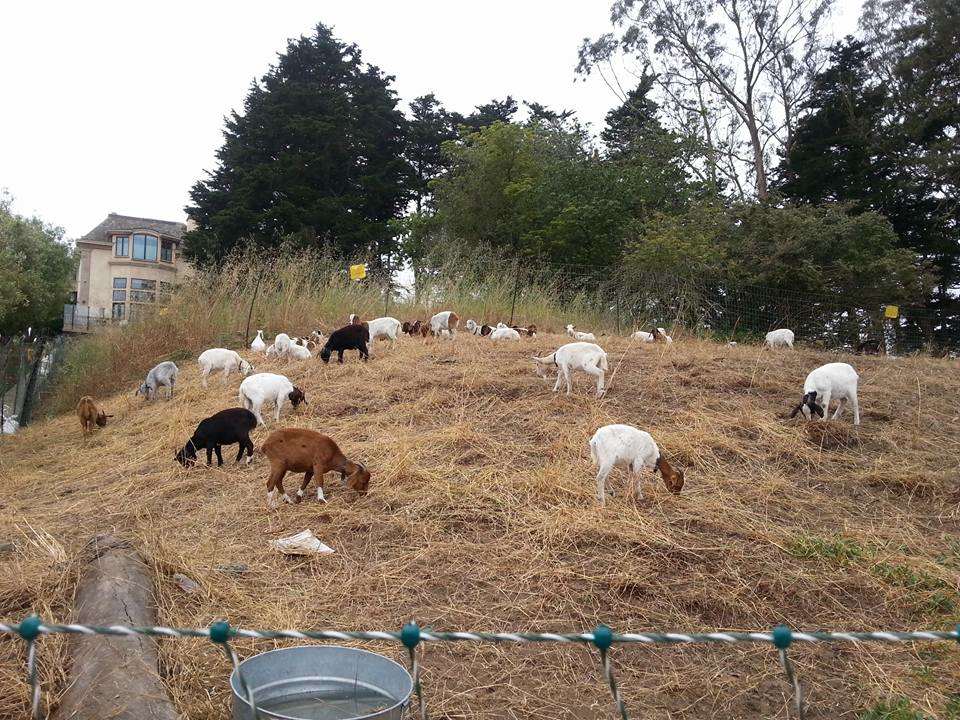 City Grazing goats at work in the Presidio, December 2014. (Photo: City Grazing)
But while they may not be native to the local lansdscape, culling eucalyptus trees from the reserve has sparked controversy with neighbors. In 2009, pressure from neighborhood groups convinced UCSF to withdraw a grant application that would have cut back more than two-thirds of the reserve's trees. It's unclear whether the latest removal plan will f opposition from like-minded locals.
UCSF's fire safety plans dovetail with the California state of emergency issued by Gov. Jerry Brown, which is designed to address the fire risk created by the estimated 22 million dead trees decimated by the drought. Tree removal and replanting is slated to last four to six weeks, during which time the East Ridge Trail and Johnstone Drive will be closed.