Del Seymour spent more than 18 years living on the streets. He distinctly remembers the El Niño event of 1997-1998, when it rained every day in January, every day in February, and nearly every day in March.
"The human body kind of acclimates to where you live," said Seymour, now the co-chair of San Francisco's Local Homeless Coordinating Board. 
"Unfortunately, the drought got people a little more comfortable being on the street. So, all of a sudden, we gonna get hit. We gonna get hit soon. Maybe this week, maybe next week," said Seymour. "When I was out there, that was thing that got to me: the wind and the rain and the cold. This year, we're going to have extended periods of that."
There is no question about it: El Niño is coming.
In stark contrast to the past four years of drought, San Francisco is bracing itself for what has been predicted to become the strongest El Niño episode on record. The city, and its various service providers, has been attempting to prepare for these anticipated winter storms for months; however, the timeline for switching from planning to execution is quickly shrinking from weeks to days.
In juxtaposition to the city's Mission Rock homeless shelter of the late 1990s, which consolidated shelter for more than 1,000 homeless individuals into one location during the last major El Niño event, the city is focusing its efforts this winter on smaller, pop-up shelters that will be scattered across the city.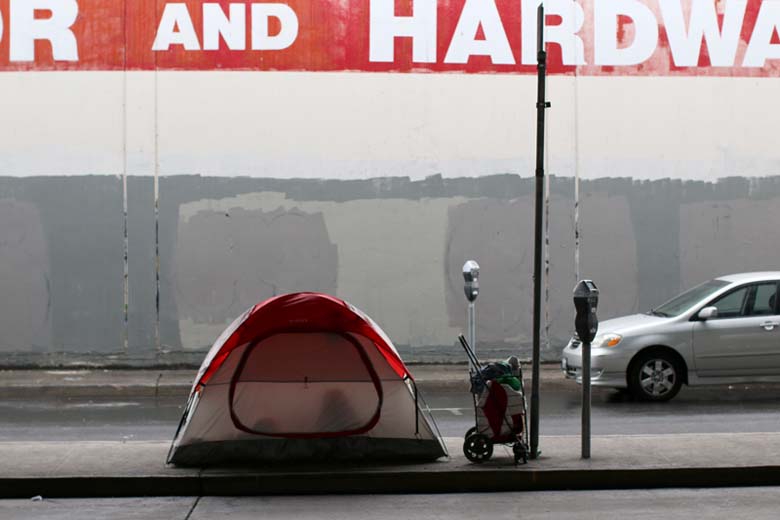 "To have something that is smaller, more manageable, a little quieter, will help keep everyone safe and attract people in," said Sam Dodge, San Francisco's director of Housing Opportunity, Partnerships and Engagement (HOPE).
Even though the city is aiming to have no more than 100 beds at any given pop-up location, they are still planning to provide shelter for between 1,000 and 1,350 individuals.
According to the most recent point-in-time homeless count, 7,539 individuals are homeless in San Francisco. Of this number, 3,181—or nearly 58 percent of the total homeless population—are unsheltered.
The city is working to secure a range of indoor and outdoor winter shelters. Partnering with places like the Port Authority and the St. Anthony Foundation, pop-up shelters are planning to integrate aspects of the city's Navigation Center, and will be able to accommodate people's pets and possessions at these temporary havens. 
As the Chronicle reports, most shelters will be in the Mid-Market, Tenderloin and SoMa areas, including St. Anthony's, Glide Memorial Church, Gene Friend Rec Center, Bill Graham Auditorium's Polk Hall and St. Vincent de Paul. Western Addition, Mission, Bayview, Visitacion Valley and Inner Sunset locations will also contribute to the 1,120 temporary shelter beds. (Here's the Chron's map.) As we noted earlier this week, piers 29 and 80 are also being considered as temporary shelters. 
A major concern, however, is how long these pop-up shelters—with strapped resources and staffing—will be able to accommodate an increased number of homeless people on a continuous basis over a prolonged period of time.
Even though Mayor Lee has said that, given the robust economy, he has the funds to be able to shelter people on an ongoing basis this winter, many of these pop-up shelters have traditionally only remained open for a few days at a time during emergency situations—never for consecutive months.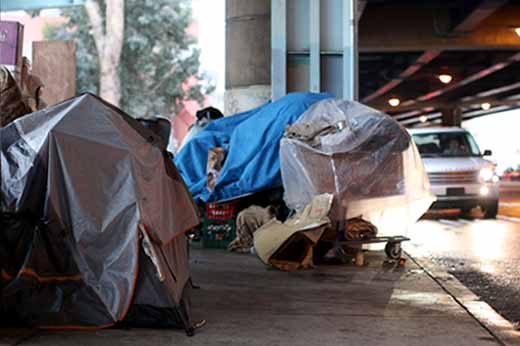 St. Anthony's is prepared to serve as one of the city's pop-up emergency shelters this winter. Located in the Tenderloin, St. Anthony's, in partnership with The Gubbio Project of St. Boniface, will be able to offer 24-hour emergency shelter for the homeless, even though the organization traditionally offers hot meals and warm clothing on a daily basis.
"To open a shelter for five days like we did last year, that took a lot to do in terms of staff, resources, and energy levels," said Charles Sommers, Director of Programs at St. Anthony's. "One of the things that we're most conscious of is having to sustain this from 60 to 90 days. We're kind of going down that road for our first time in terms of shelters."
It is going to take strategic coordination, not to mention creativity, if San Francisco is to successfully shelter as many homeless individuals as possible during the El Niño months.
"We can't carry this on our backs," said Sommers. "We're going to do everything that we can to open up shelters, but we also need a coordinated response from the city to do more. It can't fall on organizations, because they're already maxed out."
When asked to compare the city's preparations compared to 1997, Dodge said, "We're much better prepared than we've ever been for these types of situations. Now, that doesn't mean that it's ideal. I think that it's going be a very hard winter."
For Seymour, there's no question: compared to when he was homeless in 1997-1998, San Francisco, and the Tenderloin in particular, is prepared for the winter storms.  
"We are ready for El Niño," said Seymour. "We're not scared."