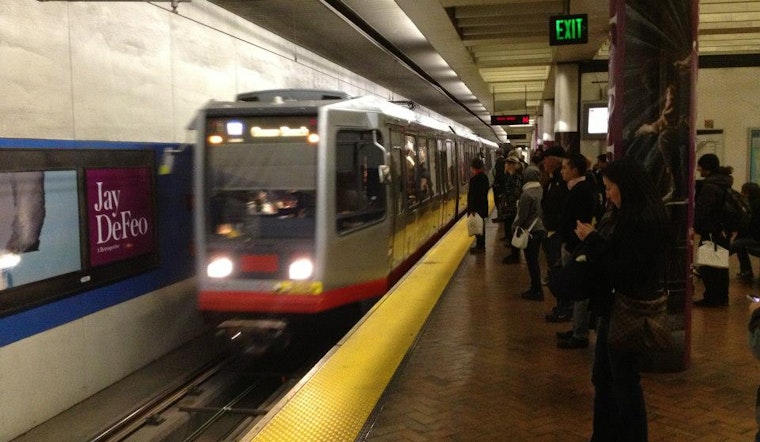 Published on December 07, 2015
We asked readers to send in any "unsolved mysteries" of 2015—things that were reported earlier this year, but have loose ends.
A few of you wrote to ask us what's happening with SFMTA's plan to allow Muni light rail trains to "double-berth," or allow two trains to stop at the same platform for loading and unloading, at Civic Center, Powell and Montgomery stations. The goal was to allow riders on a second train to disembark the station platform once safely stopped, without having to wait for the train ahead to move out.
SFMTA worked on the program for years before finally launching it on May 24th, but then quickly halted it, citing safety reasons. According to SF Bay News, SFMTA spokesperson Robert Lyles said at the time that "officials noticed that the audio announcements and subway signs were not properly updating."
We asked SFMTA for an update, and Lyles sent a statement saying a software fix is needed:
The SFMTA postponed double-stopping last May after our staff discovered problems with overhead messaging in the Subway. After investigation, it was determined that there was a software bug that prevented the system from triggering proper notices of incoming vehicles—when two trains were at one platform.

Trains operating in the subway are controlled by computer automation to both prevent congestion and eliminate the potential for operator error collisions. The software needed for double-stopping must work in concert with our vitally needed automation software. Since the two systems are not operating congruously, the matter was referred to the software designer —Thales Group—to devise a fix.

We are disappointed that Thales has been unable to engineer a software fix for full system integration. We are aware that one obstacle is the voluminous lines-of-code—more than a half-million—that must be individually reviewed to uncover this issue. However, the SFMTA's commitment is to the safety of the more than 700,000 boardings we transport on an average day. We strive daily to meet and exceed on-time performance and in recent months have set records for our performance. Nevertheless, we will not activate any service enhancement that does not meet our high standards of safety. Double-stopping will only proceed once we are certain of its full systems integration in real-time revenue service.
Lyles could not provide an estimate for when the software issue might be resolved and double-berthing might be rolled out, so that's all we know at this time. Thanks to BackBone for inquiring about the latest.