Adding to the rows of crab stands, chowder restaurants and souvenir shops, Fisherman's Wharf is sweetening the pot for tourists with another big candy store, just a block from IT'SUGAR at 333 Jefferson St. The Rocket Fizz Soda Pop and Candy Shops is on the verge of opening its 70th store at 245 Jefferson St.—possibly before Christmas, if all goes well.
The largest and fastest-growing soda pop and candy shop in America, Rocket Fizz has 70 stores across 29 states, with 46 franchises in the works and hopes of growing internationally as well. (IT'SUGAR is also a national entity.)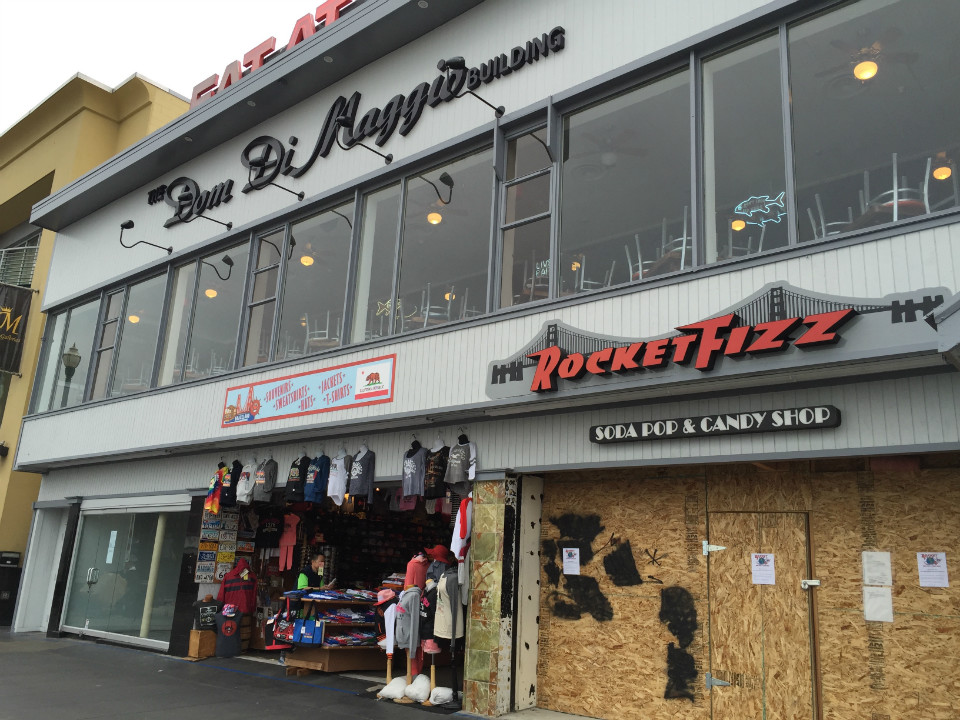 Photo: Geri Koeppel/Hoodline
Rocket Fizz sells its own line of 115 funky soda flavors based on food—including buffalo chicken, key lime pie, bacon and "Martian poop," if that's a food. They're made with mountain water from the High Sierras and real sugar, and offered alongside hundreds of other specialty sodas and a huge selection of candy. Classics like Necco Wafers, bubble gum cigarettes and Pop Rocks sit alongside trendy green tea Kit Kats and other hard-to-find treats from Japan and Europe. Each shop has its own salt water taffy factory, and sells gag gifts and music posters.
You might have seen Rocket Fizz on a January 23rd episode of the CBS show Undercover Boss, in which president and cofounder Robert Powells donned the requisite silly wig and tried to keep up with a production line. Powells is also a whiz at celebrity and marketing tie-ins, counting reality TV star Nicole "Snooki" Polizzi and the late professional wrestler "Rowdy" Roddy Piper as friends. A flair for the spotlight runs in the family: Powells' uncle was Judge Joseph Wapner of The People's Court fame. "He was the trailblazer for reality television in 1981," Powells says.

Powells and Morgan came up with the idea for Rocket Fizz while on a road trip in 2007. Morgan was delivering vintage soda pop from the Tahoe area, where both men still reside, to a small town near Mt. Shasta. Powells owned a shopping center in Camarillo, Calif., where Morgan grew up, so they figured they could take a chance on opening in one of those storefronts without a lot of risk. "People went nuts," Powells says. "They were so excited to see this crazy concept in their town." He says requests for franchises come in daily.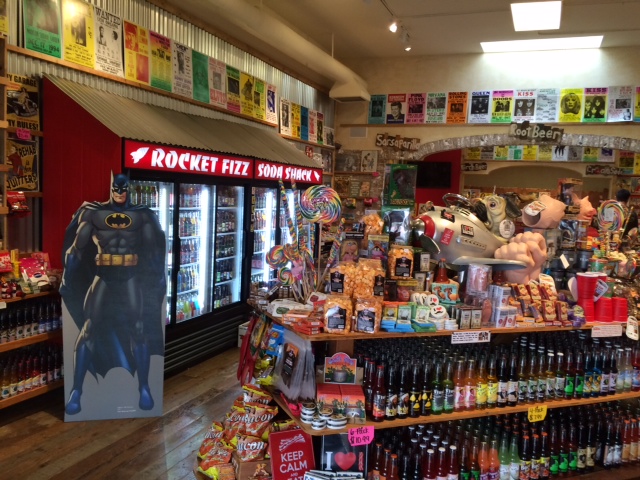 Photo: Courtesy of Rocket Fizz
Even though Rocket Fizz is a chain, Powells—who lived in the city for a time during college—promises it'll have props and decor related to the San Francisco. "Our stores are designed to fit the area we're in," he says. "They're similar, but whatever city or neighborhood we're in, we want to be part of that community." Most of the company's stores are franchises, but this is one of three that will be directly owned by Powells, along with cofounder Ryan Morgan and CEO Rich Shane.
Powells is a huge baseball fan and sports memorabilia collector, and he's thrilled to open a shop in the Dom DiMaggio Building, which has been in the DiMaggio family since 1937, when Joe DiMaggio bought it. Dom's son Paul DiMaggio owns it now; it also houses a Joe's Crab Shack upstairs. 
Though he's keeping specifics under wraps until the big opening, Powells did tell us that Paul is loaning him Dom's full Boston Red Sox uniform, for display under Lucite.