When it took over the location formerly occupied by the legendary Purple Onion, North Beach's Doc Ricketts had some pretty big shoes to fill. Named after Ed Ricketts, a marine biologist and close friend of John Steinbeck, Doc Ricketts aims to keep the Onion's spirit alive, adding a more modern restaurant and a revamped performance space to the mix. 
In our latest installment of Tapping In, we caught up with bartender John Pringle to learn more about working in North Beach and the bar's history.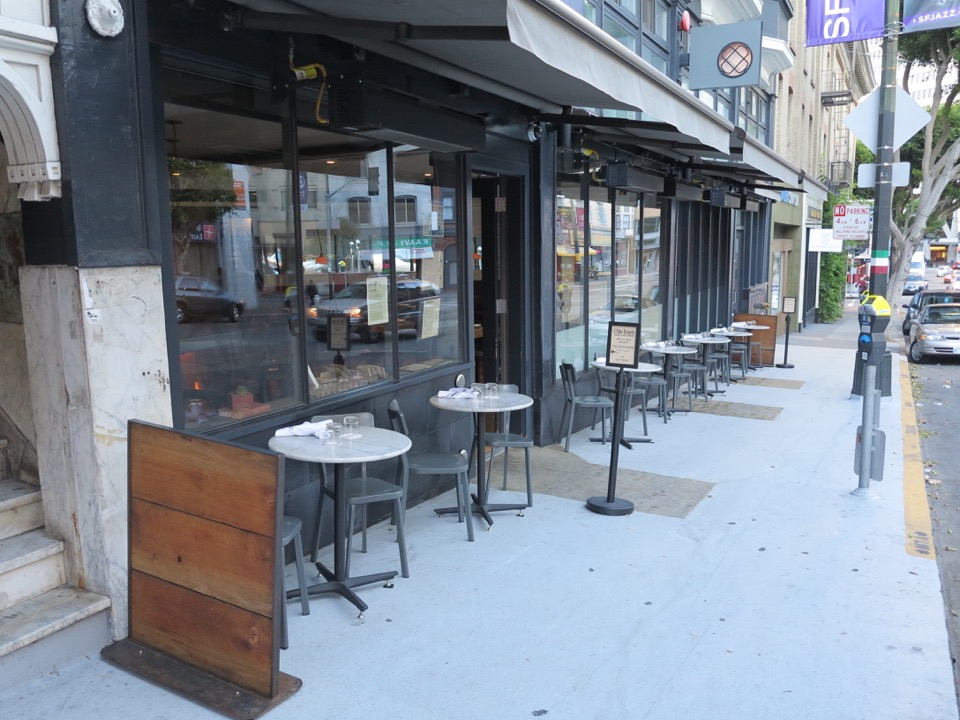 Where are you from, and how did you get here?
I grew up in the East Bay, went to college, and moved straight back to San Francisco. Basically, I'm from the area.
How long have you been in San Francisco?
10 or 11 years. I actually live right up the street, in the North Beach/Chinatown area.
How did you get started in the industry?
I worked in kitchens, and moved out to the bar in college. I bartended through college and kind of stuck with it.
Where else in San Francisco have you worked?
I worked at Globe for eight years. That was the steady one, but it closed down in February.
How long have you been working here at Doc Ricketts?
Since the beginning. We opened last September. I basically helped them open the bar.
The area that we're in down here used to be the Purple Onion, which is obviously steeped in history. What are you guys doing to keep that tradition alive?
Having a lot of comedy acts. It's basically half comedy and half music, and the Purple Onion was mainly known for having big comic acts. So we just revamped the place, and started bringing in a lot of local comics and good music acts.
As a bartender, what's it like working at a comedy/music venue? How does that differ from working in a typical bar?
Well, every night is certainly different. On nights where it's comedy, it's going to be different from nights where we have burlesque. Then there are nights where we have a rock band, as opposed to a jazz band. The crowd every night is completely different.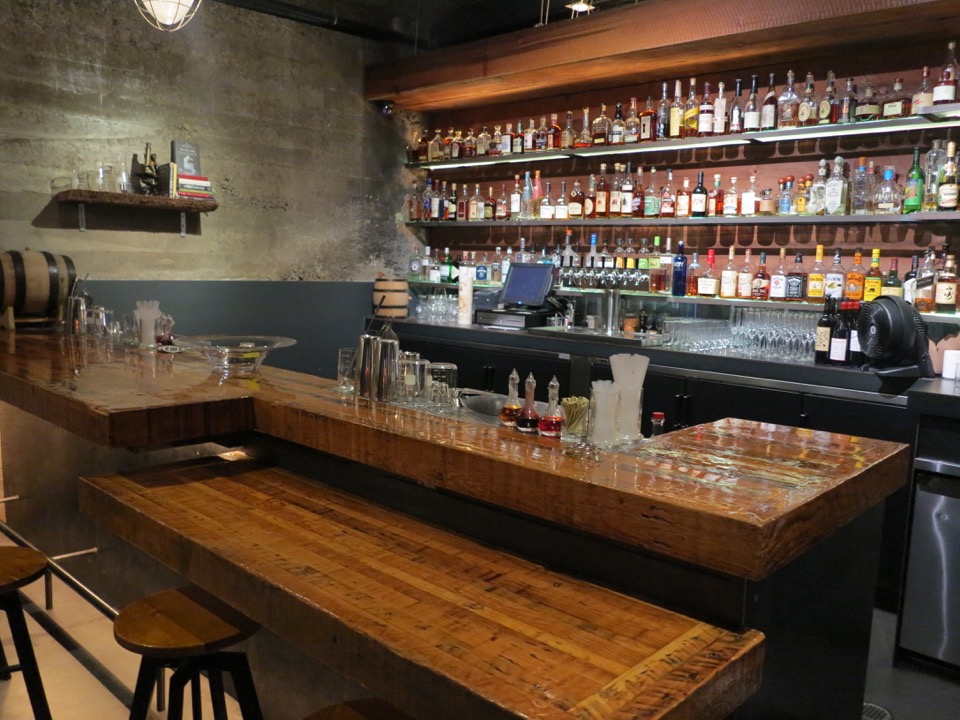 Out of all those types of crowds, which are your favorites?
That kind of depends. Personally, I'm a huge jazz fan, so I like that I get to see the acts for free. Comedy acts are kind of funny because usually there's the first go-round [of customers], then they watch the act, then there's the next go-round. Basically, at a comedy show, no one orders drinks in between, but at a rock show, it's constant.
This place is named after Ed Ricketts, a famous marine biologist from Monterey Bay. What's the story behind that?
The owner is from the Monterey area, and his family is involved with the Monterey Bay Aquarium. He's also a big John Steinbeck fan, and Ricketts was basically best friends with John Steinbeck and written into a bunch of his books.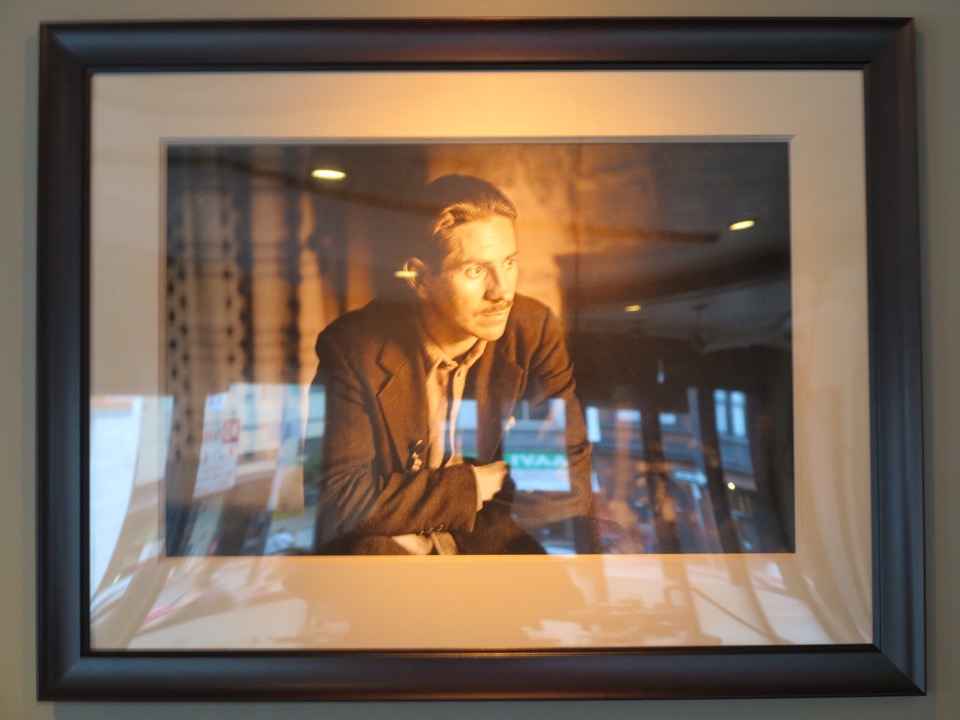 A photo of Ed Ricketts displayed in the restaurant.
Do you have any hobbies outside of the bar?
I play drums in a few bands around town. I play in a rock band, a country band, a funk band. I was playing in Lord Nasty for a while, which is one people might have heard of.
What do you like most about working and leaving in the North Beach neighborhood?
It's actually a very close-knit neighborhood. A lot of people know each other, so we definitely have a lot of regulars that come in, people that we see all the time. But we also get a lot of tourists. You kind of get the best of both worlds: your good regulars and a nice array of people from all over the planet. 
What's your favorite kind of person to have sitting at your bar?
That's a good question, actually. I'm pretty open-minded, but usually someone that basically knows what they want and likes to have good conversations. I like meeting people from other places, so that's one nice thing about this neighborhood, that you might just have someone from anywhere in the world come up and sit down. 
It's always fun to meet people, because you can learn something from them and teach them about something else. It's fun to meet people from other places.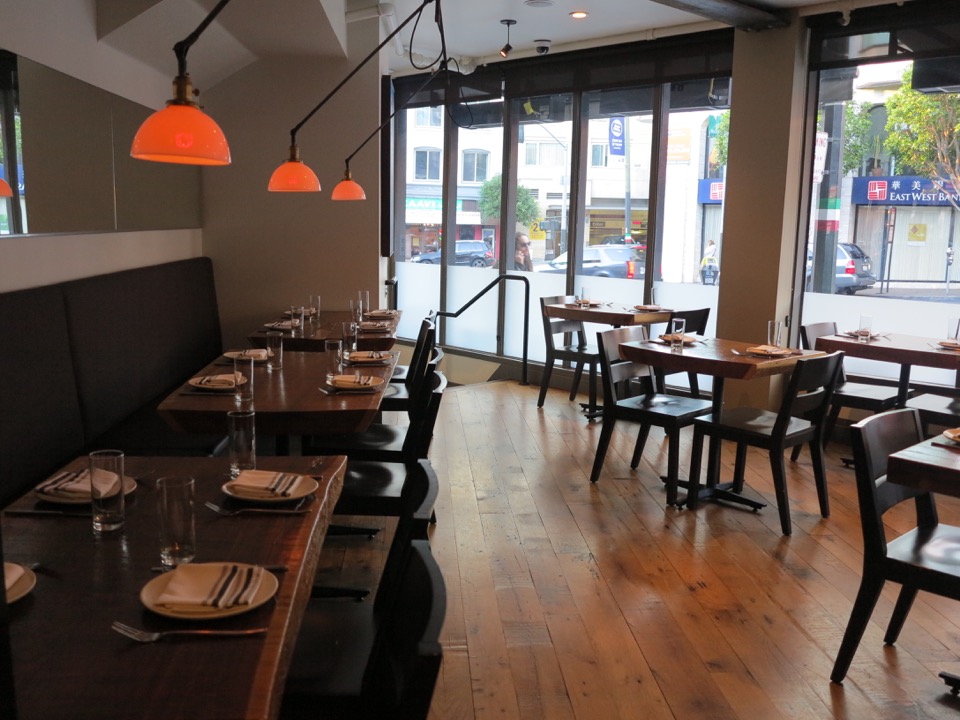 What does it mean to be a member of the North Beach neighborhood?
A lot of people who live here have lived here for a long time, so it kind of takes a long time to break into the neighborhood, I guess. There's definitely a strong local community, with the tourism mixed in. So people get to know each other, but it's kind of hard to break into.
You've been bartending for a really long time. Why draws you to this kind of work, and why do you choose to stay with it?
Mainly the people, actually. You get to work around people and have a good time. You're basically supplying people with a good time, and you get to enjoy that aspect.
For more Tapping In with local bartenders, get to know Patrick Connolly of the Independent, Giday and Nebiat of Waziema, Michael Wieck of Bar 821, Caleb McGehee of Nopa, Chris Libby of Madrone, Jared Schmidt of Absinthe,  Racquel of The Page, Remy Nelson of Mojo, Andy Mott of Royal Exchange, Martin Kraenkel of Molotov's, Brendan Heath of Whiskey Thieves, Pete Spanier of Hemlock Tavern, Meaghan Johnson of Fly Bar, Tim Gapchenko of Cafe Terminus, Johnny Davis of Emperor Norton's Boozeland and Kundan Baidwan of Zam Zam.