With 2016 less than 30 days away, the SFMTA has announced that two major overhauls to Polk Street and Van Ness Ave., years in the making, are on track to break ground in the new year. Here's the latest on both projects:
Van Ness Corridor Transit Improvement Project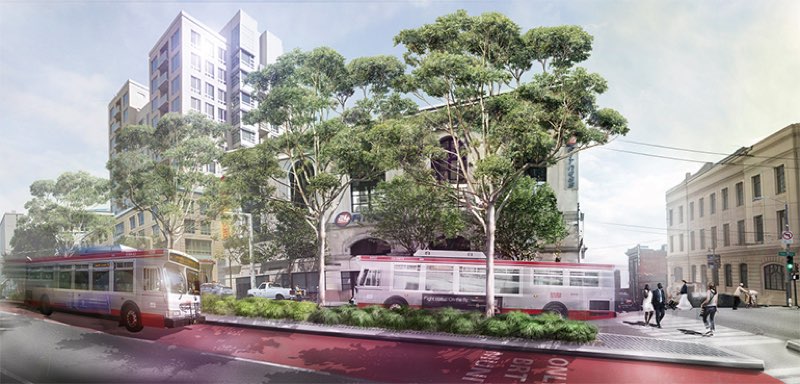 Rendering: SFMTA

While a specific date hasn't been set, SFMTA confirms that the Van Ness Corridor Transit Improvement Project will commence in early 2016, as planned. The agency and Walsh Construction Company are currently finalizing a construction schedule and traffic management plan for the $250 million project, which will pave the way for the city's first Bus Rapid Transit system and modernize the corridor's aging utilities and streetscape.
Most of the existing 193 trees lining the avenue will be replaced to accommodate the Bus Rapid Transit system, but the SFMTA has assured locals that the city will preserve and install placards highlighting key historic elements throughout the corridor. Those include the red and gold firebox outside the War Memorial, the brick walkway laid in front of the San Francisco Unified School District in 1926, and the many granite curbs around the district.
If the project continues to run smoothly, construction should be completed by 2018, with the Van Ness Bus Rapid Transit system debuting in 2019.
Polk Streetscape Project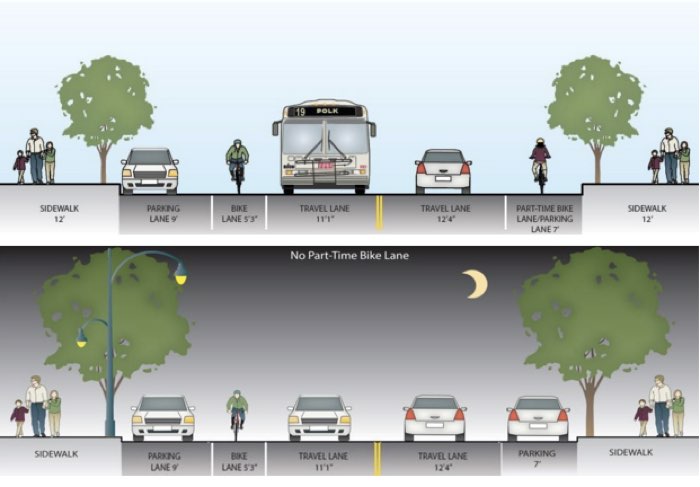 Approved proposal for Polk between Pine and Broadway. (Image: SFMTA)
By summer 2016, the Polk Streetscape Project will be underway as well. The project, which aims to reduce traffic collisions on Polk from McAllister to Union streets, will include improved cycling infrastructure, bulb-outs, adjustments to the 19-Polk Muni line and more. It's nearly completed the final design phase; the search for a contractor will begin next month, and construction should begin by this summer.
In the meantime, the SFMTA aims to complete a variety of interim improvement projects on Polk by the end of this year, such as giving pedestrians a "walk" signal before lights turn green for vehicles, removing parking spots at curbs to improve visibility for crossing pedestrians, creating new "accessible" parking spots and adding sharrows northbound on Polk Street between Post Street and Union Street.
We'll be covering both projects in more depth as they move closer to kickoff, so be sure to let us know your thoughts, questions and concerns in the comments or via the tipline.