On Thursday evening, roughly 900 people packed into Chinatown's New Asia Restaurant for the ceremonial "swearing-in" of District 3 Supervisor Aaron Peskin, who was elected in November. 
After last year's heated contest between the former supervisor and mayoral-appointed candidate Julie Christensen, some worried that the neighborhood would be quite divided; there was even a party thrown to mend fences. But while not everyone in the room was a supporter of Peskin from the beginning, some surprising guests were in attendance.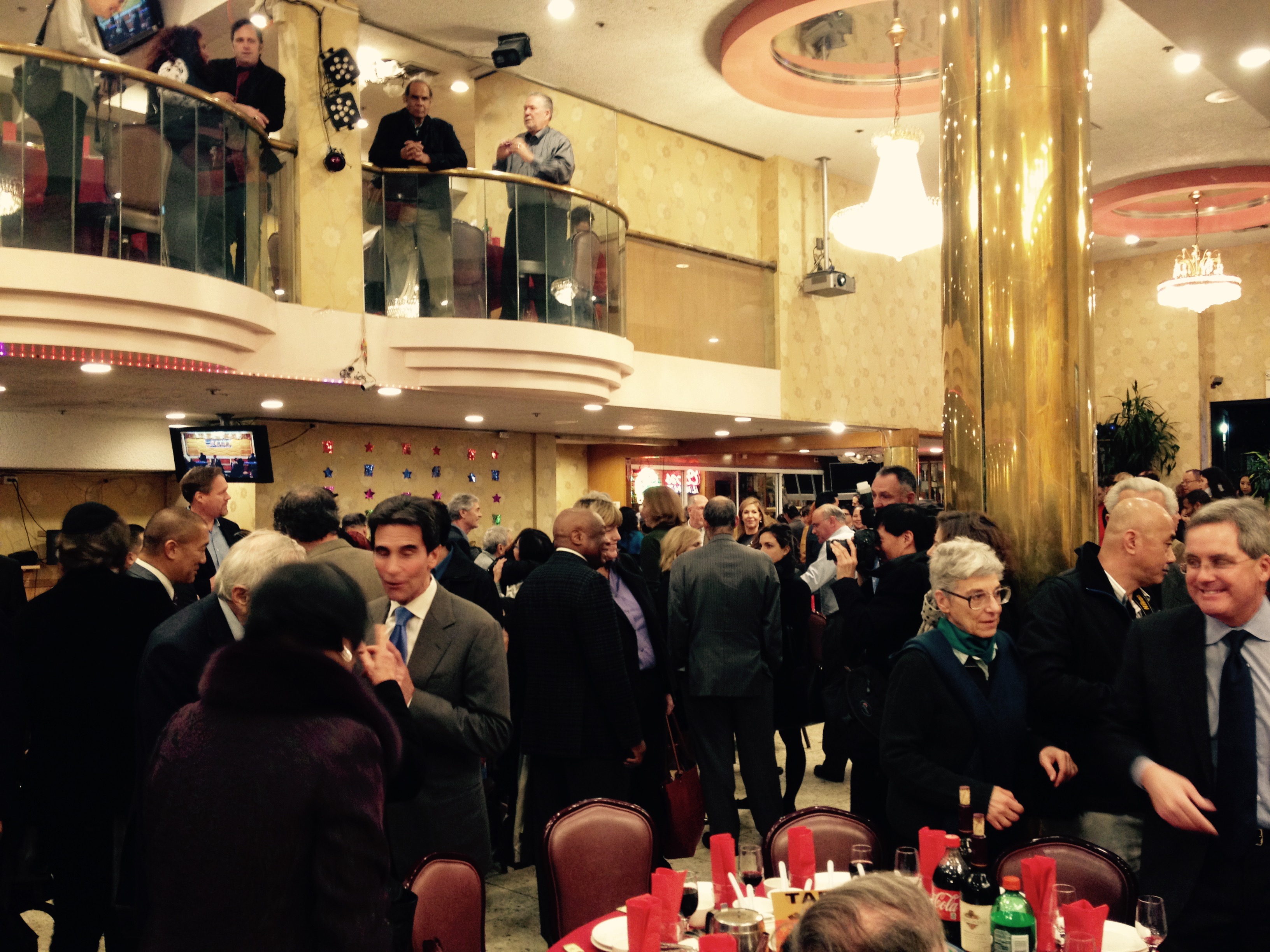 Senator Mark Leno, former Mayor Willie Brown, and City Attorney Dennis Herrera mingle with the crowd. 
Former Mayor Willie Brown, who has had an often tumultuous (and sometimes comical) relationship with Peskin, was there in support, as was District 8 Supervisor Scott Wiener, who'd previously expressed concern that a Peskin win would flip the vote of the board towards progressives. Even Board of Supervisors President London Breed, who reacted to Peskin's reelection by telling the Chronicle, "I'll survive. I can handle Aaron," attended.
Some of the other numerous notables in attendance: Sheriff Vicki Hennessy, Senator Mark Leno, Assessor-Recorder Carmen Chu, Former Mayor Art Agnos, Assembly Member David Chiu, District 9 Supervisor David Campos, District 6 Supervisor Jane Kim, District 7 Supervisor Norman Yee, and Chinatown Community Development Center (CCDC) founding executive director Gordon Chin. A wide swath of community supporters who'd worked on Peskin's campaign were there, too.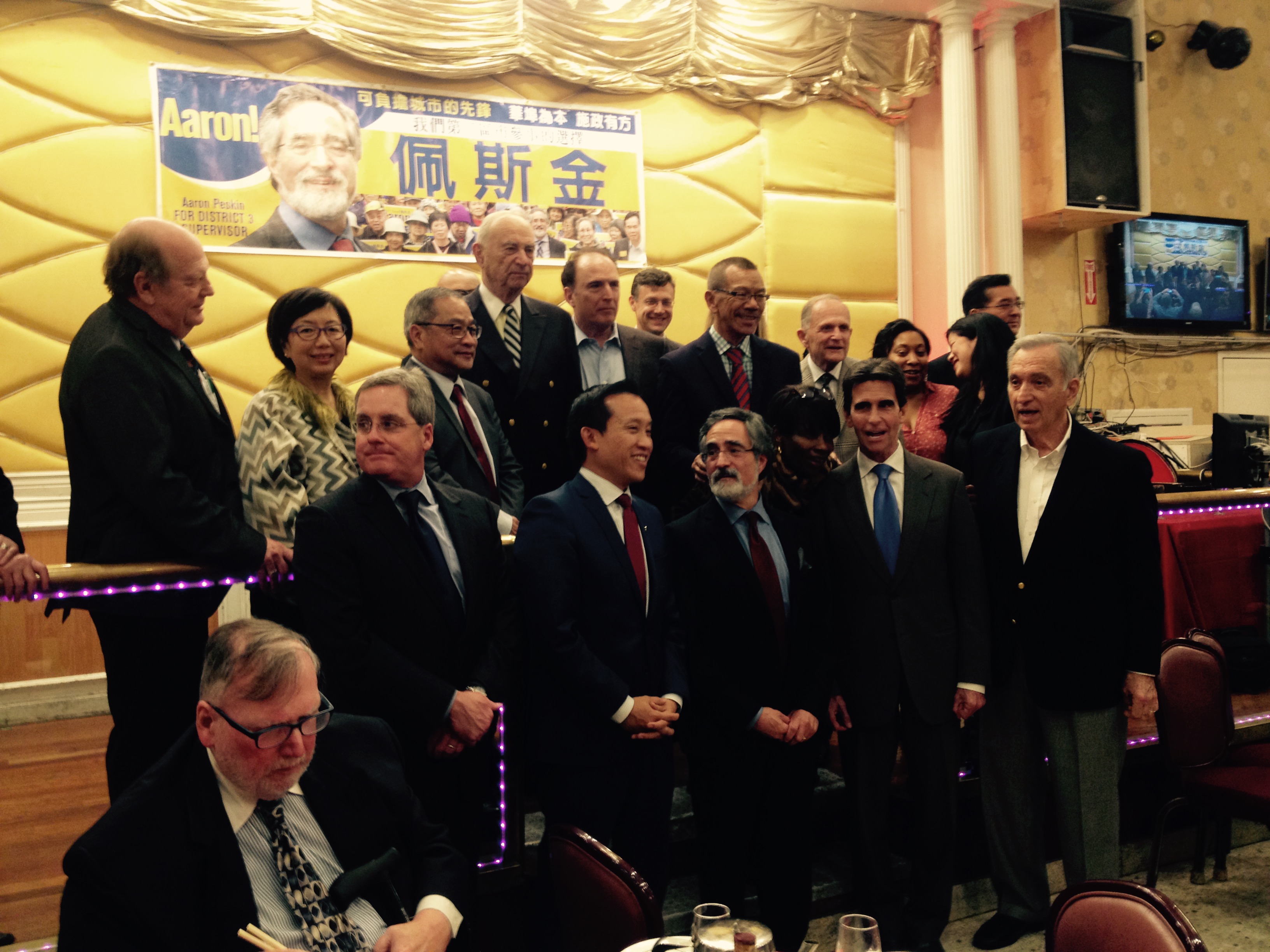 Elected officials pose for a photograph with Supervisor Peskin.
The evening kicked off with a performance by Lion Dance Me, the group featured on season 7 of the television show America's Got Talent. They danced between the tables of reveling guests while attendees vied for spots to take photographs. San Francisco City Attorney Dennis Herrera officiated the ceremony, and Rev. Norman Fong sang a song and played guitar as a blessing for the evening. 
But the real surprise of the evening was when Malcolm Yeung of the CCDC came to the stage to announce that a special guest would appear via telephone from China. He put the microphone up to his mobile phone so that Rose Pak, political activist and former supporter of Mayor Ed Lee, could congratulate Peskin.
Pak spoke of her frustration with Lee's "ill-fated appointment" of Christensen to District 3 Supervisor when David Chiu vacated the seat for the state assembly. While Pak and Peskin were once political foes, she said that "the first person I thought of [to run] was Aaron ... That doesn't mean that I agree with everything he does," she said.
Peskin yelled, "Thank you, Auntie Rose!" from his table before she hung up. Several members of the audience screamed, "We love you, Rose!"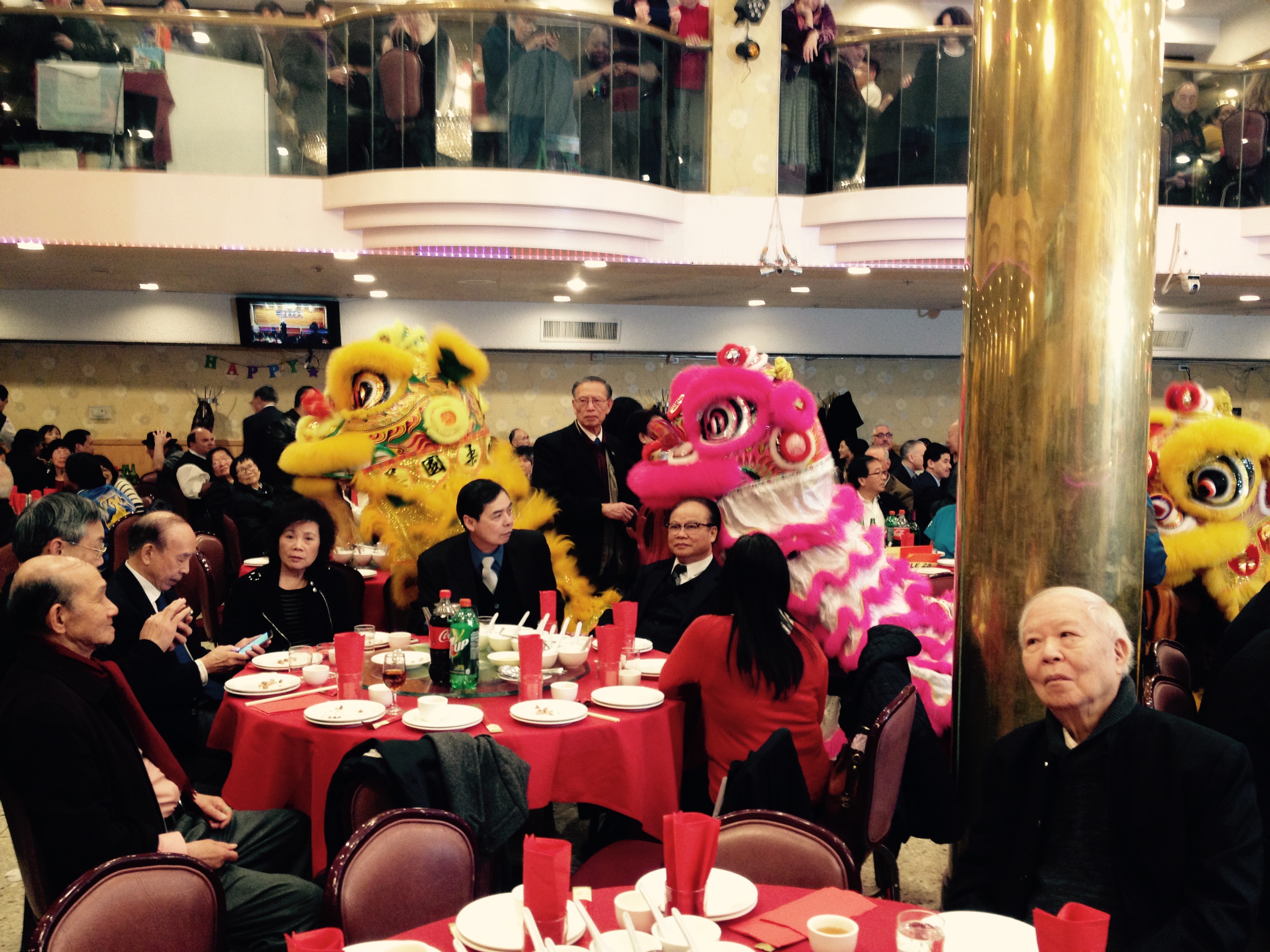 "San Franciscans want a change in the political dynamic in City Hall, and I want to change those dynamics," Peskin told the crowd. "Too many are evicted. Too many are homeless." He touched on the topic of money being too influential in local politics, potentially corrupting the way decisions are made at the executive level. His final statement: "Let's encourage real democracy in San Francisco again." 

As attendees dined on an array of Chinese delicacies, members of the Community Tenants Association led the group in a chant in Cantonese to end the evening: "Pui see gum/ho yau sum! Woo so lo/yaat ding ho!" meaning, "Peskin has a big heart! The bearded guy must be good!"
[Update: Some readers have been asking who paid for the dinner. Everyone who attended paid $30.00 per person to cover the cost of food. Payments were made directly to New Asia.]