You may be wondering, as some readers have, where the foot of Market Street's usual community of artists and makers selling everything from T-shirts and jewelry to dog leashes and handmade masks has gone.

From Jan. 23rd through Feb. 10th, Super Bowl City and its setup and takedown have temporary displaced the SF Art Market at Justin Herman Plaza, part of the city-run Street Artists Program that certifies artists and runs a lottery for locations. A couple of the artists told us weeks ago they were concerned about loss of income during the displacement, but were unwilling to be quoted.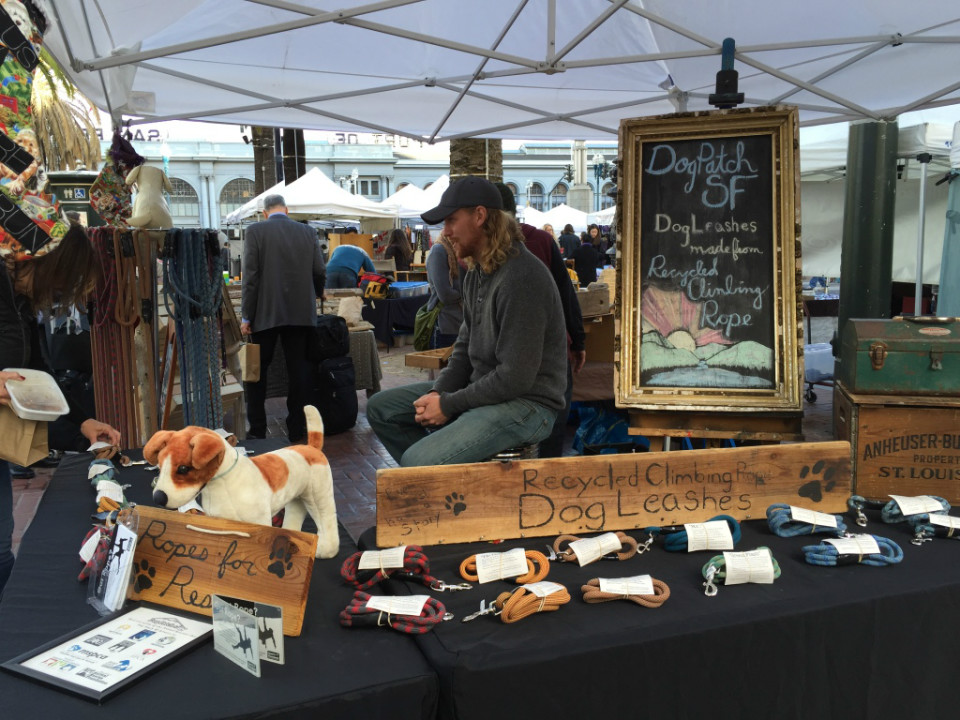 A total of 313 artists are certified for the program, and normally there are about 445 potential spots throughout the FiDi, Union Square and Fisherman's Wharf for them to sell. They're all outlined on this list and map on the SF Arts Commission's website. 
However, 117 of those spots fall within the perimeter of Super Bowl City and 11 are unusable due to Central Subway construction. That still leaves over 300 spaces, including more than 100 spots on Market Street stretching from First to Fifth Streets, which should have unusually high foot traffic during Super Bowl festivities.
Super Bowl Host Committee spokesperson P.J. Johnston said via email that the strip is "prime real estate and along the route of the '50th Mile,' a stretch between the Moscone Center and Super Bowl City where we expect to unprecedented numbers of visitors traveling by foot."

Typically, anywhere from a few dozen to several dozen artists set up in the total of 117 maximum spaces at the foot of Market Street and Justin Herman Plaza daily, depending on the season and the weather. In lieu of the spaces displaced for Super Bowl City, 10 new, temporary spaces were provided on Market between Third and Fourth streets, and the artists had to qualify for them. A total of 67 artists were selected to enter the lottery for these 10 temporary spots. 
"There was specific criteria," for this smaller, specialized pool, said Kate Patterson, communications director for the Arts Commission. "This was really meant to create a pool of artists that represented the best of the market."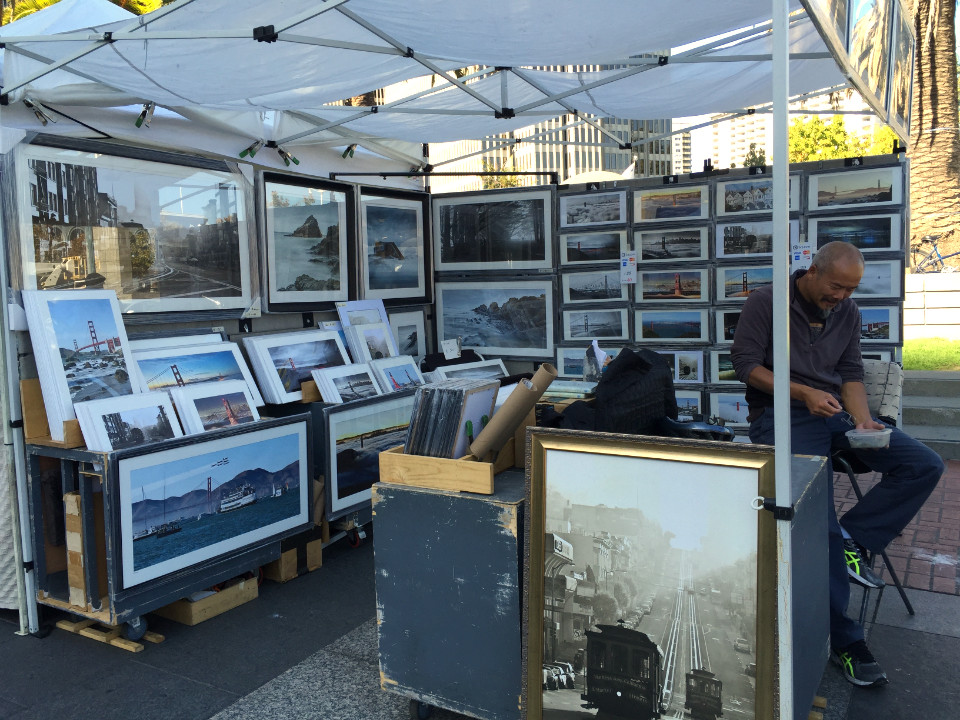 A vendor at Justin Herman Plaza prior to the displacement.
On Jan. 4th, the commission sent an email to all of the artists with the specifications for being considered for the select pool. They included that goods must be "handmade, unique and of high quality," and noted an emphasis on jewelry, pottery and gift items. It added, "No knitted caps or painted/screened shirts will be considered." Artists were instructed to reply to the email by Jan. 8th if they wanted to be considered.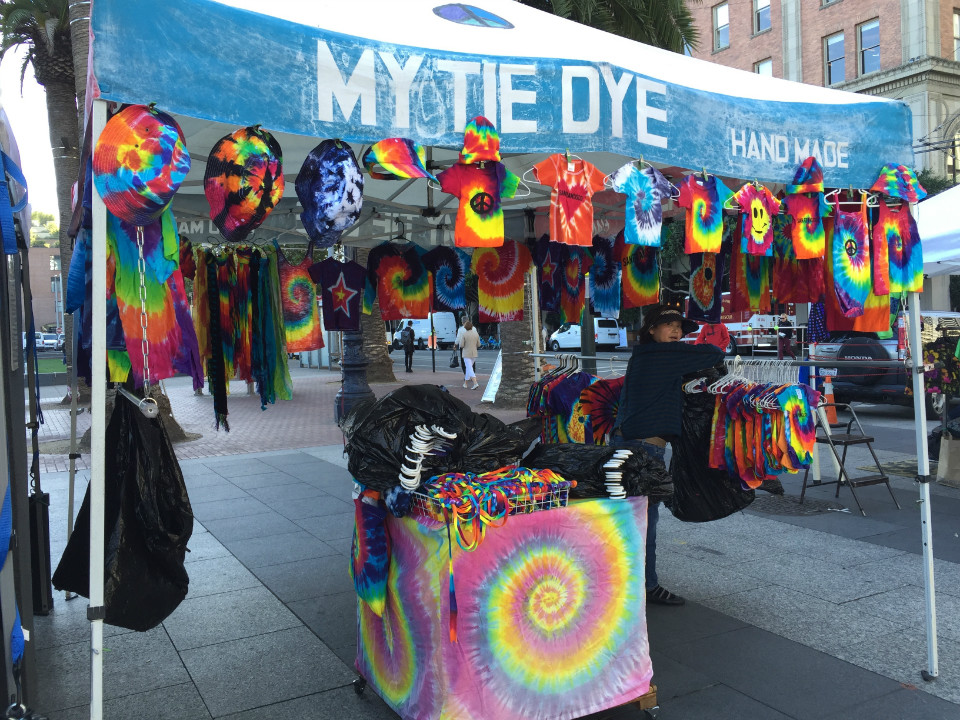 Patterson sent an email noting, "The intent of this process is to expose event attendees to a variety of arts and crafts. After the memo was sent, we heard from 70 artists who expressed interest in participating (for a total of 90 selling opportunities—10 spaces per day for nine days). Two were disqualified because of the items for sale (T-shirts) did not comply with the requirements. Another one dropped out voluntarily so there are 67 artists in the pool."
We went to talk to the artists in the select spots on Market Street on Tuesday to see how traffic was shaping up and ask how they were coping with the thinning of their ranks, but couldn't find any. Despite the pleasant weather, Patterson told us none of the selected artists showed up for the morning lottery.
That's surprising, especially because Johnston told us he hopes the Super Bowl crowds will create even more business for the street artists. "The upside is pretty tremendous," he said. "The first week of February is nowhere near the peak time for street artists or any other kind of business that relies on foot traffic and visitors, and here you're going to have a huge influx of visitors to San Francisco ... I'm hopeful this will be the best first week of February they've ever seen."

Though Super Bowl City has displaced the usual crew of artists and makers at the foot of Market, it is helping artists and art aficionados in another way. It'll feature an Art Walk with work from local artists on the security fencing. 
"The exhibit will be presented in collaboration with ArtSpan, a collaborative of hundreds of local artists, and will be staged on the perimeter fencing of Super Bowl City presented by Verizon, the Super Bowl 50 Host Committee's free-to-the-public fan village," according to the Super Bowl 50 Host Committee website.
Ten artists in all will be featured; the web page includes brief artist biographies and examples of their work. Artists include Spencer Aldworth Brown, Stacey Carter, Michelle De La Menardiere, Annie Galvin, Chad Hasegawa, Phillip Hua, Carol Kummer, Paul Madonna, Eric Rewitzer, and Rachel Znerold.