Since 2009, Outerlands has been providing the Outer Sunset with a classy, yet low-key dining experience. Bar manager Chris O'Brien has been around for most of that time, and after owners Dave Muller and Lana Porcello revamped the place in 2014, he assumed his current role at the helm of their acclaimed cocktail program.
We sat down with O'Brien to talk San Francisco cocktails, the neighborhood, and creating ambience at one of the Sunset's favorite establishments.
Where are you from and how did you get here?
I'm from Seattle, Washington. I grew up on a small island right outside Seattle. After I graduated college at University of Washington, I lived in southern Oregon for two years—my uncle has a farm down there. After that, I found San Francisco. I visited here for one weekend, and moved here within a couple of weeks.
When was that?
2010.
What experience did you have working in bars before you came to Outerlands?
I worked at a mix of restaurant bars and dive sports bars during college in Washington. I also did a little bit in New York state, a little bit in Alaska, a little bit in Oregon. Just the whole gamut: fine dining and dive bars. I started at Outerlands in March of 2010.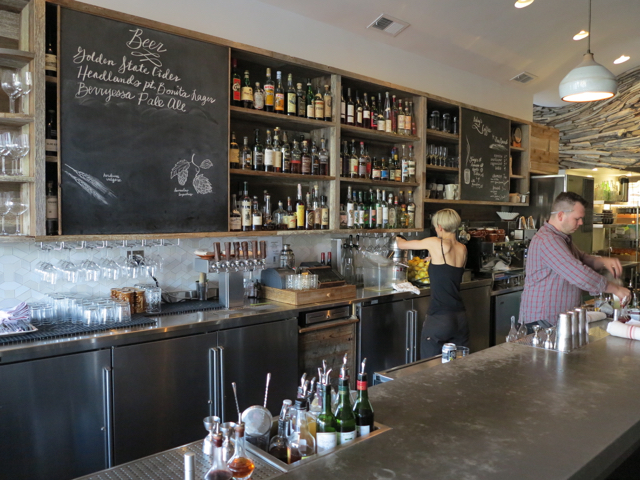 When I started here, it was a different kind of restaurant. It was half the size, it was counter service, and we did beer and wine only. I worked the register, basically. Working here was less about my perfection as a bartender, and more about working with four people that were fantastic. The owners, Dave and Lana, are just super great people to work for.
Tell us about your transition to bar manager. 
We got our liquor license about a year and a half after I started working here. Dave used to work at Slanted Door, so he and I kind of got the cocktail program running. It was a lot smaller then; we used to just run a few cocktails a night, and he was doing a lot of the bartending when we started. I transitioned more into that role before we closed down, and when we reopened with a full 12-seat bar, "bar manager" became my official title.
What's changed the most about the restaurant since you reopened?
Before, there was a much smaller group of people who worked here, so it was kind of nice getting an even bigger family to start working here. There were a lot of new roles for people to fill, so it wasn't just a few people carrying a lot of the weight.
From the guest's side of it, there was suddenly a place to come and sit—the wait wasn't out the door every day. That was a big thing, to be able to relax in the space a lot more. It made it easier to be a patron, and to be someone who works here.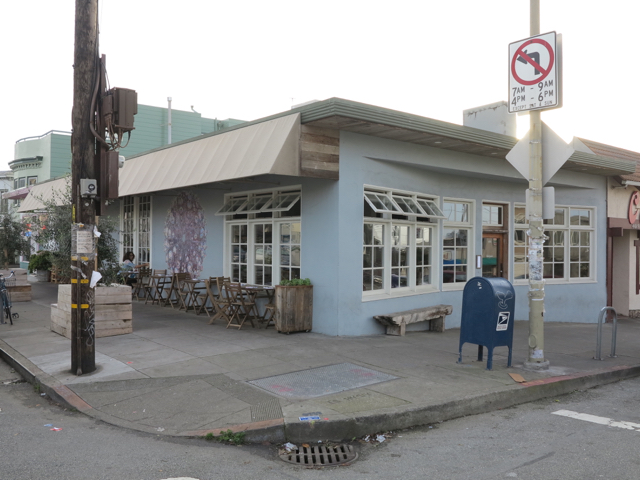 What are you trying to accomplish with your cocktail program at Outerlands?
I think it's nice to have a place for people who live "all the way out" in the Sunset to come and have as good a cocktail as they can anywhere else in the city. It's important for us to provide quality, while still keeping the emphasis on still being approachable. It's a neighborhood, and it's a surf community, and we are a part of that. But the main goal is to have the quality you can get downtown or in the Mission while you're out here in the Sunset.
What's emblematic of a San Francisco cocktail?
I think an emphasis on quality of ingredients and balance of flavor, along with a willingness to push the envelope a little bit, in terms of flavors, new things. I think that a lot of people look to this cocktail community to gather ideas—almost the academic approach to things. It's a good city for cocktails; it's like going to a good college.
Why has Outerlands been so successful?
I think it starts with Dave and Lana, the owners. Their eye for aesthetics is obviously really important, and I think this neighborhood has been long needing a place to come and have a great meal and be social without having to go to the Inner Sunset, or the Haight, or downtown.
Are there any drawbacks to being in the Outer Sunset?
I think it depends what you're looking for. If you want to be 'in the mix' and wait on celebrities and sports stars, then maybe this isn't the right place for you. Or if you want to have a super-crazy happy hour with people who just got out of the office. I think it depends on what you want.
I love it out here. I love the community; it's got a really great, beachy feel, and it reminds me of home.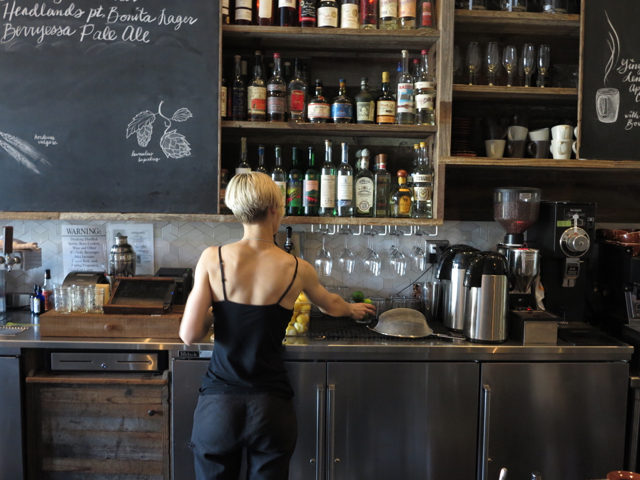 Bartender Lily Hoy prepping for the evening.
What's unique about this neighborhood?
Definitely the surfing component. You are out here on the edge of the United States and people think it's foggy all the time and rainy or whatever, but really, it's a little gem of the city. People who live here really love it, and tend not to leave. I just think that it's a special place. 
Since you've worked here, how have you seen it change?
I think a lot more young professionals are coming out here, people who are trying to start families who still want to live in the city. I think that's reinvigorated a lot of things. There are a lot of new small businesses popping up all the time. It's continuing to grow.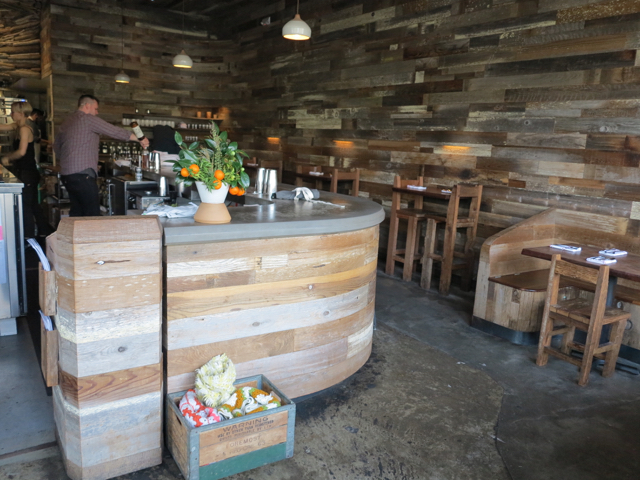 What goes into creating a specific type of atmosphere at a bar?
I think a lot of little, subtle things. Obviously, we have a kickstart with all the beautiful reclaimed wood walls. That already has an artistic feel to it. I think lighting is also important. Music, hospitality with the bartenders.
I think people need to feel comfortable when they sit down: aesthetically, emotionally, interpersonally. I think it's important to help make that happen the second someone sits down, even if it's a knowing look or a warm hello. 
Lastly, who do you want sitting at your bar?
People who are happy to be here. It could be anyone. I think that's the beauty of bartending. You can get a random stranger from wherever, and as long as they're happy to be here and looking to have a good time, then it's fun for everyone. 
For more Tapping In with local bartenders, get to know Patrick Connolly of The Independent, Giday and Nebiat of Waziema, Michael Wieck of Bar 821, Caleb McGehee of Nopa, Chris Libby of Madrone, Jared Schmidt of Absinthe, Racquel of The Page, Remy Nelson of Mojo, Andy Mott of Royal Exchange, Martin Kraenkel of Molotov's, Brendan Heath of Whiskey Thieves, Pete Spanier of Hemlock Tavern, Meaghan Johnson of Fly Bar, Tim Gapchenko of Cafe Terminus, Johnny Davis of Emperor Norton's Boozeland, Kundan Baidwan of Zam Zam, John Pringle of Doc Rickett's, and Harmony Fraga of The Social Study.