Since August of last year there's been a war brewing in Bernal Heights over 344-348 Precita Ave., home to Precita Eyes Muralists since the urban arts nonprofit was founded in 1977. Tomorrow night, 1AM Gallery at the corner of Sixth and Howard is hoping to help end the battle for good by raising funds to help the organization purchase the building, where its youth arts program is based.
For nearly 40 years, Precita Eyes has been mentoring young San Franciscans through arts education, and transforming inner city spaces, primarily in the Mission but also in SoMa, the Tenderloin and recently the Inner Sunset, with vibrant, community-driven murals.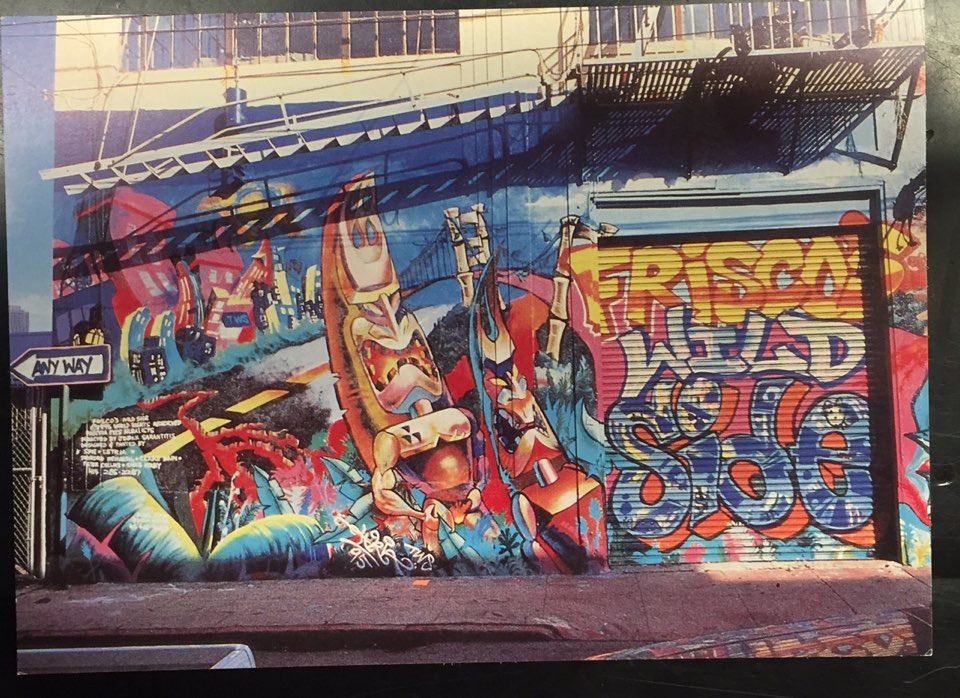 A Precita Eyes mural titled "Frisco's Wild Side," completed in 1995 on Langton Street between 7th and 8th. (Photo: Precita Eyes Muralists Association)
After protests outside their Precita Avenue studio urging prospective buyers not to bite on the property, advertised then for just under $1 million, the Mission Economic Development Agency is on track to acquire the mixed-use residential building through the city's Small Sites Program, which would keep Precita Eyes and the residents upstairs in place. To close the deal, however, Precita Eyes must raise $200,000 through loans and donations for a down payment by Jan. 22nd. (For more background on the issues surrounding the property, complete with a callback to "proto-gentrification tensions of 1970s Bernal Heights," check out Bernalwood's rundown.)
This financiagoal has almost been met, and to get Precita Eyes over the top, 1AM Gallery — which also focuses heavily on arts education for the masses — is launching an exhibition tomorrow evening featuring more than 50 original pieces and prints by Precita Eyes artists as well as a few of their own.
The event is free to all, but donations to Precita Eyes are encouraged.
"We must come together to protect the organizations and artists that have helped make our city the thriving cultural center it has always been," the 1AM Gallery team stated in a press release about the fundraiser. "We are proud to team up with our friends at Precita Eyes to buy their Precita Avenue location, and voice the importance of preserving public arts communities in San Francisco!"