Set at the corner of Fillmore and Fulton, Cheers Market offers a place to grab a gallon of milk, a six-pack of beer or a sandwich before heading to nearby Alamo Square or home to the Western Addition. But co-owner Anil Khan may soon lose the business, as his partner has given up his share of their partnership. 
Khan recently started a GoFundMe campaign to raise $125,000 to hang on to the store, which has been open for about 20 years. (It's had two previous owners throughout the years; Khan and his co-owner ran the store for the past two years.) If his fundraising is successful, he hopes to use the funds as a down payment to negotiate a new loan.
"My son, who's going to be two soon, is everything we have worked for," Khan wrote on GoFundMe. "I don't want to lose what we've worked so hard to build. We gave up everything to be here, and now we're going to lose it all."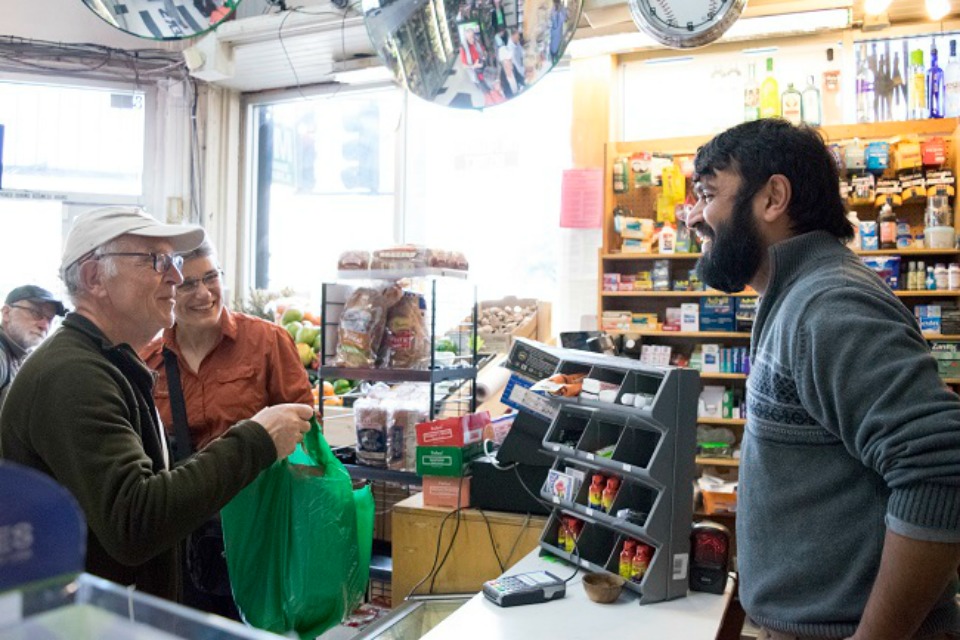 Cheers has struggled a bit in recent months as Kahn tried to bring in some healthier, higher-priced store items beyond the two longstanding money-makers: cheap alcohol and snack foods. The market has started carrying more organic options, including produce at the front of the store, and pre-made sandwiches to entice customers.
When it came to revenue, however, the changes haven't taken hold yet. Kahn's partner said he'll be backing away from the business in three months because of poor sales numbers. (Kahn's wife and another employee also work at the store.)
Nonetheless, Kahn is determined to save Cheers. "This is my startup business in San Francisco," he told us. "This is my bread and butter that I'm going to work hard for." He has hopes of starting a delivery business, and offering weekly specials via mail. 
He has an uphill battle. So far in its three-week run, the fundraiser has collected only $625, most of it from a single $500 donor.
Should Cheers not survive, a key aspect of the neighborhood's mural culture will also be in jeopardy. Painted on the corner store's side, the decade-old mural features three jazz musicians from the neighborhood. One of the mural's artists, who goes by the name of Uncle Jase, lived in the neighborhood and helped with the piece's creation.

"I actually lived just around the corner on Steiner for 19 years," he told us. "But this year I moved to the LA area because I could not afford San Francisco anymore."
Cheers' possible closure is another example of the effects Uncle Jase sees from the increased cost of living in San Francisco. "I won't be happy to know that the mural is gone," he said if the artwork is taken down in the future. "But it's really insignificant compared to the family being pushed out."
Update, February 29th, 8:37am: According to a post he made on NextDoor, Khan is "no longer a member of Cheers Market ... they have dismissed me from my duties." Here's the full post: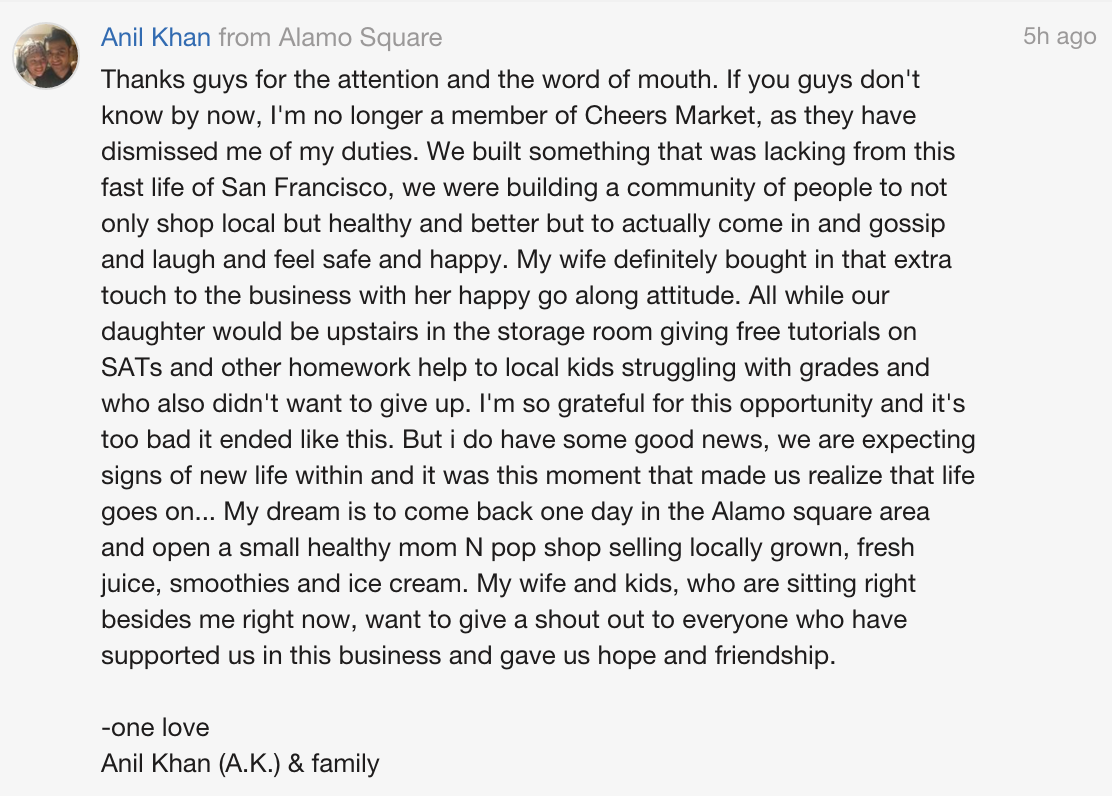 We'll share any more info as we receive it.