February 7th might be the big day for the Broncos and Panthers, but the next day marks another major celebration for San Franciscans: the start of Lunar New Year. 2016 will be the year of the monkey on the Chinese calendar.
To teach the community about Lunar New Year traditions, Chinatown resident and former District 3 Supervisor candidate Wilma Pang will host her 13th annual demonstration of dumpling and rice-ball making this Saturday from 11:30am–2pm at New Sun Hong Kong Restaurant (606 Broadway).
"I feel [the restaurant] is an important landmark, because it's the intersection of Chinatown and North Beach," she said. Through the dumpling demo, she explained, she's bridging the cultures of the two neighborhoods. 
Pang chose to host the event this Saturday, February 6th, because it's actually New Year's Eve in China, which is a day ahead in terms of time zones. She also wanted to avoid conflicts with Super Bowl 50. 

The event and tasting are free, but donations are welcome to cover the cost of ingredients. Chinese musicians will entertain the group, and you can also order a meal on your own from the restaurant. 
The event is cosponsored by the 1920C coworking and creative space, which recently got the thumbs-up from the city to stay in operation. Pang and a group of Chinese musicians perform in front of the 1920C building when weather permits.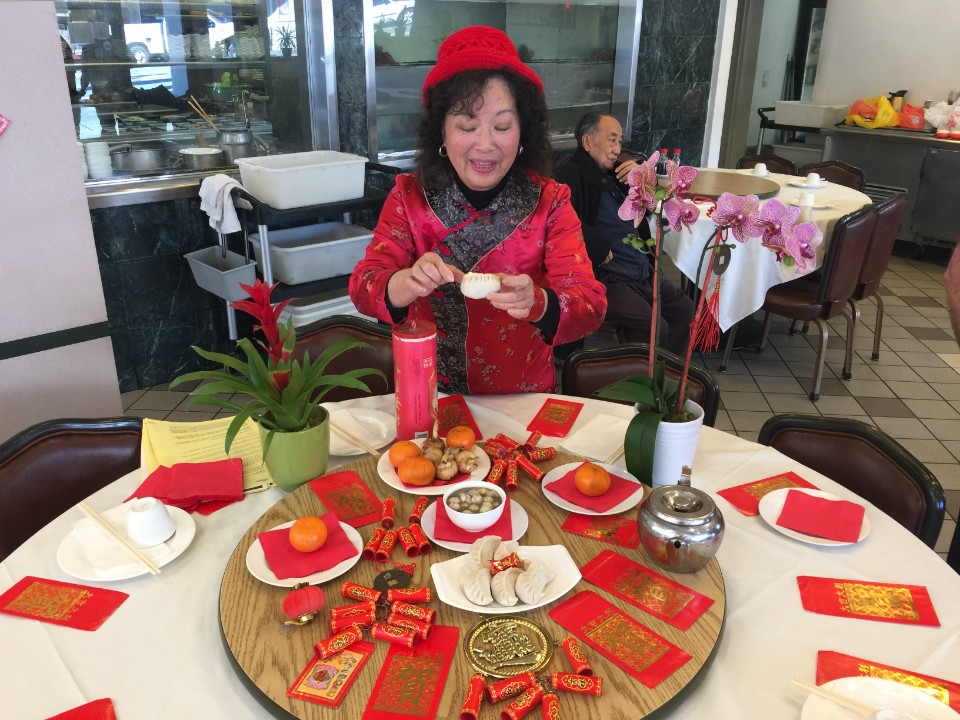 Pang explains dumpling traditions.
Dumplings (jiao zi) and rice balls (nian gao), like tangerines, vegetables and fish, portend good luck and good fortune for the new year, Pang tells us. "Everything you eat during Chinese New Year has a good-luck meaning," she said. 
Dumplings, favored in northern China, are made in a crescent moon shape that resembles ancient gold and silver ingots, which signify a year of plenty. Rice balls are preferred by the Cantonese in southern China, perhaps because the area produces more rice. And arrowroot is often on the table, in hopes of a boy being born that year.
Making dumplings and rice balls, Pang told us, is an important cultural tradition that bonds family and friends. "The more you make, the more wealth [you'll have] next year," she said. 
When wishing happy new year, people say, "Gong Xi Fa Cai" in Mandarin or "Gong Hey Fat Choy" in Cantonese, which, Pang said, actually translates to wishing you a lot of wealth. And, Pang warned, don't cut your hair or use knives during the new year celebrations. "It cuts your luck," she said.