By
Fiona Lee
- Published on February 16, 2016.
In what is sure to be a lively event, the SFMTA will reveal its updated plans to improve pedestrian safety for the L-Taraval tomorrow at Dianne Feinstein Elementary. Ahead of the meeting, flyers have been popping up at L-Taraval stops. 
As we reported in December and the Examiner noted yesterday, some local businesses and residents aren't happy about the plans, which would include consolidating stops and removing some parking.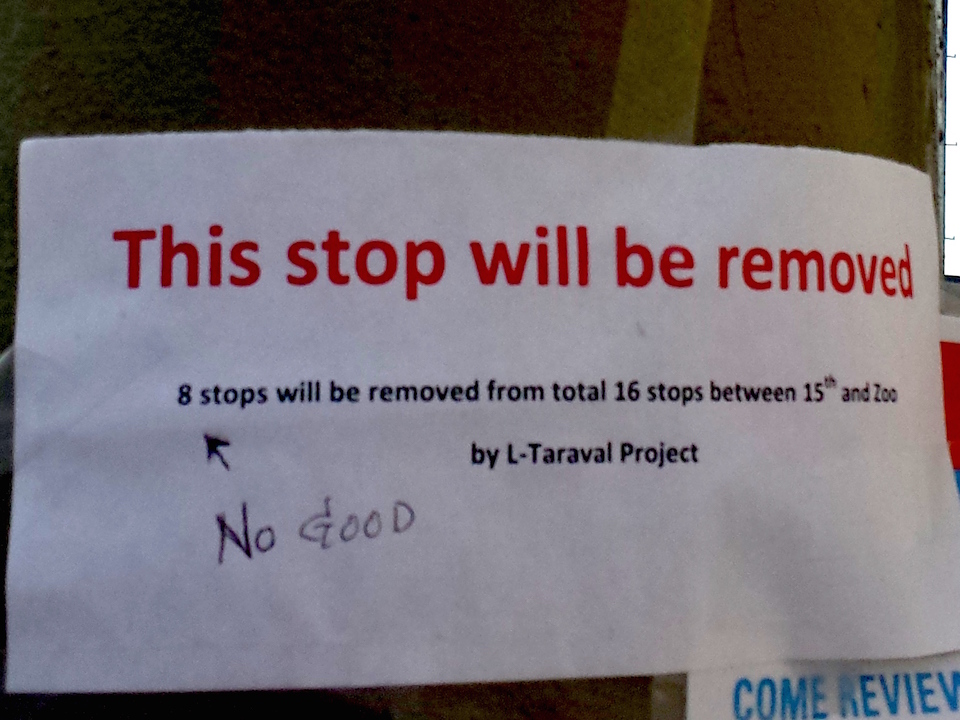 Removal of stops has been one of the most controversial parts of the proposal. 
The flyers have also made their way into residents' mailboxes. "I totally appreciate fighting for what you believe in but please do not hand out flyers this late at night. 11:37pm in my case. With the current rash of break-ins people are already on high alert," wrote a local resident on NextDoor after receiving a flyer. 
See our previous coverage for details on which stops could be eliminated, as well as the other changes on the way to Taraval west of 19th Avenue. And, if you can't make tomorrow's meeting, look for a recap here later in the week.
The L-Taraval Open House will be held at Dianne Feinstein Elementary at 2550 25th Ave. on February 17th, 6-7:30pm.