By
Ayo Suber
- Published on February 23, 2016.
29 students at the city's public Lowell High School walked out of class today, in protest of racist incidents that have been occurring at their school. The most notable of those incidents occurred earlier this month, when a student posted photos depicting various rappers and President Obama in a window, with the message "Happy Black History Month #gang."
Though the display was removed and the student responsible was disciplined, the students, some of whom were joined by their parents, are protesting what they say is "an uncomfortable climate for black students." They say they want the school to be more culturally sensitive, and to create a more inclusive environment.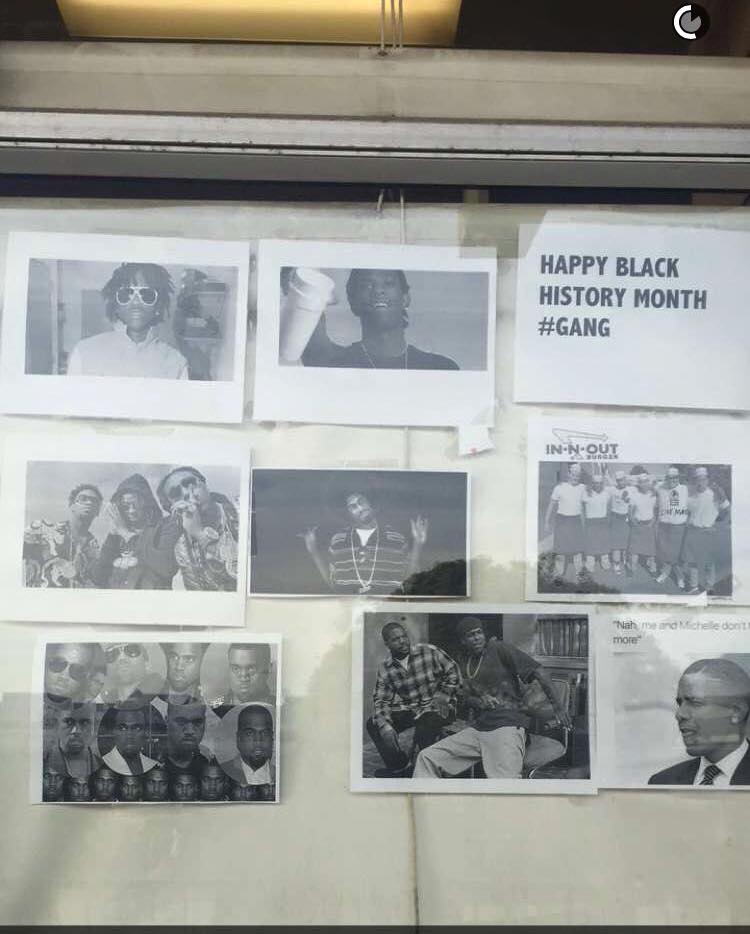 The racist display at Lowell.
One Lowell student told us that the school doesn't actually have any Black History Month displays, and that students and staff don't take the event seriously. "Making fun of Black History Month is rude," she said. 
Today's walkout had the full support of Lowell's principal, Andrew W. Ishibashi, who spoke with reporters before the students left for City Hall. "We support the empowering action our African-American and other students are taking today by walking out and by practicing their First Amendment rights," he said.
He said the school stands against racism and is working on cultural sensitivity training, bringing in an educator to work with the students twice a week. The San Francisco Unified School District (SFUSD) will also be releasing a statement in support of the students. 

Principal Andrew Ishibashi told reporters he stands with the students.
After leaving Lowell, the students gathered at City Hall to meet with SFUSD officials and Supervisors. They held signs reading "Black Minds Matter," "Diversity Isn't A Word, It's An Action," and "We Are Young Black Scholars."
Students gather in front of City Hall.
Supervisor Norman Yee left his meetings to meet with them. "It's not just Lowell, it's most other schools too," he told the group. "So you are representing other students, and I'm glad you came."

Supervisor Norman Yee speaks with students.
After Yee spoke, the students took turns talking about racist incidents that have occurred at Lowell, which is often ranked as one of the best public schools in California.
"People don't want to learn about different cultures at Lowell," student Maya Bonner said. She told the story of how a fellow student refused to touch her, likening her skin to dirt and calling her dirty.
One student said though she is not African-American, she supports her classmates who are. "We sit in the same class, we passed the same tests and we are just as good. We work just as hard."
Maya Bonner gets emotional after recalling a racist incident.
Tsia Blacksher, one of the leaders of the Lowell Black Student Union (BSU), said that at times she's felt that she was not a part of Lowell. Lowell has approximately 2,650 students, she said, but fewer than 2 percent of them are black. There are only four black teachers.
"You have to have confidence to be there," said BSU vice president Chrislyn Earl. "Sometimes, I don't feel like I belong there."
Chrislyn Earl tells her fellow Lowell students how proud she is of them.
At City Hall, the students saw support from many community leaders, including SFUSD board president Matt Haney, Deputy Chief of Staff Paul Henderson, Amos Brown of the NAACP, community leader Bivett Brackett, representatives from the Mayor's office and SFUSD, and students from SF State's chapter of the BSU.
Supervisor and Lowell alum Malia Cohen closed out the event, telling students they have the full support of her office. "No student at Lowell should feel isolated, whether the number is 30 percent or 3 percent," she said. 
Supervisor Malia Cohen stands alongside Paul Henderson.
The students will also attend tonight's school board meeting (to be held at 6pm at 555 Franklin St.), where they will present their list of demands.