Back in November, we published a three-part series on Coit Tower, in which we reported some in the community weren't happy with a list of proposed changes that San Francisco Recreation and Park wanted to make to the way the City Landmark No. 165 is run. Many of those concerns have now received input from District 3 Supervisor Aaron Peskin, who also has formed a working group regarding the tower.
Neighbors have been keeping a close eye on the way Rec and Park has funded, run and restored the tower. In addition to being one of the city's most iconic structures, it is home to the first New Deal-funded art project in the nation, boasting 27 historic murals telling the stories of social and economic dynamics in California during the Great Depression.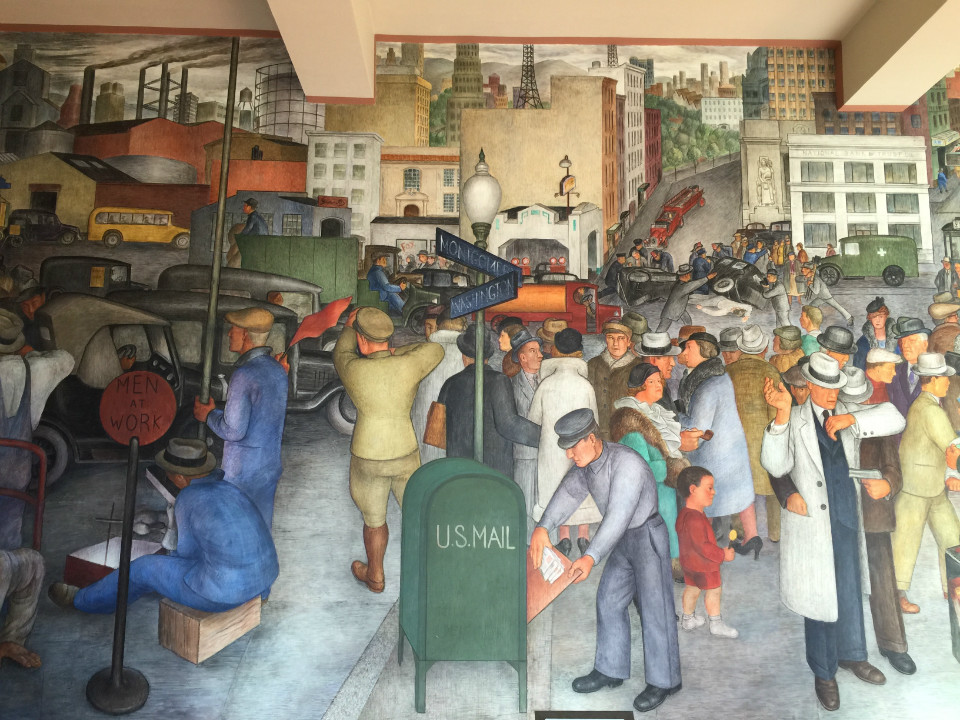 City Life by Victor Arnautoff.

At issue recently were several amendments to the lease with the concessionaire, Coit Tower LLC, owned by Terry Grimm. Jon Golinger, founder of Protect Coit Tower, told us some of the changes that would help Grimm succeed were welcome, but he had qualms about several others.
His main concerns included extending the tower's hours for private tours, selling food items at the gift shop, and a section that appeared to limit the concessionaire's ability to speak to the media. A semi-permanent food and drink kiosk also has been controversial. (We reached out to Grimm for this story, but he declined to comment.)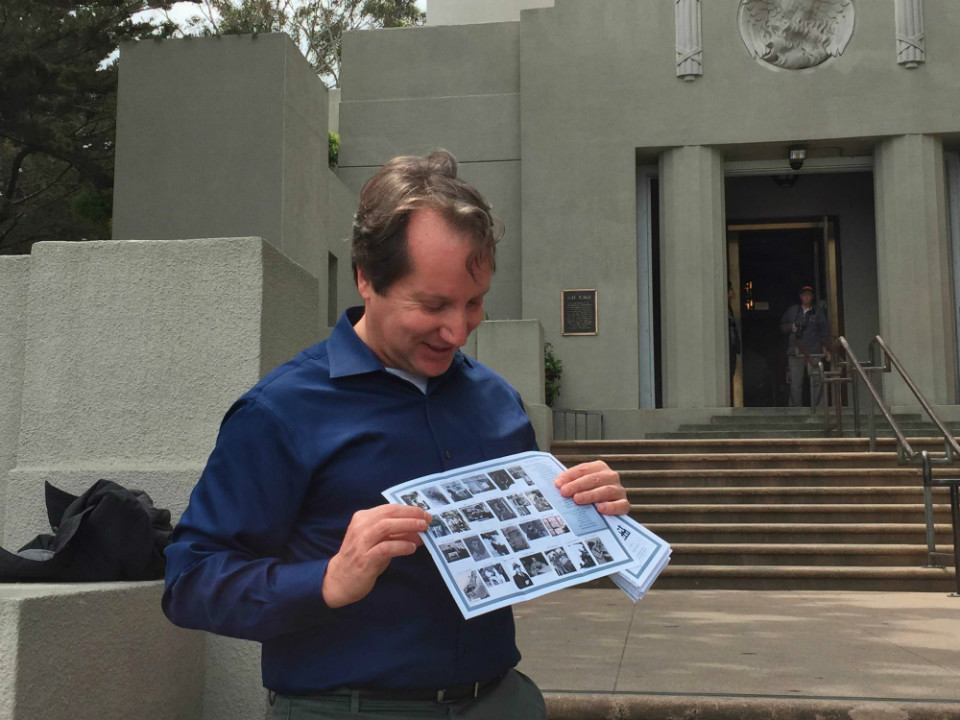 Jon Golinger showing a brochure of Coit Tower artists. 

After Peskin got involved, the Board of Supervisors unanimously approved the lease amendment, with several changes, on Feb. 2nd. (Our earlier article goes into detail about the initial proposed lease amendments.) "Supervisor Peskin really helped," Golinger said.
"I had a a really positive and constructive interaction with the folks at Rec and Park, who felt the changes the community was asking for were appropriate and reasonable," Peskin said. 
"The supervisor and people running Coit Tower want to solve problems instead of creating new ones, and I think that's a complete change to the way things used to be at Coit Tower," Golinger added. "It does show we all need to keep an eye on Coit Tower. These were presented as some innocuous amendments, but once I and others looked at them, we realized they could cause new problems."
So what wasn't approved? The new document clarifies that private tours will only be offered before hours (starting as early as 9am; the tower opens to the public at 10am) and only to nonprofit youth and senior groups or school groups. The public must be notified whenever those are booked, too. Golinger was concerned the earlier language would open the door to allow evening parties—which resulted in damages in the past—and other uses that violate the public nature of the landmark.
The new version also doesn't put any kind of gag order on the concessionaire, but specifically states, "Lessee and City shall use good faith efforts to cooperate on matters of public relations and media responses related to this Lease or any amendments to this Lease, including Lessee's right to use the Premises and the Additional Premises."
It also doesn't allow food to be sold at the gift shop. Grimm was considering selling packaged souvenir chocolates in the shape of the tower, but Golinger was concerned about people opening the candy and eating it on site.
A continued sticking point for Golinger, however, is the semi-permanent 9-by-12-foot food and drink kiosk that will be built on the west side of the Coit Tower property. Instead of erecting the kiosk, he'd like to see Rec and Park credit Grimm $7,000 a month on an ongoing basis, which they are doing for now while waiting for the structure to go up. However, he told us he's heartened by the fact that the kiosk will be removed if it doesn't work out.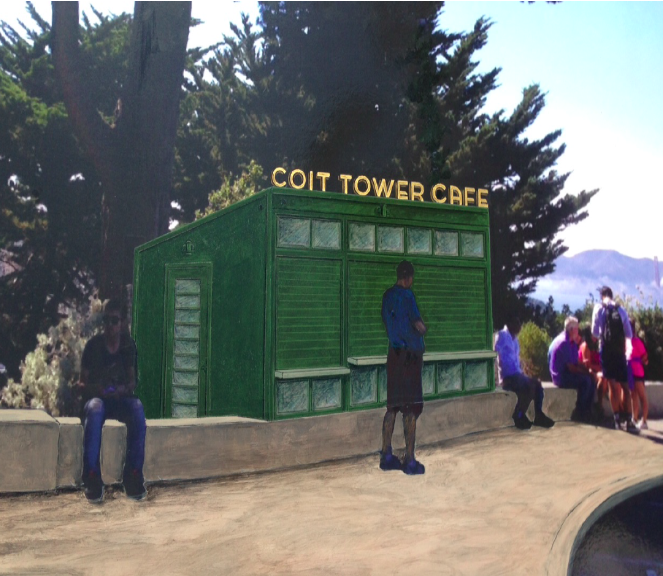 Updated rendering from SF Rec & Park
Golinger is also pleased that Peskin initiated the formation of a working group to share information and be more transparent about goings-on at the tower. "It is designed to be a body to monitor and make sure the promises of Prop B are kept; that the snack shack is run appropriately; that Rec and Park is accountable," Peskin told us.
The group is designed to be a sounding board with everyone at the table, Peskin said, including members of the public, artists, experts and city agencies. The goal is to be "proactive, not reactive."
The working group's first meeting will be at 2pm Feb. 24th in City Hall Room 278, and meetings will be held every other fourth Wednesday of the month. If you plan to attend, please email Peskin's legislative aide Connie Chan.