Around 7:40am on November 8th, a three-alarm fire broke out at Mission tire shop Rolling Stock, located at 2860 16th St. Carolina Gongora, her husband Carlos Mis, and her two children, Carlo and Carolay, who all lived in the building next door, now remember that morning all too well. "We are never going to forget that day; it's so hard," says Gongora. "It was terrible—it's something you never think is going to happen."   
By 8am, the roof of the tire shop had collapsed, and the fire quickly spread to their six-unit building. "I had our two kids put on their shoes and light jackets," says Gongora. "I didn't take anything, just my phone to call 911. I never thought anything was going to happen ... I just thought the fire was coming, and the [fire department] was going to take care of everything, and that we were going to come back to our home."
Residents were urged by firefighters to take cover at either 15th Street or 17th Street, away from the nearby gas station and the thick black smoke and flames.
"The kids were crying and asking a lot of questions," says Gongora. "But I didn't have any answers."
With the tire shop's concrete walls abutting the first two floors, it quickly became clear that the fire would wreak havoc on the wooden exterior of Gongora and Mis' third-floor apartment. By the time the blaze was put out, the whole building was uninhabitable; all 21 residents, several of them small children, were displaced by the blaze. 
"As soon as I saw that fire, I knew that we lost everything," says Mis. "It had been so many years working for what we had there, and then we lost everything in one day. All our things and pictures: all destroyed, all burned."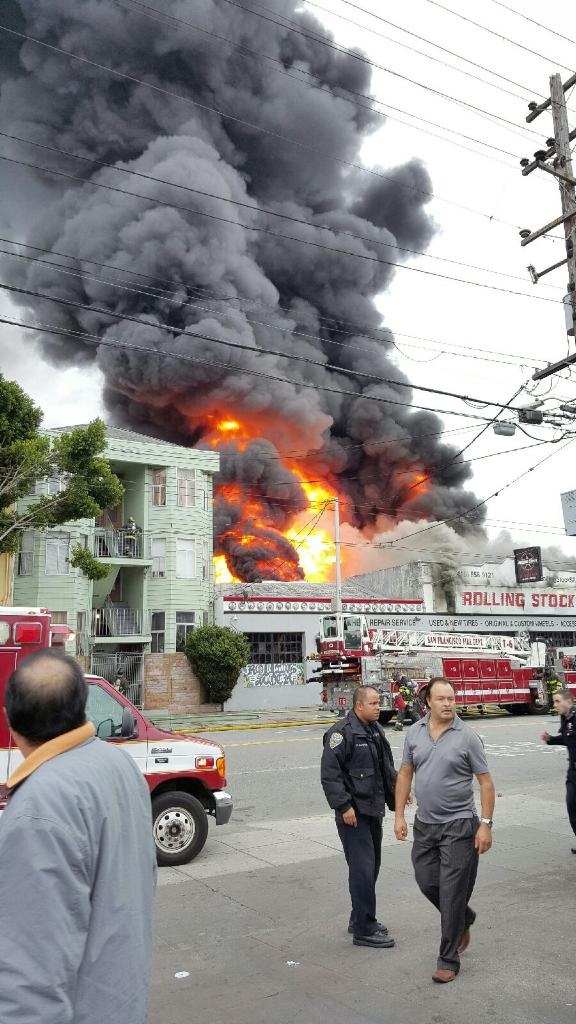 A photo Mis snapped of the fire that engulfed his family's home.
The Red Cross responded quickly, helping the family secure temporary housing at the Outer Mission's Mission Inn. But securing the funds to pay for their room took several days, and every two days, they had to call to find out what they were supposed to do. "I felt so terrible at that moment," says Gongora. "I worried, 'What are we going to do now?'"
With the holidays around the corner, rates at the hotel started going up. "There was so much stress," says Mis. "I kept thinking, 'What's going to happen? Today is going to be OK, but what is going to happen tomorrow? We don't have anything.'"
Finally, with the support of Good Samaritan Family Resource Center, the family was given the opportunity to move into stable, permanent housing: a small studio apartment in the Tenderloin, at Geary and Leavenworth.
Compared to their former apartment, the space limitations have been a difficult adjustment. Their old apartment had two bedrooms, a living room, kitchen, small area for washing dishes, and a dual closet and storage area. The studio has a tiny kitchen extending into the common area, and no privacy.
After 13 years in the Mission, adjusting to the Tenderloin hasn't been easy for the family, either. "We asked [Good Samaritan] to find a safe, clean place that is nice for the kids," says Gongora. "But [they] didn't offer the most safe place, because now we have a studio, and the area is not so good. There's a lot of [cigarette] smoke, whether it is day or night. Because we're on the first floor, all the smoke comes through the building and goes into our apartment, and I'm really worried about my kids, who have asthma."
But if the family had declined the studio apartment that Good Samaritan offered, the result might have been a complete denial of services, says Mis.
"We'd better get this place, no matter how good or bad, because we have no choice of where else to go," Mis recalls thinking at the time. "I didn't want to decline the opportunity, because we didn't know if we could find something."
The family also reached out to other Tenderloin-based organizations, like Raphael House, for more housing and supportive service options. They were placed on a one-and-a-half-month waiting list, but nothing came of it. 
Almost five months after the fire, the family is still living in the tiny studio apartment at Geary and Leavenworth. "It's OK for the four of us, but it's too small," says Mis. "It's a very tiny place, but it's nice and cozy and that's all we can think about: If the kids are happy."

Mis, who now walks to and from his job at Hayes Valley restaurant Boxing Room on Friday and Saturday nights, says that Gongora is still deeply concerned about the Tenderloin's safety. "She's always telling me 'Don't come this way,'" he told us. "I am trying to take care of myself and I know where to go and where I cannot, but she is always so worried about the neighborhood. I try to tell her, 'If you don't look for trouble, you won't get into trouble.'"
While the family says navigating the various housing and social service networks and housing lottery opportunities has been challenging, they are grateful for the assistance of the many "angels" that came to their aid on the day of the fire. Gongora remembers one "saint" in particular: John from the Salvation Army, who offered her the shoes off of his own feet so she could walk into their Mission apartment one last time to see if anything was salvageable.  
The Salvation Army also offered Gongora and Mis household items and clothes to replace those that had been destroyed, but their current apartment doesn't have the physical space to house any more items. 
As the housing market continues to explode, the family worries that moving back to the Mission may never be possible. "It's always my complaint to [Carlos]: I'm really worried about my kids because of the smoke," says Gongora. "They say, 'It's OK, we can stay here,' but I know I don't have a choice." 
For now, the family remains hopeful that before their one-year lease on the studio is up, they can find an apartment that better suits their needs. "It's been so hard, but there have been so many angels in this city," says Mis.