If authentic loose leaf teas are your thing, it may be time to pay Haymen Daluz a visit at Aroma Tea Shop at 6th & Clement.
Tucked away amidst the bustle of the Inner Richmond, Daluz's shop is packed from floor to ceiling with tins full of tea he imports himself from China. Free tastings and tutorials are offered to interested buyers and budding tea connoisseurs, and Daluz can outfit anyone with the accoutrements to serve tea in the fashion in their own home.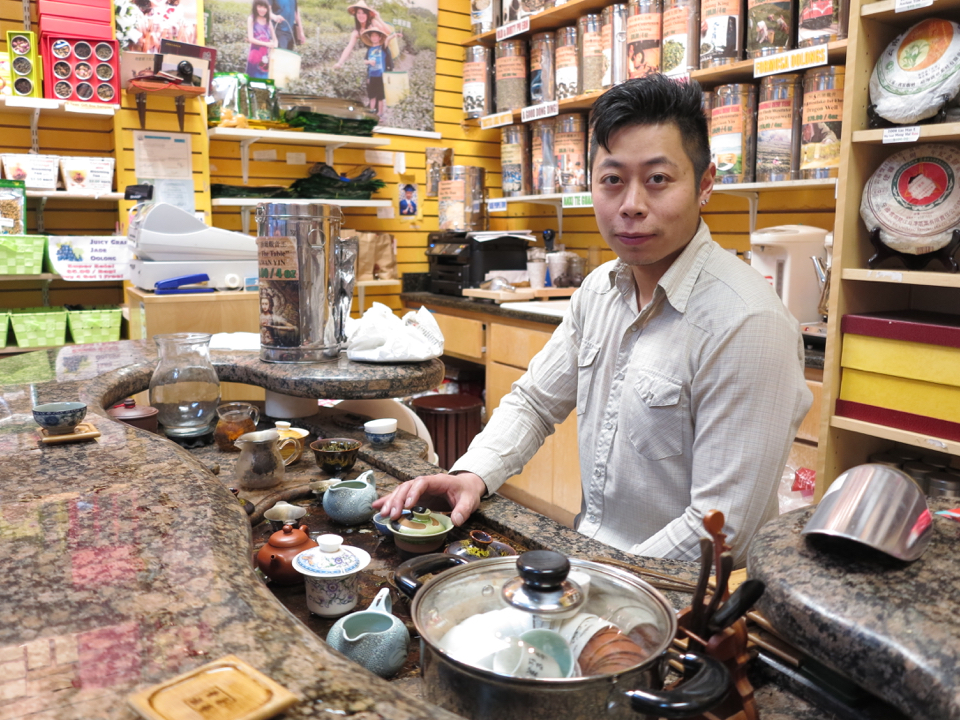 Although he's an expert now, Daluz admittedly had a lot to learn when he first entered the business in 2005. He and his wife, whom he met while traveling in China, had some retail experience between them, but neither had ever sold tea before. "It was like entering the wine business without knowing anything about wine," said Daluz. "It would sometimes be the equivalent of someone ordering a nice Cabernet and serving them Two Buck Chuck."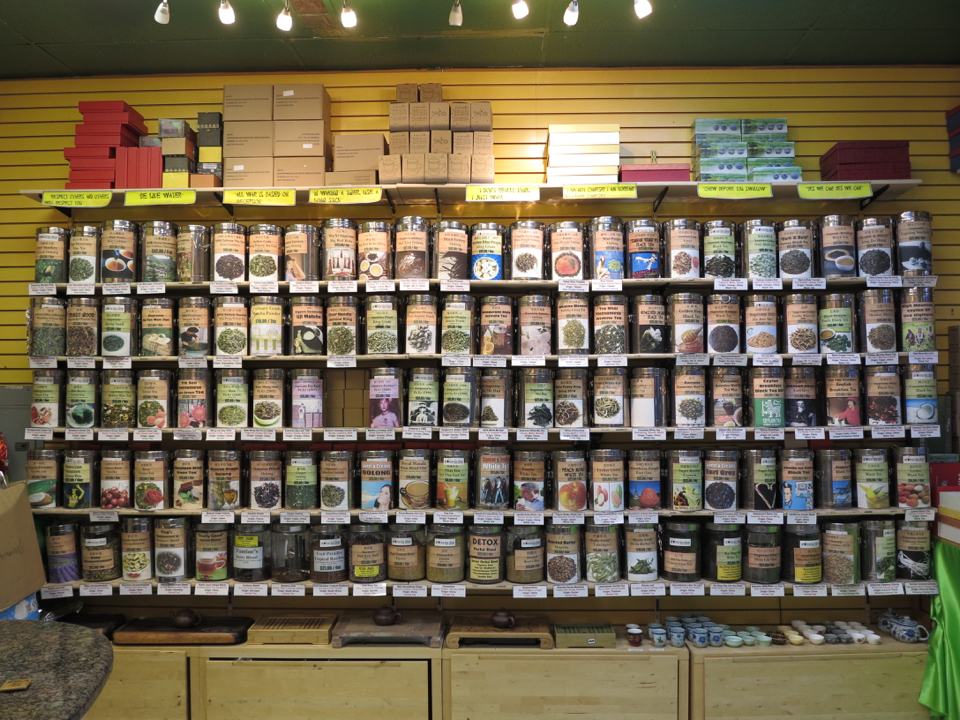 However, Daluz experienced a steep learning curve, and soon began righting his earlier wrongs, such as storing his inventory in tins instead of glass containers in order to better preserve the quality. He also began traveling directly to China to buy tea, making two trips a year and importing a 20-foot shipping container upon each return. Today, he has a vast network of producers he visits in person, and he even commissions special blends and flavors only available to his stores (he opened a second location in 2010 on Washington Street in Chinatown).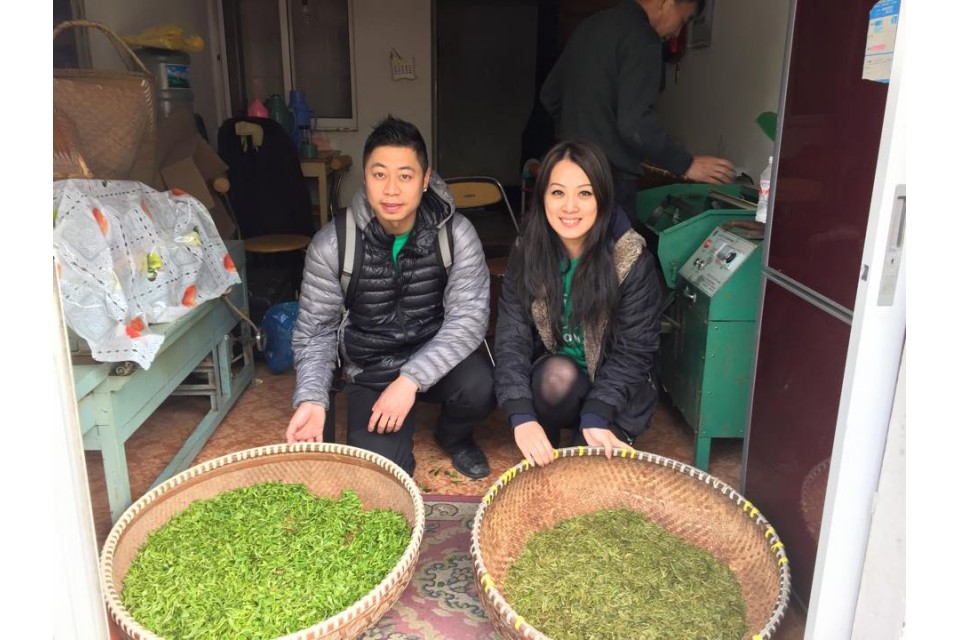 Daluz and his wife buying tea directly from the source in China (photo courtesy of Aroma Tea Shop)
On his trips, Daluz spends a great deal of time in the Yunnan Province, home to Pu Erh tea, which he tells us is the most commonly served tea in San Francisco's Chinese restaurants. This tea can be purchased "ripe"—or aged and fermented—or "raw", which Daluz says is for the real "tea geeks" out there. It should also be noted that Pu Erh is the Mandarin moniker for the tea, while the Cantonese speaking population of San Francisco would call it Bo Nay. Pu Erh is named after a township in Yunnan Province, much like different French varietals are named for their respective regions, such as Burgundy or Champagne.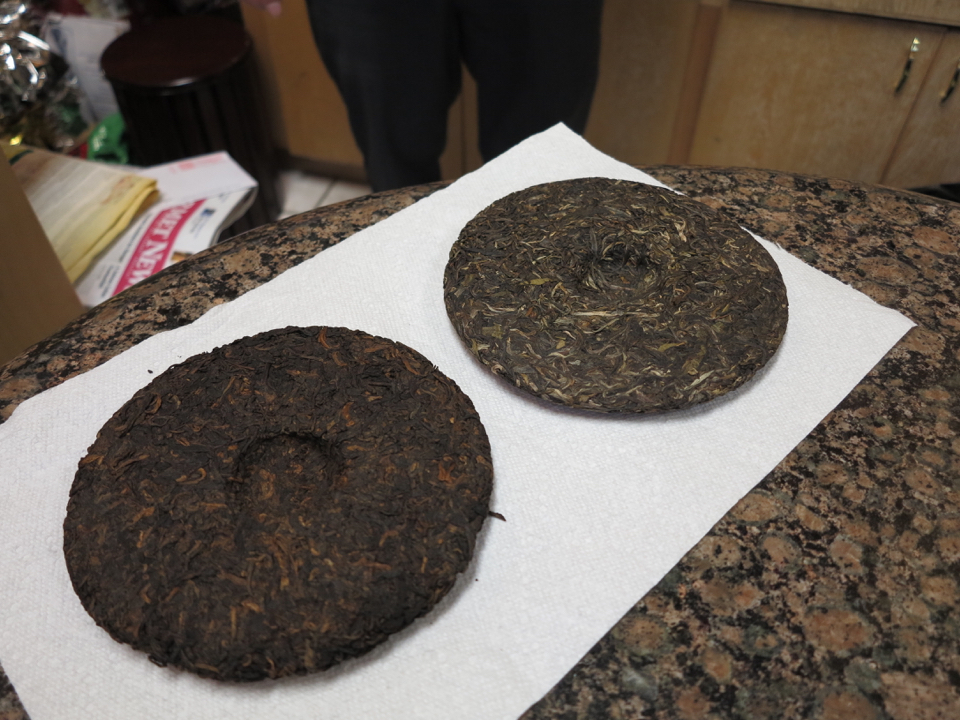 "Ripe" (left) and "raw" Pu Erh tea.
Much like wine, teas at the shop can vary quite a bit. Discount items start at about $5 for a two-ounce bag, while the highest end product he carries, Tie Kwan Yin, a rare Oolong tea will run you $480 a pound.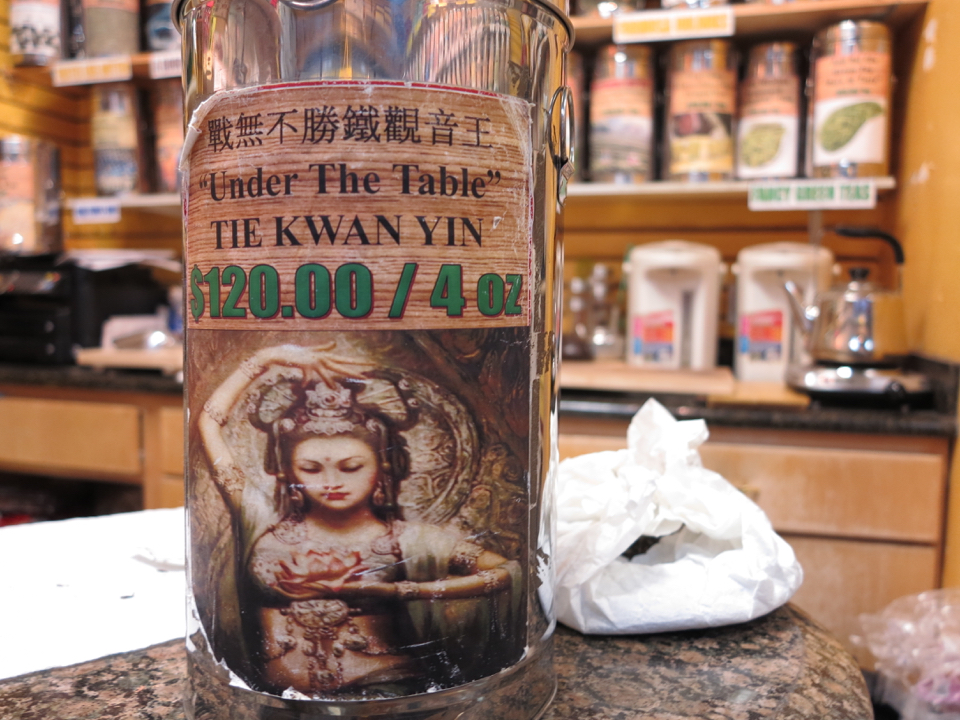 Daluz, for the most part, keeps the original Chinese names given to his teas at the source, which can result in some interesting branding. A popular tea on the higher end of things is the Deep Fired Dong Ding Oolong ("Dong Ding" translates to "Frozen Summit"), while his Mao Xie Oolong translates to "High Mountain Hairy Crab". "It's funny", says Daluz. "The tea isn't hairy, and there certainly aren't any crabs in it."
The most intriguing name by far is "Ya Shi Xiang" or "Duck Shit Aroma." According to Daluz, the man who first grew it many, many years ago thought it was so good that people would try to steal his technique, so he gave it an unappealing name to deter them.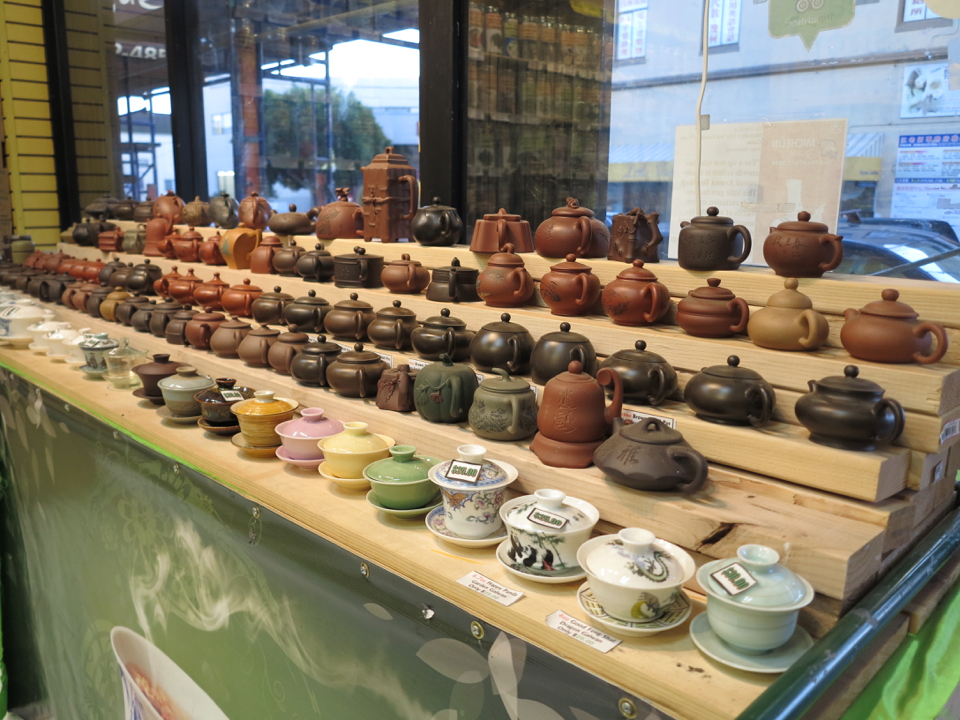 An extensive offering of different "gaiwan", the traditional lidded bowl used for tea preparation.
Looking to the future, Daluz isn't looking to make any major changes to his business. He hopes to continue expanding his online and wholesale sales, but with two children at home, he feels his dance card is quite full at the moment.
Besides, he loves his job. "I get to drink tea everyday," said Daluz. "You can't complain about that."