As the controversial Piazza Saint Francis, the Poets Plaza continues to be debated in the neighborhood, supporters of the project are stepping up their efforts to convince neighbors to close off the block of Vallejo Street between Columbus and Grant for the plaza.
Last week, the board of the Piazza started a Change.org petition to gather signatures in support of closing Vallejo Street, and also created a Facebook page for the project. Today, a billboard about the piazza will go up at the intersection of Columbus and Vallejo for further outreach, said Angela Alioto, who is spearheading the plaza effort.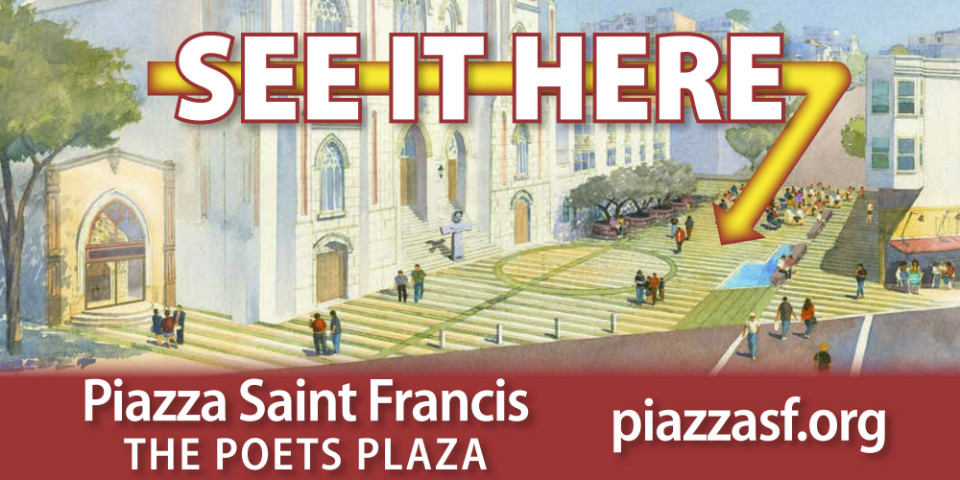 Graphic: Courtesy of Angela Alioto
As we've previously reported, the piazza has been controversial because some in the neighborhood don't want the street permanently closed, citing traffic and safety concerns. Alioto said she gave the comments and signatures from the Change.org petition to SF Public Works prior to last week's community outreach meeting, which drew more than 200 locals. They didn't mention it at the meeting, she said. 
As of today, the petition has more than 900 signatures from people throughout the Bay Area and as far afield as Surprise, Ariz., and Verona, Italy. Many supporters say they are native San Franciscans, grew up in North Beach, or otherwise have connections to the city. Even Salesforce CEO Marc Benioff is in favor of it, as he's tweeted:
Together we can build this beautiful piazza in San Francisco. Sign this petition to do it: https://t.co/cQ4w8adWhI pic.twitter.com/flgSiQFZRF

— Marc Benioff (@Benioff) February 26, 2016
Alioto is happy that the Facebook page has gotten more than 500 likes since it was created on March 1st. She said Tom Radulovich, executive director of Livable City and president of the board of directors of BART, put it up. "Tom's support means the world to me because he has been an environmentalist for years and he is brilliant," she told us via email. "He understands traffic and congestion and open space like no other elected official, so to have his strong support is a true honor, and it says a lot about how piazzas are great examples of open space."
We'll keep you posted as more community meetings or public hearings are scheduled.