District 9 Supervisor David Campos announced today that he's introducing legislation to the Board of Supervisors that, if passed, would officially declare a state of emergency regarding homelessness in San Francisco.
"I will be asking my colleagues on the board to move as quickly as possible to activate a provision in state law, usually reserved for disasters like floods and earthquakes, that allows the city to take emergency action to build additional Navigation Centers on city-owned property," Campos said in a statement published on Facebook yesterday. He read the same statement to press outside the Mission District Navigation Center this morning.
At the Navigation Center, Campos was joined by Bevan Dufty, a former supervisor and former director of the Mayor's Office of Housing Opportunity, Partnerships & Engagement (HOPE) and Jennifer Friedenbach, executive director of the Coalition on Homelessness. Campos also said that in the coming weeks, he'd introduce legislation that would require the city's executive branch to build six new Navigation Centers in the next year, with half of those due within the next four months.
"The ordinance will also require a funding plan that will activate emergency reserve funds, and streamline and cut current spending in our $9 billion budget to build these Navigation Centers without additional cost to our residents," Campos who's up for re-election this year said in his statement. "If we can afford $5 million for the Super Bowl, we can afford to address homelessness."
Dufty and Friedenbach, who support the legislation, emphasized that residents living on the streets are in a state of emergency every day. They believe the many bureaucratic barriers keeping people on the streets—including lotteries and waiting lists—need to be removed.
"We need to come at this as a city," Dufty said, noting that for San Franciscans, seeing homelessness on the streets has become a fact of life. "It's bigger than 11 supervisors ... it's bigger than the mayor."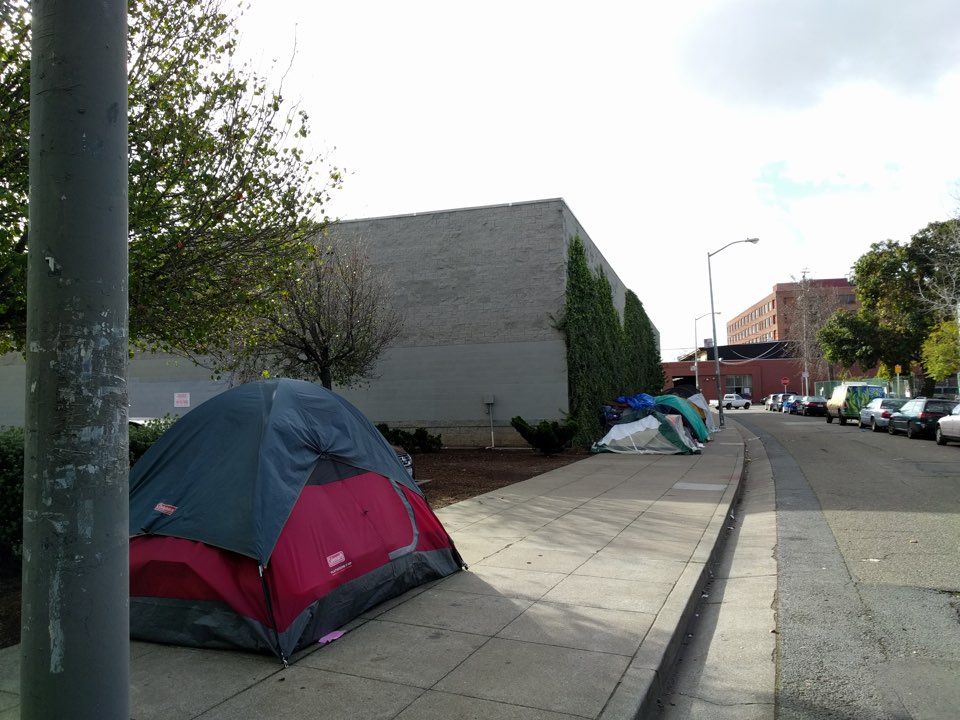 Tents lining Trainor Street, just off Division, in February. 
If the legislation passes, San Francisco won't be the first U.S. city to declare a state of emergency on homelessness. Portland and Seattle have done so already, while the Los Angeles City Council was unable to go through with its $100 million plan.
Campos did admit that the Navigation Center isn't a silver bullet, and that any new Navigation Centers need to be connected to housing options, or they won't work. Commending Mayor Lee for his ability to master-lease vacant single-room occupancy hotel rooms to serve as permanent supportive housing, Dufty suggested that more could be done to lease and efficiently manage other SRO units.
Following the press conference, Sam Dodge, the current executive director of HOPE, told members of the press that overall, the declaration "doesn't get us anything we didn't have before."
The legislation would allow the city to build shelters on public land that does not meet existing health and safety standards, streamlining the permitting process for those sites. However, Dodge said those changes would not impact his department's current efforts around two sites that have already been identified for potential new Navigation Centers. 
When asked if four months is enough time to open three new Navigation Centers, Dodge said that "anything's possible" with enough resources and commitment. However, he worked from September to March to open the original Navigation Center in the Mission, and he described that location as ideal, given that there were existing structures in place that could be modified.
Dodge also noted that the city needs time to build support from residents surrounding potential Navigation Center sites, so they don't feel as if the "city is just forcing [a Navigation Center] on their neighborhood."
As for Mayor Lee's efforts at the federal level, Dodge said he has been collaborating with mayors of other U.S. cities to push the federal government to provide $11 billion over the next 10 years to house 550,000 families nationally.
"Politicians can make declarations, but at the end of the day, we need to provide exits," Dodge said.