Back in November, Anthony Tahng, who owned King of Thai at Grant and Vallejo for nearly a decade, sold the restaurant to Salisa and Todd Skinner, who are remaking it into a new Thai restaurant called Tamarind Hall. We noticed the sign went up recently, so we stopped in to ask how it's going, and were told it should open within a couple of weeks.
The Skinners took over about a week ago, giving the place a fresh paint job in a light, modern, sleek gray color. They've hung pendant lighting above the bar to brighten things up, and a painting of a Thai fighter is now the centerpiece of the dining room wall. The couple spent several years living and working in Thailand (Todd is in finance; Salisa is a lawyer specializing in intellectual property rights), so they plan to decorate the restaurant with artwork they collected there.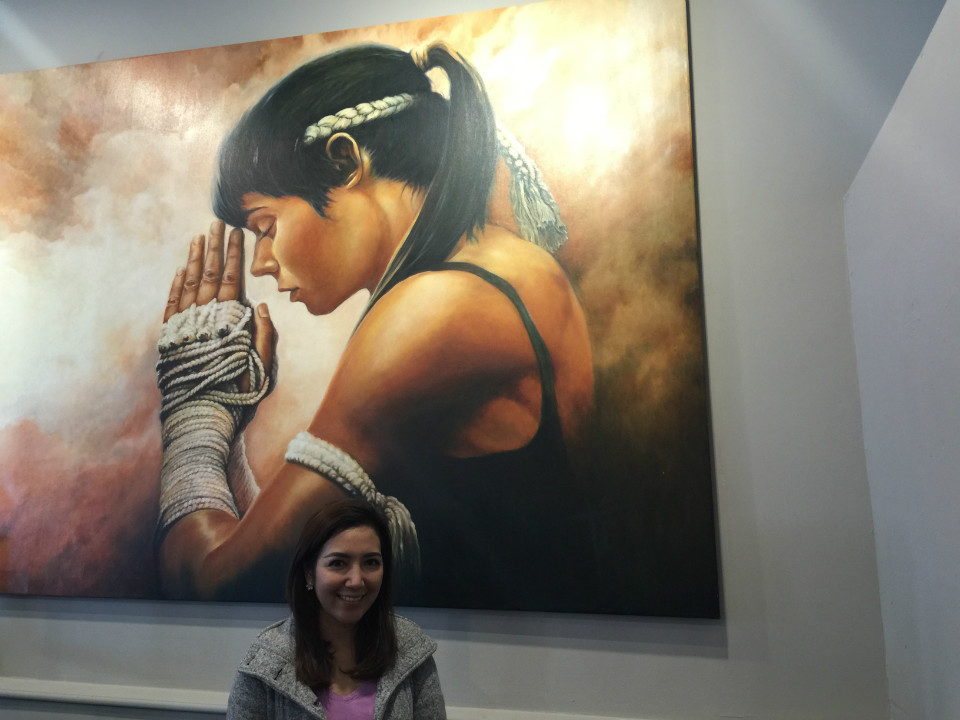 Salisa Skinner.
The neon beer signs have come down, and the big arched window along Grant is now illuminated by lively yellow bulbs. The Skinners are aware the restaurant previously had a somewhat unsavory reputation, so they've installed two security cameras outside and 10 inside. "We wanted to make sure we're keeping everything safe," Salisa told us.

A big reason for that is they'd like to attract more young professionals from the neighborhood. They're adding specialty cocktails featuring Asian flavors such as ginger, lemongrass and lychee for that crowd. They're also developing a smaller, higher-quality menu with "food like we'd cook for our families back home," Salisa said. It'll include favorites along the lines of pad see ew, larb and beef Massaman along with authentic comfort food and street food dishes that aren't as prevalent here in San Francisco, like khao soy gai, they said.
However, the new owners don't want to alienate the regulars from the former King of Thai, so they're keeping prices close to what they were on drinks and food. Main courses range from $10–$14, and they don't plan to raise beer prices more than a quarter.
On the other hand, they might not stay open until 1am, as the King of Thai did, except maybe on weekends. "I hope this place would turn into more of a brunch and lunch spot," Salisa said. The goal is to appeal to couples on date night, as well as those who want to watch sports; several flat screens are hung throughout the restaurant. 
Salisa has quit her day job as an attorney in order to concentrate full-time on the restaurant. "I have always loved the service industry," she said, explaining that she was a flight attendant for Japan Airlines when she was younger. "Dealing with the public and people is something I always wanted to do."
The name Tamarind Hall is a combination of tamarind, a key ingredient Salisa used in many Thai dishes, and Tammany Hall, the New York political machine in the 1800s. The Skinners are excited to be part of a strip that already includes two well-regarded Asian restaurants: The House at 1230 Grant Ave. and Chubby Noodle at 1310 Grant Ave. A Facebook page is up, and the couple notes they're hiring servers and bartenders.