Throughout San Francisco, 14 neighborhoods have formed community benefit districts (CBDs), in which local property owners and businesspeople join forces to address a neighborhood's safety, appearance and cleanliness. Now, the Middle Polk neighbors in Russian Hill have started the process to form one as well, citing excess refuse on the streets and empty storefronts as the impetus. 
Once established, CBDs are registered as a 501(c)(3) non-profit, run by an elected board of directors and funded by an assessment on property owners in the designated area of the neighborhood. The goal of a CBD is not to replace public services, but to supplement what's already in place, based on the needs of the neighborhood. Those efforts can include extra trash pickup, beautifying streets, hiring additional security, and/or advertising and promotion.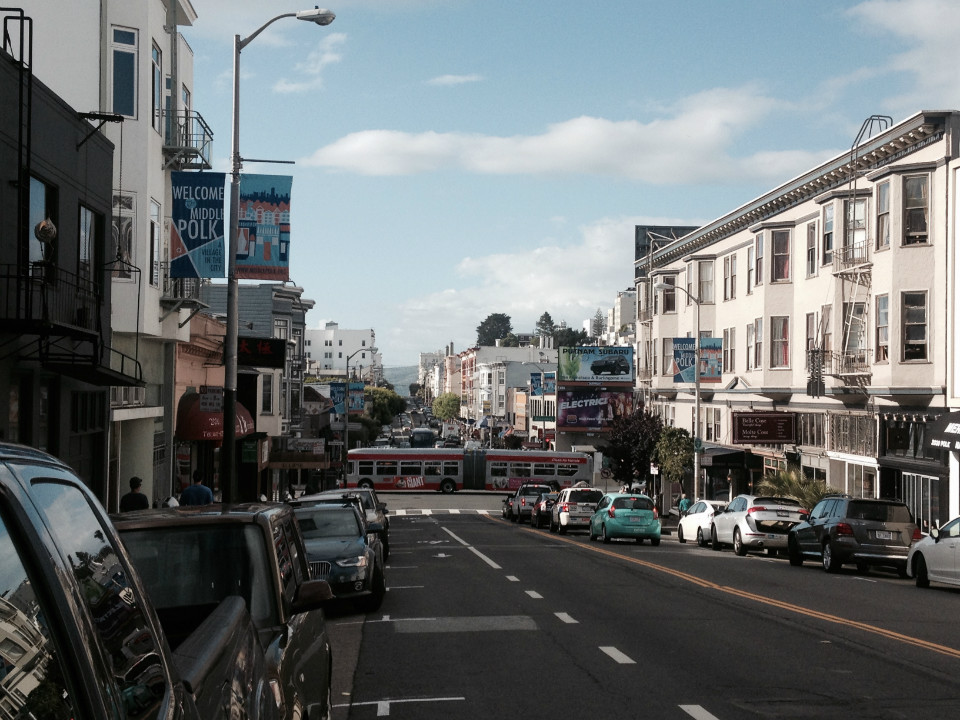 Middle Polk CBD steering committee member and property owner Suzanne Markel-Fox told us that many tourists and locals disembark at the California cable car terminus at California Street and Van Ness Avenue, and then head north on Polk Street towards Fisherman's Wharf. While Polk Street is known for diverse cafes, bars and independent small businesses, "many [of them] have to walk through piles of trash and past so many empty storefronts that they could be considered blight," she said. 
When Markel-Fox decided forming a CBD would be a good solution for the neighborhood (a Lower Polk CBD already exists), she and several other steering committee members began conducting research in neighborhoods with established benefit districts. They spoke with various CBDs' executive directors and traveled across the Bay to meet with members of the Jack London Square Improvement District, finding out what worked best for each organization so they could take that information back to Russian Hill property owners.
"We tried to drum up interest, and determine what we wanted the CBD to look like," she told us. Middle Polk CBD has since received a grant from the Office of Economic and Workforce Development, with Lower Polk Neighbors CBD as the fiscal sponsor, to help get things started.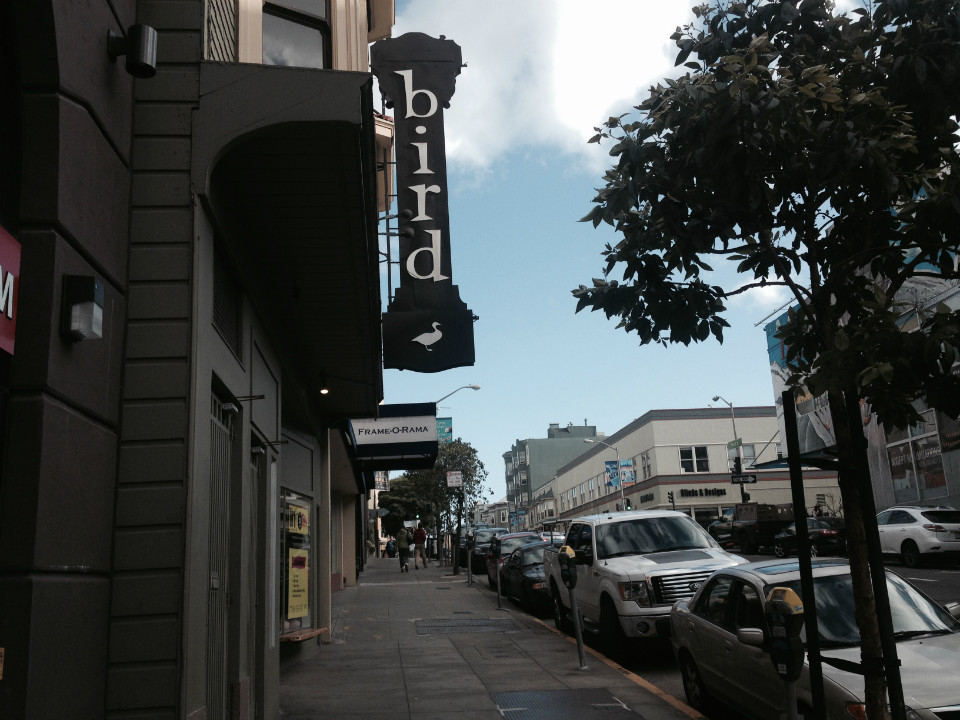 Currently, the Middle Polk CBD proposal is in the feasibility phase, "which is the first stage of the process," Markel-Fox said. The committee has identified three areas of focus for the neighborhood: cleanliness, safety and retail strategy priorities.
So far, the response from business owners have been mostly positive, Markel-Fox told us, "and we have a diverse and robust steering committee that has been meeting since last October." But she said some have questioned forming a CBD in the first place: "We already pay taxes to the city; shouldn't they be paying for these things?" 
Although property owners do indeed pay taxes to the city, most of the money they give actually goes into the City General Fund, and they don't have a say as to what it's used for. "Having a CBD will more directly affect the neighborhood," Markel-Fox said, giving neighbors the power to more rapidly make improvements.
Through the board of directors, the CBD will be required to report back to the neighborhood about improvements and funding on a regular basis. The executive director of the board will also be the community's spokesperson to City Hall, relaying its needs to city officials. Ultimately, Markel-Fox said, it should result in more accountability for the funds used for improvements in the district.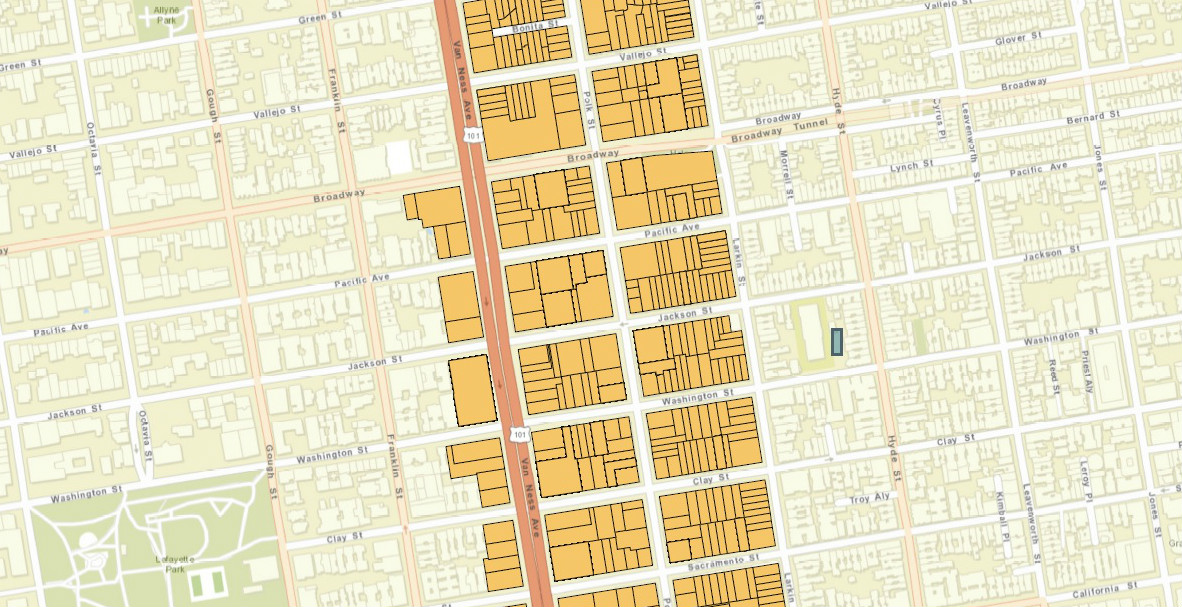 Map of a portion of the proposed CBD. (Image: Middle Polk CBD)
As for which areas of Polk would be included in a proposed Middle Polk CBD, the group's website breaks it down:
The proposed footprint of Middle Polk CBD (Discover Polk) extends the length of the Polk Street Neighborhood Commercial District (NCD) from the north side of California Street to Union Street, including both sides of Van Ness from California to Broadway and most side streets between Polk and Van Ness along the length of the corridor, as well as some streets up to Larkin. The attached map outlines the more than 1,400 parcels included in the largest possible footprint of the CBD. The final boundaries will be determined by survey responses from property owners.
Since the CBD proposal is still in its preliminary stages, Middle Polk Neighbors and Middle Polk CBD will soon hold a series of informational meetings on the plan that will be open to the entire community, not just property and business owners. 
We're told the feasibility process should be completed by June, followed by the next phase—a formations campaign, set to be finished by July 2017. After that, an election will held, and a majority of property owners must vote to establish the CBD. (Votes are weighted according to each property owner's assessment.) If approved by voters, the CBD should begin servicing the neighborhood by January 2018.