The SFMTA released the results of its 2015 bike count today, estimating that around 82,000 bicycle trips are now taken each day in San Francisco every day. And biking is still on the rise: according to the report, weekday trips by bike in the city increased by 8.5 percent from 2014 to 2015 alone.
Based on a citywide study of 19 key intersections, cycling trips as a whole have increased 184 percent from 2006 to 2015.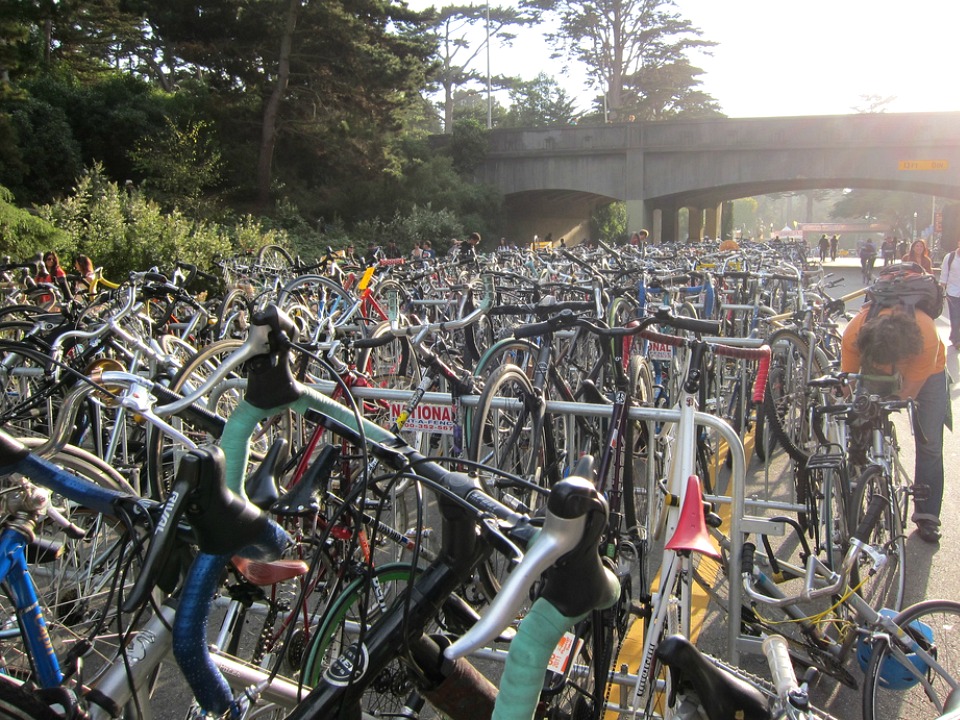 Bike parking at the Hardly Strictly Bluegrass festival. (Photo: Josh Jackson/Flickr)
The data was detailed enough to determine not just overall numbers, but also the times of year when cycling increases. Unsurprisingly, warm months do better: October 2015, for example, saw a steep increase in daily cyclists, averaging around 322,000 per day. The free Hardly Strictly Bluegrass festival, which is best reached by biking through Golden Gate Park, was likely also a contributing factor.
Studies of neighborhoods where bicycle infrastructure has increased have shown an increase in cyclists in those areas. Citywide, 4.4 percent of people commute daily by bicycle—but in locations with more bike lanes, that percentage is higher. (In 2006, it was only 2.3 percent.) 
The report's information is already being put to work to inform SFMTA projects throughout the city. "These counts back up what we are seeing on San Francisco's streets—more people are biking because it's safer, more convenient and comfortable than ever before," said Tom Maguire, director of the SFMTA's Sustainable Streets Division. "In support of our Vision Zero goal of eliminating traffic deaths in the city, this year we're not only breaking ground on three major streetscape projects that will increase safety on Polk, Masonic and Second, we're making 22 miles of bike engineering improvements across the city, from green bike lanes to fully separated bikeways."
We'll keep you updated those major streetscape projects, as well as the construction of new bike lanes, as they happen.