With bright red seating along Market Street and a vibrant mural peeking out from behind its shiny new windows, folks are already starting to gravitate toward new Mid-Market burger joint Popsons.
But if you weren't able to score one of the first 100 burgers off the grill at yesterday's giveaway, you'll have to wait until the restaurant's official grand opening this Monday, May 16th. (A ploy to cash in on Bay to Breakers hangovers? Quite possibly.)
Sixth & Market is the first permanent location for Popsons, which comes from restaurateur Alvin Garcia and chef Adam Rosenblum, who also own Causwells in the Marina. The burger that they created at Causwells proved so popular that it eventually became a Mission pop-up, Burger, and then a temporary Popsons burger joint at Fourth & Townsend. The latter location remains open for now, but will eventually be demolished for a forthcoming mixed-use residential tower.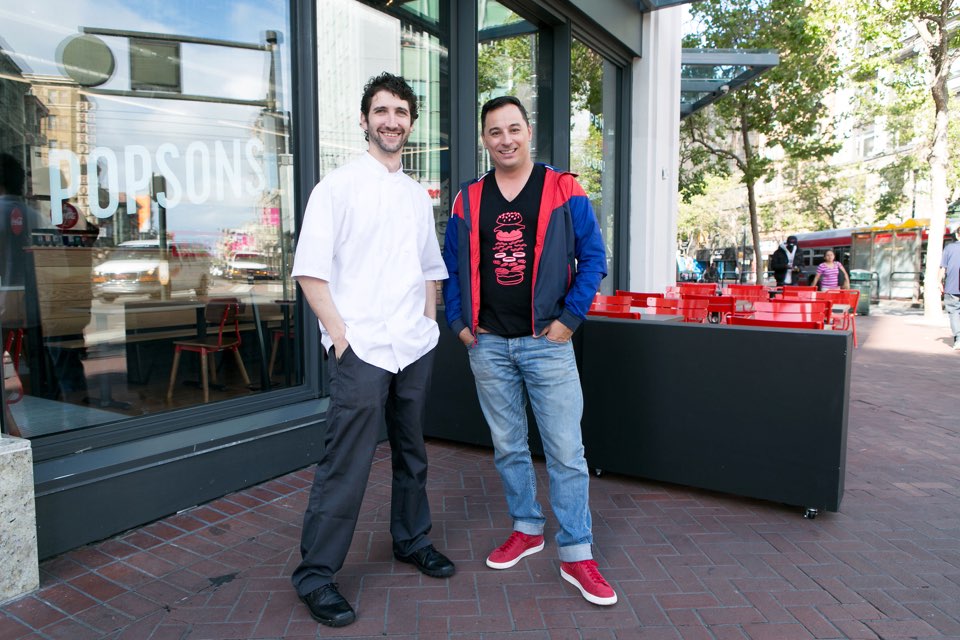 Chef Adam Rosenblum, left, and Alvin Garcia.
The menu at Sixth & Market is identical to that of Popsons on Townsend. Burgers are made with patties from Napa and buns from Burlingame, and can be ordered with classic toppings, like American cheese, bacon and blue cheese or chili ($5.50-$10.55). Or go all out with the "Savory" burger, featuring mushrooms, truffle cheese, caramelized onions, lettuce and aioli ($10.55).
There's also a veggie burger, or those not into burgers at all can opt for a bowl of chili ($4.65), hot dog ($4.65-$9.50) or salad ($3.75-$7.50). And of course, there are fries, which can also be served with seasoning, chili or just plain naked ($2.75-$4.65).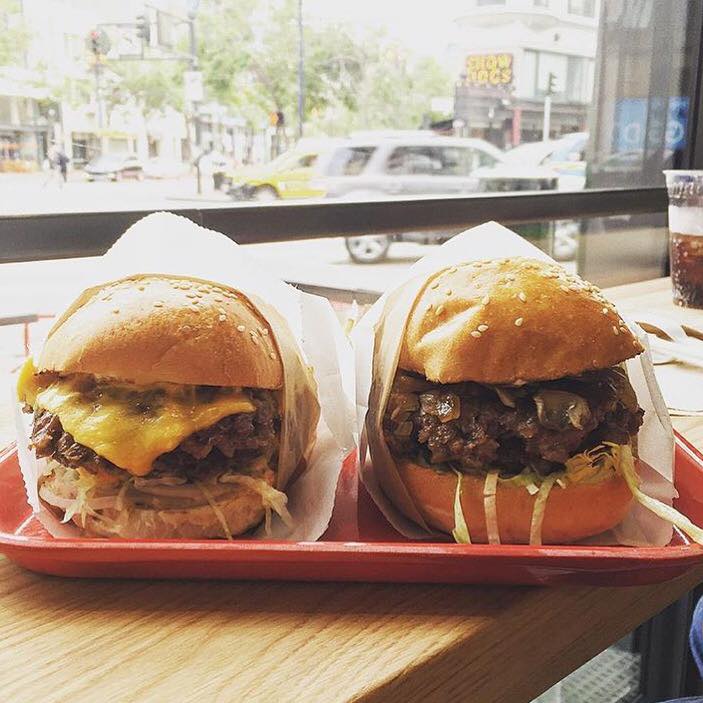 To swash down all that greasy fare, you'll find beer and wine—including Popsons' own label of zinfandel and sauvignon blanc, served on tap—along with fountain or bottled sodas ($2.50-$3) and milkshakes ($5).
Area residents should note that Popsons is keeping its hours exclusively to weekdays—11am-8pm.