Minor bicycle collisions are common occurrences on San Francisco streets, but every so often, one ends tragically. This Wednesday evening, a group of cyclists will take to the streets for a solemn ride, in honor of those who've lost their lives while biking south of Market.
Ride of Silence is an international awareness day, held on the third Wednesday of May for the past 12 years. It's intended to raise consciousness about cyclist injuries and deaths on public roads, and highlight cyclists' right to share the roadway with motorists.
The annual event was started in 2003 in Dallas, after a local endurance cyclist was struck and killed by the rear-view mirror of a school bus. According to the organization, 357 Ride of Silence events were held last year across seven continents and 20 countries, including 49 US states. 
The San Francisco event will begin at 5:30pm this Wednesday, May 18th, in the community room at Sports Basement (1590 Bryant St.) After refreshments and opening remarks, the group will silently ride 11 miles, primarily around SoMa, to pay their respects to recently deceased cyclists at the locations where they died.
While the organizers have not named all of the individuals who'll be remembered along the way, details on recent South of Market cycling fatalities honored by "ghost bike" memorials can be found here.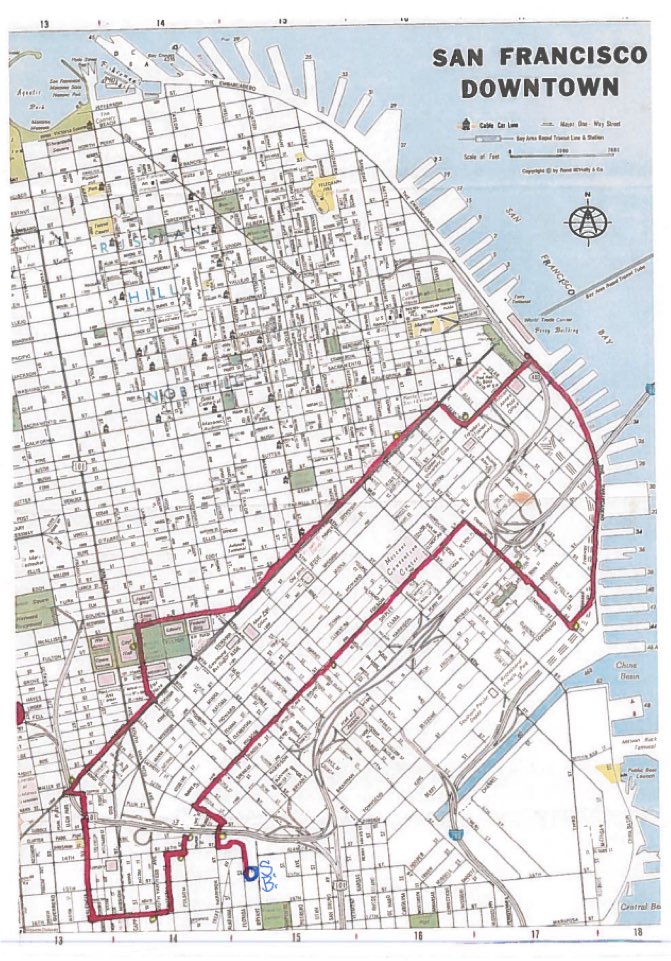 As with last year, the group will be accompanied by SFPD officers. "It is a requirement from the city that they escort our event, so that we can ensure the safety of those participating," said organizer Paul Valdez. "We will be visiting some high-injury collision areas, and safety is paramount to us."
Last year, the group was accompanied by cops on motorcycles, but this year, Valdez hopes some cyclist cops will be added to the mix. "Our committee took note of the concerns of the SFPD ruining the solemnity of the ride, because of the noise from the motorcycles and/or maybe even their mere presence," he said. "We asked if the SFPD could lessen the amount of motorcycle cops and add bicycle cops to our ride." (Another organizer, Devon Warner, said the SFPD has not yet agreed to the request.)
Warner hopes the event's solemnity will allow a detente in the often contentious relationship between cyclists and motorists. "I know the car drivers have been as nice as can be when they see the police are in full force," said Warner. "I am hoping riders will use this chance to show the cops—and the public at large—that we are ordinary, decent people, and that we can coexist when both sides are courteous. At least on this one day of the year, it has been so."
Anyone interested in joining the ride is encouraged to follow the Ride of Silence SF Facebook page for updates, and RSVP to the Facebook event.