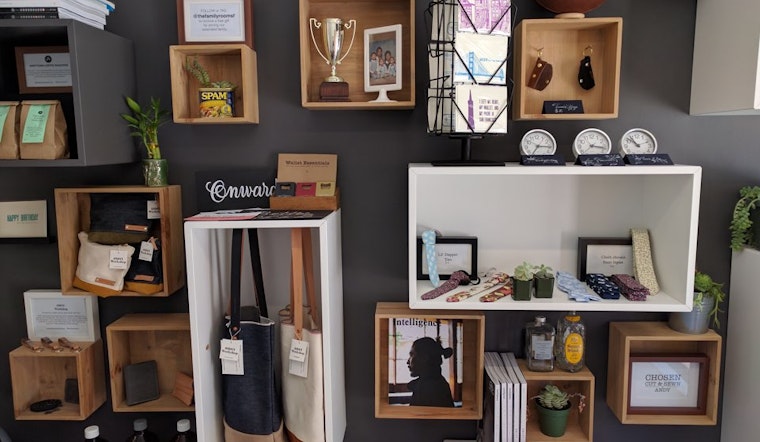 Published on May 16, 2016
Whether you're walking up Hyde Street or down, chances are you won't be able to miss The Family Room in Lower Nob Hill.
The tiny shop sprouted up about five months ago at 644 Hyde St., bringing the neighborhood a selection of manly handmade goods—including lapels and ties made by the owner, Andy Alvarado.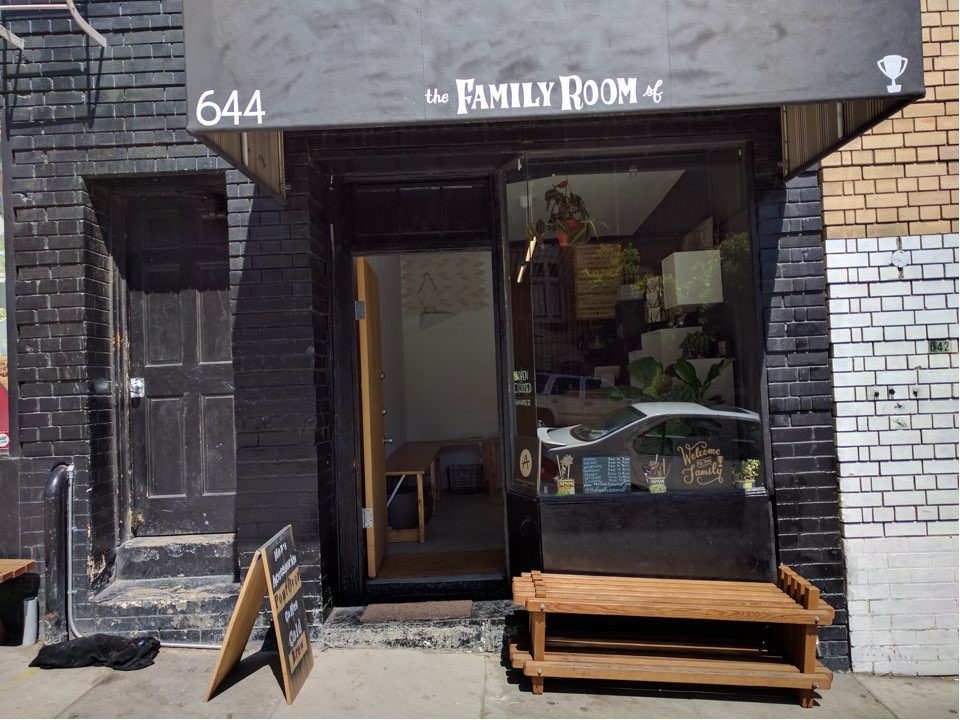 Alvarado says it all started two years ago, with a quest to find a flower lapel. He saw the formal accessory in a magazine, and resolved to wear one to an upcoming wedding. His hunt ended at Bloomingdales, where they ran $40 apiece. So he decided to craft one of his own instead.
With a coupon his wife found online, Alvarado took a sewing class and learned how to make a tie, he said. At the end of the lesson, finished tie in hand, his teacher said he now had all the basics, and encouraged him to visit YouTube to learn more. He now sells them in a variety of patterns, and even takes custom orders.
In addition to Alvarado's ties and lapels, The Family Room offers a selection of local and American-made goods, including tote bags from ODSY Workshop, greeting cards by Coffee n Cream Press and a selection of magazines covering some of Alvarado's favorite topics: coffee, travel and design.
A good number of his products are crafted in the Sunset, but the East Bay native said he doesn't have a special connection to the neighborhood—with ample space and garages, it just seems to be where all the artists are headed, he explained. (Read more about the Outer Sunset's burgeoning arts community here.)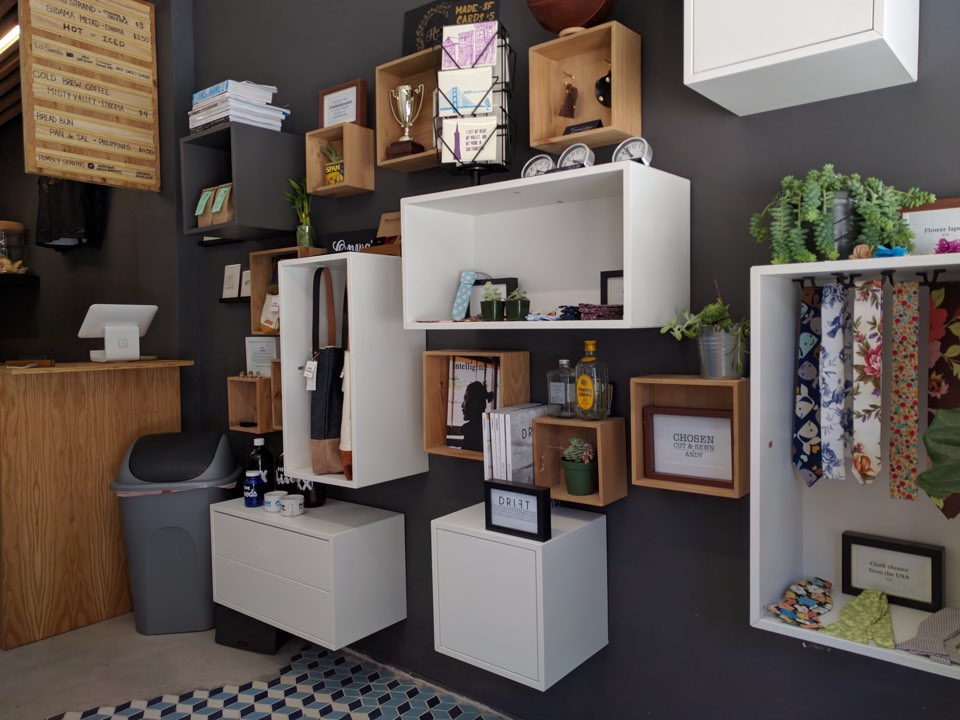 Those who can't fathom shopping without a jolt of caffeine will be pleased to know that The Family Room is also a cafe. Again, Alvarado turned to YouTube—as well as his neighbor and friend at Handsome Oxford—to become a barista. His selection is simple: single-cup drip coffee made with Andytown Coffee Roasters beans and sugar. Don't ask for milk; he doesn't carry it. "Our model is 'black and sweet,'" he said.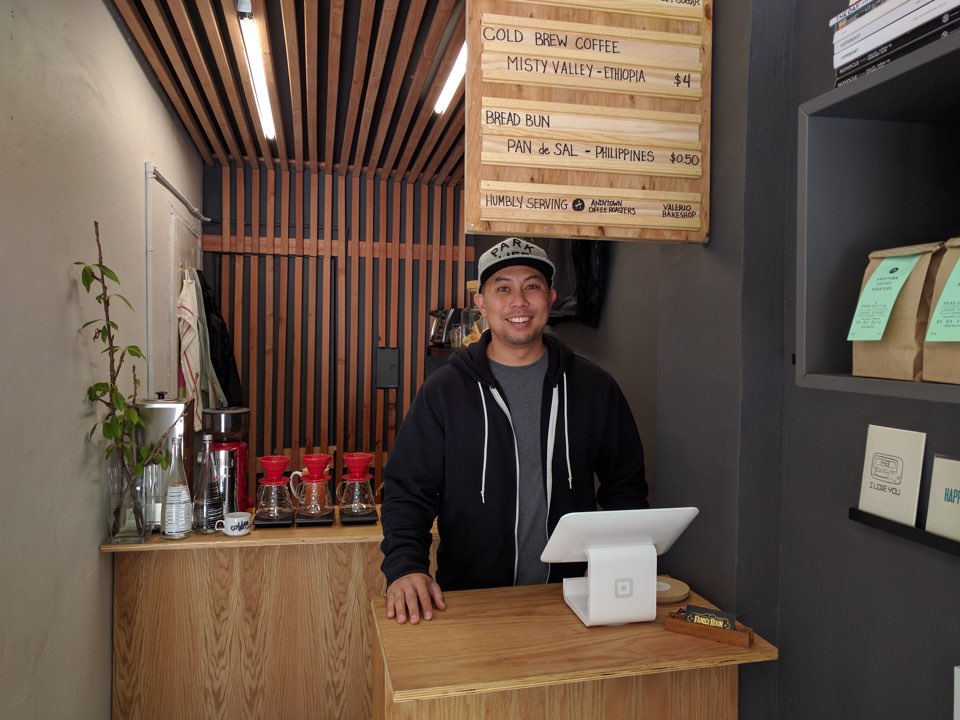 In just the past five months, Alvarado's grown comfortable in Lower Nob Hill. "It's never the same," he said. He sees a mixture of people from the Tenderloin and Lower Nob Hill, as well as Nob Hill residents on their way downtown. 
He's also learned that having an open door in the neighborhood is kind of like being a "psychologist on the street," he said. "People come in, have a drink, and you listen."
And he's adding yet another skill to his repertory: in addition to slinging coffee and sourcing more products, he's hard at work learning to make leather goods.
The Family Room is open daily, from 8am-2pm Monday, 8am-7pm Tuesday through Saturday, and 9am-2pm Sunday. Keep an eye on the shop's Facebook page and the Hoodline events calendar for details on future events at the shop.