Last night, the SFMTA hosted an open house to display a number of proposals for improving driving conditions and pedestrian and bicycle safety along Market Street, between Octavia and Castro. As we've previously explored, Upper Market presents a series of particularly tricky intersections, some of which are six-way. The meeting was a follow-up to a similar open house a year ago, and also to another meeting in November.
The open house was split up into three stations: planned street and sidewalk improvements, potential circulation improvements, and curb management. Each station featured diagrams of changes coming to the Market Street corridor. 
Many suggested changes from last year's meeting have been included in the plans, such as improved markings for sidewalks and safety zones. The plan is to make the improvements in stages, beginning with easy fixes, like painting green bike lanes and sharrows, and then moving on to more intensive projects like the construction of sidewalk bulb-outs.
The meeting in November was specifically about curbside management, an issue which prompted lively debate from commenters. Double-parking on Market Street can be a dangerous nuisance to cyclists and drivers, and the curbside management proposal hopes to improve the situation by making it easier for large trucks to park and by putting drop-off zones in more convenient locations.
"Yellow zones, where deliveries happen, we're trying to put them at the end of the block so trucks can easily go in," said Patrick Golier, manager at SFMTA's Livable Streets. "Today, they are often in the middle of the block and it's impossible for a large truck to parallel park, so they often block the travel lane and the bike lane."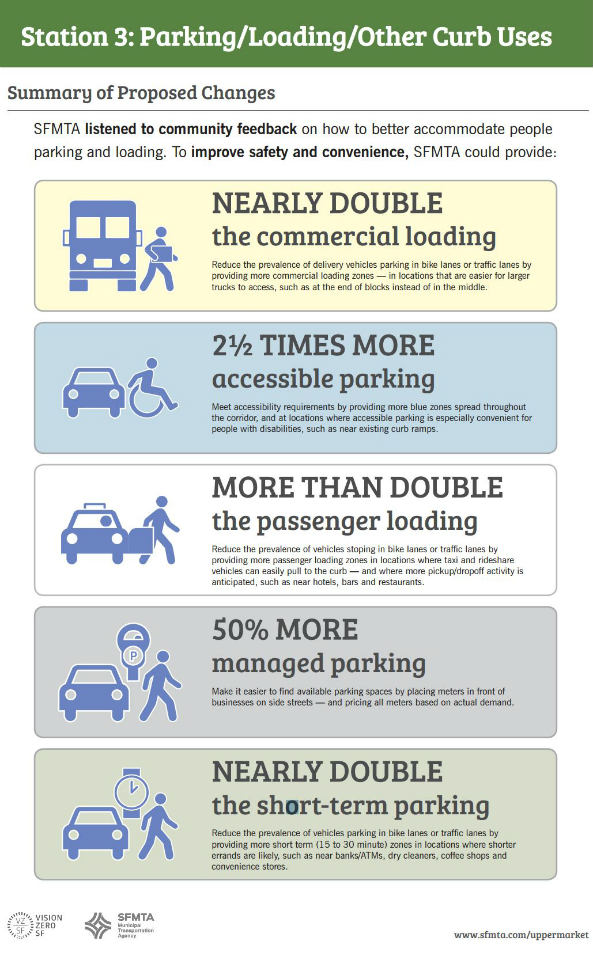 Image: SFMTA
Discouraging double-parking is a challenge, according to SFMTA senior planner Jonah Chiarenza, who noted that it's often difficult to catch double parkers. The proposed changes, which would include moving delivery zones, putting in meters, and improving drop-off zones, are an experiment, said Chiarenza. "We took our best guess at it," he explained. "We involved our accessible service group, our color curb program, our parking division, and we met with the Castro Community Benefits District and the Duboce Triangle Neighborhood Association to propose all of this. So we feel we've done our homework, but we still need to make sure this is shown, that everybody gets to see this before meters start getting installed."
In addition to curbside management, the SFMTA has also proposed improvements to bike lanes and crosswalks. "For the most part, the proposed striping and concrete improvements that are shown at Station 1 are very refined proposals that we plan to more or less take as they are to the Municipal Transit Authority Board for hearing and then approval by the board," said Chiarenza. The community will still have an opportunity to give feedback at those two stages of the process.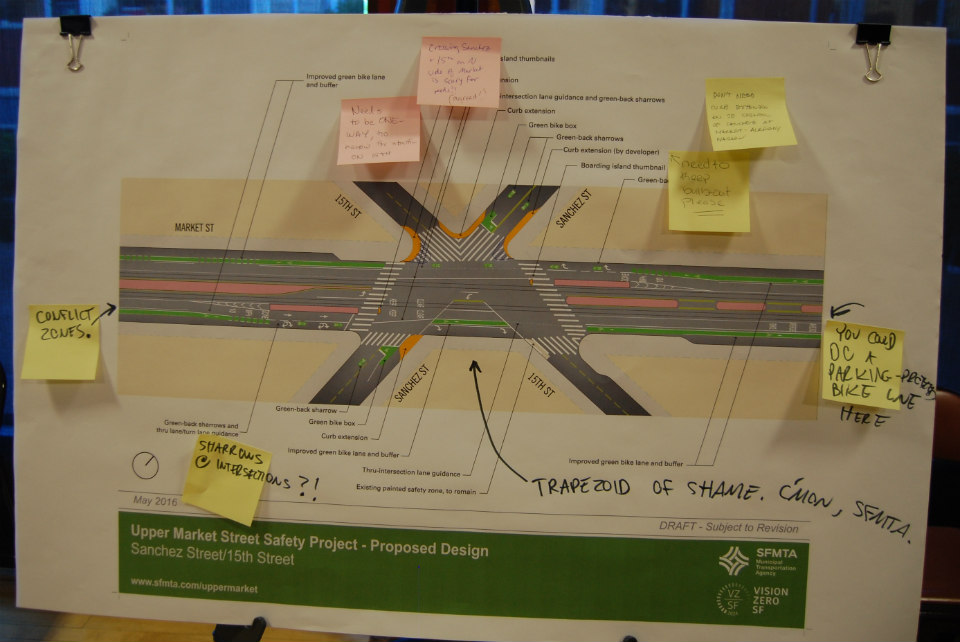 Attendees marked up proposals with comments and suggestions. (Photo: Julia Quinlan/Hoodline)
Many people in attendance were particularly concerned about bike safety. Local resident Jonah, who lives in NoPa, bikes the Wiggle every day and thought the improvements proposed by the SFMTA were good, but not aggressive enough. He said he would prefer more protected bike lanes, with barriers. But he said it can be difficult to balance the demands of bicyclists with those of drivers.

Some in attendance were more critical, "This is piecemeal watered-down stuff," one man said. "It doesn't benefit anybody. It doesn't benefit people walking, biking, or even driving because it creates inherent ambiguity and confusion."
Natalie, from Duboce Triangle, approved of most of the changes, but also wanted more protected bike lanes. She was also in favor of realigning crosswalks to make crossing quicker and safer but thought there was more to be done to make crossing Market Street more logical.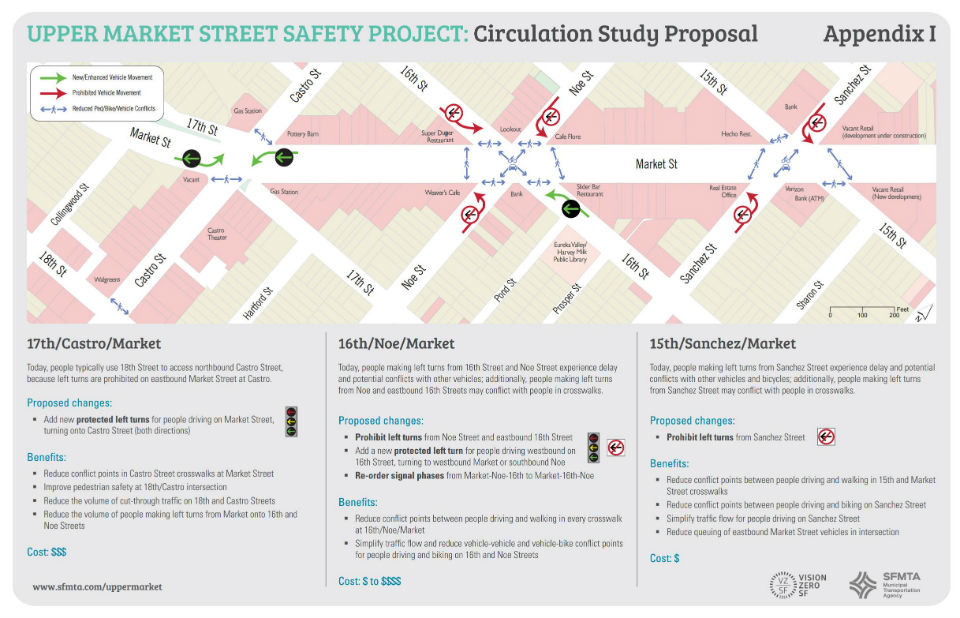 Image: SFMTA
The proposed changes to circulation on Market Street consist primarily of eliminating some left turns onto Market while also creating some protected left turn lanes off of Market. "The circulation study proposes more drastic changes, like prohibiting left turns," said Chiarenza. "A lot of people go to Market to get somewhere else, but they want to be able to turn onto Market. So, by prohibiting left turns on Market we're going to cause diversion. That's going to have ripple effects on the neighborhood and that's the kind of stuff we want to hear back about."
The SFMTA has posted all of the diagrams displayed at Thursday's open house on their website, along with a survey where community members can give feedback.