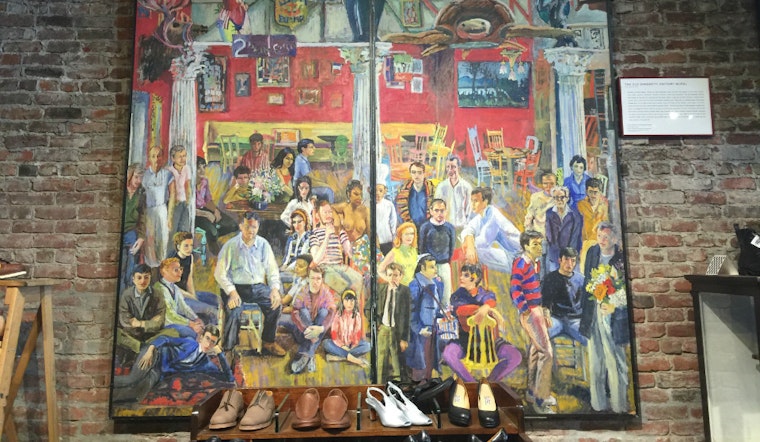 Published on May 31, 2016
This is the third in a series of history posts from local historian, author and professor Art Peterson, who's given Hoodline permission to reprint some of his writing about North Beach and nearby neighborhoods. They appear in his local history book Why Is That Bridge Orange? and other previously published works.

Now there's another reason for neighbors to visit Al's Attire at 1300 Grant Ave., other than to acquire some of the classiest togs in town. The store is presently home to a wondrous if peripatetic artifact from North Beach's past. That would be a mural executed by Kaffe Fasset depicting denizens of the Old Spaghetti Factory nesting at their native habitat.

The Old Spaghetti Factory—which had, in fact, once been a spaghetti factory—was opened by Freddie Kuh in 1955. It had close to a 30-year run at 478 Green St., now the site of The Barbary Coast gastropub, which opened April 8th in the former Bocce Café. The location became ground zero for certified beatniks and other naysayers of the Eisenhower years. (The site was said to be the unofficial headquarters of Adlai Stevenson's 1956 Presidential campaign.) Kuh was a passionate collector of kitschy Victoriana that he combined with brightly painted chairs that he hung from the ceiling, a unique décor that somehow did not catch on with the Architectural Digest set.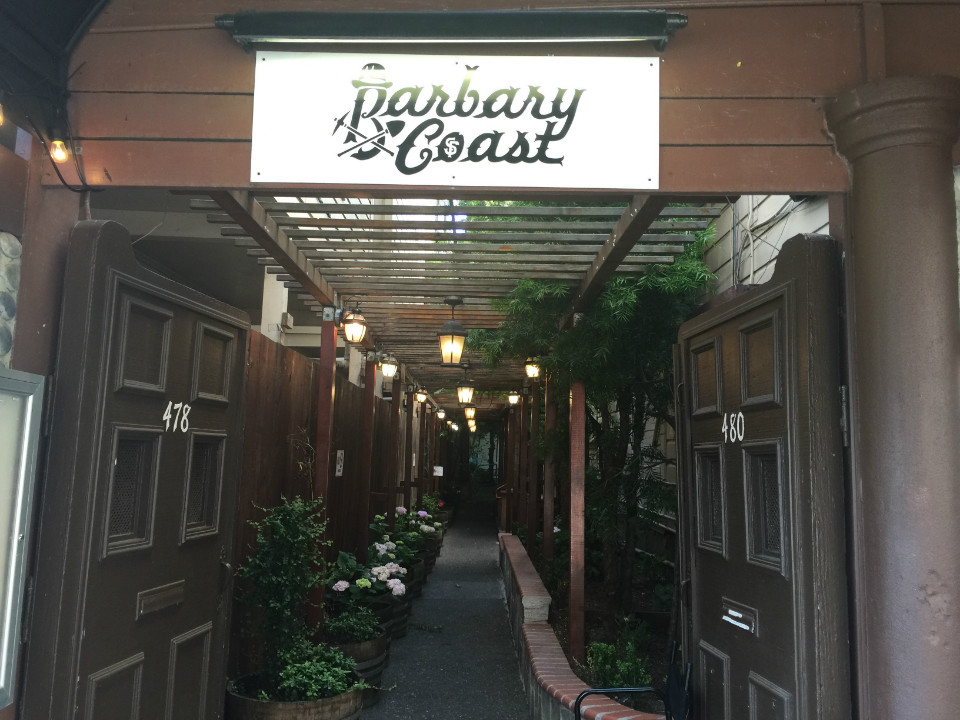 Fasset's approach to creation of the mural was also one-of-a-kind. When regulars would stop by he would sketch them, than fit their images into appropriate places in his composition. The artist wasn't doing this work for free—exactly. As part of the deal, he secured from Freddie Kuh a promise that he would be able to dine for a lifetime on what was generally agreed to be some of the world's worst spaghetti. 

However, Fasset was able to dodge any potential attack on his digestive system when, within a year after completing the mural, he moved to England, where he was to become a renowned textile designer, the first to have a show at London's Victoria and Albert Museum. The mural, however, remained, a reminder of the cultural mix that brought together poets, artists (the well-known artist's model Flo Allen poses here in her unclothed working uniform), and a menagerie of North Beach vagabonds and boulevardiers, including Millie, a longtime purveyor of sweets and Polaroids at North Beach watering holes.
No one knows exactly when the mural left The Old Spaghetti Factory, but we do know when it was rediscovered. In 1984, Mal Sharpe, leader of the Big Money in Jazz Band, and his wife, the playwright Sandra Sharpe, were browsing in a Berkeley antique shop when the owner pulled out a piece he thought Mal and Sandra might be interested in: The Spaghetti Factory Mural. Irrationality took over. Mal had always been enamored of North Beach, and Sandra had lived right around the corner from the restaurant. 
The couple bought the work even though they had no place for it in their home. "It was the strangest thing we've ever done," says Mal. And the price tag? A whopping $3,000. But it wasn't as if the Sharpes had gone completely bonkers. At the time Mal and his band were performing at Enrico's, the legendary hostelry at 504 Broadway.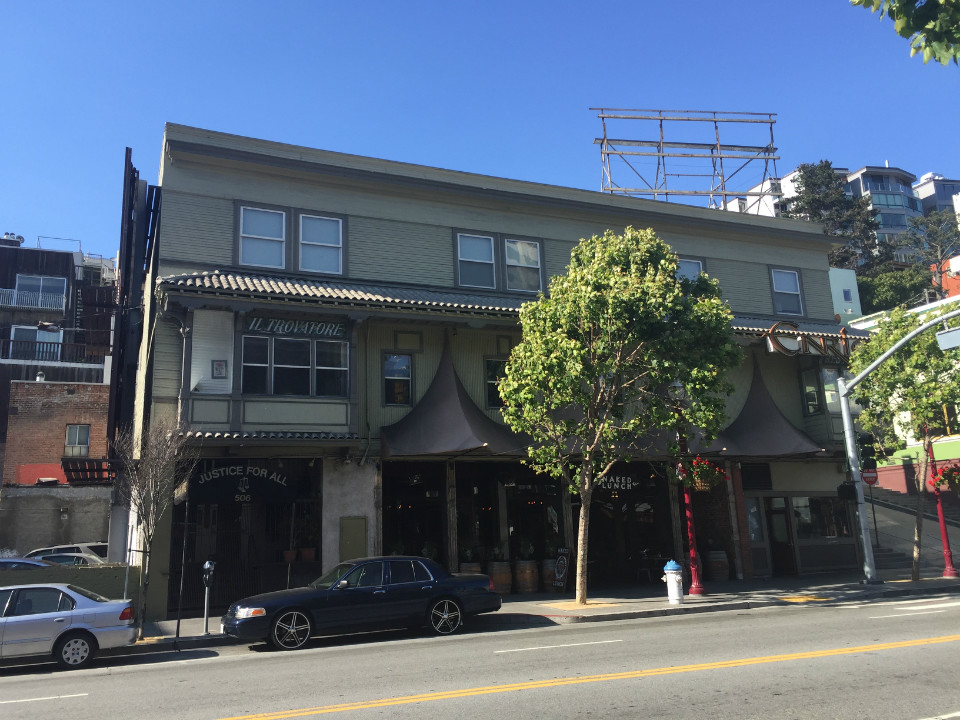 Mal arranged with Mark McLeod, the Enrico's manager, to give the mural a home at the restaurant. But Mal wasn't going to turn the work over without some compensation. Like Kaffe Fasset before them, Mal and Sandra exhorted a promise of free meals, an arrangement that, with the help of the Sharpe's dinner-partying friends, left them close to breaking even when Enrico's closed in 2006. (It's now the home of Naked Lunch.)

With the closing of Enrico's, the mural then needed to find a new home, but from 1984 on the work has presented another challenge: It is very large: eight feet square consisting of two four-foot panels.  When it came time to move the mural from Berkeley to North Beach, the Sharpes called on a friend, documentary filmmaker William Farley, to record the undertaking.
Fortunately, that wasn't the end of Farley's involvement.  When the work arrived, the Shapes had a big party at The Art Institute for which many of the subjects in the piece emerged to tell their stories. Farley filmed the event. Later, he suggested putting footage together in a film. The Sharpes agreed, and Mal, Sandra and Farley conducted further interviews, added great period photos by Jerry Stoll and a driving jazz score, and produced "The Old Spaghetti Factory" —perhaps the best document available of a beautiful and lost time in our neighborhood's history.
But when Enrico's closed down, the mural was again in trouble. It seemed to have no place to go. The Beat Museum at 540 Broadway housed it for a while, but a more permanent home was elusive. Mal ended up storing it at an apartment above the Savoy Tivoli at 1434 Grant Ave., where it remained until about some years ago, when David Wright, the owner of the former Café Divine at Stockton and Union streets (now Acquolina) offered to take on the piece. 
Wright mounted it above "Millie's Table," where the real Millie would occasionally hold court.  But alas, when Café Divine closed down December 1st, 2014, the mural was again in limbo. What now? The Sharpe's needed to find an appropriate location where the outsize work would fit. Lawrence Ferlingetti, the owner of City Lights Books and the unofficial mayor of North Beach, very much wanted the piece at his establishment. "We tried to find a place for it there," says Mal. "But the only location where it would work would have meant chopping off Millie. We considered it, but we just couldn't do it."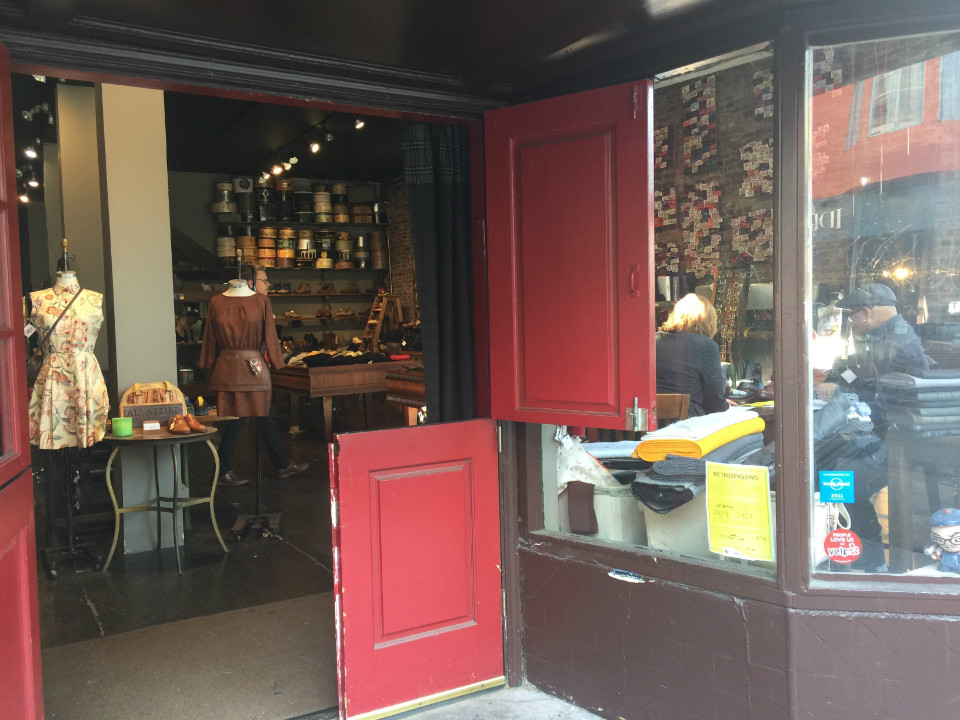 Then Mal had the idea of approaching Al Ribaya at Al's Attire, who was very much up for the installation at his place. "It fits right in with our ambiance," he said. But the location may only be temporary. "In retail, there is always a shortage of shelf space, " Al muses.
Meanwhile, there is a rumor afoot that the work could be going back home. The new owner of what was the Bocce Café recently opened a new bar and restaurant called Barbary Coast, and he is said to have expressed an interest in the mural. Sandra Sharpe is not necessarily adverse to the idea.  "Maybe it'll be worth a few more meals," she says.  
To purchase "The Old Spaghetti Factory" video, contact Mal Sharpe at malsharpe [at] gmail [dot] com.
Art Peterson is the author of Why Is That Bridge Orange?: San Francisco for the Curious.