Published on May 18, 2016
The would-be storefront of the Bay Area Compassion Health Center at 2139 Taraval St. between 31st and 32nd avenues, which owners hoped to turn into a marijuana dispensary, has been vandalized with the words "No Drugs."
The graffiti was painted on the storefront with an oily black paint and also ended up on the sidewalk. Public hearing signs from 2015 still hang on the windows facing the street.
Resident CC Hart, who lives in the apartment building behind the storefront, says that she spent her morning off trying to get the paint off.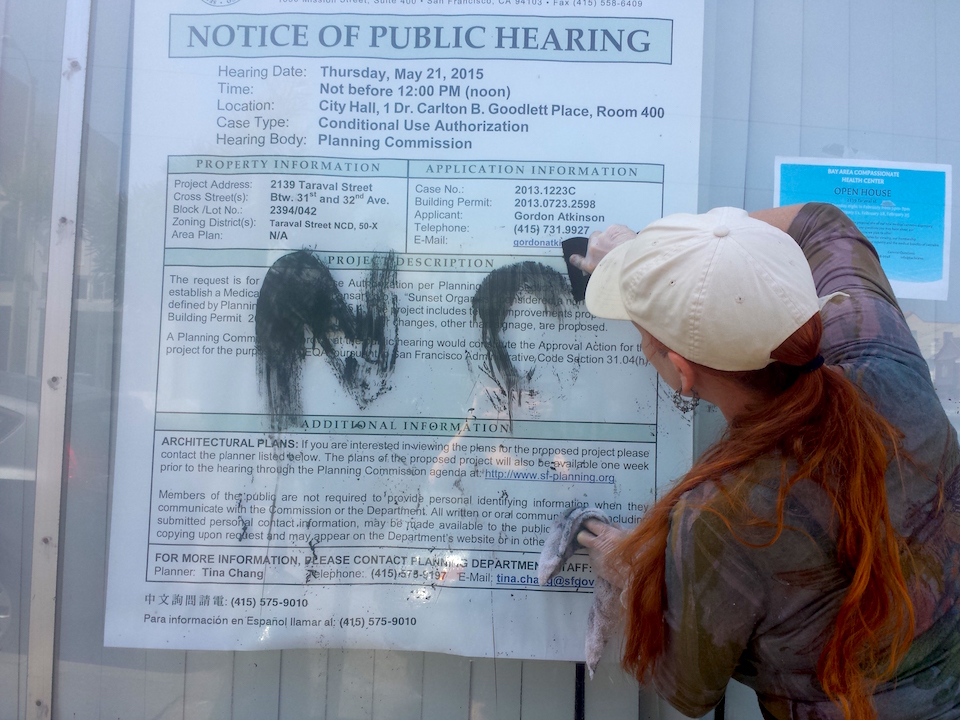 CC Hart scrapes paint off the storefront. (Photo: Fiona Lee/Hoodline)
"I'm cleaning this up just because I love Taraval Street," she said. "I care about my neighborhood and I care about what people see here. There's a Muni stop not 50 feet from here. We don't want people to come out and see this." 
"The graffiti isn't even relevant," she noted, as progress towards opening a dispensary at that location has stalled. Thus far, the owners of Bay Area Compassion Health Center have not been able to get permits to open the dispensary on Taraval due to strong community opposition and zoning legislation.