As we reported back in November 2015, a franchise of SoCal-based ice cream sandwich shop Baked Bear has moved into the former Giordano Bros. space at 303 Columbus Ave. It'll open this weekend, just in time for Fourth of July crowds to stream through North Beach.
The owners announced the grand opening will be at 1pm Saturday, with free ice cream sandwiches from 1–3pm. The first 15 people in line will also receive a free Baked Bear T-shirt. Going forward, the shop's regular hours will be 11am-11pm Sunday through Thursday, and 11am-1am Friday and Saturday.
This is Baked Bear's second northern California location; the first opened in February, in a concession trailer at 2824 Jones St. in Fisherman's Wharf. The operation is headed by Joseph Halloum and his family; his wife, mother, sisters and brothers are all involved. 
"We couldn't do it without the entire family being involved," he said. "We're fortunate to be able to lean on each other and provide a stellar service in Fisherman's Wharf, and we're really excited about this new place."
The shop will offer a larger selection than the Wharf location, including 16 ice cream flavors, made for the Baked Bear in its own facility, and more than a dozen flavors of cookies. Customers can mix-and-match cookies, brownies and hot glazed donuts—all made from scratch in-house—along with 10 different toppings, including hot caramel and brownie bits. 
"My favorite would be a donut sandwich with coffee ice cream and Fruity Pebbles, and you've got yourself all the elements of breakfast—at least the kind I like to eat," Halloum joked. 

Cookie flavors include regular and gluten-free chocolate chip, red velvet, cookies and cream, snickerdoodle, funfetti and white chocolate macadamia nut.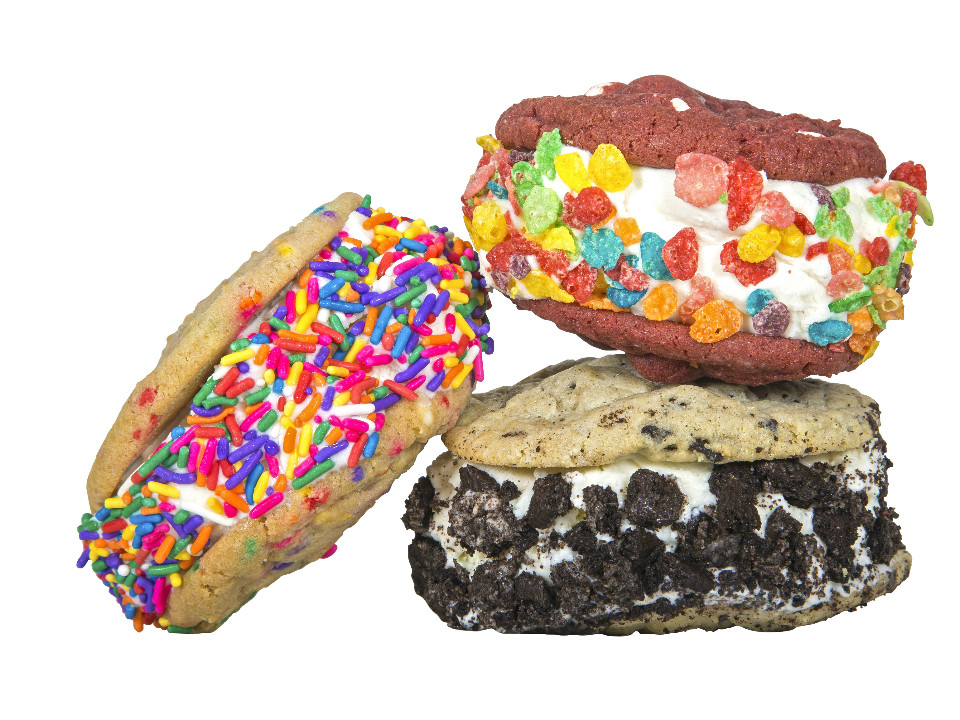 Cookie sandwiches are $4.95, brownie sandwiches are $5.50, donut sandwiches are $5.95 and combos are $5.50. This location will also offer a small selection of dessert wines (about four or five, Halloum said), running roughly $6 a glass.
The 1,000-square-foot space has a counter for ordering on the right side and seating for up to 45 on the left. There won't be any TVs, as Giordano Bros. had, but the front window still will open to Columbus.

Halloum's friends Rob Robbins and Shane Stanger founded the Baked Bear in southern California in 2013. They've since expanded to six locations there, one in Scottsdale, Ariz., and now, these two. Despite North Beach's controls on formula retail, the new shop is still within the law, because there are fewer than 11 total outlets.
"It's been incredible," Halloum said of the business so far. "We've done our best to give a very good customer experience. Take a look at our Yelp page, for instance. You'll see folks really enjoy what we're providing, and the customer service. It's not just another ice cream sandwich shop. We're looking to give something special to folks."