A small triangle of greenery at Baker and Oak streets—just outside the San Francisco DMV—is now playing host to several small sculptures and succulents, in a new guerrilla landscaping effort. Over the past few days, the bland plot of sand and shrubbery has been replaced with new plants, sculptures and some stylish edging.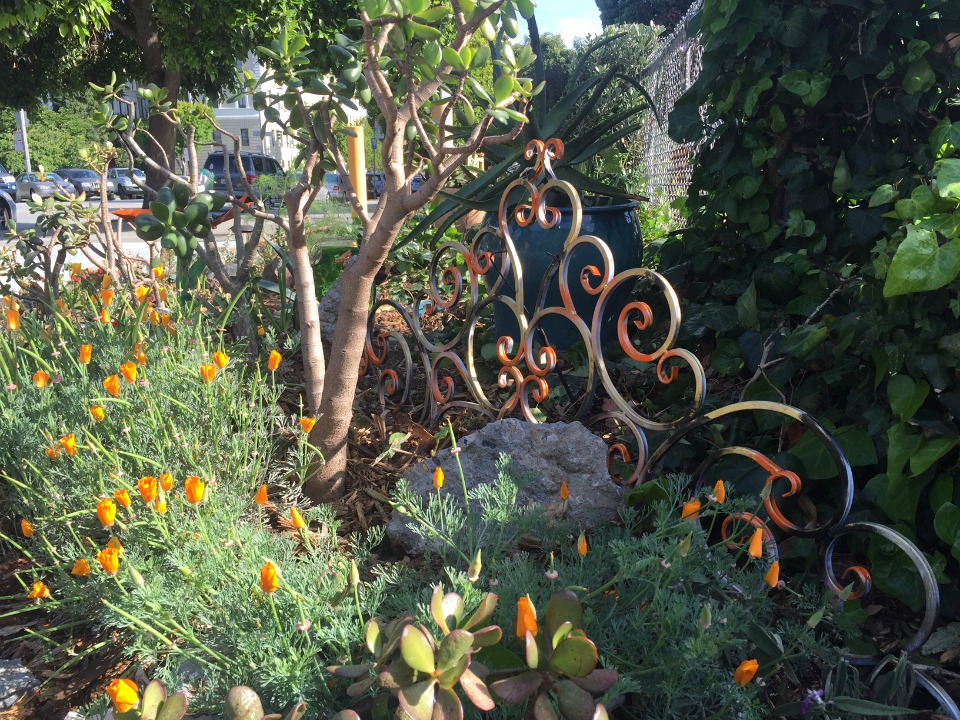 The garden's creator, Brian Poppyseed, has lived on the corner of Oak and Broderick for 27 years, and this isn't his first guerrilla garden. Last year, we received a tip that a square of sidewalk near the DMV had been planted with flowering bulbs—also Poppyseed's work.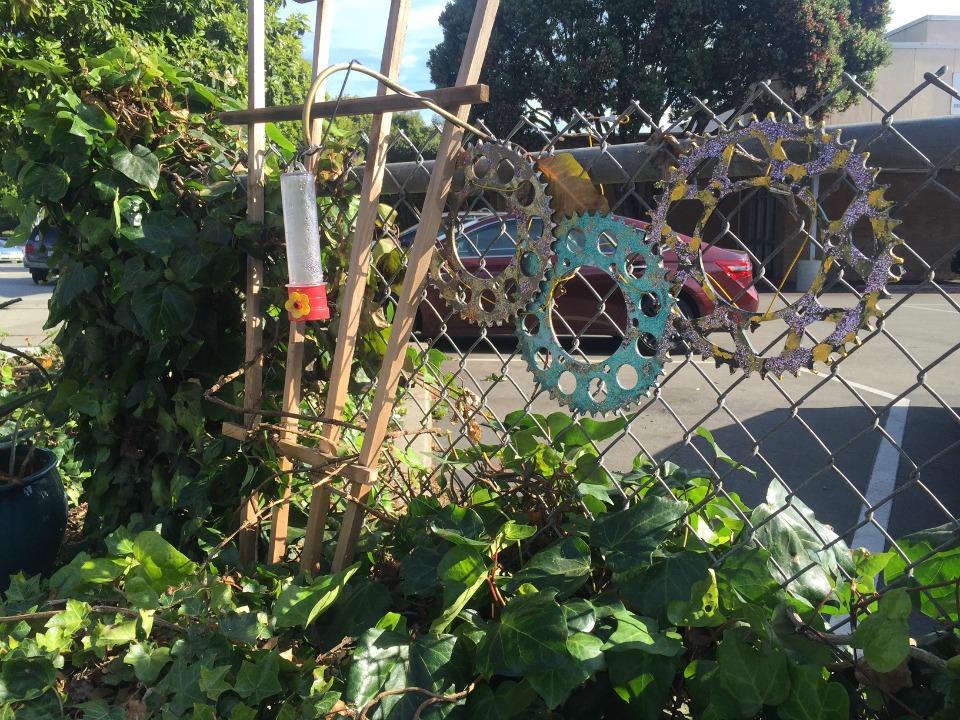 The majority of the plants in the new garden were found throughout the neighborhood. One overgrown jade plant on Baker Street was used for clippings—with the owners' approval, once they learned about the project. Aloe plants, California poppies, geraniums and a plethora of succulents add to the greenery.
Hidden amidst the plants (which grow in number every day) are several strange sculptures created by Poppyseed himself, along with an old metal frame and broken blue plates pushed into the earth to add a splash of color.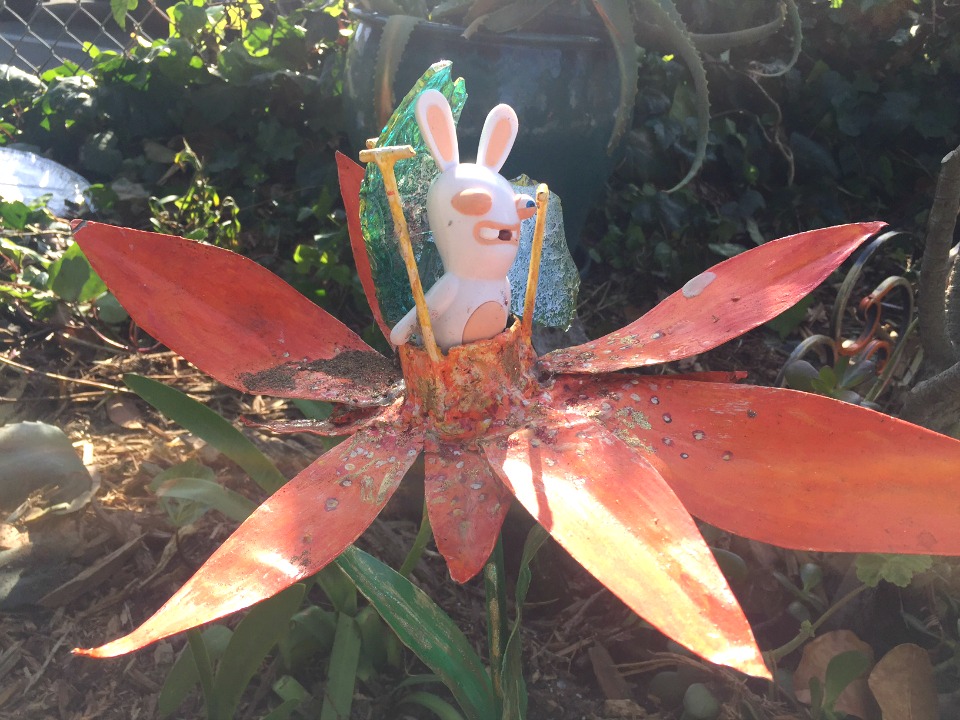 "I like adding in a little whimsy for kids," Poppyseed told us, as two small children walked by gawking at his work. 
Along the garden's edges, scavenged branches and pieces of wood have created a subtle fence to formalize the project, and at the northern end, a little orange path snakes through the plants.

As for whether the new, unsanctioned garden will last, one can only hope. ("Please leave me be, allow others to enjoy me!" reads a flower sculpture.) Poppyseed said he's paying attention to which plants take root, and he'll keep adding to the space over time.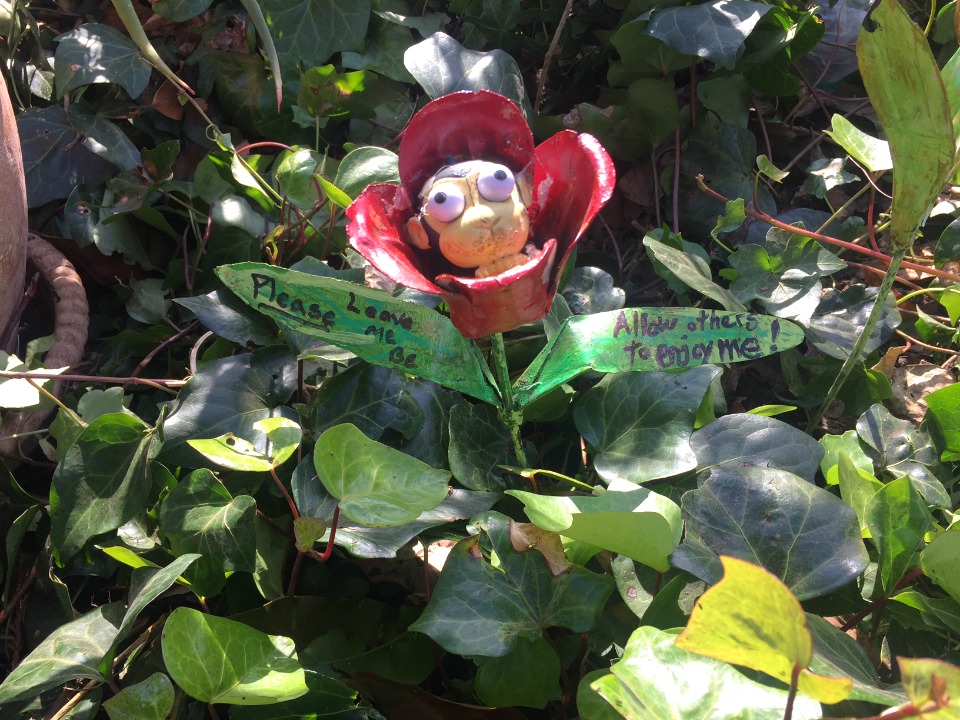 One group of people he's not worried about messing with his garden is the local homeless population in the nearby Panhandle. "They're so supportive," he told us. "They really appreciate what I'm doing, and are happy to see the work." Hopefully, those who line up for the new Lava Mae shower trailer outside the DMV will appreciate it, too. 
Seen any other mysteries or oddities in your neighborhood? Please send us a tip.