Marijuana dispensary SPARC has been working on opening a Lower Haight expansion since last year, reclaiming the marijuana dispensary space at 473 Haight St. which was vacated by Good Fellows in July. After community meetings in November and December, no visible changes have been made to the space, and we've learned that paperwork filed by a neighbor of the project could derail SPARC's plans.
As part of SPARC's renovation of the space, plans are in place to change the facade and upgrade much of the interior. "At this point in the process, what is in question is whether or not our application for a remodel of the interior of the facility to give it the SPARC look and feel will be approved by city officials, and that is what is being challenged by a neighbor to the project," Joel Freston, Public Affairs manager for SPARC, told us. "SPARC has award-winning interior design at our current location at 1256 Mission, and we hope to remodel the 473 Haight location to our high standards. "
A request for a Discretionary Review has been submitted to Planning by several anonymous members of the public. At issue is the proposed marijuana dispensary's proximity to John Muir Elementary School, which is located 800 feet from 473 Haight St. (Correction: the Discretionary Review was filed regarding the planned renovation of the building, and not the zoning laws.)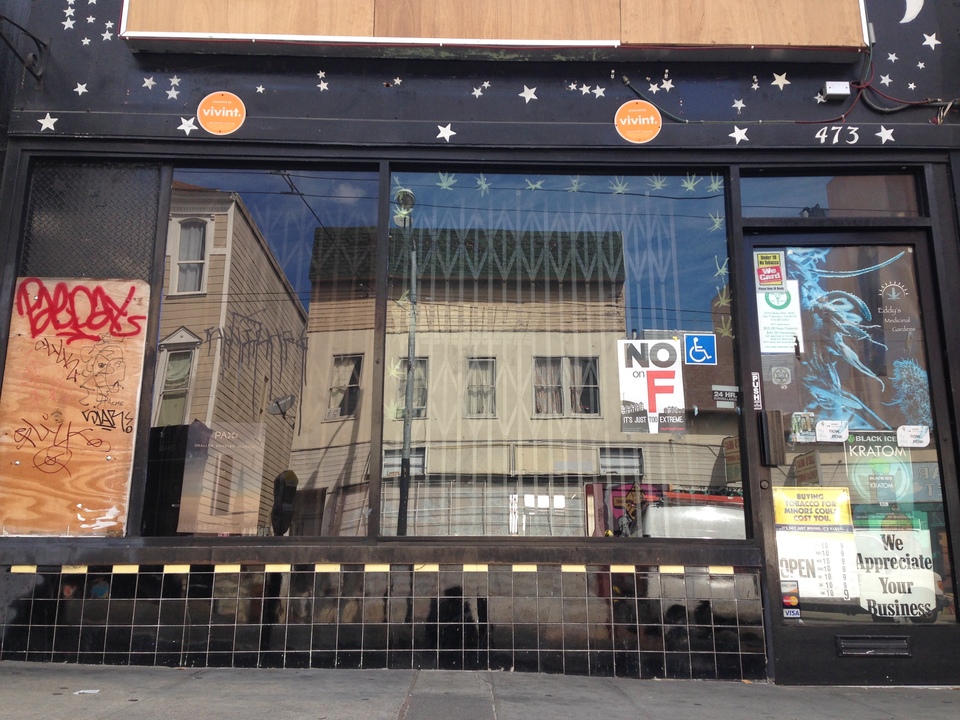 In addition to controversy about the building's renovation, issues of proximity to John Muir Elementary came up—which is only 800 feet from 473 Haight Street.
"A public or private elementary or secondary school; or a community facility and/or a recreation center that primarily serves persons under 18 years of age are not allowed within a 1,000 foot radius of an Medical Cannabis Dispensary," explains Gina Simi of Planning. But SPARC would be permitted under the change of ownership from one dispensary to another.
Proximity to a school was not the only issue raised at last year's community meetings. Other hot-button issues included parking and questions about security. But SPARC community liaison Joel Freston says that SPARC has worked with neighborhood group LoHaMNA to address security concerns, and will employ security to monitor the street outside the location during business hours.
As for parking, Freston states that all new members who sign up at SPARC's Lower Haight location will receive an orientation handbook that would outline nearby sources of public transportation and highlight how difficult parking can be in that area. 
SPARC was founded in 2001 with the goal of serving low-income patients with chronic diseases, or those living in hospices."We offer more CBD, the medicinal strains, than any other dispensary in the Bay Area," Freston told us. "We have a lot of patients."  
With legalization and a growing popularity of marijuana prescriptions, the dispensary's clientele has grown to include members of the Lower Haight community. 
As of last week, 3,279 residents of ZIP code 94117 were registered members of SPARC, making the regular trek down to the original SoMa location, on Mission between Eighth and Ninth streets. For the past six years, SPARC has also donated free cannabis to Duboce Triangle hospice center Maitri, which serves people severely debilitated by HIV/AIDS.

In addition to medical marijuana, SPARC also provides acupuncture, acupressure and massage for its members, as well as holding health-oriented events and workshops.
"Anyone who has toured or read about our facility on 1256 Mission St. understands how serious we are about public safety, a clean professional operation, cleaning up any neighborhood we are part of, making public improvements that benefit the community at large, and being a participant in the local merchant and community groups," Freston told us. "In addition to LoHaMNA, many other groups and residents have also expressed their full support for our project, as well as many other business neighbors on the block like Kate's Kitchen, Two Jack's Niks Place, UpperPlayground, Fifty24SF, Memphis Minnie's and the list is growing as we continue to do outreach."
But for now, work on SPARC's second location remains on hold until the August hearing. If Planning approves the dispensary's plans, construction would begin immediately.