A group of about 100 people gathered at last night for a solemn, heartfelt and often emotional final farewell to the 49 LGBT people who were murdered on June 12th at Pulse, a gay nightclub in Orlando, Florida. 
Led by Sister Merry Peter of the Sisters of Perpetual Indulgence and Pastor Megan Rohrer of Grace Lutheran Church, the evening culminated in the reverential removal of the dozens of flowers, photographs, votive candles, rainbow flags and other mementos that had been placed in front of the Bank of America building at 18th & Castro streets.
The memorial's removal comes after candles left at the site caused a small fire on Monday morning. While the fire was put out quickly and caused no structural damage, the Castro CBD decided the memorial needed to be taken down for safety reasons—but not before a final farewell from the community.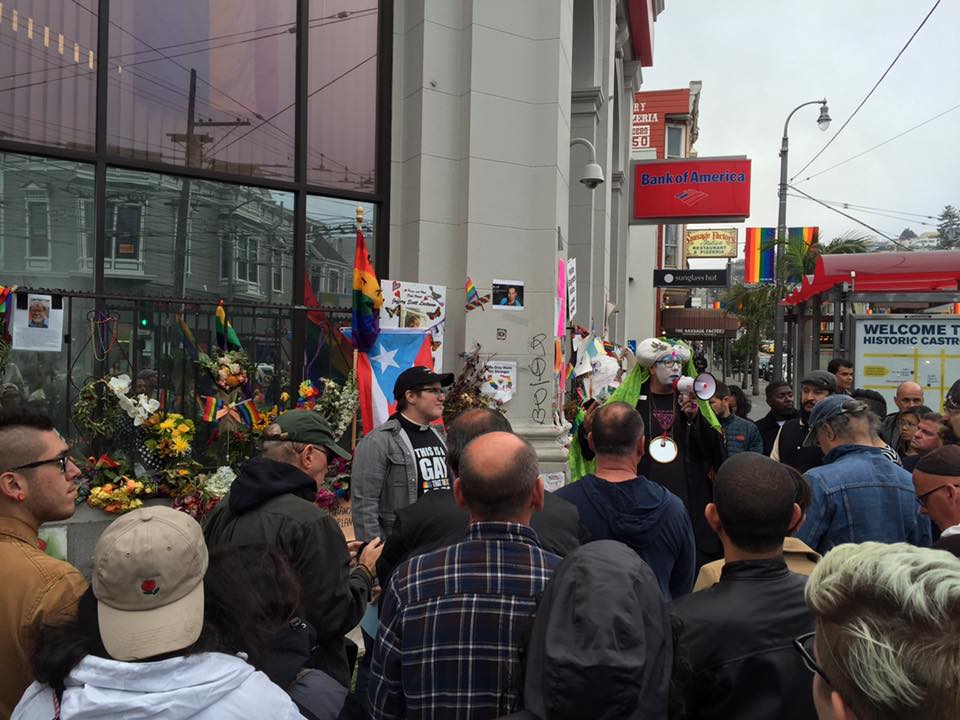 The service opened with an invocation from Sister Merry. "Let's have a moment of silence for Orlando, for Istanbul, for Syria and for the Bayview," the Sister said. "We are coming together as a community who built this memorial that is a focus for our grieving. It's time to open the space to joy."

"We want to make sure that before we take [the memorial] down, we get it out," Pastor Rohrer, the first openly transgender leader to be installed in a Lutheran congregation, told the assembly. "We must live our lives for remembrance—that all who wonder if their lives matter are ensured that their lives are sacred."
Rohrer held up 49 small signs, one for each of the 49 people killed in Orlando. The crowd applauded as each sign was held up one by one, and randomly handed to various attendees.
"Queer lives matter," stated one sign.
"We're here, we're queer, get used to it," said another.
"Gun control is a gay issue," stated a third.
Pastor Rohrer then invited mourners to step up and speak if they were moved to do so.
Jerry Skittles said that three of his cousins, all of whom were planning on attending SF Pride this year, had died at Pulse. "They couldn't come, and now they're up there, watching over us with Pride," he said.

"Don't judge me because the Lord made me just like he made you," said Thelma Flores.
"Be kinder to each other," said Jaime Miranda. "Have each other's back."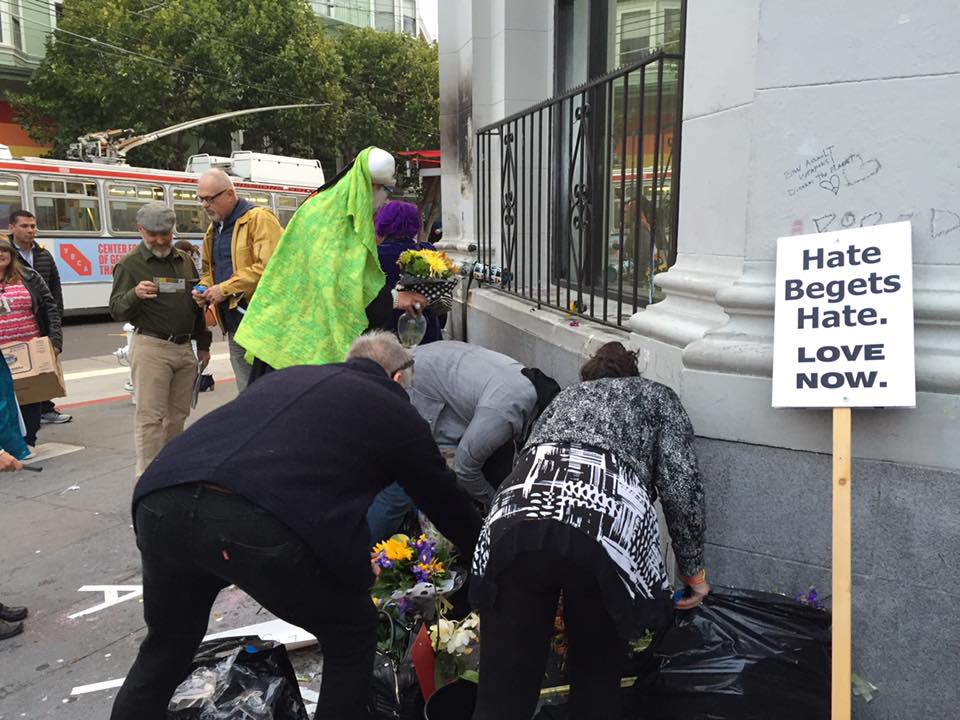 Openly gay District 8 Supervisor Scott Wiener, whose district includes the Castro, did not address the crowd. He stood quietly in the background, his eyes welling up with tears.

"This memorial was completely organic from the community," Wiener told Hoodline after the ceremony. "It's only fitting that we bless it and that we preserve it for posterity, so that we always remember Orlando."
The hour-long service concluded with a final invocation from Sister Merry, who asked the mourners to join her in a brief shout, for the purpose of letting go of anger and grief.
"I release you," the Sister said. "You have your own dancing to do."
The mourners were invited to take any mementos from the memorial which moved them. The rest were collected by the GLBT Historical Society.