It's Independence Day, and that means outdoor festivities around the city's parks. But after last weekend's Pride party left Dolores Park littered with mounds of trash, some are bracing for another messy aftermath to the day's celebration.
In what has now become an infamous video shared on Facebook by Mark Lujan, a gardener for Rec and Park, Lujan drove around showing us what it looks to clean up the park after a busy weekend. In the original post, now deleted, Lujan called out park-goers in the comments for being too lazy to pick up their own trash.
In an SFist story posted on Monday, SF Recreation and Park spokesperson Joey Kahn said that on Monday alone, "it took 13 Rec & Park employees a collective 86.5 hours to clean up Dolores Park. These are taxpayer dollars being spent on cleanup and resources that are being diverted away from other parks." 
On June 27th, Lujan updated his post imploring park-goers to keep the park clean. As a birthday present, he said, "all I'd really like is to not clean up your impending mess from the upcoming 4th of July holiday on Tuesday morning. I and my colleagues would like to not wade through knee deep drifts of firework paper, to not repair all of the burned spots and fires, accidental and intentional, to not spend our day sweeping up the broken remains of your good time, because that really harshes our buzz and we already have a lot of work to do."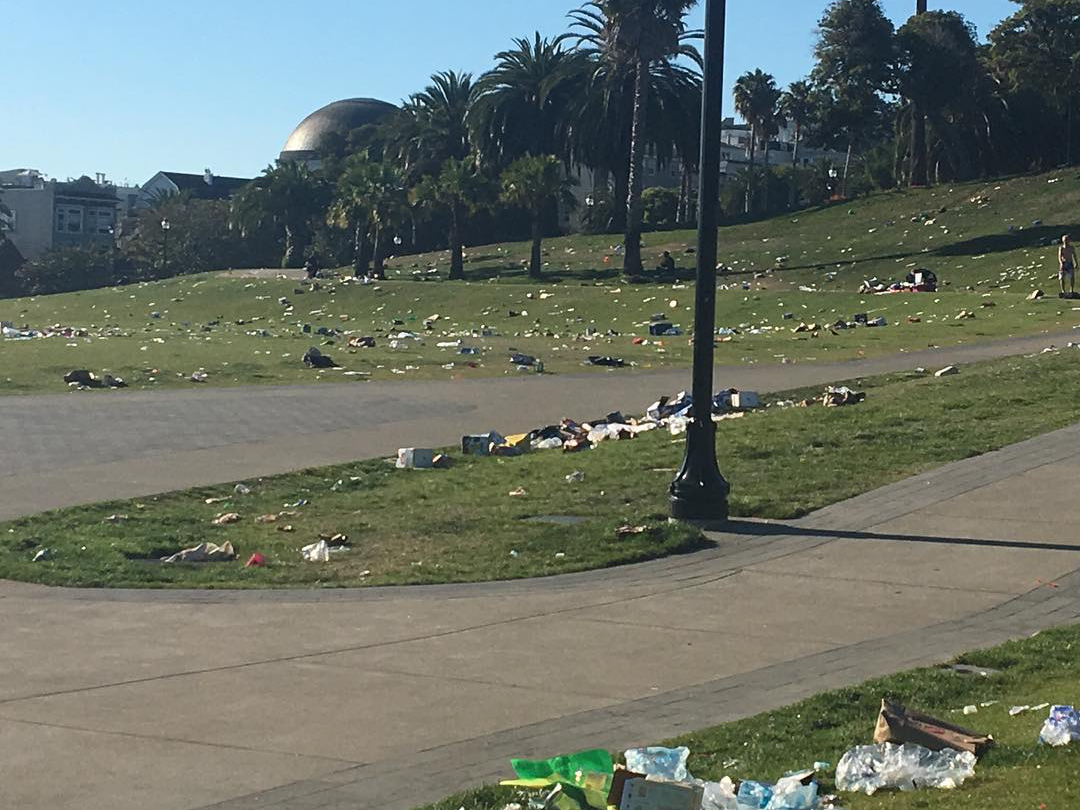 "Common sense is not throwing your trash on the ground because you can't be bothered to walk to a trash can," argued another. "Or taking the trash back with you and throwing it in your own garbage can. Lazy entitled people is the reason the park is strewn with trash."
Neighborhood resident Larry C., who lives nearby Dolores Park at 19th and Church, says he sees the trash every day when he walks his dog through the park. "It's absurd that after spending millions remodeling the park to provide ADA-equipped walkways that can accommodate vehicles to clean the trash, Parks & Rec still refuses to put out more garbage bins," he said.
We reached out to Kahn for official comment on why trash receptacles can only be found around the perimeter of the park, as well as whether more trash cans might be on the way, especially on the western edge of the park near the footbridge, where no trash cans currently exist.
"No, [t]here is no plan to bring trash cans inside the park," said Kahn. "Trash was a serious problem before the renovation despite trash cans in the interior."
"The trash locations were the result of more than 50 community meetings with neighbors, locals, merchants, and other stakeholders," Kahn added.

Trash has been a problem at Dolores Park since long before the renovation, which saw the removal of trash cans from the interior. "This is not a new phenomenon," said Kahn. The problem with having trash cans inside the park, as Kahn explains, is that "neither our staff nor Recology could access the cans during busy park hours."
Now that trash cans have been placed on the perimeter, Kahn says, "Recycling capacity has increased from around 2,000 gallons weekly (in the old park) to nearly 28,000 gallons; landfill capacity has increased by over 20,000 gallons weekly."
Larry C. questions Rec and Park's recycling statistics, saying "of course the recycling capacity will increase since there essentially were no recycle bins prior to the remodel, mostly just regular garbage bins."
Instead of only having trash cans on the perimeter, Larry would like to see Rec and Park use its vehicles to "remove garbage from bins strategically placed along the walkways" at key locations inside the park, like along the north lawn, middle walkway and the south side at 20th and Church. After emptying the interior cans, they can take that garbage to the perimeter cans, he said.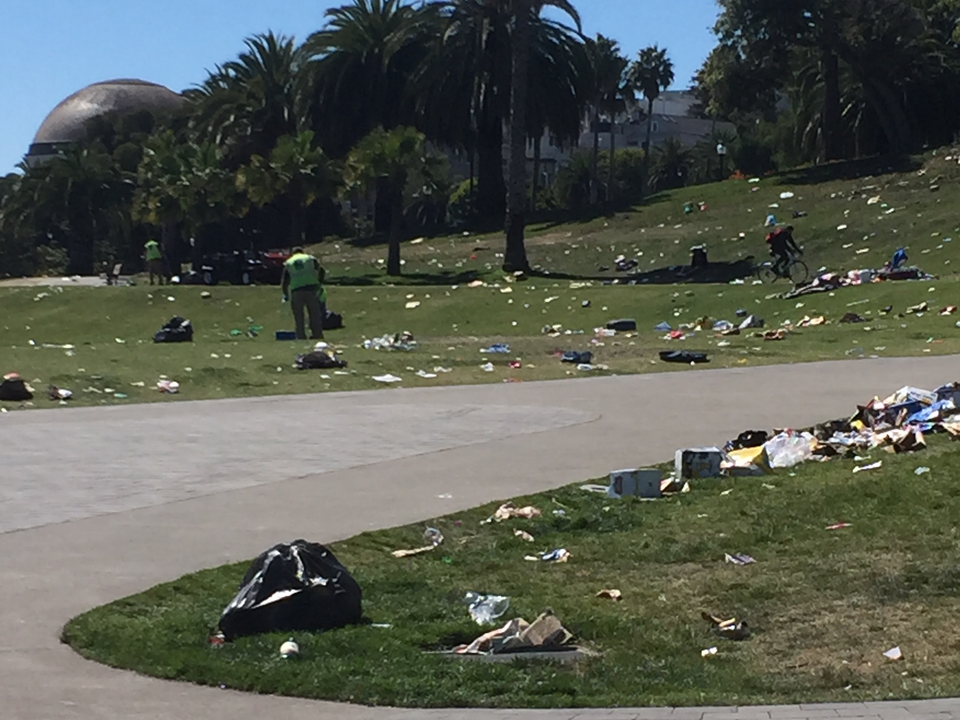 "The cans along the perimeter of the park are serviced by Recology four times per day," said Elton Pon, SF Recreation and Park's Communication and Outreach Manager, "as-needed on the weekend and twice per day and as needed during the week." Pon added that additional trash cans will be added at the corner of 20th and Church. "We'll continue to evaluate and identify other locations on the park's perimeter where additional support may be needed," he said.

Rec and Park has also added a staffed eco pop-up garbage site that triple-sorts compost, recycling and landfill. As a result, Kahn says, "last year's eco pop-up led to a 68 percent diversion rate of 'waste' that previously would have gone to landfill." The eco pop-up is available from spring through the beginning of fall.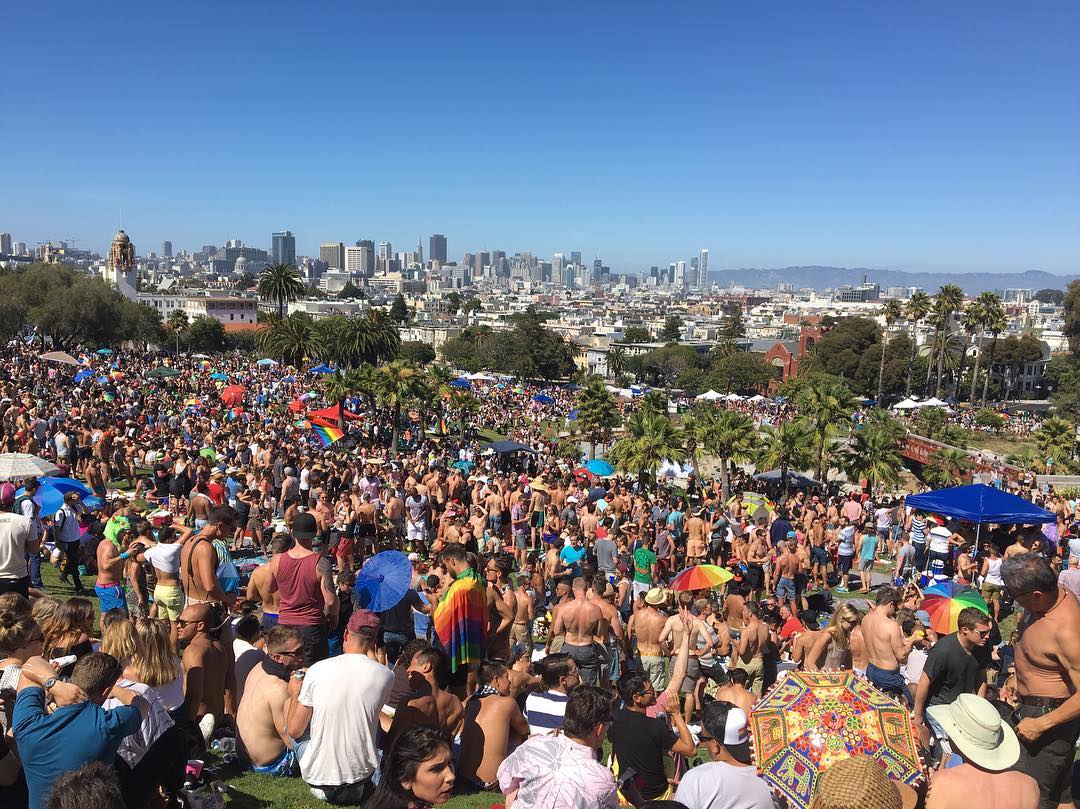 Rec and Park is encouraging people to follow Leave No Trace principles by asking park-goers to pick up their own trash and bring it with them when they leave the park. "Infrastructure accounts for only 15 percent of littering ," said Kahn, "while individual behavior, including attitudes, awareness, personal responsibility, accounts for 85 percent of littering behavior."

Three-day weekends are especially difficult on the park, yet Kahn says, "We are seeing improvements." However, "it's ultimately up to [park-goers] whether they actually respect the park they claim to love."