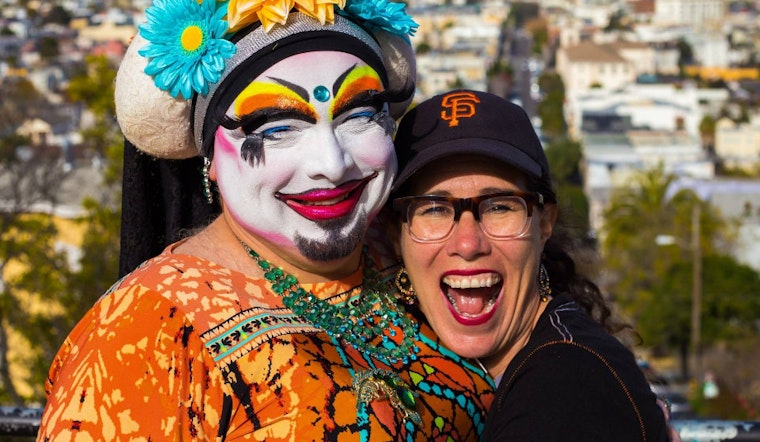 Published on July 26, 2016
Like many people in San Francisco, Heather Jacks was unaware of the story behind the drag nuns galavanting around Bush and Taylor when she first moved to the city in the '80s. Although she knew that the area around Polk Street where she lived still had a vibrant gay scene, Jacks' first recollection of seeing the Sisters of Perpetual Indulgence was one of confusion. "I thought they were a street comedy troupe," said Jacks, "like kabuki theatre or something."
Over the next 30 years, Jacks barely gave the sisters a second thought; however, within the past year and a half, the sisters have consumed much, if not all, of Jacks' attention. It all started when Jacks was having a coffee on 19th and Geary and her Starbuck's barista approached her and revealed himself as a sister: Sister Agnes Dei'afta Tamara, the Mistress of Novices. According to Jacks, Sister Agnes had spotted Jacks' handmade record bag and wanted to know if Jacks wanted to be a designer for the sisters' Project Nunway. Even though she wasn't a designer, Jacks decided to give it a go.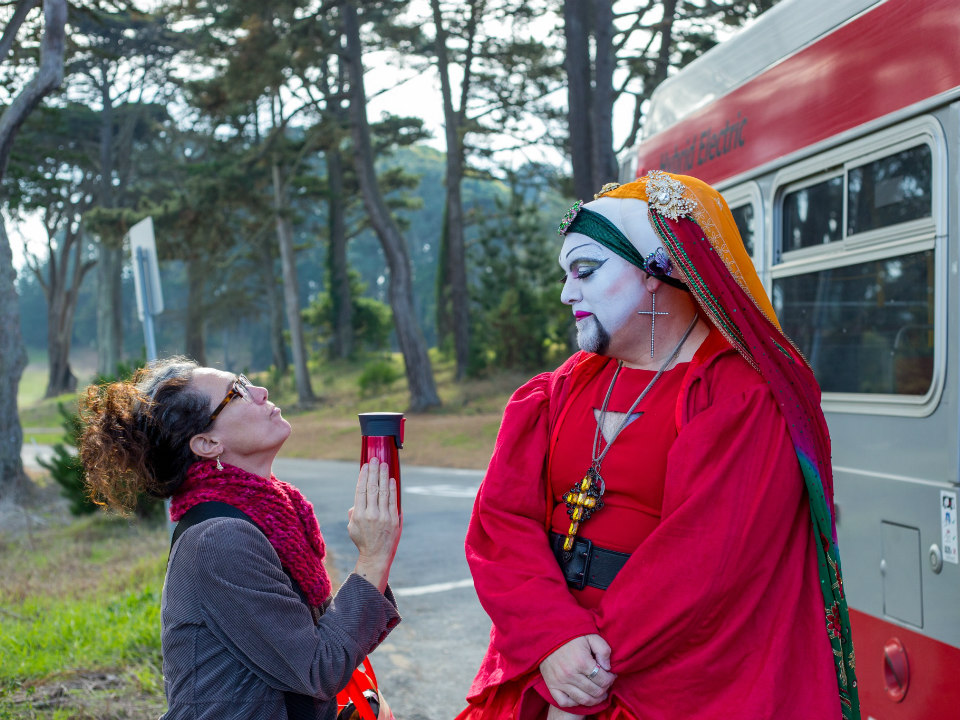 Jacks' experience with Project Nunway was "really hard, but an absolute thrill," she said. However, what really struck the native Oregonian was how charitable the Sisters of Perpetual of Indulgence were. "They gave all of the money from Project Nunway to so many great organizations," said Jacks. "LGBT charities, yes, but also a lot of prison reentry programs, historical preservation projects, and school art initiatives. I thought, 'this is an amazing group of people.'"
Shortly after her involvement with Project Nunway, the thought struck Jacks to do a book on the sisters. But even though she had already published an award-winning coffee table book, Jacks felt as though a book about the sisters would be a bit out of her wheelhouse. She decided to approach the nunhood and see what they had to say.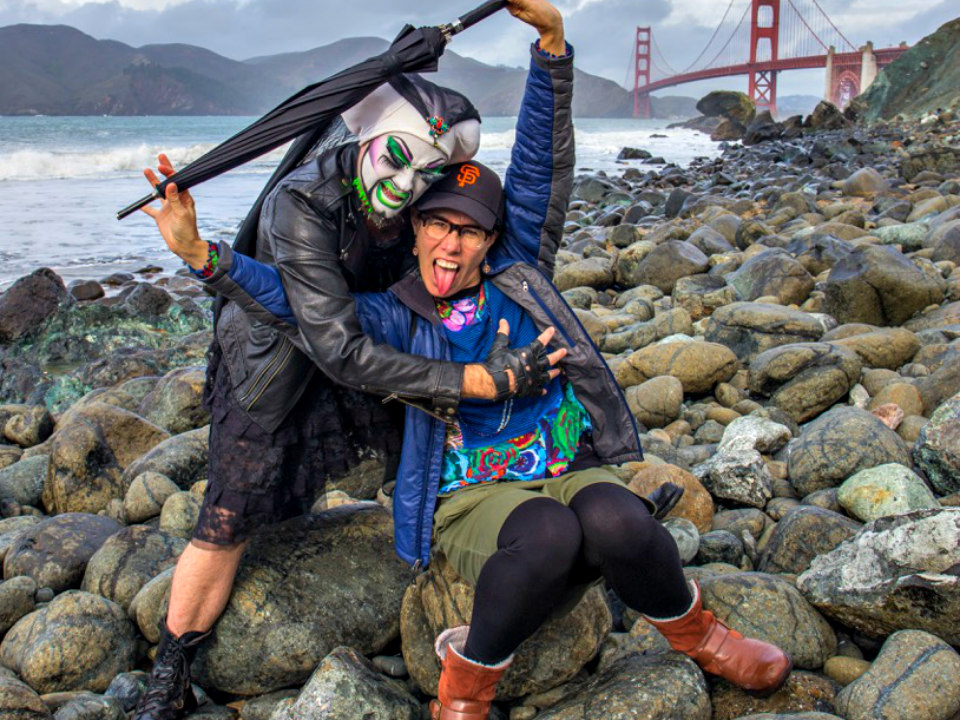 Sister Agnes, the Starbucks barista, had already known Jacks for a few years as a customer before this book project idea. "I had a relationship with her," said Sister Agnes, "so when she said that we should really do this book, I was like, 'well that would be kind of fun.'"  The two talked about Jacks' timeline and what she wanted to accomplish before taking it to a sisterhood board meeting.
What Jacks proposed was an art book of photographs, essays, and stories about the Sisters of Perpetual Indulgence, including interviews with all of the remaining founders and many of the early sisters in San Francisco. "It's quite frequent to be approached by people with projects," said Sister Maddie 'bout You, "particularly in academia. So, Heather's request wasn't uncommon. We all agreed that what she was proposing would be an interesting project and we wanted to be involved."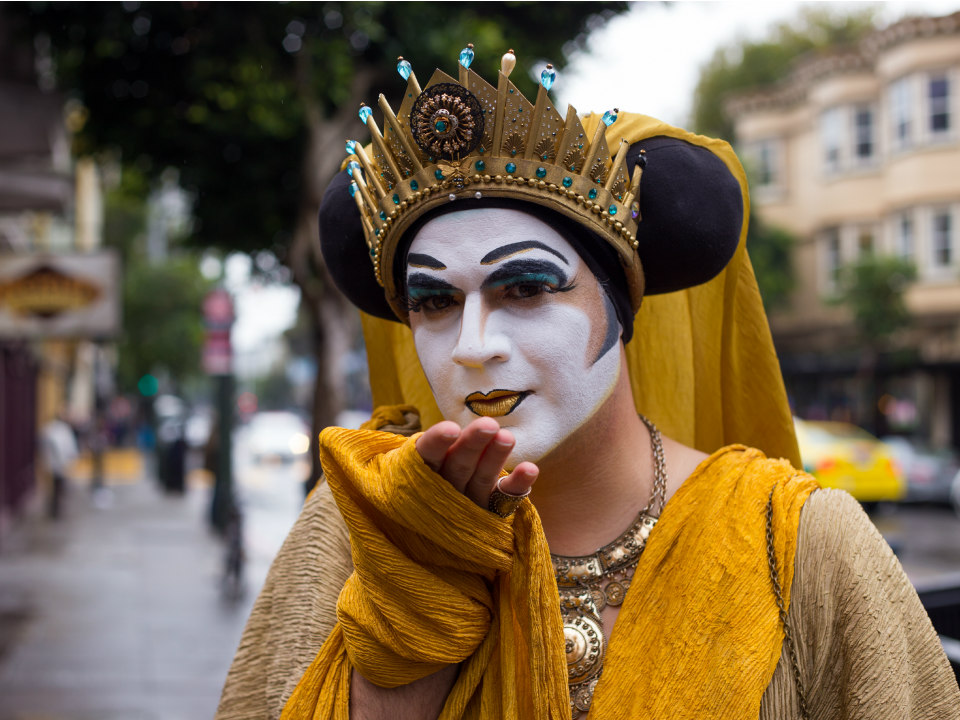 Jacks had a lot to learn about the sisters. As a self-identifying straight, heterosexual girl, one of Jacks' goals from the onset was to not just make her book an educational resource for individuals like herself, but to make her project relevant to young LGBTQ people. "One thing I discovered early on," said Jacks, "is that young queer people don't know their history. I was here in the '80s at the tail-end of the epidemic —it was traumatizing. I'm very happy that those things are removed from the current generation, but it's important to know at what cost. The people who were the pioneers and helped to herald in a change of times were the sisters."
"Because all of the time that she's spent with the founders, the older sisters, and all of us," said Sister Agnes, "Heather's book is going to be such a teaching tool. And it's going to be more than a coffee table book; it's going to be a history book." Sister Agnes claimed that her fellow sisters don't yet truly grasp what Jacks' book will mean to the organization. "Heather probably knows more about our history as a group than we do," said the sister. "I think we'll be astounded by our own stories."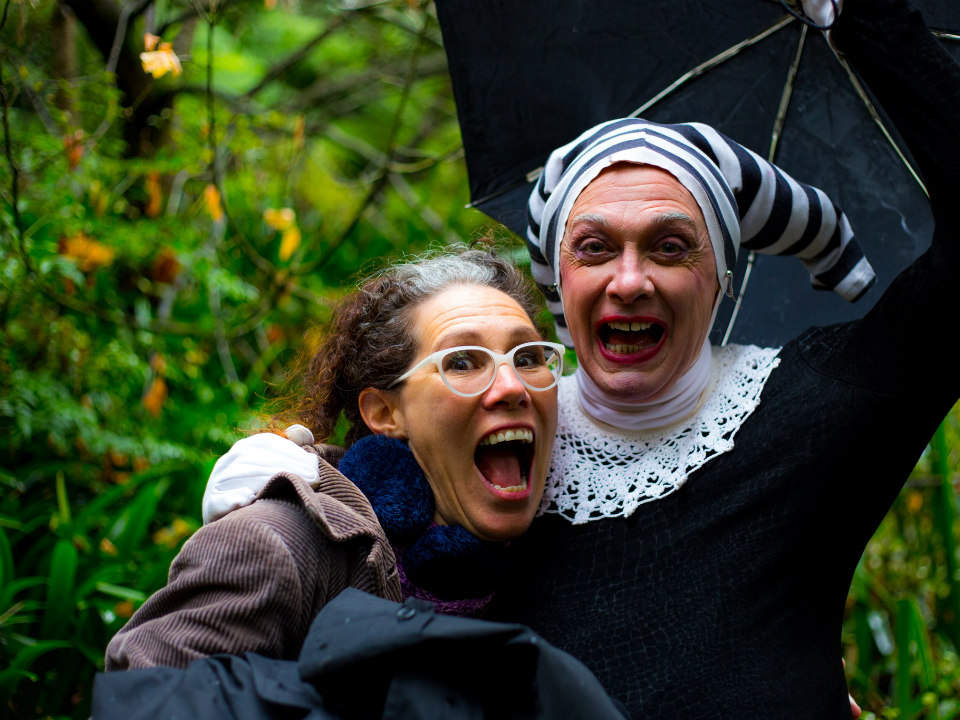 Jacks has approximately 40 hours of recorded audio interviews with 22 sisters. She plans to donate the files to the sisters' archives once she completes her project. One of the major components of Jacks' book, and not surprising given that the end product will be an over-sized coffee table book, are photos of the sisters that she's interviewed. To accomplish this, the writer teamed up with Los Angeles based photographer Ben Benoit.
Jacks said that the two had already known each other for a few years before she approached him about the collaboration. "I needed someone I knew I could work with for a long time," Jacks said, "and who could commit to a project that would take three years to do. But Ben's a straight little boy from Maine. He had no clue who the sisters were." Benoit admitted to having to Google the sisters when Jacks first approached him.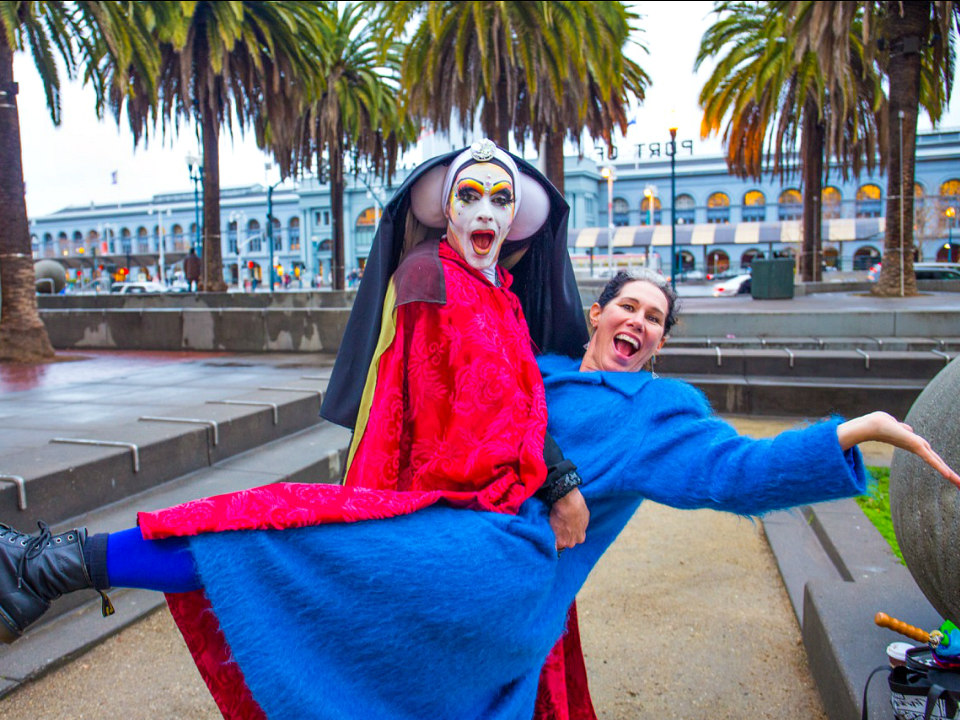 According to Jacks, the sisters initially wanted someone who was familiar with them and their work; however, Jacks made the argument that "the spirit of this project is people who don't know the sisters and need to." Benoit fit the bill, and the sisters gave Jacks the green light.

Benoit makes his money as a commercial photographer in Los Angeles, shooting for major brands and Fortune 500 companies. "Shooting the sisters has been different than what I usually shoot," said Benoit, "but it's still the same approach to the photography. I light the subject the same way as if I were shooting a high fashion model for Vogue even though I'm shooting a drag nun." The photographer has enjoyed getting to "hear the sisters' stories and to see the good things they do for the community." Benoit said that he hopes this project, and his photographs, help to bring attention to the sisters from outside of the community.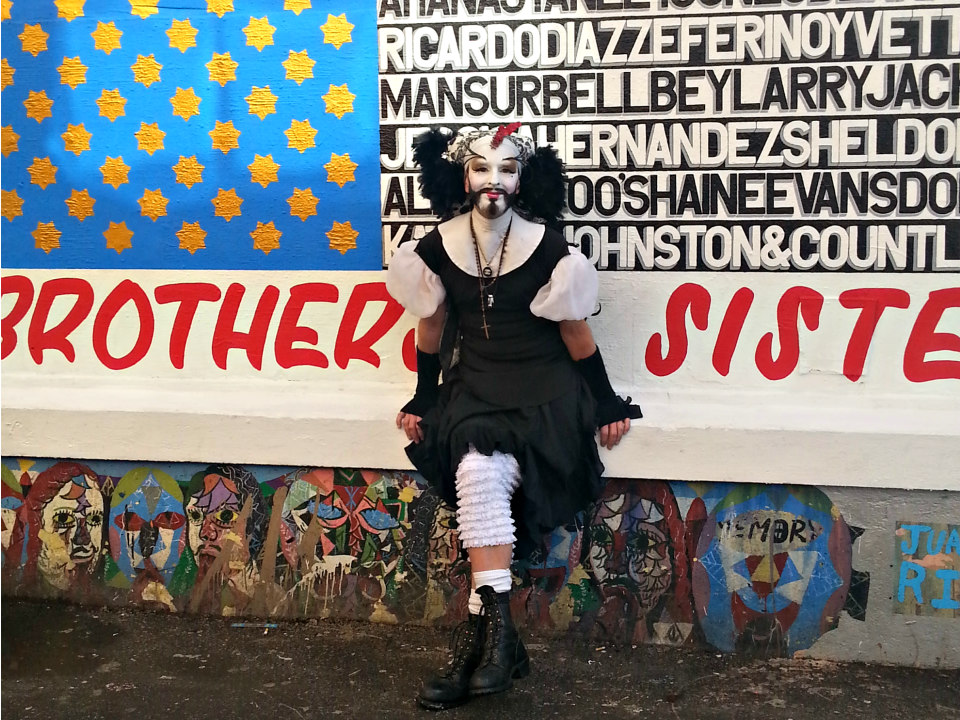 Jacks agreed. One of her goals for her book project is to capture the diversity of the sisters. "One of the myths that the community at large has about the sisters," said Jacks, "is that it's a group of old gay men." Jacks' book will feature sisters across the diversity spectrums, including transgendered sisters, black and brown sisters, young and old sisters, and even female and straight sisters.  
Even though Jacks' has striven to highlight the sisters' diversity, Sister Agnes would like to see more diversity within the sisters' ranks. "We are a lot of white guys, and we don't represent just white guys," said the sister. "I would love to see more people of color and youth join us, for the diversity of San Francisco to filter through our doors . We need their history and we need their two cents, because as white gay men, we can think outside of the box only so far."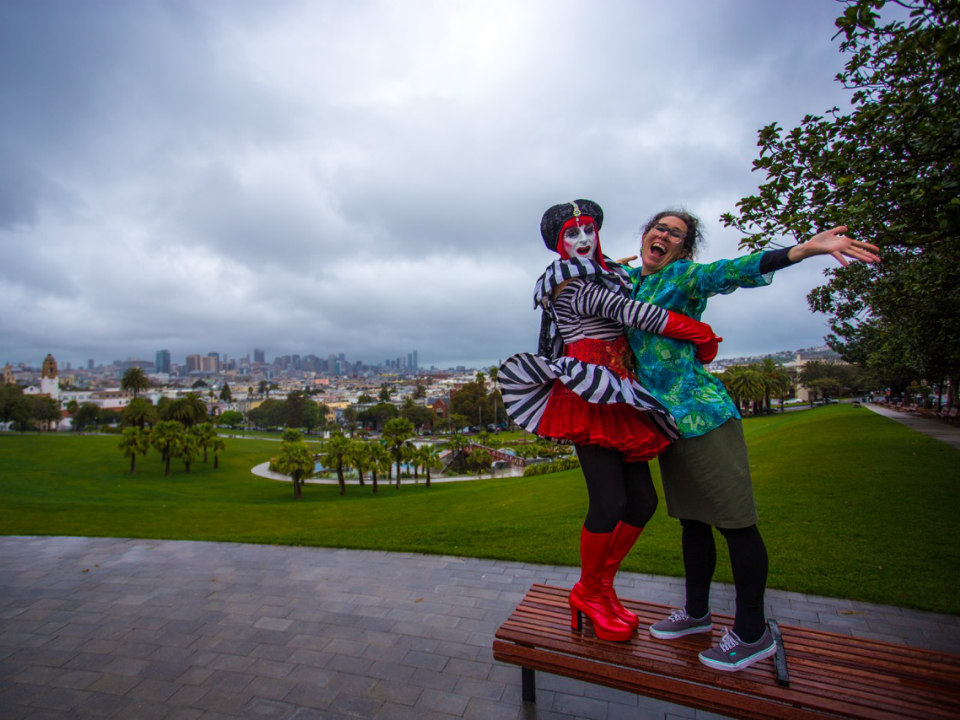 Jacks has been left to think outside of the box for fundraising for this project. She's raising $25,000 to self-publish her book here in the Bay Area with Pirates Press. Although she's already raised over half of the money, she has yet to secure the funding to get it through production and printing. The majority of the photos, with the exception of an upcoming photo shoot with one of the founders in Nashville, Tennessee, have already been captured by Benoit.
On Thursday, Heather will join the Sisters of Perpetual Indulgence for a fundraising event called Sister Speaks. Sister Hera Sees Candy, who has a PhD in transpersonal psychology, will discuss queer spirituality and its impact on gay culture with the group of attendees. The event will be held at the Spark Arts Gallery from 7-9pm, and tickets are available online. "It's an opportunity to get to know a sister like a real person," said Jacks.
Reflecting on her own initial reactions to the sisters back in the '80s, Jacks hopes that her book helps to introduce the concept of the Sisters of Perpetual Indulgence to a broader audience. "Because they get into white face and they go out on the streets," said Jacks, "people interpret them as not being serious, or being frivolous. But it's that anonymity that allows people to approach them and allows the sisters to really minister."
Sister Maddie agreed. "I hope that this book shows that even though we might have these big, bold personas when we're out there on the streets, we're just as fragile as everybody else and we have hopes and dreams just like everybody else. We're just trying to be supportive and loving to our community in the ways that we can."
"The roots of the Sisters of Perpetual Indulgence is street ministry," said Jacks, "and they have their power when they're out on the streets holding people's hands and unburdening people's troubles and souls. The world we're living in is very challenged, so it's very beautiful to experience people of all walks of life who approach a sister on the streets and ask for a blessing, even if it comes from a drag nun."
Sister Agnes commended Jacks' efforts on her project. "The sisters don't just belong in the Castro. We belong to San Francisco and the Bay Area," said Sister Agnes. "Heather's giving us platforms to reach into communities that we'd love to, but we haven't really known how to. You can't really recruit that."
If Jacks is able to raise the necessary money for her book, she hopes that it will be printed and available sometime in the spring of 2017. She is already beginning to collaborate with bookstores and boutiques to stock the book locally. She hopes to be able to price the book between $45 and $60. Limited editions of the book, including autographs from all of the sisters, will also be available. Twenty percent of the net proceeds from the book, including any art shows, calendars, etc. that stem from the project, will go into the Sisters of Perpetual Indulgence general fund.