Operating in the Outer Sunset since 1969, Nomad Cyclery is the second-oldest bike shop in San Francisco, with a rich history to match. The staff's years of experience have created a shop brimming with history—and cycling knowledge.
Nomad first opened 47 years ago at Irving Street and 24th Avenue, moving to its current location at Irving and 27th in 1995. Two years later, employee Roger Cook took over.
"I was working here as an employee in the early '80s, and the previous owner wanted to sell, so I was able to get in inexpensively," he explained. "All I was doing was buying my job … it was all I knew."
Cook didn't change much about Nomad when he took over, aside from adding a lot more inventory. "You have to have something for people to touch, feel and test-ride," he told us of the selection of adult and children's bikes, clothing and bicycle accessories he now stocks.  
For example, "we were the first shop in the city to carry Specialized," the Morgan Hill-based manufacturer of high-performance bicycles, Cook said. "It's one of the top brands in the country."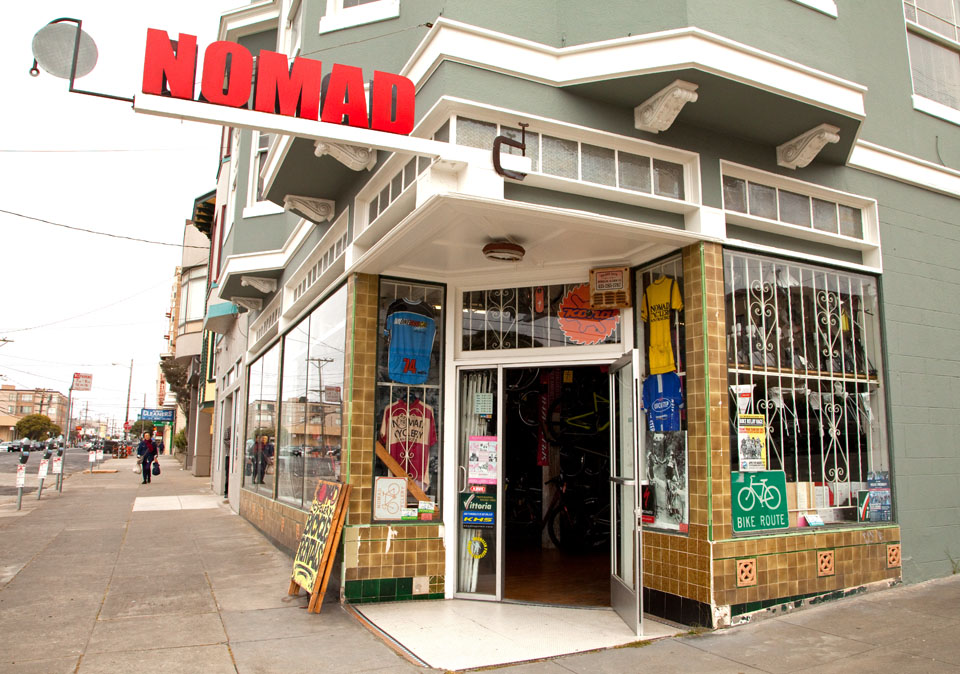 Cook acknowledges that he was lucky to be able to acquire Nomad fairly inexpensively, which would be much more difficult today, given the high cost of commercial spaces in San Francisco. Like many brick-and-mortar shops, Nomad is under a lot of pressure to compete with online retailers, which are able to offer deeper discounts on bulk or mass-produced items.
"People don't want to come in here and buy a $500 bike if they can get something [online] for cheaper," Cook told us. But he advises customers that they'll see a difference in the quality of the product they receive. Many people "make the mistake of thinking it's the same quality and it's not."  
As Cook explains, the quality of a bicycle's assembly can make a real difference in the final product. "All bikes come 60 to 65 percent pre-assembled, but you have to have the right tools, the right knowledge and experience to do the final assembly."
Because they require an experienced dealer to complete the assembly for the customer, Cook noted that none of the bike brands that Nomad carries will allow their bikes to be sold online. "It takes a lot of experience to assess a bike and know its condition," Perry said.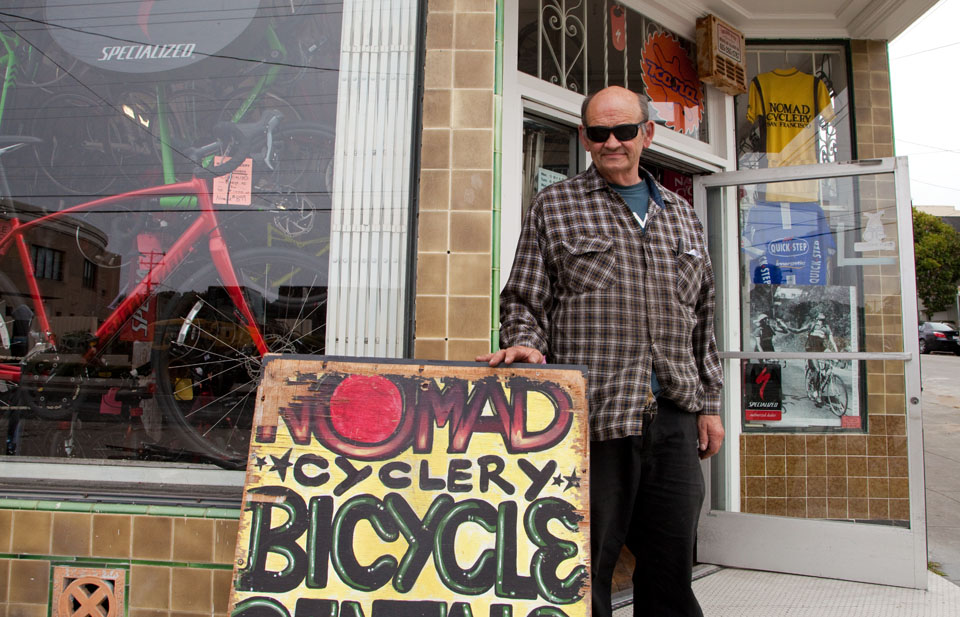 While the shop can't support more than one full-time employee, Nomad attracts loyal fans who have been with the shop for decades. Sometimes, they can even be found behind the counter. 
Take Cam Capp. Capp doesn't work at Nomad, but he drops by to sit among the tools and bike frames and catch up with all the shop news. Capp bought his first bike at Nomad in 1970, and at 77 years old, he continues to cycle regularly—he still has bike he purchased at Nomad in 1986.
Also behind the counter are Alexie Perry and Hector Topete, who both have a long history with the shop. Perry first started working at Nomad in 1995. Both men now come in to help out when there's a need for another set of knowledgeable hands.
On the day Hoodline visited Nomad Cyclery, Topete was in the middle of assembling a bike for a customer. "He comes in to help out," Cook said, "which is very helpful for me, because I can't keep [more than one] employee anymore."
Cook's one full-time employee, shop manager Andre Chevalier, was out that day, but he also has a long history with Nomad. "He's been around this shop since he was a kid," Perry noted. "Even in the old shop, he was running around as a really little kid."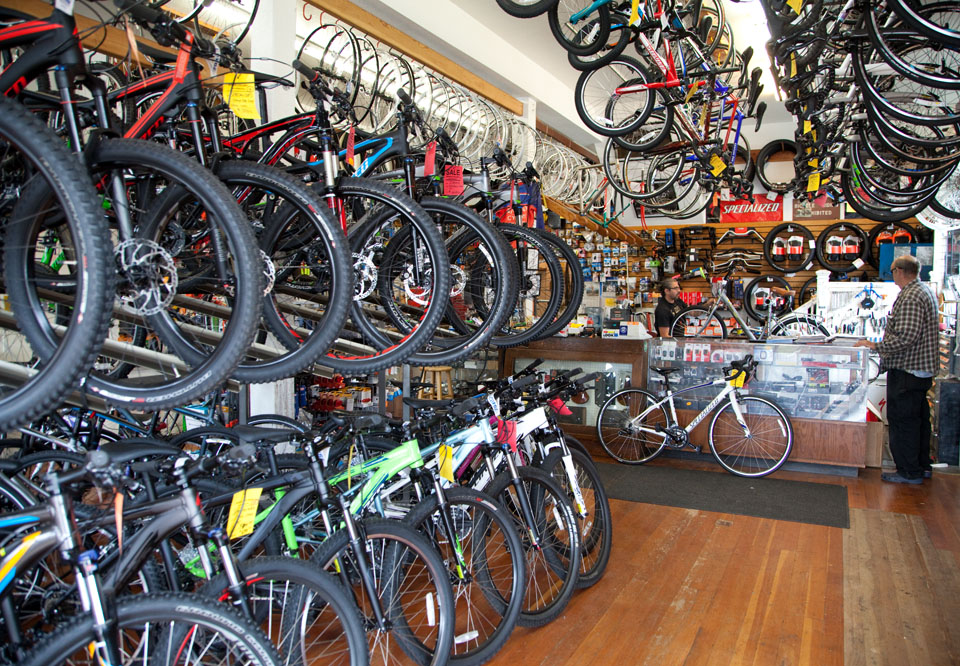 In addition to professional assembly, Nomad makes sure customers are properly fitted for their bicycles, and offers a warranty and free tune-up three to four months after purchase. "Between [the purchase] and the time of the tune-up, they can come in and have the stem swapped [out] or have us adjust their seat properly," Perry added, "We watch them ride, ask them about [how] their body [feels]."  

Another service Nomad offers is bike repair. "We get repairs done in 24 to 48 hours," Cook said. "There's exceptions, obviously, [but] if it's routine stuff we can do it practically while people wait or in the same day."
"We have a lot of longtime customers, and we work on their bikes again and again," Perry added.
Because Nomad has been around for so long, the shop has a large inventory of older bike parts on hand. "People come in with their old bikes, and we have the inventory," Perry told us. "We can go through old parts and find stuff for them — things that aren't available today. That's what's really good about an old shop."
Cook is still right there when it comes to repairs as well. "Roger is like an encyclopedia," Perry explained. "He wrenches alongside of us at a vigorous pace, and he's 67! He knows how to use some tools that new people don't know how to use … like the more advanced cutting tools. They don't really teach that stuff much anymore."
It's one of the aspects of the shop that Cook enjoys most. "I like repairing older bikes, bringing them back to life."
Nomad Cyclery is open Monday-Friday, 10am-6pm; Saturday 10am-5pm; Sunday 11am-4pm.