The past two and a half years have been anything but easy for the Haight's Homeless Youth Alliance (HYA), which works with homeless 18- to 29-year-olds. With neighborhood groups mobilizing on both sides of the organization's plan to open an administrative office in the Lower Haight, HYA's struggles showcase the challenges of maintaining neighborhood-level homeless outreach services in the face of local mistrust.
Still not clear on what's going on with the HYA, or why their move to the neighborhood has met with opposition? Here's a primer on what's going on with the complex case—and how you can make your voice heard. 
Helping the Homeless—Without A Home 
HYA's search for a new space dates back to 2013, when the organization lost its Upper Haight drop-in center. Since then, HYA has been homeless itself, operating its street outreach services out of the dining room of a neighborhood resident.
When HYA first entered the real estate market, executive director Mary Howe initially sought to replicate her former space, which contained both administrative offices and a drop-in center (with showers, a kitchen, and counseling services) for youth. But many neighbors weren't interested in having such services—and the youth some claim they attract—in their vicinity.
After being rejected from more than 150 rentable spaces around the neighborhood, HYA decided to open an office for administrative purposes only, with all other services provided exclusively on the street (including a Department of Public Health-approved needle exchange). They ultimately secured a new office at 607A Haight St., the former Vapor Room space, in January. 
Prior to HYA, the property was zoned for commercial use, but since HYA is a nonprofit service provider, Howe had to apply for a change-of-use permit. The Planning Department advised her that her only option was to apply under NC-2 zoning—which would allow HYA to offer the social services that some neighbors oppose.
Howe says that offering social services out of 607A Haight was never in the cards, and that the office will remain purely administrative. But to assuage the neighborhood's concerns, verbiage was included in her lease stipulating that regardless of the location receiving NC-2 zoning, HYA could not provide services there.
Nonetheless, neighbors fought the move, hanging up flyers around the Haight and erroneously posting on NextDoor that HYA was planning on offering services at the location. The postings encouraged locals to write Planning and state their opposition to HYA during the 30-day neighborhood notification phase of the nonprofit's change-of-use application.
In response, Howe hosted an open house at 607A Haight, to dispel the rumors and answer community members' questions. But despite making it clear that HYA had no intention of offering services, the conflict wore on. As a result, even though HYA has been paying rent for its new space since early this year, it's still unable to officially move in.
On the final day of the neighborhood notification phase of the Planning process, the Lower Haight Merchants and Neighborhood Association (LoHaMNA) filed a Discretionary Review with the Planning Commission. That means that HYA won't be able to move in until at least August 5th, the day after its application will come under review at a Planning meeting.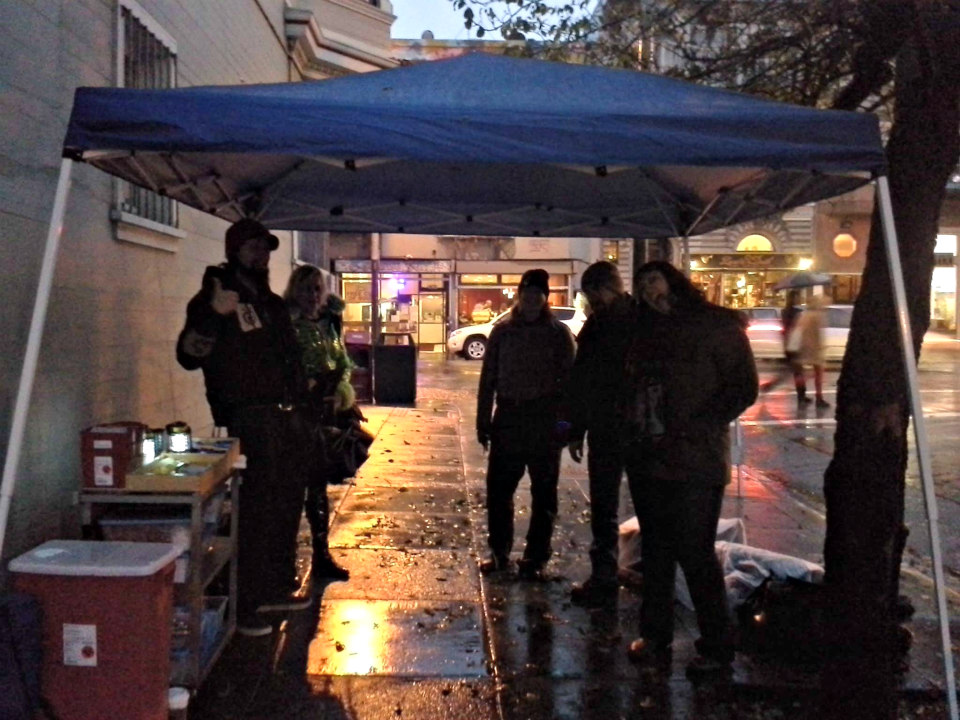 'It's Everybody's Responsibility'
While some neighbors have opposed HYA, numerous others have stepped up to support the organization. HYA's change-of-use application ultimately received letters of support from 42 neighbors, with only eight neighbors writing in against it.

"I couldn't believe the entire community was against HYA," said Bill Braznell, who lives on the same block as HYA's proposed office. "I've heard, from the few people that have opposed it, that this doesn't benefit our neighborhood at all. I'm just baffled by that, because obviously homelessness is a problem for the whole city."
"HYA is working with the one demographic that actually has a chance to get out of their [homelessness] situation if they want to," Braznell said. "I don't understand how people can consider that somebody else's problem. To me, it is all of our problem. It's everybody's responsibility."
Andrea Lopez, a volunteer with HYA and a Lower Haight resident, couldn't agree more. She's mobilizing neighbors to dispel the rumors, grow support, and sign a petition in solidarity with HYA. "We're not a formal organization," Lopez said of the community group, which is going by the name Neighbors in Support of HYA. "Right now, we're working on this issue and trying to network as we can."
According to Lopez, the group is circulating copies of a petition "that neighbors can take to our own blocks and to our own neighbors, so that we can start assembling." They're emphasizing the 600 block of Haight Street, where HYA's proposed administrative office will be located. "We're trying to gauge exactly how much support there is," added Braznell.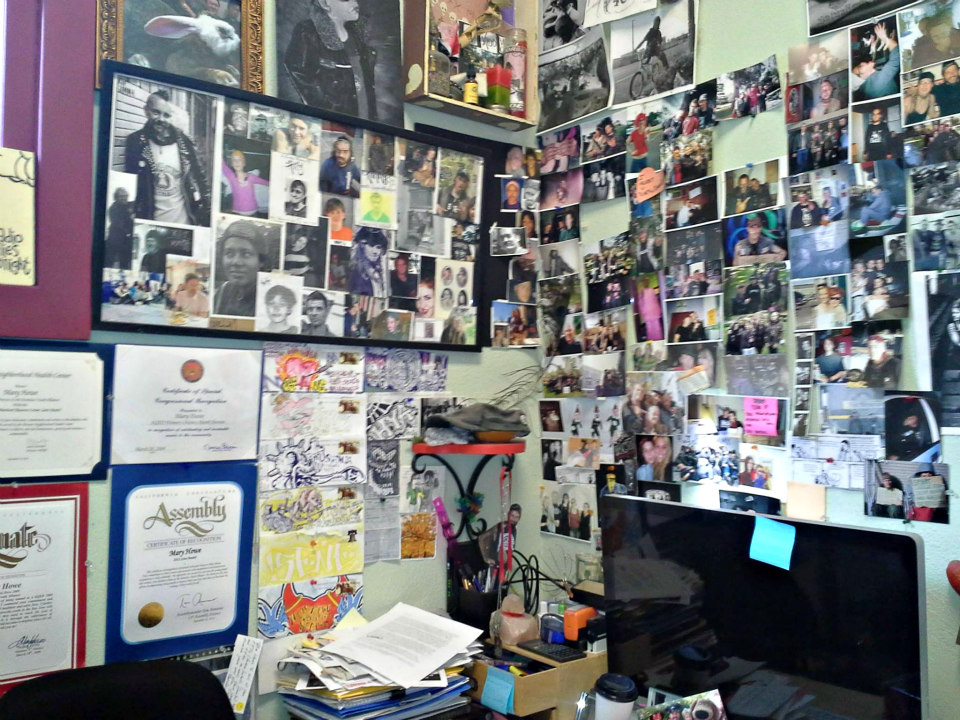 Representatives for LoHaMNA, on the other hand, are arguing that a stipulation in HYA's lease isn't enough of a guarantee that the organization won't provide services at some point down the line. 
"Their lease isn't legally binding, so they could technically, if they change their minds, start offering services out of there, and they could go back on their word," said Gio Acosta, who, alongside Michael Gaines, serves as LoHaMNA's co-president. "We don't think that's the case, but they could technically do that—and the only person who could enforce that would be the landlord, if he or she chose to do so."
"The group is all for HYA—we know that they do good services," Acosta said. "The issue that we can see coming up in the future, not even in association with HYA, is the problems and issues and headaches that could arise down the road if a sex offender rehab center tries to move in. We just don't want services provided out of there."

"Our issue really isn't with HYA; it's more the general action that Planning took," Acosta continued. "Supervisor Breed said at [our] last meeting that what Planning did was not the best way to go about this ... We essentially want HYA to have a Notice of Special Restriction added to their lease. That way, it can be enforced that they don't provide services out of there. "
The Notice of Special Restriction, an idea floated by District 5 Supervisor London Breed's office, would take the private agreement between Mary Howe and the landlord of 607A Haight a step further, adding a city-enforceable stipulation that no services can be offered out of the space now or in the future.
"The Notice of Special Restriction is recorded against the property so if there is something that happens, if there is a complaint, the city can then enforce on that," said Samantha Roxas, a legal aide to Breed. "We thought that was a really powerful tool, and we shared that with both parties, and I think that's how we came to this place."
Roxas disputes LoHaMNA's argument that Planning handled HYA's change-of-use application inappropriately by designating it as a social service space. "We've been in touch with Planning the entire time, and we wanted to make sure that this is the correct designation," she said. "We understand that people want extra precautions, and want the city to be able to enforce upon it a little bit better, so that's why we're taking the conversation to another level."
A Call For Conversation

Howe says that both she and her landlord are supportive of working out a Notice of Special Restriction. But even if all three parties agreed to the Notice of Special Restriction this month, LoHaMNA's Acosta couldn't guarantee that he and Gaines would rescind the discretionary review—which would delay HYA's move-in until at least August, and possibly longer. 

"The review is helpful when talking about bringing light to an organization in the neighborhood," Acosta said. "It's kind of a good thing, really making it transparent and making everyone aware of it. We're trying to work with the group to get them in."
"You have to understand," said Acosta, "that the point that we're coming from is that we're protecting the space and the neighborhood and we're shooting to the future: how we want the neighborhood to look. The bigger picture has nothing to do with HYA."
When asked if Breed's office would help to expedite the process, Roxas said that the supervisor's office is still waiting for each opposition group to send her drafts of their Notice of Special Restriction language, which she was hoping to receive by last week.  
"In terms of expediting, what we can do on our end and what the community can do in collaboration to speed this thing up is to essentially come up with the Notice of Special Restriction language. Once that's done, it's done. At that point, LoHaMNA can drop the discretionary review at any time."
"I can understand that both groups want to take their time," said Roxas, "but it's completely on both parties to provide us with a draft and to help us get this meeting together. We will clear our calendars when they're ready to come together."
However, talk of coming together and actually coming together are two different things.

"We actually haven't had a meeting where we've sat in a room together as a group of people in support of HYA and LoHaMNA," said Lopez, the HYA volunteer and supporter. "Everyone says they're willing to have conversations, and given that everyone seems to be able to agree, hopefully people can get together and make it happen on paper and be done with it ... Let's get the conversation flowing."
Neighbors will have an opportunity to weigh in on the debate at LoHaMNA's next community meeting, which will be held at Black Sands (701 Haight St.) on Monday, July 11th, from 7:30-8:30pm. Acosta says all community members are welcome.