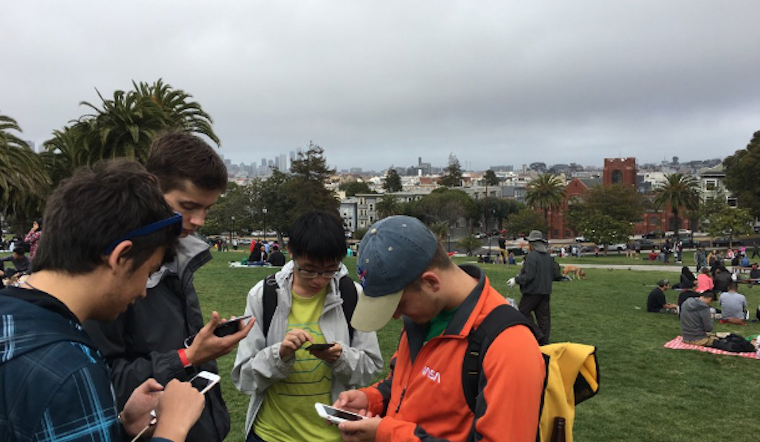 Published on July 19, 2016
If you've seen more people staring at their smartphones while walking than usual, you probably know why: For the last couple of weeks, the city (and country) has been overtaken by both virtual creatures and throngs of people who desire to "catch 'em all" in Nintendo's wildly popular new location-based "augmented reality" game, Pokémon Go.  
Tomorrow night, however, will be a high water mark for San Francisco's Pokémon hunters, as a freeform crawl draws thousands of people to hunt the digital creatures across the city. It's received 6,983 Facebook RSVPs at last count, with another 26,557 people "interested." 
There's no official route, but the event, organized by Sara Witsch, has two recommended starting points: Dolores Park, and the Embarcadero north of the Ferry Building (where the characters Bulbasaur and Squirtle apparently reside). The loose route then runs along Market Street from the Embarcadero to the Castro, and down to the Mission (see the map here).
From there, attendees are encouraged to break off on their own, and some businesses along the way are offering specials and giveaways associated with the event. The SoMa StrEat Food Park (428 11th St.) will have raffles and a special space reserved just for Pokémon players, while the Castro's Myriad Marketplace (2175 Market St.) is offering food and drink specials, including team-themed cocktails. And the RazorStore at the Westfield Mall will be offering giveaways and hosting a Pokémon costume contest via Instagram. 
Those planning a quiet, non-Pokémon-related evening out in the Mission may wish to reconsider: at the end of the night, the Pokémon hunt will morph into a Mission bar crawl, so expect hundreds, if not thousands, of buzzed players to descend on the neighborhood. 
On that note, if you plan to attend, take heed of organizer Witsch's advice: "Please remember to be respectful of the city, all its venues (including those participating in the Pokémon Crawl gathering) and other people. Clean up after yourself, don't block entrances/streets, and treat people with respect. Be careful of traffic—please don't run into streets (Pokémon will be everywhere, it's not worth the risk!) I suggest having a group of friends/a buddy with you throughout the Pokémon Crawl."
For more information, see the event below.