Flyers supporting boarding islands and opposing a boarding pilot program have appeared along stops on the L-Taraval route. Saying "Boarding Islands Save Lives, [b]ut the SFMTA isn't putting one at this stop!," the flyers only appear at stops where boarding islands would not be built. 
The much-disputed boarding islands are part of the SFMTA's Vision Zero plan to reduce pedestrian fatalities and collisions along the high-injury L-Taraval corridor. Over the last five years, 22 people (out of 46 total collisions) have been hit by cars as they boarded or disembarked from the light rail along the corridor.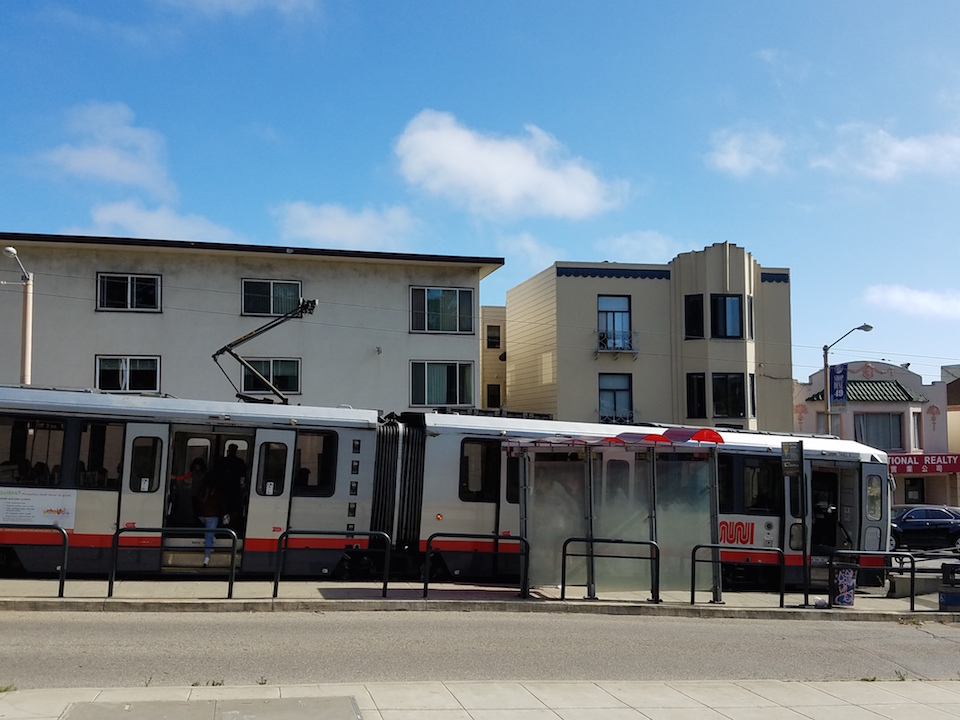 The writer of the flyer opposes the boarding pilot, one solution that SFMTA is offering in the face of opposition from some merchants and residents, who are against the removal of parking spaces to make room for the boarding islands. 
Instead of boarding islands, the pilot would see signage and a painted boarding area to warn drivers to stop for passengers of the L-Taraval. The boarding pilot was developed after contentious community meetings saw some residents turn out to oppose the removal of parking spaces. Other residents, however, supported the boarding islands.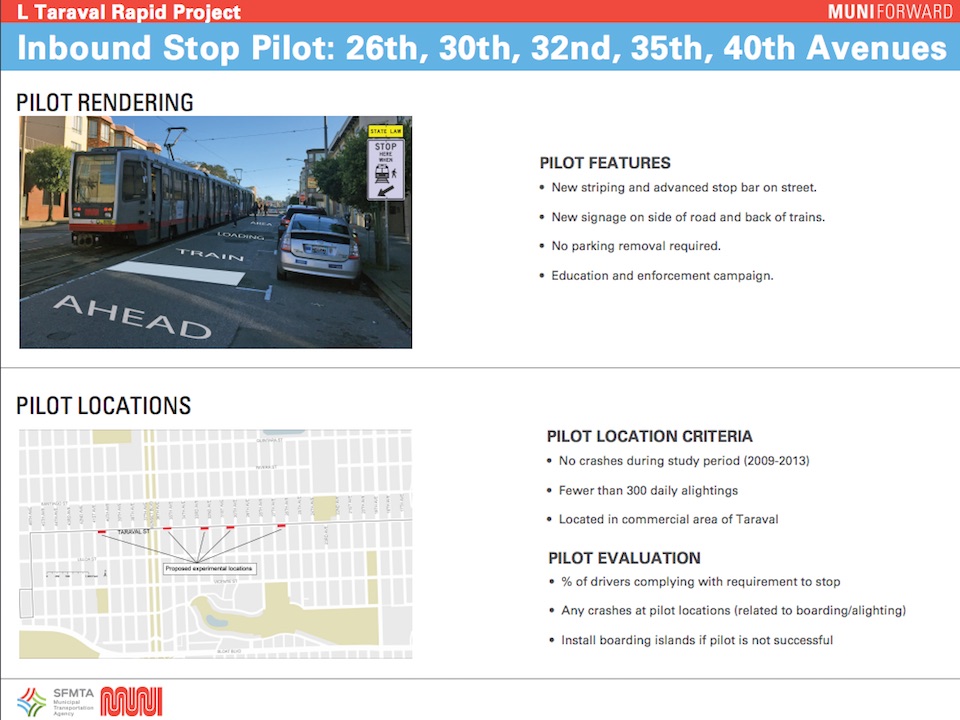 The flyer also encourages people to sign a petition advocating for boarding islands and opposing the boarding pilot. The petition comes from Walk San Francisco, a local pedestrian advocacy non-profit organization that has had representatives at the L-Taraval community meetings. At press time, 168 people had signed the petition. 
The plan for the L-Taraval is now heading into its final stages for approval with the SFMTA Board of Directors in September. 
Here's the full text of the flyer:
Over 60% of crashes involving people walking are concentrated on only 6% of San Francisco's roads. Taraval is part of that 6% and is one of the City's highest injury corridors.

From 2009-2013, half the people hit while walking on Taraval were struck while getting on/off at L-Taraval stops without boarding islands. No one was hit at a stop with a boarding island. Boarding islands keep people safe.


As part of the L-Taraval Rapid Project, efficiency improvements for MUNI riders, as well as a number of critical pedestrian upgardes to reduce collisions and make it safer for people, were planned for this high-injury corridor.

MUNI had planned to install boarding islands at ALL L-Taraval stops along Taraval. But due to one anti-MUNI merchant complaining about parking relocation, MUNI may compromise your safety by not installing a protective boarding island.


Instead, MUNI's current plan to make sure cars stop for riders at this stop is to try an unproven treatment consisting of nothing more than paint and signs, neither of which have been effective at keeping people safe in the past. 


Would you like a safer riding experience?

For more information, contact Walk San Francisco ([email protected]) or SF Transit Riders ([email protected]).