Two of the victims in yesterday's cab collision at Market and Sansome/Sutter have been identified as the 66-year-old man who runs the shoe shine stand on the corner, and his 40-year-old assistant.
KTVU reports that the victims are shoe shiner Muhammed Saleem Bey, whom we profiled last year, and his homeless assistant, who goes by the name Jazz.

The collision occurred at 3:17pm yesterday, Aug. 23rd, when the cab jumped the curb and crashed into the news kiosk and the shoeshine stand on the corner. The cab driver, who reportedly collapsed upon exiting the vehicle following the collision, has been released from the hospital.
Bey has shined shoes in the Bay Area since 1999, and run the stand on this corner since 2014. He's now in fair condition, while his assistant remains in critical condition, and is reportedly undergoing surgery for a head injury.
(Update, 5:20pm: A GoFundMe campaign has been launched with the aim of raising $10K to help with medical bills and getting the shoeshine business back up and running. To donate, go here.)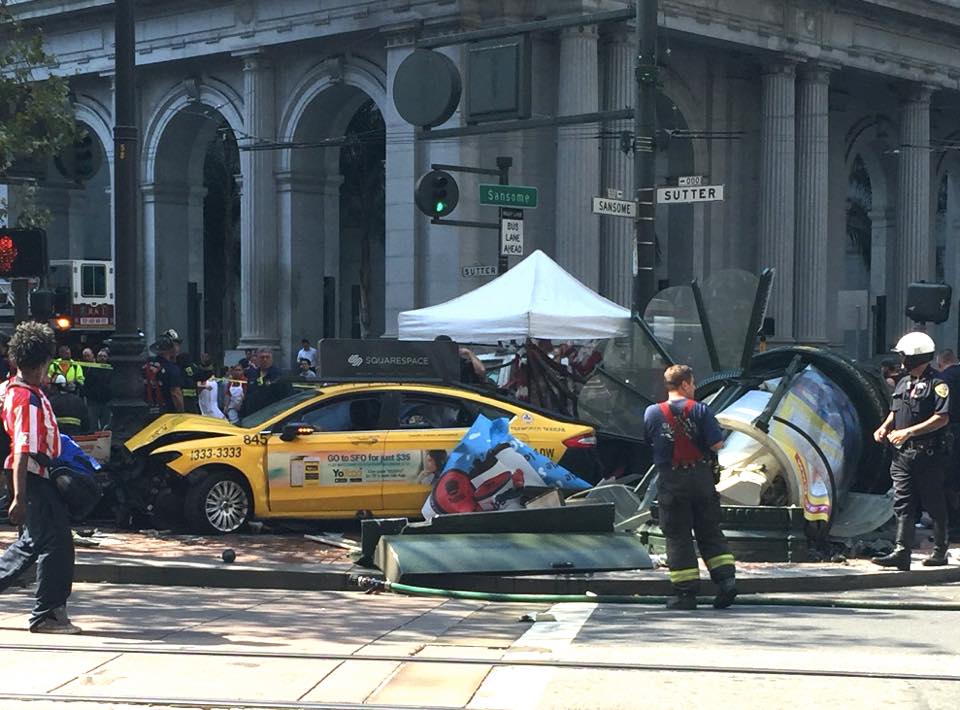 A witness at the scene told ABC7 that the cab was flying down Market Street before the collision, and that it's common to see cabs traveling 60 miles per hour in the area to get to their destinations.
However, the SFPD reports this morning that the cab driver was suffering a "medical issue when he hit the gas and drove up onto the sidewalk."
We'll share more details on the SFPD's investigation if and when they're released.