Last week, we reported on the abrupt and largely unexpected closure of Bread & Butter Cafe, a five-year Hayes Street fixture. And NoPa neighbors are not happy about it.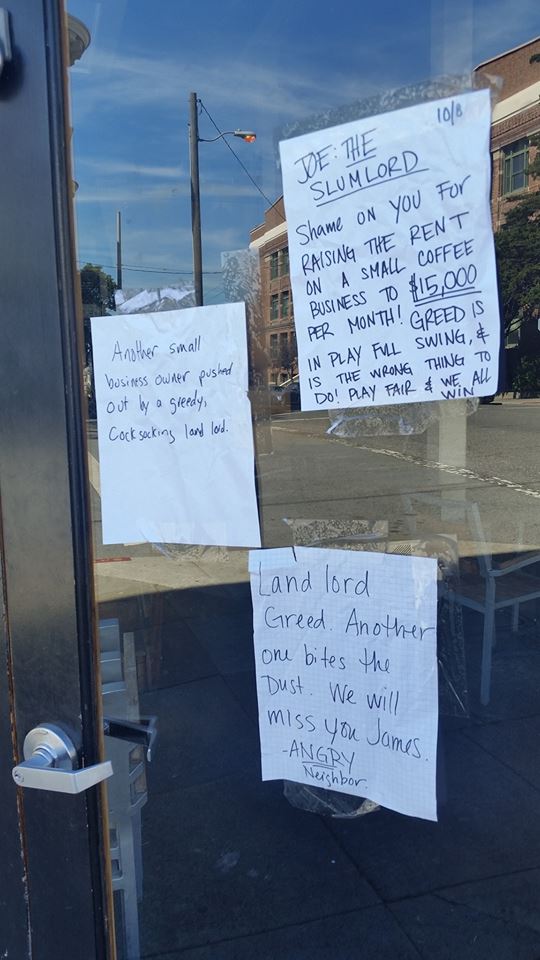 As shown above, the cafe, which announced its closure via a letter to its patrons in the window, has since had its windows papered over with letters from patrons to the landlord, who is rumored to have hiked the rent to a level the owners could not afford. (We've reached out repeatedly to Bread & Butter's owners, but have yet to receive a response.)
The letters allege that Bread & Butter's landlord raised its rent to $15,000 per month, bear messages like, "Landlord greed: another one bites the dust. We will miss you [owner] James. — ANGRY neighbor," and "Another small business owner pushed out by a greedy c--ksucking landlord."
Across the Panhandle, the Upper Haight has also seen a slew of business closures due to rent increases, including Piper's Shoe Parlor. 
We'll keep you posted if we hear more from the owner.
Thanks to tipster Christopher D.